Pacific Scoreboard: Oct. 26, 2015
---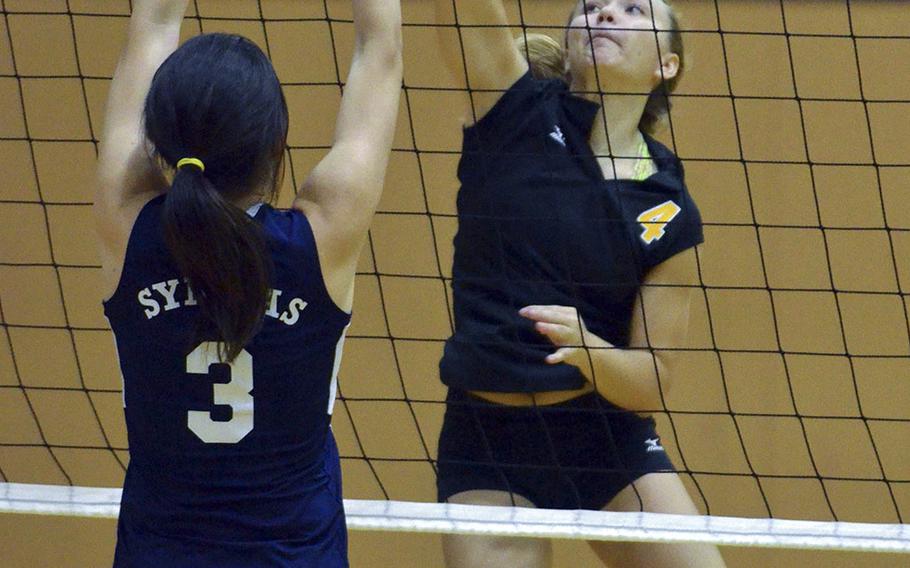 High school
Girls volleyball JapanAmerican School In Japan def. Sacred Heart 25-17, 25-15, 26-24 Monday at TokyoKills — ASIJ: Elyse Davidson 13, Savannah Napierski 8, Kiki Davidson 7; ISSH: Nina Warita 8, Kolora Momoedenu 7. Assists — ASIJ: Sammie Hoskins 28; ISSH: Mia Korver 10. Block points — ASIJ: Tanya Jackson 4; ISSH: Warita 3. Noteworthy — Final home match for Mustangs coach Gail Lanier, who has been involved with the program on and off since 1977, 25 as head coach.
South KoreaDaegu def. Humphreys 25-25, 25-22, 25-23 Saturday at Camp WalkerAces — HHS: Dai'Jonnai Smith 9. Assists — HHS: Isabelle Ellsworth 15.
Daegu def. Humphreys 25-14, 22-25, 25-15, 25-14 Saturday at Camp WalkerDigs — HHS: Smith 7. Assists — HHS: Ellsworth 30, Cleopatra Cody 8.
Tennis South KoreaSaturday at Yongsan GarrisonBoys Korea International 4, Seoul American 1 Singles Brian Lee, KIS, def. Nick Gagnet 8-1; Josh Gagnet, SAHS, def. Terry Kim 8-4; Moa Son, KIS, def. Brian Sitenga 8-3.Doubles Wonil Jhong and Sihun Choi, KIS, def. Ryan Oh and William Ramirez 8-3; James Kwon and Danny Ho Jung, KIS, def. Richard Youn and Chandler Turner 9-7.GirlsSeoul American 5, Korea International 0Singles Grace Cho def. Diane Kim 8-0; Ashley Shirriff def. Lauren Kim 8-1; Anisha Harilal def. Michelle Park 8-1.Doubles Kristina Park and Melanie Schenberger def. Hyo Min Lee and So Young Jeon 8-2; Maria Rockrohr and Amy Park def. Jisun Jeon and Hannah Song 9-7.
---
---
---
---