Outlaws win early season showdown with Dragons
by
Dave Ornauer
April 8, 2018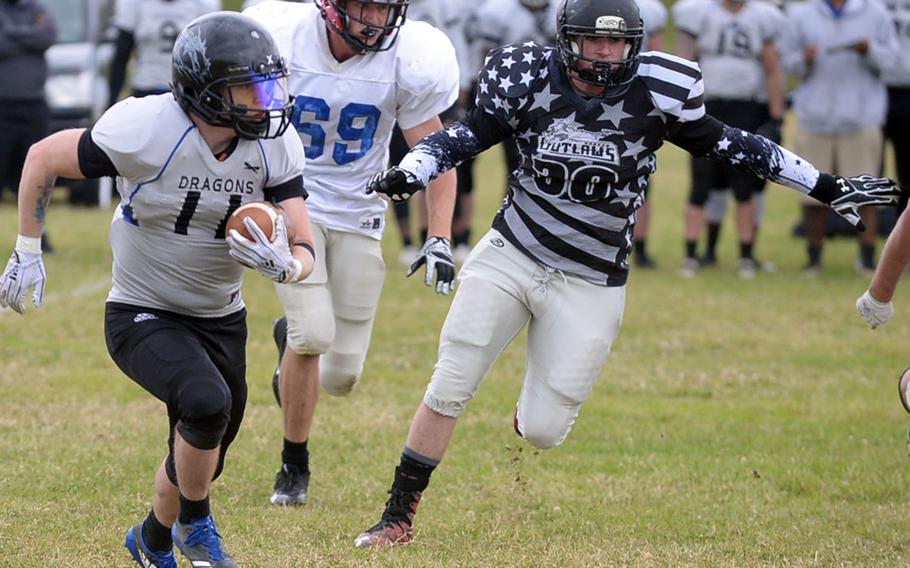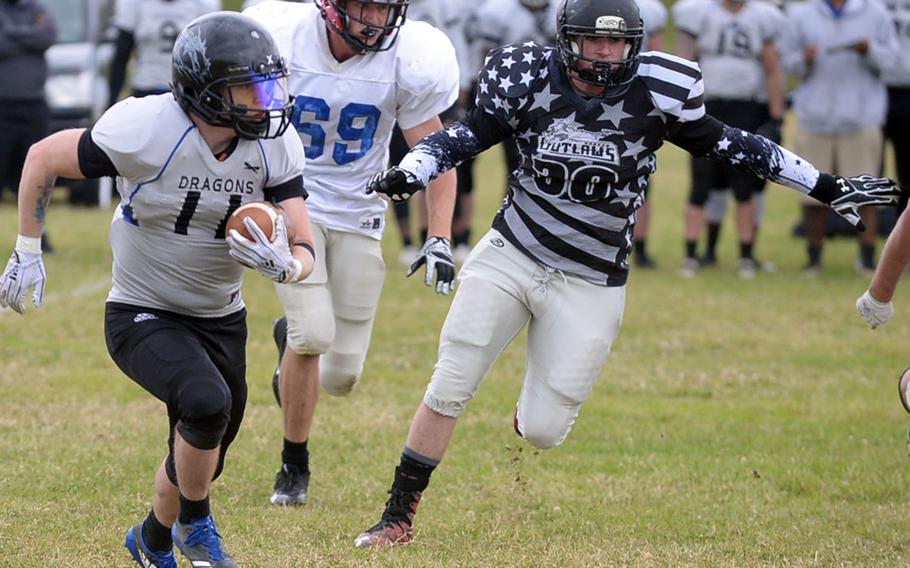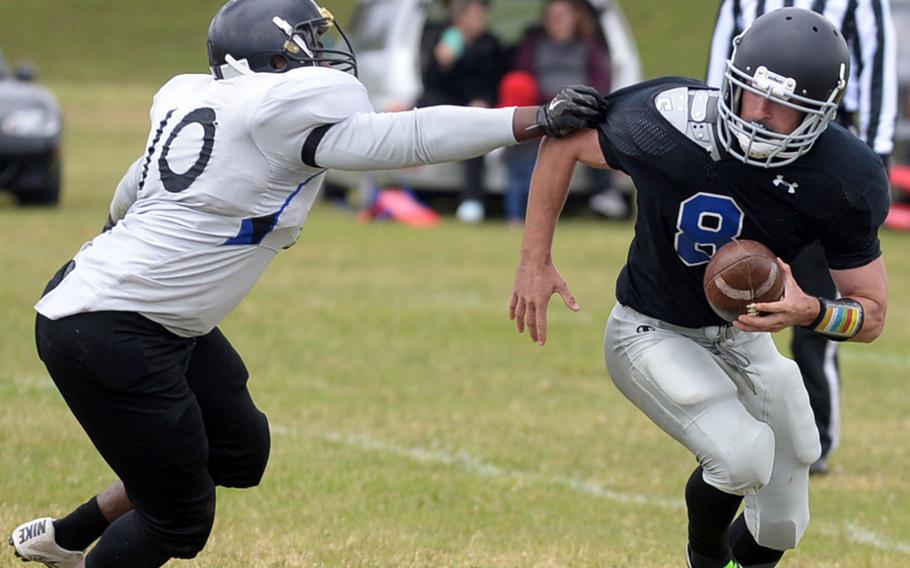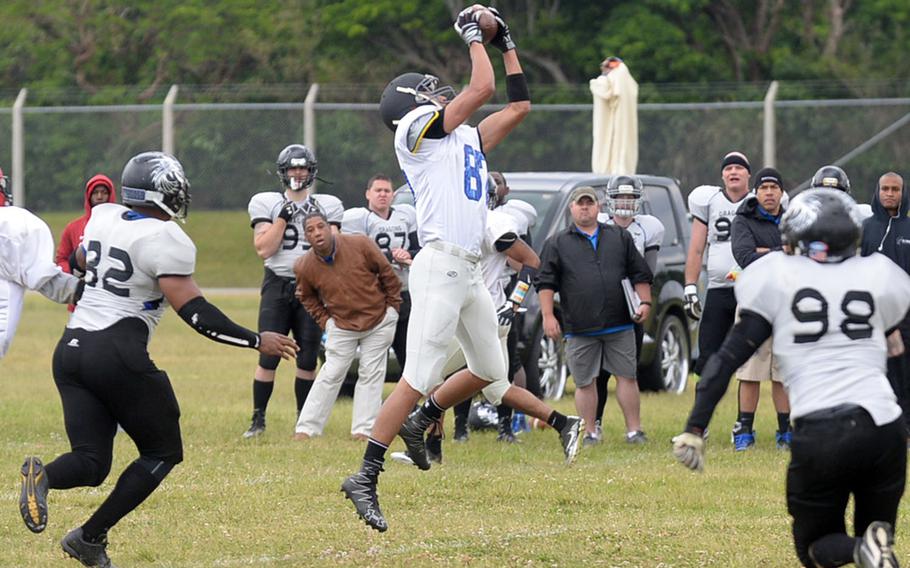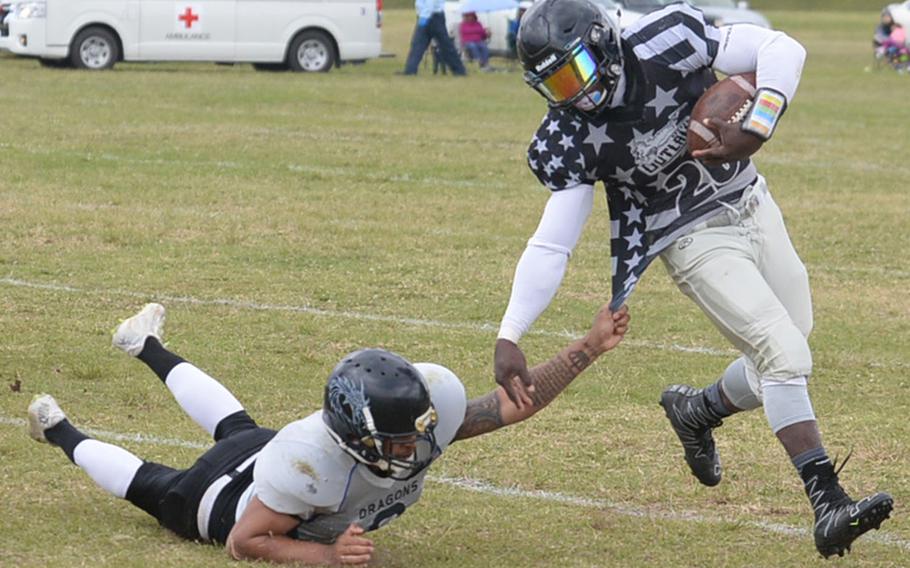 CAMP HANSEN, Okinawa – For the moment, Hansen's Outlaws occupy the driver's seat in the U.S. Forces Japan-American Football League's regular season after gaining vengeance of sorts over their arch-rival Okinawa Dragons in a battle of unbeatens.
A snap on an attempted Dragons punt with 4 minutes, 2 seconds left sailed out of the end zone, giving the Outlaws a safety and the lead, and Tazz Figueroa's interception with just over a minute left sealed it. Hansen won 14-12 and took over first place with a 3-0 mark. The Dragons fell to 2-1.
Wind was a factor, both on that ill-fated snap and the game as a whole – steady winds gusting up to 30 mph blew out of the north all day, making the temperature of 59 degrees feel like the mid-40s.
But it was also a defensive struggle, an at-times-chippy and testy contest that featured 36 penalty flags for 293 yards, 31 more than both teams combined for offensively. Three Outlaws touchdowns were called back due to flags.
Pushing and shoving between players went on frequently during the game. Three players, two from Hansen and one from the Dragons, were ejected.
"We knew it was going to be a tough game, we knew it was going to be a low-scoring game, we knew it was going to be a dogfight," said coach Dean McCown Sr., whose Outlaws lost 26-0 to the Dragons in last June's Torii Bowl title game.
In Saturday's other contest, Ryukyu University, comprised of Japanese student-athletes, broke into the win column, blanking the Kinser Kings 28-0 at Kadena Air Base's McDonald Stadium.
Outlaws 14, Dragons 12: Hansen entered the contest having beaten its two opponents, Kinser and Ryudai, by a combined 72-0. The Dragons were less dominant, but also unbeaten, downing the Kings 41-6 and the Stingray 12-6.
The defeat may have been the slap in the face Dragons coach Jermaine Baker said his charges likely needed after winning their previous 10 games entering Saturday's affair. "They needed this," Baker said.
Hansen jumped in front 6-0 on quarterback Aaron Ingram's 2-yard run that capped a 10-play, 81-yard drive in 8:52.
The Dragons answered with two scores in a 55-second span, Justice Moore's 32-yard TD pass to Toby Queen and Equantay Mason's 48-yard punt-return touchdown to lead 12-6 at halftime.
Nick Jackson caught a 24-yard game-tying TD pass with 2:05 left in the third quarter. Five possessions later, Hansen led for good on the snap that led to the safety.
"That one play decided it," McCown said. "It could have gone either way in the end."
Ingram was 7-for-22 for 145 yards. Pannel Davis caught four passes for 100 yards. Marquece Harris had a sack and a fumble recovery for Hansen.
"We beat ourselves," Baker said. "We gave them this game. We didn't deserve this one. Mental errors. Missing easy stuff, little things. That's how we won championships in past years, focus when we needed it. There's no focus. I'll fix it."
Mason led all players with 123 all-purpose yards. Moore went 11-for-26 for 103 yards but had three passes intercepted.
Ryudai 28, Kinser 0: Better defense and tackling plus offensive execution helped the Stingray right the ship after two losses to open the season, player-coach Riichiro Shinjo said.
"The defense played very strong," Shinjo said of a unit that picked off four Kings passes and forced two sacks. Kenta Ogasawara started at quarterback for the first time "and did well," Shinjo said.
Ogasawara was 14-for-32 for 258 yards, including a 2-yard scoring pass to Taichi Ampo, and also ran for a 5-yard touchdown before leaving in the fourth quarter with an injury. Shinjo replaced Ogasawara and threw a 45-yard TD pass to Fumiya Ohara for the game's last points.
Ampo had four catches for 59 yards and also had two interceptions. Shinjo accounted for 190 yards total offense, including eight catches for 133 yards. Naoki Yoshimoto returned a pick-six 30 yards for Ryudai.
Matthew Verdick was 11-for-35 with four interceptions for 114 yards and Joshua Leach had four catches for 66 yards. Neil Webber had a sack and a fumble recovery and Peter Woods two sacks for the Kings.
Twitter: @ornauer_stripes