Osan girls hoping for a little twist to history
---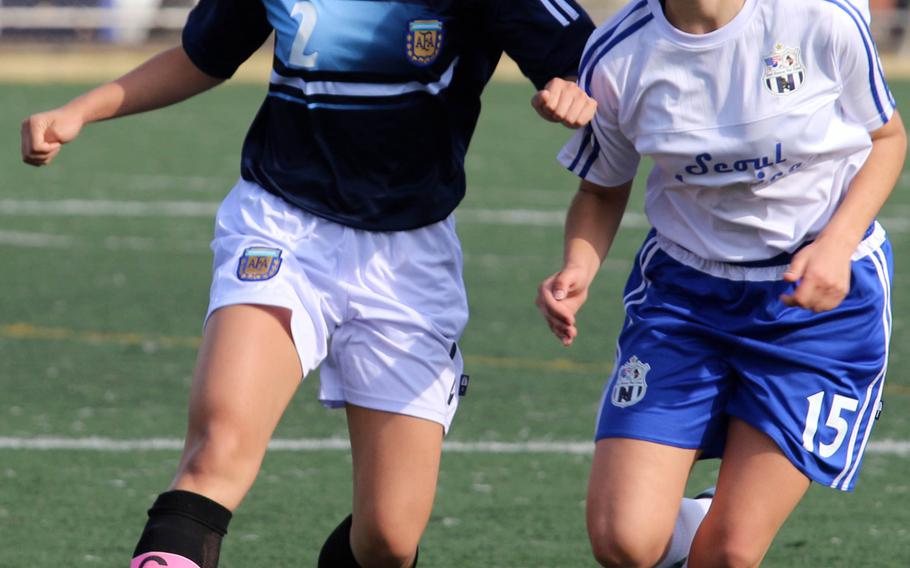 The Osan girls soccer team is hoping history repeats itself to some degree. Though a better ending for the Cougars' league tournament would be nice.
Osan enters this weekend's Korean-American Interscholastic Activities Conference Blue Division Tournament having finished third in the regular season. Every time it has finished third in the KAIAC tournament, a D-II title has followed.
"We've never done both," coach Sung Plourde said about winning both a KAIAC and Far East D-II tournament title in the same season. "Hopefully, we'll be ready this time."
Osan has won the KAIAC tournament twice and the regular-season championship once - last year. The Cougars, who have won a record eight Far East titles, are taking aim at their first Far East D-II title since 2013.
A D-II championship would send out Osan's leading goal scorer, senior Andrea Carandang, the same way she entered, having won that title in her freshman season.
She has 96 career goals, 22 this season, and is aiming to exit as just the second girls player with 100 or more, behind Sharon Kroening, Class of 2005. Madison Frazier has 12 assists, many of them to Carandang.
Whether all of that happens, Plourde says his main concern is taking things one at a time and hoping for success with each step.
"That's our goal, no matter what happens, let's finish strong," Plourde said. "We're shooting for the (KAIAC) tournament championship and then hope for the best at Far East."
This is the final weekend of a full soccer schedule in Korea. By the KAIAC constitution, no league matches nor tournaments may take place in May, which is the month that Advanced Placement and International Baccalaureate exams take place.
The rest of the region sees its final big weekend of athletics prior to the start of AP testing, the first two weeks of May.
No long-haul bus or plane trips are scheduled involving DODEA-Japan teams. Perry soccer travels to King this weekend, while Daegu and Seoul American baseball and softball visit Osan for three Saturday games; those involve bus rides up to five hours.
On Okinawa, a handful of soccer matches and baseball games are on tap Saturday and Sunday, along with the last regular-season game pitting Kadena at Kubasaki in softball at 1 p.m. Saturday. The Panthers led that season series 3-1 entering Thursday's game at Kadena.
Twitter: @ornauer_stripes
---
---
---
---