Far East track - Day 2
More records fall before Pac meet concludes
---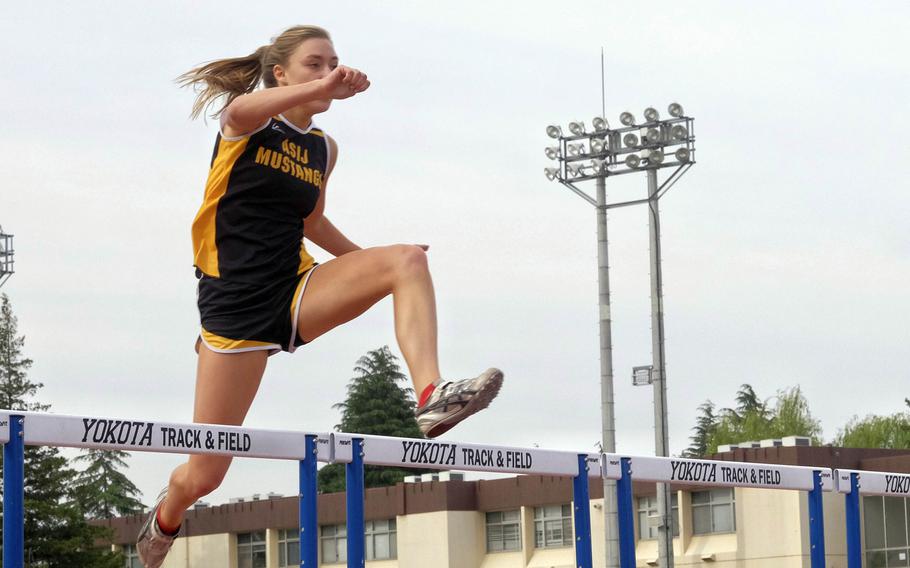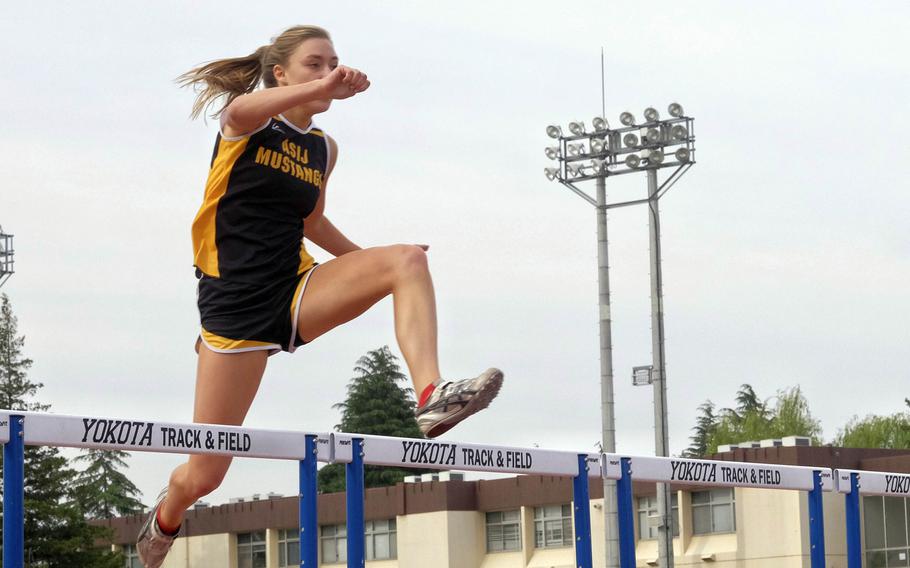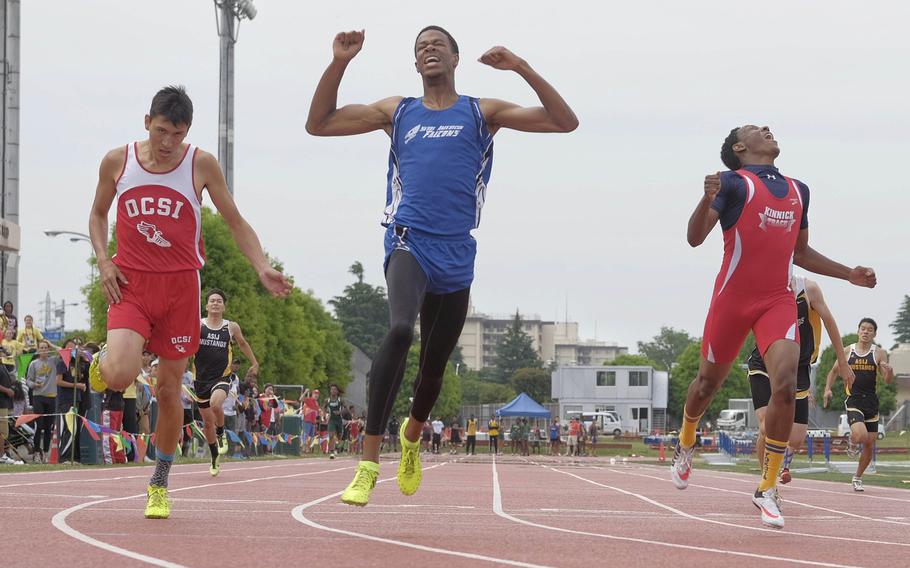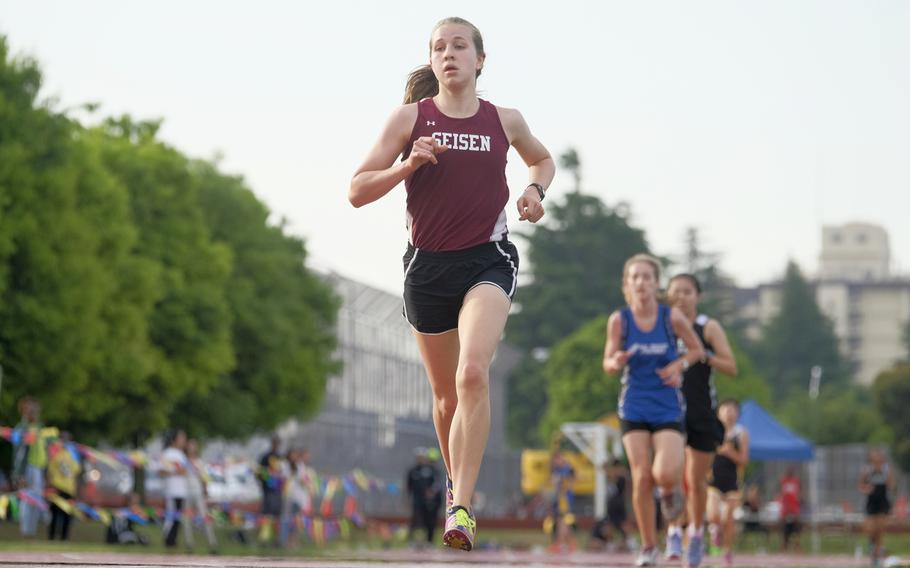 YOKOTA AIR BASE, Japan – Coming out of the final turn, Shawn Horne said he sensed his bid to win the race Friday was in major jeopardy.
The lanky Seoul American senior stood fourth as he headed down the home stretch of the 400-meter run on Day 2 of the Far East track and field meet. But he found another gear – and not only beat Pacific record-holder Jabari Johnson of Nile C. Kinnick to the tape; he broke the meet record Johnson had set a day earlier.
"Ooh. Great," Horne said when informed of his record 49.06 run, topping Johnson's 49.27 in Thursday's preliminaries. "When I came off the curve and I was fourth, I went all out to get them. I had to to get the win."
In what had all the trappings of a photo finish, Horne edged Johnson by .07 seconds and Okinawa Christian's Shawn Monroe by .10, meaning all three had beaten Johnson's mark the day before.
Friday saw the continuation of a record binge that began Thursday when three Pacific and six meet records tumbled. On Friday, two more Pacific records and six more meet records met their demise.
In the chase for team titles, Kinnick won the girls and overall Division I banners, while American School In Japan captured the boys title. Zama won its second straight overall Division II banner and Yokota's boys and Zama's girls won their respective banners. It meant a fourth D-II title for Yokota this week and seventh in 10 available since becoming a small school on Nov. 18.
ASIJ's Jenna Doyno set one of the two Pacific marks, rallying past Kadena's Apryl-Len Cabase to win the 300 hurdles in 46.61 seconds, topping the 46.97 set by Guam High's Stefani Loisel four years ago. And it came after Doyno got off to a bad start.
"I took a step backward when I started," the senior Mustang said. "I didn't expect this. This is great. It was so scary running. Apryl-Len is such a good runner."
The other Pacific record came in the final race in a Seisen uniform for freshman Brittani Shappell. She broke her own region record in the 3,200, clocking 11 minutes, 4.56 seconds; she'd run 11:12.36 in the May 9 Kanto finals.
"I've seen good things in her training, so I'm not as surprised as I was," said Seisen distance coach Matt Granger, who on previous occasions admitted that he was amazed at the things Shappell was doing, especially coming off an injury that limited her training before the season.
Granger credited Kinnick's Arlene Avalos and American School In Japan's Lisa Watanuki for pushing Shappell early. "These girls have been running really well lately," he said.
So well, in fact, that Watanuki at 11:23.31 and Avalos at 11:30.25 also easily beat the old meet mark of 11:50.49 set in 2014 by ASIJ's Tatiana Riordan.
Shappell also set a meet record in the 800, with a time of 2:21.02, beating the 2012 mark of 2:25.19 set in 2012 by Seoul American's Amanda Henderson.
Cabase, a senior, didn't go home without a record of her own; she ran the 100 hurdles in 16.37 seconds, besting the 2014 mark of 16.75 run by Amora Wood of Zion Christian. Teammate Tiarrah Edwards also beat the old mark with a 16.69.
"She's a great runner," Cabase said of Edwards, adding that with her teammate pushing her, she was going all out. "That finish line looked so pleasing."
Another athlete beating his own Far East meet record was Seoul American senior David Davison. His shot put of 15.11 meters demolished his old mark of 13.59 set last year. He confessed to nerves before each meet the last two years, but said nerves benefitted him Friday.
"Last year, I let it hinder me," he said. "This time, I put that nervousness into what I was doing. I used it to fuel my throwing."
And as the meet began with Yokota's Christian Sonnenberg setting a record in one of the meet's first events, so the Far East ended with a meet record in the final event, the boys 1,600 relay. ASIJ ran 3:25.45, besting the 3:29.22 run last year by Seoul American.
"When I looked at these guys, I knew we were going to kill the record," Mustang senior Ken Baburek said. "It's all about these guys."
Kubasaki stuns Kadena in baseballYOKOSUKA NAVAL BASE, Japan – Alex Eisenberg belted a three-run, two-out, full-count home run off reliever Justin Sego in Kubasaki's four-run sixth inning, rallying the Dragons past Kadena 6-5 in the Far East Division I Baseball Tournament semifinal Friday at Yokosuka's Berkey Field.
The win – Kubasaki's first in five tries against the Okinawa foe Kadena – put the Dragons into Saturday's D-I championship, their third appearance in six years, against defending champion American School In Japan, which beat host Nile C. Kinnick 14-3 in the other semifinal.
ornauer.dave@stripes.com Twitter: @ornauer_stripes
---
---
---
---