Mitchell sets school record as Kubasaki romps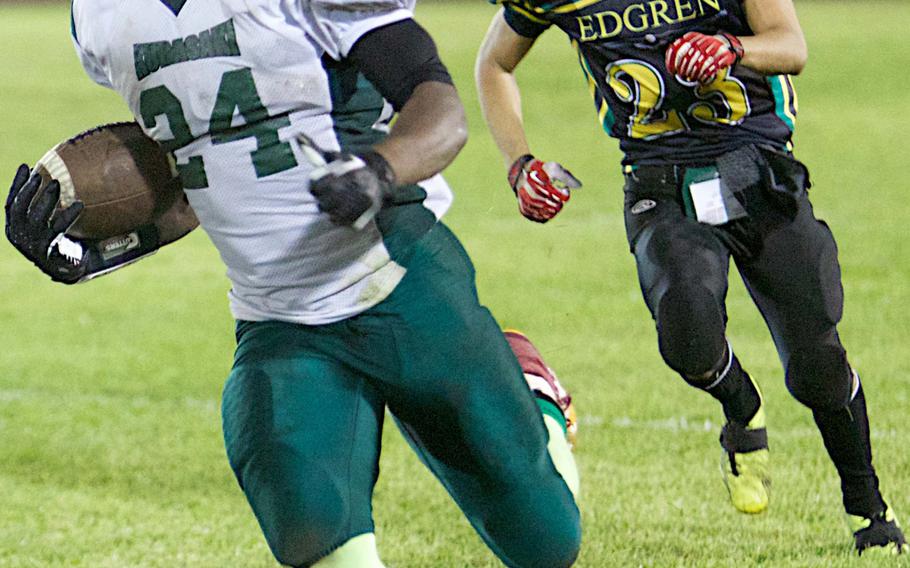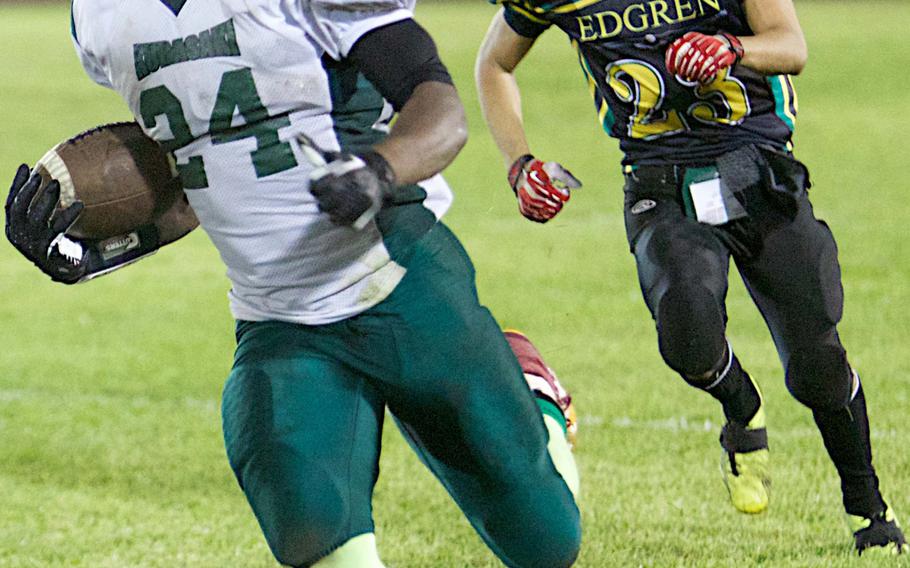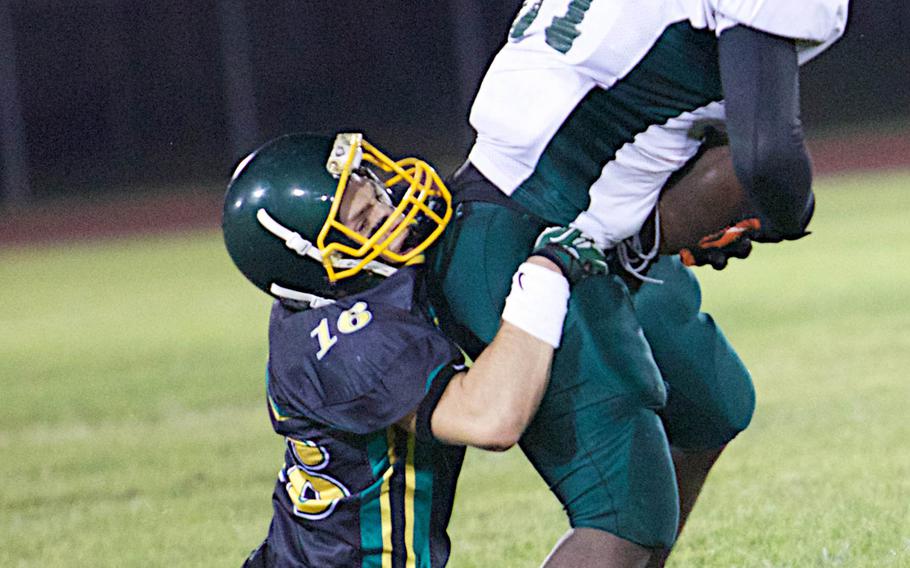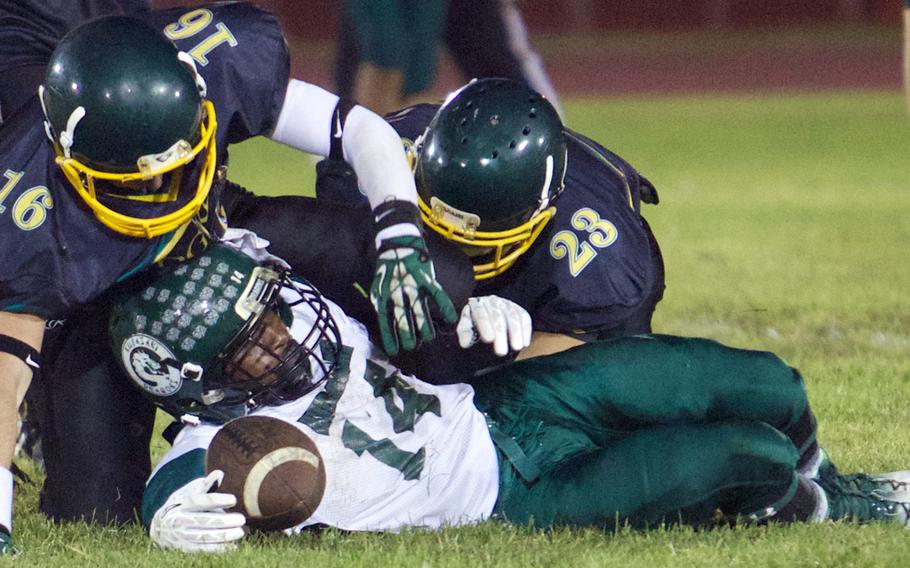 MISAWA AIR BASE, Japan – One of Fred Bales' concerns entering the season was rebuilding a Kubasaki football line decimated by graduations and transfers. The Dragons' line put together its best performance of the season Saturday – and launched senior running back Jarrett Mitchell to a record performance. Mitchell rushed 14 times for 379 yards, third-highest single-game total in Pacific history, and scored four times, powering the Dragons to a 31-7 win at Robert D. Edgren's Eagles Field in the first meeting between the schools. "Our line has been a work in progress, but they've kept working and tonight turned in a good performance on both sides of the ball," Bales said. "The line controlled the front enough to break him loose and he (Mitchell) does the rest. All he needs is a start." Much of the second half was played with a running clock after Mitchell recorded the highest single-game total by an Okinawa-based running back. Donald Wimes rushed for 331 yards in a 1986 Kubasaki Shogun 50-26 win over the Kadena Islanders. "He's good. He's a good kid. He's hard to stop," Eagles coach Blaine Miller said of Mitchell. Bales and the Dragons don't play again until Oct. 19. Kubasaki raised the funds to pay for the trip and otherwise wouldn't have played for a month before hosting Nile C. Kinnick. "It's great to get in a game like this," Bales said. "It's a great experience for these young men. The Edgren community did a great job hosting us and it was a great environment for the game. We go into this break healthy and in a good frame of mind." Joe Cervantes went 4-for-6 for 80 yards, with Kareem Key catching three passes for 74 for the Dragons. Key added 12 tackles. Winston Maxwell rushed for 65 yards and a touchdown on 11 attempts and Tyshon Butler added 64 yards on eight tries. "The defense was outstanding for a second week in a row," Bales said of a unit that recorded four takeaways, a fumble recovery by Sho Green and interceptions by Jacob Green, Tristan McElroy and DeQuan Alderman. Khaleem Shabazz's touchdown pass to Izzy Leon in the closing minutes accounted for the Eagles' scoring. Despite the defeat, Miller expressed optimism. Kubasaki led 24-0 after one quarter and the game was even the rest of the way, a week after the Eagles almost upset American School In Japan. "We continue to move forward," Miller said. The Eagles next host Kinnick at 7 p.m. Friday.
David Smalls of Seoul American holds the Pacific single-game record with 421 yards in a 2006 game against Osan American. Second is Corey Dunlap-Buckmon, who rushed for 384 yards for Simon Sanchez in a 2001 game. Mitchell's is the second 300-plus-yard performance of the 2013 season. Dre Paylor of Nile C. Kinnick ran for 371 yards in the Red Devils' 55-27 home win over Yokota on Sept. 6.
Top 10Single-game rushing performances in Far East high school football history:David Smalls, Seoul American Falcons, 421 yards, 29 carries, Oct. 4, 2006, 58-32 win over Osan American Cougars.Corey Dunlap-Buckmon, Simon Sanchez Sharks, Guam, 384 yards, 28 carries, Oct. 27, 2001, 66-0 win over John F. Kennedy Islanders.Jarrett Mitchell, Kubasaki Dragons, Okinawa, 379 yards, 14 carries, Sept. 28, 2013, 31-7 win over Robert D. Edgren Eagles, Japan.Dre Paylor, Nile C. Kinnick Red Devils, Japan, 371 yards, 30 carries, Sept. 6, 2013, 55-27 win over Yokota Panthers.Laryzno Abernathy, Nile C. Kinnick Red Devils, Japan, 362 yards, 28 carries, Oct. 20, 2006, 34-6 win over Zama American Trojans.Corey Dunlap-Buckmon, Simon Sanchez Sharks, Guam, 351 yards, 26 carries, Nov. 9, 2001, 84-6 win over Guam High Panthers.Ronald Dogan, Seoul American Falcons, 350 yards, 16 carries, Sept. 27, 2012, 47-18 win over Osan American Cougars.Larynzo Abernathy, Nile C. Kinnick Red Devils, Japan, 343 yards, 39 carries, Oct. 27, 2006, 26-20 win over American School In Japan Mustangs.Terry Stephens, Osan American Cougars, Korea, 343 yards, 25 carries, Oct. 30, 2004, 40-12 win over Taegu American Warriors.Donald Wimes, Kubasaki Shogun, Okinawa, 331 yards, 24 carries, Oct. 3, 1986, 50-26 win over Kadena Islanders.