Prep roundup
Many wrestlers get chance to see what Far East foes look like
by
Dave Ornauer
December 14, 2019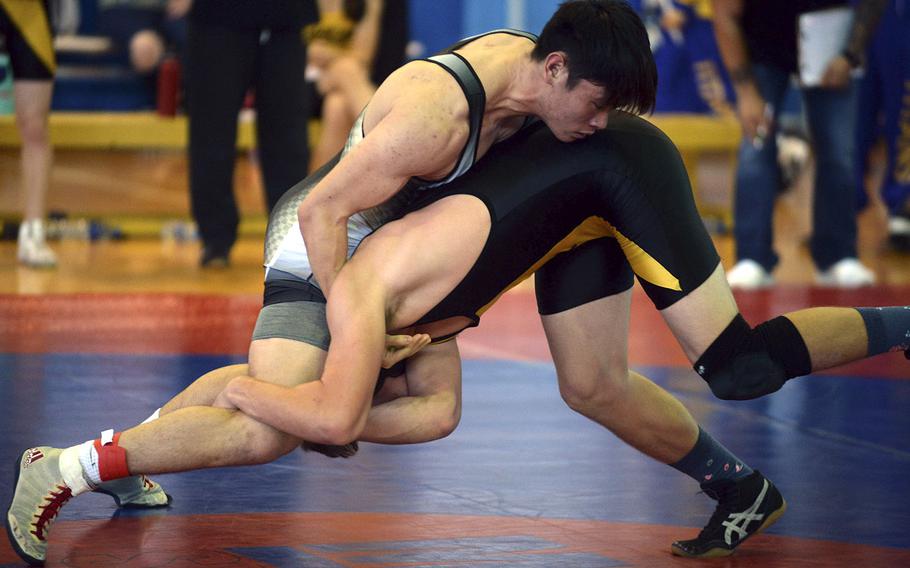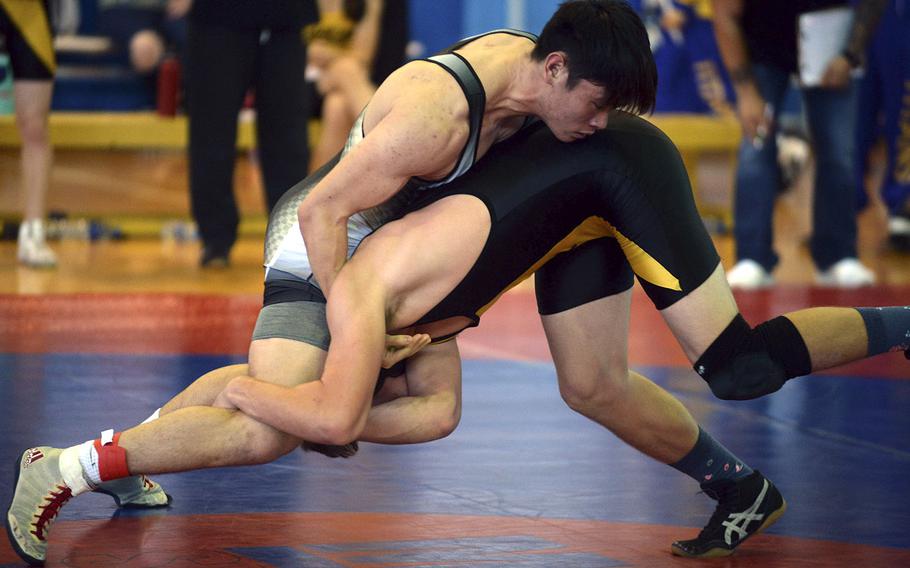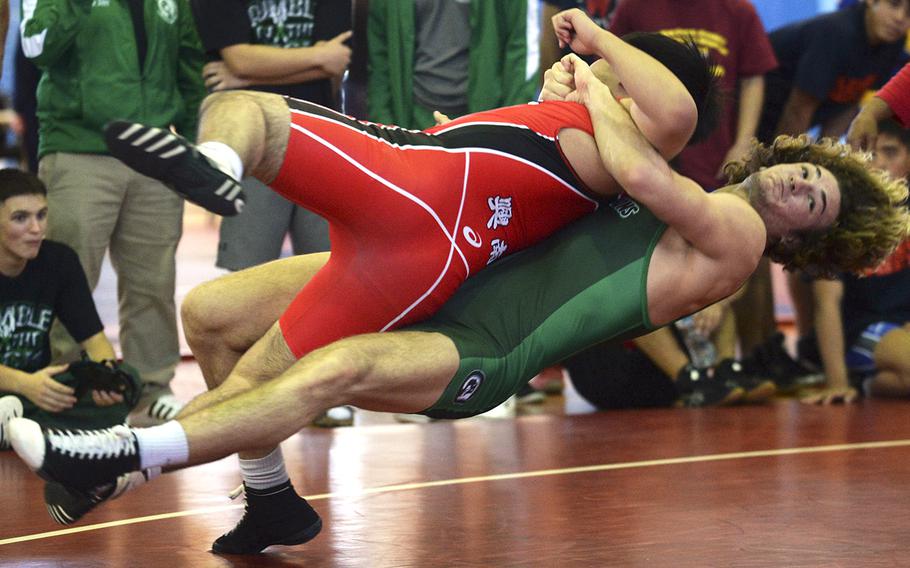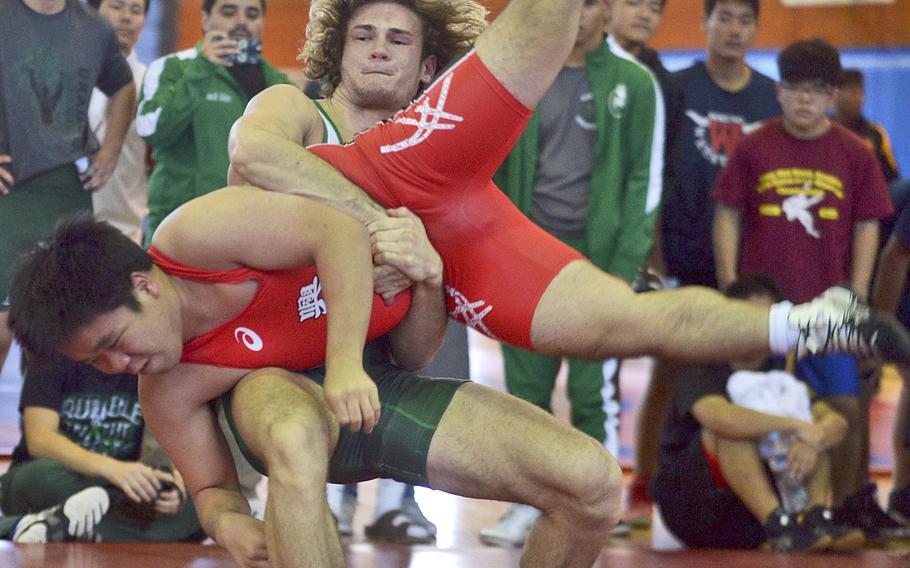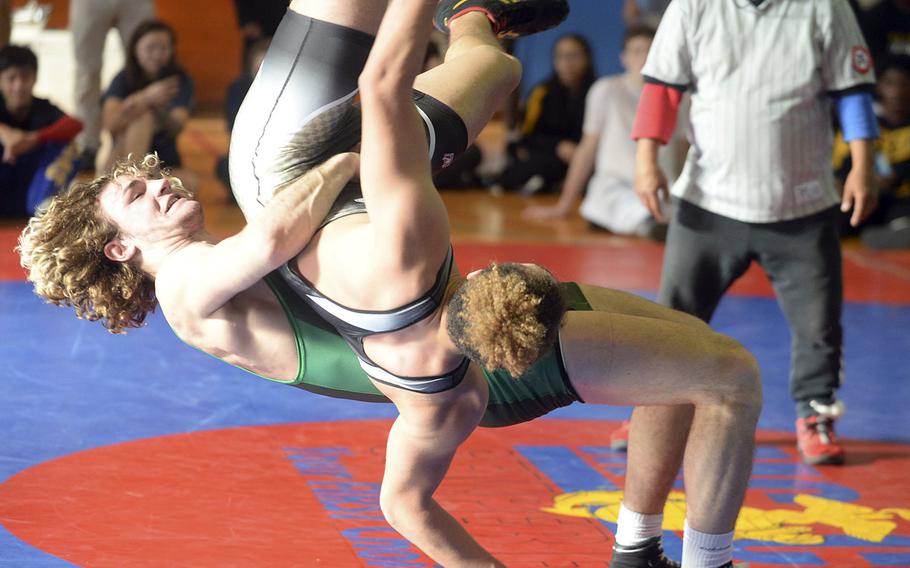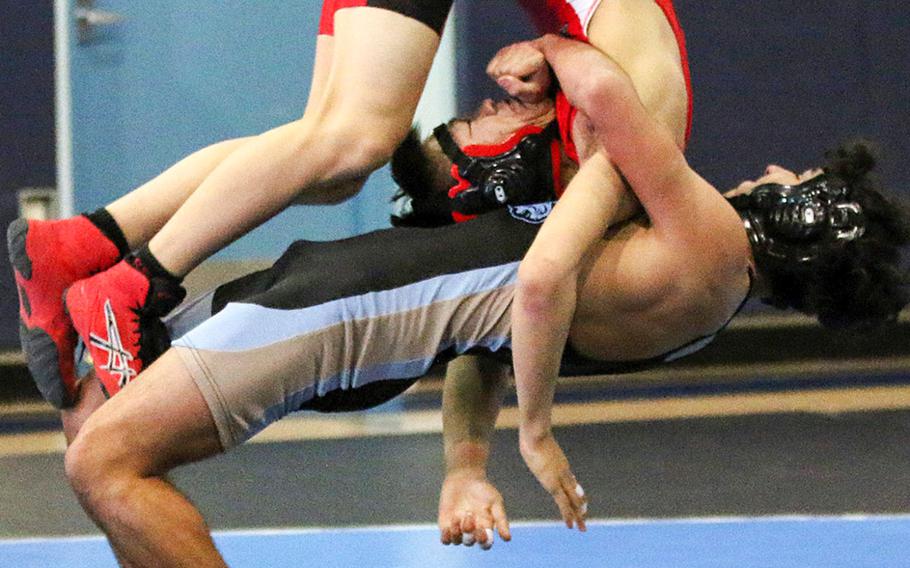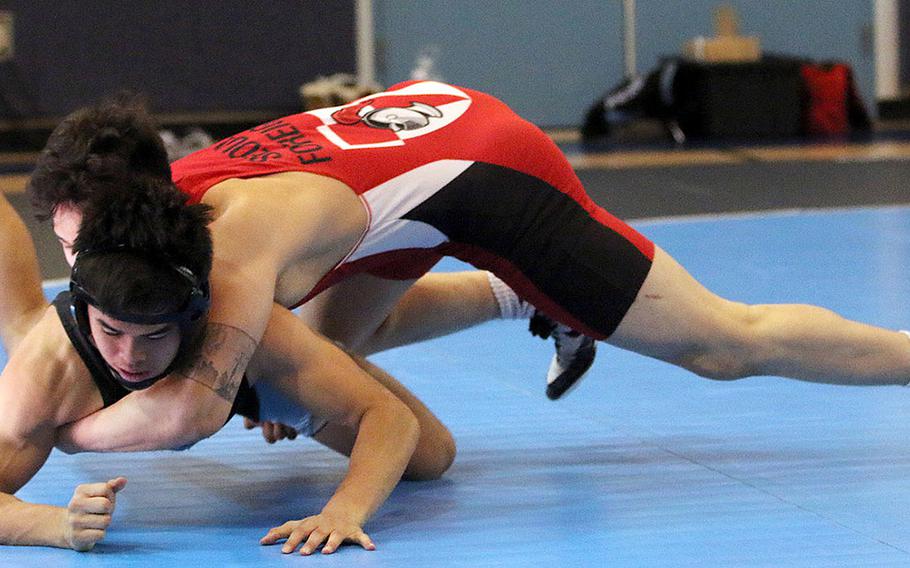 MARINE CORPS AIR STATION FUTENMA, Okinawa – The new wrestler from Florida proved to be as solid as his pedigree and reputation.
Colin Nation, a Kubasaki junior transfer from Tampa Prep - where he won the state championship - won all three of his bouts by technical fall en route to the 180-pound title in the Rumble on the Rock tournament, which returned to the Okinawa mats after a seven-year absence. He was voted Outstanding Wrestler.
"I was hoping the competition would be a little higher," Nation said after putting away three opponents with a dazzling display of lifts, carries and suplex throws. He put away Dennis Martinez of Humphreys by technical fall 10-0 in 35 seconds for the weight-class crown.
Despite his performance, Nation said he needed to better his game. "Setups, for takedowns (and) shots," he said. "At least for the throws on my feet, I need to put my hips into it more. Rely less on strength and more on technique."
Rumble came back to the mats for the first time since February 2013, and featured Kubasaki and Kadena, Humphreys from South Korea, St. Mary's out of Tokyo and some wrestlers from Japanese schools, seven of whom won their weights.
"We're seeing our strengths and we're seeing what we need to work on," Kubasaki coach and tournament director Brent Cook said. "I'm so glad we got this opportunity."
One of the bigger Rumble surprises came at 101 pounds, where sophomore Mizuki Sato-Marsh won all three of her bouts, including a pin over Kubasaki's Collin Inthisone in 2:26.
"Even if you win, you still have to get better," Sato-Marsh said, adding that she feels she needs to work on making better shots.
Rumble also featured its share of comeback victories, including Austin Carpenter, who trailed Axel Shepherd in the 122-pound final before rallying for a pin in 2:49.
"I noticed something wasn't working in the beginning, so I tried something different and it worked," Carpenter said.
Other DODEA winners included reigning Far East tournament 215-pound champion Haydn Peterson of Kubasaki, who pinned St. Mary's Luke Robottom in 1:48, then struck a biceps pose after the victory.
Also, Kubasaki's Noah Vasquez won the 108 title over St. Mary's Mikhail Titov by technical fall 12-2. The Titans' Hikaru Shimada pinned Kubasaki's James Carpenter in the 141 final.
Osan gamble pays off, but barelyOSAN AIR BASE, South Korea – With defending league champion Humphreys not around, Osan won both of its dual meets in a Korea tri-meet at Osan, but not without a major scare at 180 pounds.
Seoul Foreign senior Brian Choe, a former Seoul American wrestler, won his very last bout before leaving to transfer to the States.
He won a 4-0 decision over Cougars junior Marcus Inthavixay, a reigning Far East champion, who moved up from 158 to 180 just to wrestle Choe. The Cougars escaped with a 29-26 win over the Crusaders.
"We rolled the dice and it almost cost us," Cougars coach Andrew Grant said.
Kinnick stays unbeaten; Perry shines at EdgrenMISAWA AIR BASE, Japan – While Nile C. Kinnick remained unbeaten in eight dual meets this season, Matthew C. Perry became the latest Division II surprise in the DODEA-Japan circuit on Saturday in a five-team dual-meet tournament at Robert D. Edgren.
The Samurai won three of their four dual meets and almost pulled an upset over the Red Devils, losing by just 29-25. "One more match would have done it," Perry coach Chris Munsell said. "We are getting better."
Despite staying perfect, the Red Devils "still need to improve on fundamentals, defending and overall conditioning," Kinnick coach Gary Wilson said.
Daegu, Zama girls, Humphreys boys stay unbeatenSEOUL – No Dai'Ja Turner? No problem for Daegu's girls basketball team, which remained unbeaten at 5-0 with two weekend wins, at Seoul Foreign and Yongsan.
The Warriors' big worry at season's beginning was how to overcome the loss of Turner, their big presence in the paint the last two seasons. But sophomore Jya Van, coach Jonathan Van's daughter, has filled in well, averaging eight points and 13 rebounds in five games, all wins.
The team that beat the Warriors in last year's Far East D-II final, Zama, also stayed unbeaten, winning their second game 57-42 over American School In Japan. Reigning D-II Most Valuable Player Chloe Sterling had 21 points and backcourt mate Kirari Smith had 18.
On the boys side, Humphreys' stayed unbeaten at 5-0, also with two weekend wins. Junior Gregory led the way in a 66-24 win at Osan and a 49-27 win over Yongsan; Gregory averaged 18 points in the two games.
ornauer.dave@stripes.com Twitter: @daveornauer