Volleyball AOY
Larry played big role on court, behind the scenes
---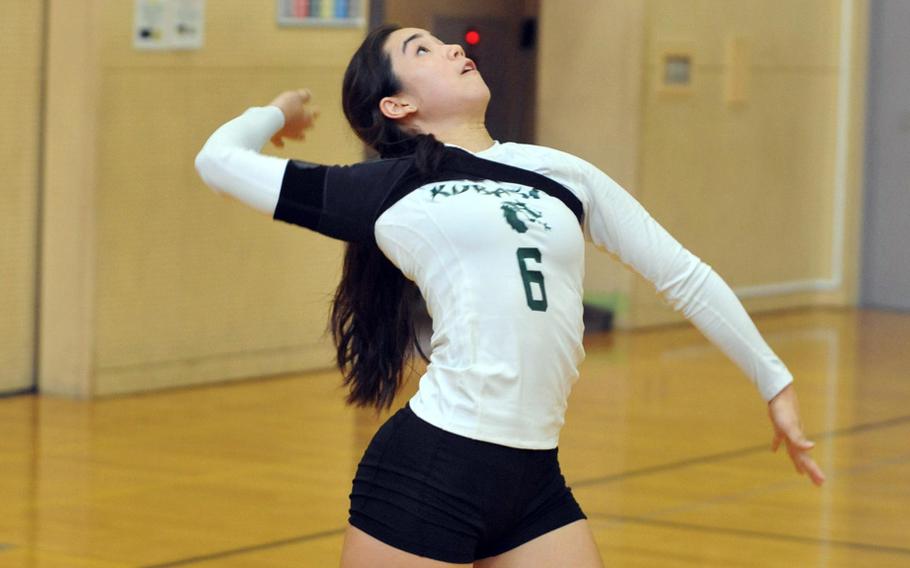 CAMP FOSTER, Okinawa – As a Kubasaki freshman two years ago, diminutive Maiya Larry seemed to reach every ball, make most every dig, do whatever it took to get the volleyball to the setter.
But she wasn't exactly vocal on the court.
Fast forward to her junior year, when the converted outside hitter, now 5-foot-4, averaged seven kills, served 91 percent and averaged 16.8 digs per match and helped her Dragons to a 8-1 regular-season record against American and international teams.
Kubasaki went 12-0 in the Far East Division I tournament and accomplished something no DODEA team, large or small, has ever done: win three straight Far East titles.
For her feats – and her interaction with teammates and the building of team chemistry on and off the court – Larry has been named Stars and Stripes' Pacific girls volleyball Athlete of the Year.
It was more than just numbers and win-loss records for Larry. She began playing as a fifth-grader, but in Japanese schools both at Misawa in northern Japan and Okinawa, and only began matriculating at Kubasaki during her freshman year.
Even though fully functional in English and Japanese, "I was really nervous," she said. "I wasn't comfortable being vocal around people."
"She was still transitioning," coach Mike Hogen said. "For her, it was a culture shock. She was fully bilingual (but) she was a Japanese student, Japanese athlete and was transitioning to a different type of volleyball, for one thing."
American teams play a mostly perimeter defense, while Japanese are "accustomed to a man-up (defense), kind of Okinawan style. She definitely didn't want to have a voice and she didn't feel like she could lead an American team because of the cultural differences."
Hogen needed a way to "get me out of my shell, get me talking," Larry said. And it was in Larry's hitting that Hogen saw a way for her to be a more balanced player and a leader.
"I just accepted that I'm always going to be a defender," Larry said of her early years. "When I came to Kubasaki, coach Hogen said that because I'm a smart hitter, I could play outside for his team. It made me feel like I could lead the game more, score points and take control of the game."
As the years progressed, Hogen said he depended on Larry to do behind-the-scenes work, talk with players outside of games and practices, help them develop confidence in their play and all the while build on the team's chemistry.
Larry would take charge in practices along with fellow junior Chloe' Stevens, setting a "tone that was kind of a mixture" of things Larry learned in Japanese ball and Hogen's philosophy.
A combination of chemistry and competition, Hogen said. "This is our goal, how are we going to achieve it, we're going to try to put more effort into everything we do. And Maiya is all about effort; she isn't afraid of effort."ornauer.dave@stripes.com Twitter: @ornauer_stripesStars and Stripes Pacific's All Far East volleyball team Maiya Larry, Kubasaki, Far East Division I Tournament MVP, first-team All-Okinawa District. Elyse Davidson, American School In Japan, two-time Far East Division I Tournament Best Hitter. Kyra Anderson, Yokota, Far East Division II Tournament MVP. Lalla Migliardi, Seoul Foreign School, Korea Blue Division Most Valuable Player. Reiko Tsuji, Christian Academy Japan, Far East Division II Tournament Best Defender. Jordyn Deleon Guerrero, Kubasaki, two-time Far East Division I Tournament Best Defender.
---
---
---
---