D1 boys
Kubasaki runs away from Kadena for repeat
by
Matthew M. Burke
February 18, 2016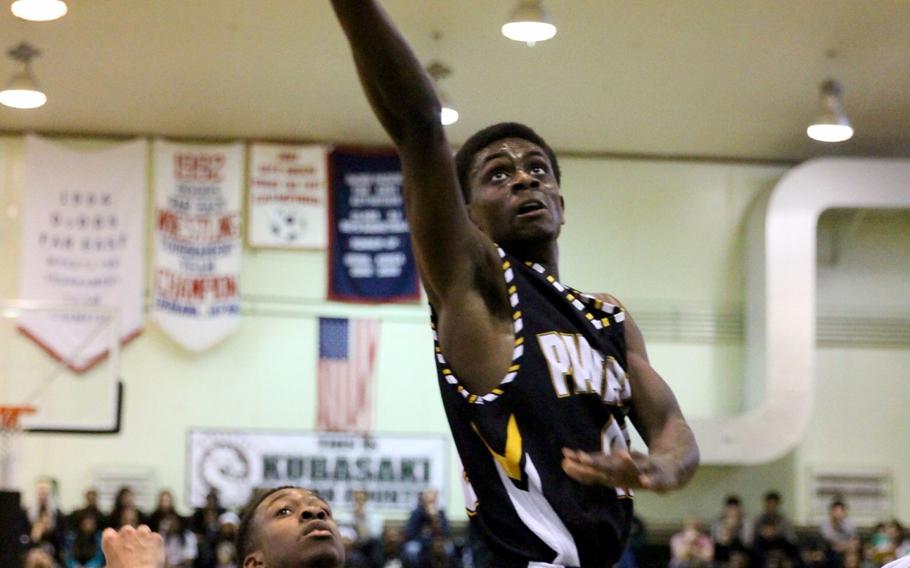 CAMP FOSTER, Okinawa — In the Far East Division I Boys' Basketball Championship, Kadena faced Goliath on Thursday afternoon in cross-town rival Kubasaki.
The fast and scrappy Panthers showed up with their claws out, ready to fight, but in the end, the defending champion Dragons were just too formidable in size and speed. They cruised to a 59-32 victory, finishing the season with a near-perfect 27-1 record.
It was the fifth championship for Kubasaki coach Jon Fick.
Senior forward Matt Ashley – a four-year varsity player - was named Most Valuable Player. With limited playing time due to the "mercy rule," that limits the playing time of starters when a team goes up 30 points, Ashley netted 13 in the first half. Fellow seniors Skylor Stevens and Isaiah Johnson each added 10 points.
"It's been a great season playing with these guys," Ashley said after the buzzer sounded and the team piled on top of one another at center court. "Kadena is a good team. This is the best way to go out, two years, back-to-back championships."
Kubasaki's Johnson started off the game's scoring with a three-pointer that set the tone. The Dragons never looked back, going on a 10-0 run.
The Panthers were never able to establish a rhythm and go on a run of their own. Three-pointers by the lightning quick senior guard from Kubasaki, Jacob Green, and Connor Howlett, prevented them from ever really getting in the game.
At the end of the first quarter, Kubasaki was up 26-4. Ashley contributed nine out of the gate.
The Kubasaki lead then went above 30 points. With Kubasaki's sophomores taking the lion's share of the playing time, Kadena battled back. Kubasaki led 45-14 at the half.
Kadena star forward Justin Wilson, a junior, ran into foul trouble early. Coach Gerald Johnson decided to keep him in the game. Wilson had 12 points for Kadena in defeat.
"They're good guys," Johnson said of his squad. "They're going to fight until the end."
Johnson applauded Kubasaki for a great season.
"When you have a team this stacked, sometimes you just go to practice and stay out of their way," Fick said after the game. He added that the first half was the greatest half of basketball he's ever seen in his decade-long coaching career.
"This is the highest GPA I've ever had, the most talent I've ever had. They're just phenomenal kids."
"It was just our night," Fick said.
---
---
---