Far East D-I volleyball
Kubasaki rallies past Seisen to reclaim throne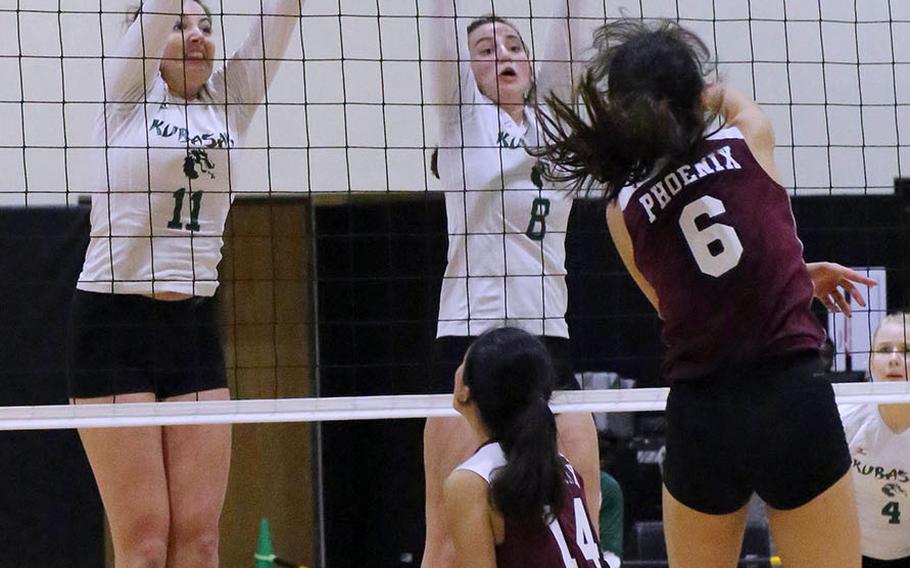 CAMP HUMPHREYS, South Korea – A setting adjustment made the difference for Kubasaki as it rallied from two sets down Saturday to capture its fourth Far East Division I Girls Volleyball Tournament title in five years.
Senior setter Mimi Larry, named the tournament's Most Valuable Player, had 43 assists and the Dragons came back from a two-set hole to dethrone defending champion Seisen in five sets for the crown. Kubasaki won 23-25, 20-25, 25-16, 25-16, 15-10.
It might not have been possible, coach Mike Hogen said, had not Larry made changes to her sets; she had been called for 10 carrying violations in the first set, which threw the Dragons off their game.
"I didn't think it was possible" for the Dragons to rally, Hogen said. "But Mimi somehow changed her setting technique. It took about 1½ sets and then we just rolled."
Senior Donatella Barone benefitted from the change to record 18 kills. Sophomore Zoe Weidley, in her last match in Dragon uniform, had 19 digs. Freshman Alyssa Alvarado recorded eight aces.
For the former champion Phoenix, Lilu Vandercamme had 14 kills and six block points. Momoka Umemiya had 20 digs and Jenny Niwa had 37 assists.
"I was proud of the team for not giving up," Hogen said. "When you see them be resilient like that … they didn't give up. They kept believing they could deal with the adversity. That's pretty special."
Of the four titles the Dragons have won on his watch, Hogen said this one was comparable to the first won Kubasaki won in 2014.
Kubasaki upset three-time champion American School In Japan that year in an era when DODEA teams typically didn't even make it to the championship round. Now, DODEA teams have won five of the last nine titles.
Seisen had been trying for its first back-to-back titles in school history. A year ago, the Phoenix won their first D-I banner since 1993.