Prep roundup
Kubasaki primed for Far East softball run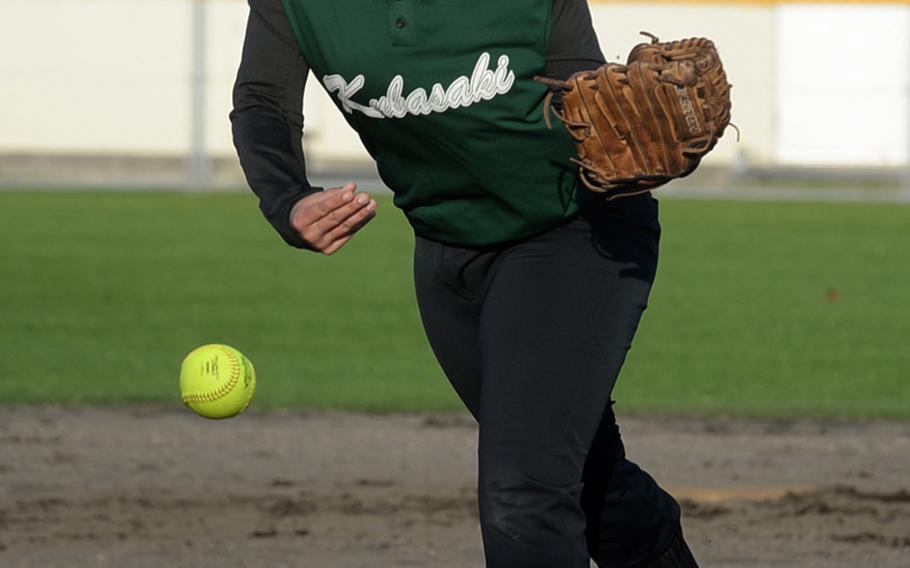 CAMP FOSTER, Okinawa – Call it a history-making softball season for Kubasaki: for the first time, the Dragons have won both the Okinawa regular-season and district finals best-of-three series in the same year.
Olivia Witherow, McKayla Major and the Dragons saw to that on Friday, when they swept the best-of-three finals at home against Kadena, beating the Panthers 15-4 in a one-sided Game 1 and 15-11 in a see-saw second game.
"This has been a long time coming, winning both the conference and districts in the same year," first-year head coach Trevor Thibert said; he was an assistant on the Dragons when they won the district finals last season.
This is the third time Kubasaki has won the best-of-three, also pulling it off in 2012 as well as last season. But never in the 16-season history of high school softball on Okinawa had the Dragons ever pulled that double.
"It was a windy evening, but we pulled it off," Thibert said. Witherow struck out three batters in three innings, leading the Dragons in Game 1. Ceara King and Madison Richardson combined to go 5-for-6, each with a double. The game was called at three innings due to the time limit.
The nightcap was more of a back-and-forth battle, with the game tied three times and the lead changing hands thrice more.
Major struck out three batters over three innings – again, the game was called due to the time limit – and helped herself at the plate by going 2-for-3. C.C. Charles contributed three hits including a double.
Panthers coach Tom Bell "had a lot of tricks up his sleeve and didn't make it easy for us to win," Thibert said. "But our six seniors led the way to the sweep. Hats off to Kadena for a great season."
Now the Dragons go after a third goal that has eluded them since the advent of Far East tournaments in 2010 – a Division I title.
"I told the girls that we weren't done until we get the trifecta, conference, district and Far East," Thibert said. "Our goal isn't complete yet."
Red Devils complete unbeaten seasonYOKOTA AIR BASE, Japan – It wasn't easy, especially on the boys side, coach Luke Voth said, but his Nile C. Kinnick track and field team captured Saturday's Kanto Plain finals boys and girls team titles.
Isaiah Brown won the 400, Kameron Leon Guerrero and Joshua Vitug won the throws and Kinnick took the 1,600 relay to outdistance St. Mary's in the boys standings 134-118.
On the girls side, Kinnick swept the relays, Erin Stonebarger, Taryn Cates-Beier and Rissa Eilmes each won a distance event and Exotica Hall took the high jump, 100 and 200 to power the Red Devils well past American School In Japan 235½ to 116½.
"I'm happy for the unbeaten season," Voth said. "Things went well for us. The boys, I wasn't quite sure we could pull it off. St. Mary's won Far East cross country, they have all those kids back, they're well trained and well coached."
Now Kinnick takes aim at a fourth straight Far East Division I title. The Far East meet is scheduled for May 21-22 at the same Yokota Bonk Field track.
"We're looking forward to it, plan to do the best we can," Voth said.
Lange extends his Pacific goal-scoring recordMARINE CORPS AIR STATION IWAKUNI, Japan – Kai Lange keeps piling up the goals and his Matthew C. Perry boys soccer team keeps piling up the wins.
The Samurai junior striker added seven more goals over the weekend, extending his Pacific single-season record to 72, and leading Perry to two wins in three matches. They improved to 18-8-3 on the season.
"Seventy two. Amazing," said his coach and father, Mark Lange, who almost immediately sounded a cautionary note.
"He would have more, except he's also creeping up there in assists," the elder Lange said of Kai, who has 19 assists; he accounted for every Perry goal this weekend. "And records are made to be broken. Some last for a long time."
The Samurai lost 4-3 Friday to the Orient Tigers club team, then blanked E.J. King 3-0 and beat the Cobras 5-1 in two matches on Saturday.
Girls goal-scoring leaders leapfrog each otherYOKOSUKA NAVAL BASE, Japan – While Lange holds a large lead over the next-best boys goal scorer (Kinnick's Kai Sullivan, with 34), the race for girls goal-scoring honors has become a tight one.
Kinnick's Maggie Donnelly took over the lead with a pair of goals during Saturday's 4-3 win over ASIJ. That gave her 37 for the season, one ahead of Kadena's Adrianna Gomez, who has 36, including two in the Panthers' 5-0 shutout Friday of Kubasaki.
Two behind Gomez in third place is Kayesha McNeill of Zama, with 34, followed by Caleigh Garcia of Yokota (32), Donnelly's teammate Ella Eisenhardt (31) and Perry's Micayla Feltner (28).
Yokota girls strikers capture first Kanto title in 15 yearsCAMP ZAMA, Japan – Jamia Bailey scored twice, giving her 23 goals for the season, and Regina Dukat added two assists, giving her 25 on the season, and Yokota's girls soccer team beat Zama 4-0 on Friday, giving the Panthers their first Kanto Plain title since 2003.
The Panthers improved to 25-1-1 on the campaign, and added the Kanto Plain crown to the DODEA-Japan tournament title they won two weeks ago at Perry.