Kinnick shuts out Yokota to stay perfect on season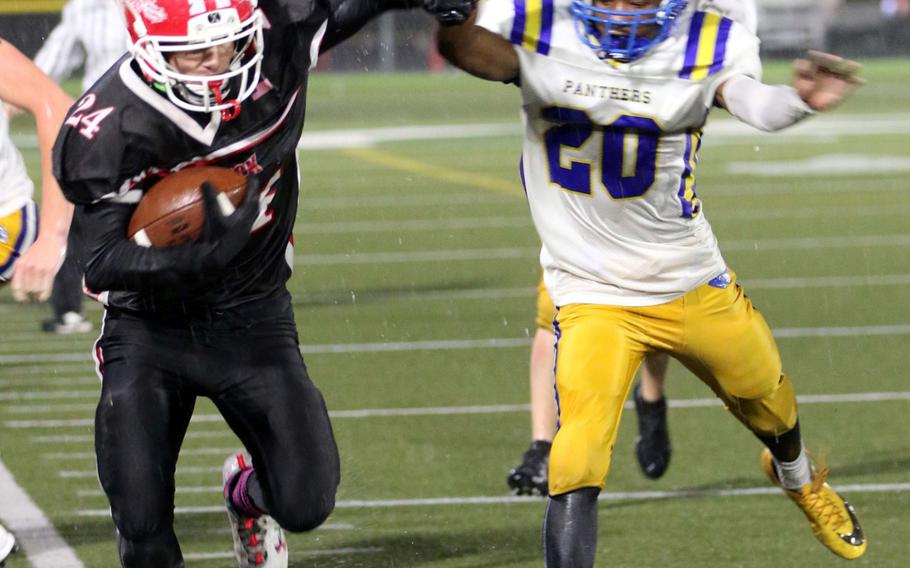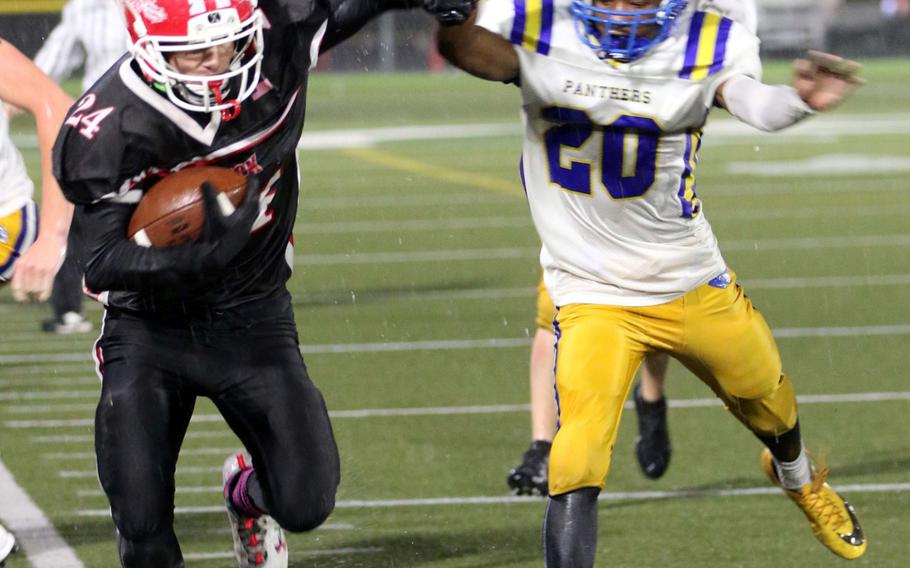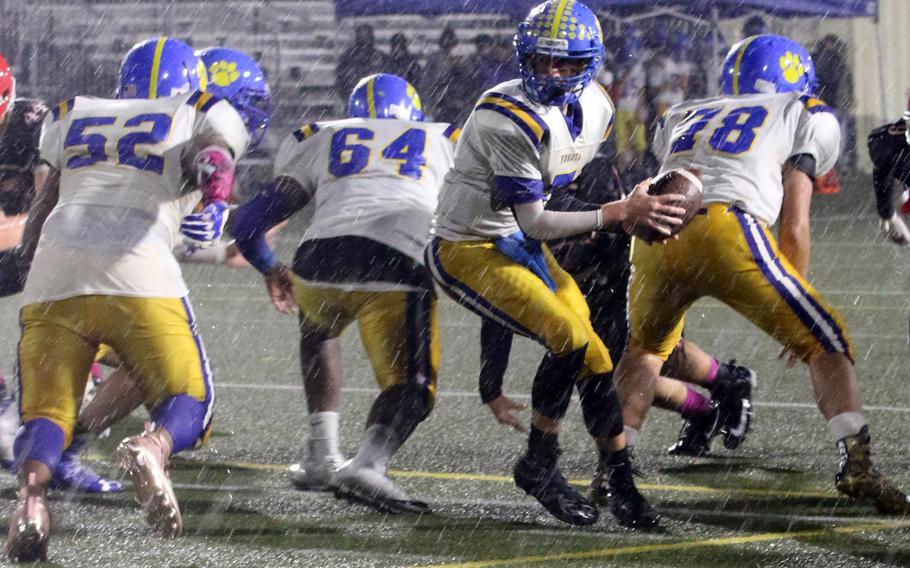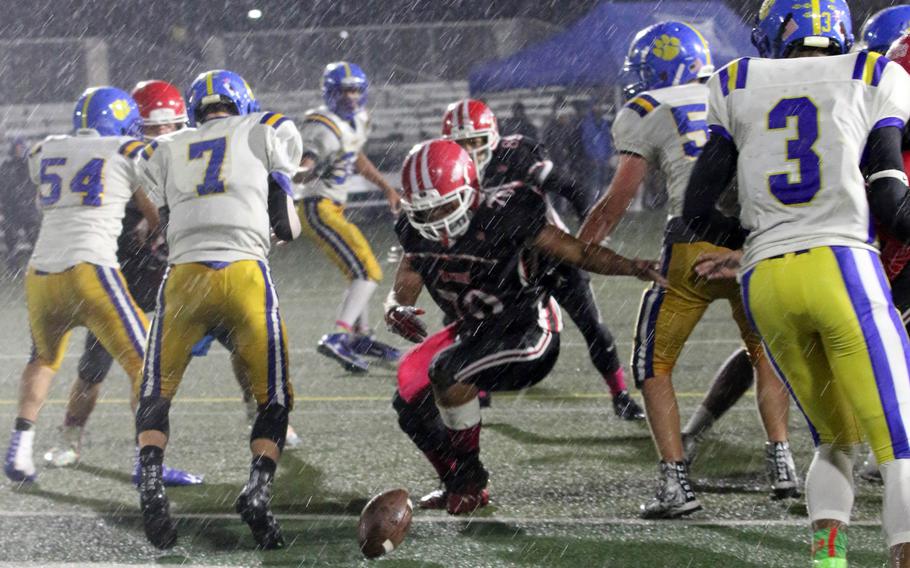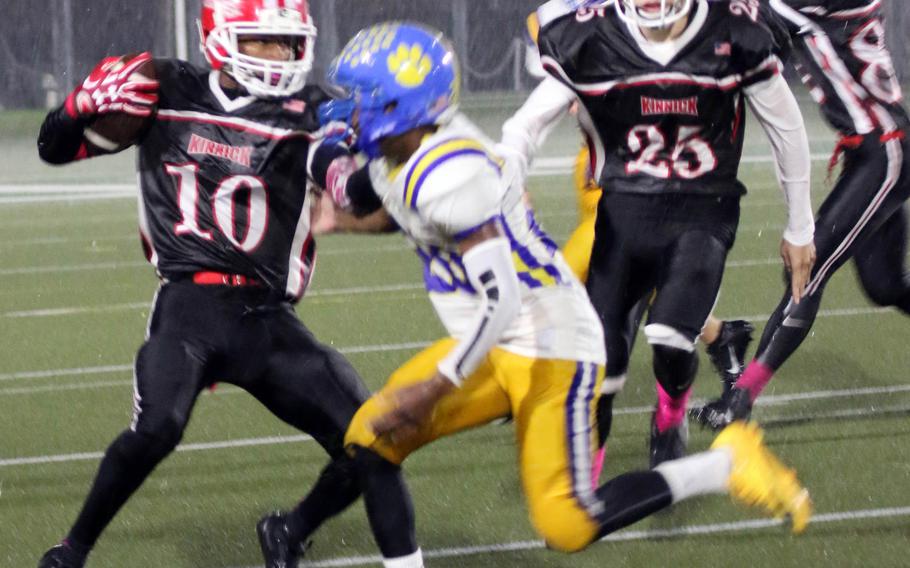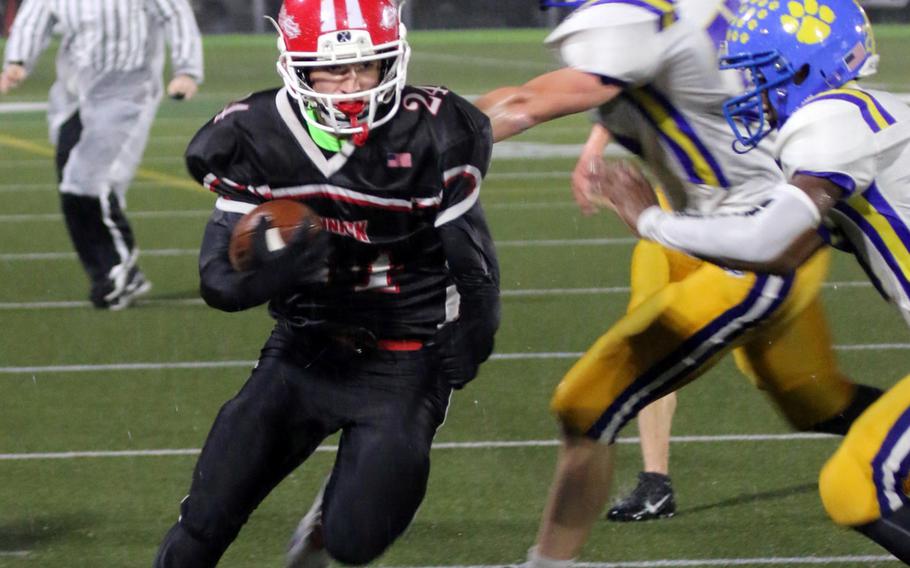 YOKOSUKA NAVAL BASE, Japan – Perhaps Dan Joley will seek more seniors who've never played football before in future seasons, the way Aaron Peterson has contributed to his Nile C. Kinnick football team.
The senior transfer from Texas set the tone on offense, rushing for three touchdowns, and the Red Devils also scored three times on defense to remain unbeaten, blanking Yokota 42-0 Friday at rainy, gusty Berkey Field.
"I love that kid," Joley said of Peterson, who came from a school that doesn't field a football team. "His personality. He smiles all the time. He wants to learn, he's eager in practice, wants to get more reps and get better."
Peterson finished with 156 yards on nine attempts, including touchdown runs of 25, 35 and 42 yards for the Red Devils, who were coming off an epic 45-40 win over Kadena six days earlier in gorgeous weather.
Friday's conditions couldn't have been more awful, Joley said, with gale-force winds whipping off Briggs Bay on the base's east side and "rain coming in so consistently, so hard, it makes you feel angry," Joley said. "But the scoreboard made us feel much better."
As did the defense, which took advantage of three turnovers that led directly to points. Kinnick won its third game by shutout and leads DODEA-Pacific Division I teams in scoring defense at 9.2 points per game.
John McIntosh led the Red Devils with 11 tackles and covered a fumble in the end zone for a Kinnick touchdown. Mark Morgan returned a fumble 45 yards for a score, and Marl Macato intercepted an option pitchout in Yokota's backfield and returned it 38 yards for a TD.
Connor Joley had eight tackles, three for losses; Jacob Lofredda had seven tackles, two for losses, and Justice Jackson, promoted from the junior varsity, had two forced fumbles, recovering one of them.
The weather was bad enough for Yokota that Panthers coach Tim Pujol said they sent seven players to the team bus at halftime with injuries and signs of hypothermia, "to get some dry clothes and get the heater on them," he said. "We survived and we'll live to fight another day."
Jalen Harrison had 42 yards on 10 carries and Nathan Rundle was 5-for-11 for 52 yards for the Panthers (2-4 overall, 2-2 DODEA-Japan).
The Red Devils next play Zama in their annual Navy rivalry game Friday at Naval Air Facility Atsugi; kickoff is at 7 p.m. Yokota finishes its season at home against Singapore American on Oct. 16, with a 5 p.m. kickoff.