Kinnick holds up well to Beast challenge
by
Dave Ornauer
January 13, 2018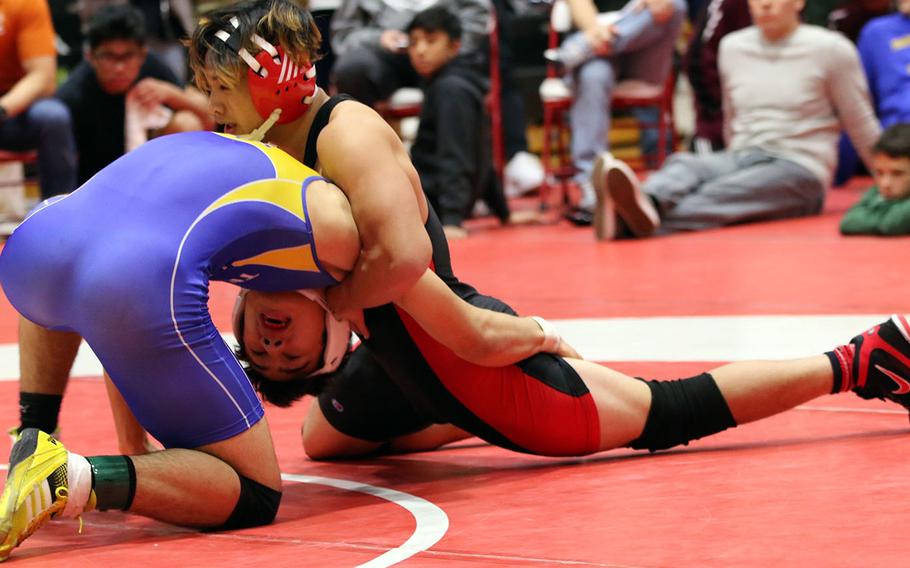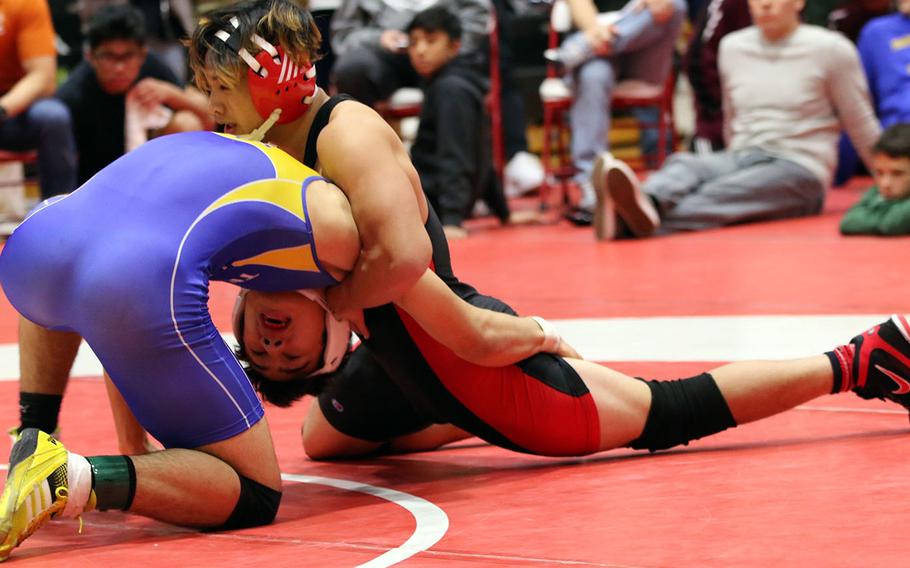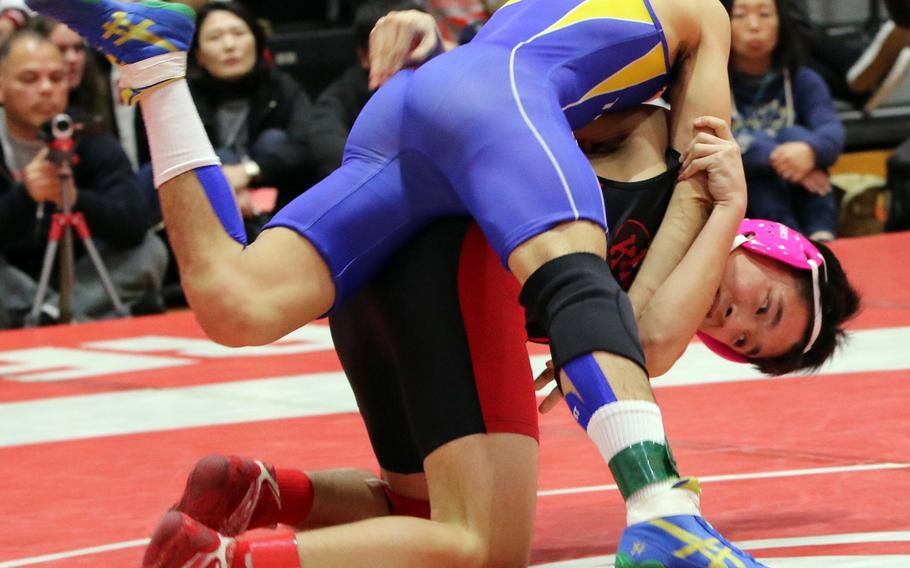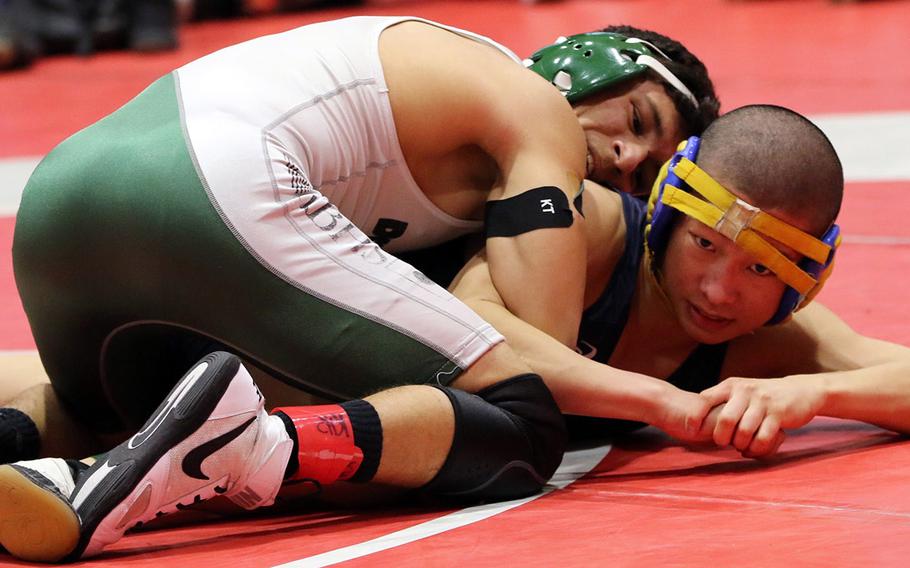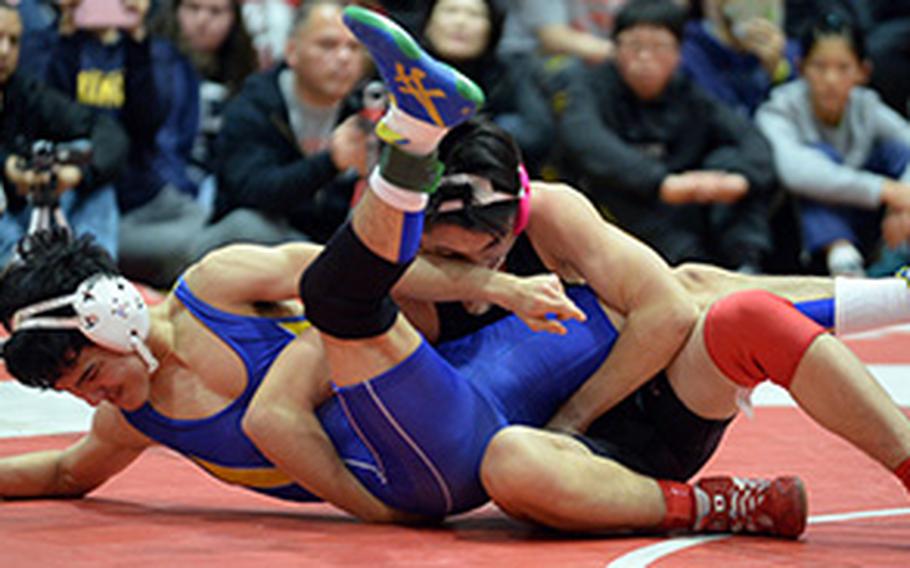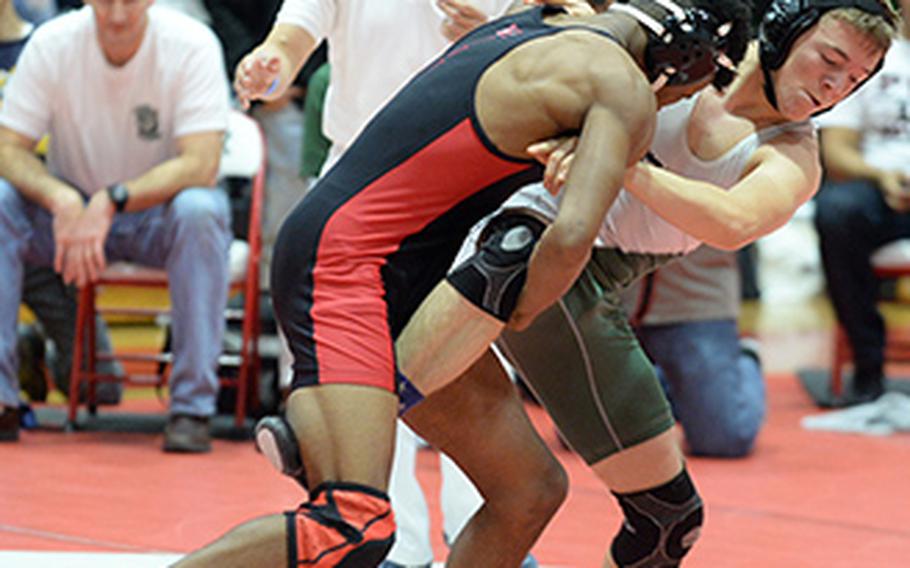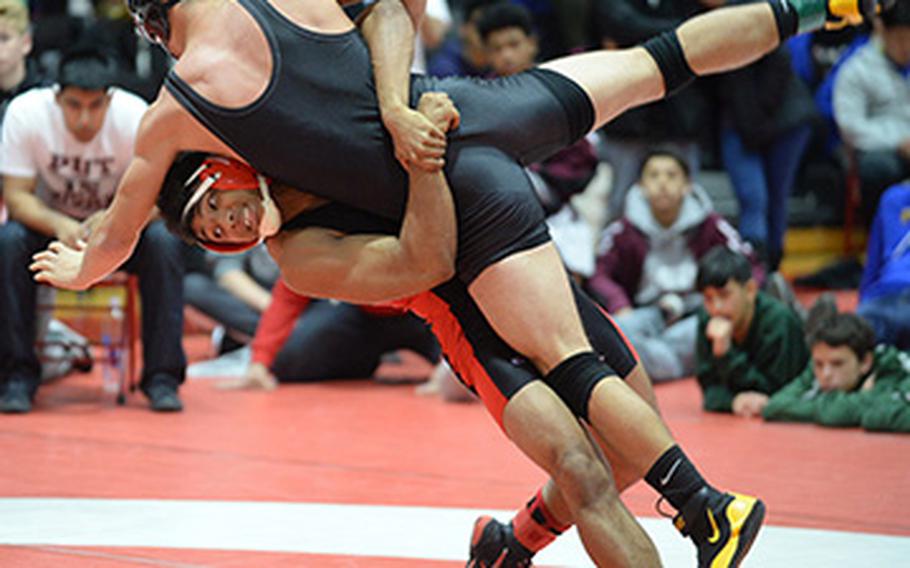 YOKOSUKA NAVAL BASE, Japan – Trailing 4-0 after one period, Darius Swenson said he knew he needed a couple of major moves to rally against a fellow headliner in a 158-pound weight class observers call one of the toughest in the Far East this season.
So Swenson, a senior, executed a five-point throw on his opponent, Matthew C. Perry senior Andrew Borrero, to rally for a 9-6 decision and the weight-class title in Saturday's Kinnick Invitational "Beast of the Far East" Tournament.
"I don't come in expecting anything," said Swenson, one of four Red Devils to win titles. Kinnick scored 79 points to win the team title, 21 points ahead of runner-up St. Mary's.
"Your own hubris will kill you. He's the toughest (wrestler) I've faced all season, and he's not just a tough competitor, he's a great guy to talk to off the mat."
For Swenson and the Red Devils, the meet was the major in-season preparation for the Far East tournament, scheduled for Feb. 1-3 also at Yokosuka.
"I like what my kids showed today," said Kinnick coach Gary Wilson, who also got titles from 215-pounder Chris Mason, former two-time Far East champion Lucas Wirth (129) and reigning Far East champion Devoney Stanley (135).
Wilson calls the Far East race still a "wide-open" affair, with 129 and 158 the toughest weight classes.
"We had a couple of kids finish higher than we thought and lower than we thought," he said. "I don't think everything is decided. We have a picture of what to work on. The field looks a lot more balanced. Everybody has tough wrestlers. It looks like a wide-open Far East."
Taking third was Shonan Military Academy with 41 points. Next was Kubasaki of Okinawa (33) and Perry and American School In Japan tied for fifth with 20 points; Perry was the highest finishing Division II team.
"Kubasaki is in the hunt and Perry looked good," Wilson said.
While Swenson had a rough go, Wirth needed less time to dispose of St. Mary's Rio Lemkuil, winning a 12-2 technical fall in 3 minutes, 31 seconds in a battle of two-time Far East champions. Wirth finished it with a takedown and a leg-lace tilt early in the second period.
Wirth invariably ends up facing a tough St. Mary's rival in tournament finals, but he says it's something he's used to.
"It's fun, it's exhilarating, it gives one motivation to try harder," Wirth said. "Once you wrestle them enough, you figure out a lot of their tendencies and adapt to how they wrestle."
Stanley, meanwhile, made quick work of Kubasaki's Connor Brennan, using a chest press to put him away in 1:53. Mason outlasted ASIJ's Noah Dobberfuhl 10-6.
Former Far East champion Tatsuhito Matsumoto helped pave the way for the Titans' runner-up finish; he beat Kubasaki's Jaylan Mayer by technical fall 10-0 in 1:32 to win at 122 pounds. Austin Koslow of St. Mary's defeated Kinnick's Kameron Leon Guerrero 12-6 for the 168-pound title.
The Dragons faced their share of hard work to come away with fourth place. Nick Burwell scored a 12-1 technical fall over Seoul American's Brian Choe in 4:24 to win at 180, while Luis Veliz teched Masaya Ishizawa of Shonan 11-1 in 4:04 for the 115-pound title.
"He was pretty strong," Veliz said of Ishizawa. "He seemed like he had a lot of stamina. But I didn't let it get to me. I just went with what I know."
Shonan came away with two titles, as Taiga Hiraoka scored a 12-0 technical fall over Kinnick's John Lanzilotta at 101 and Goki Tada put away Kinnick's Jacob Castro 10-0 in 1:24 at 148.
Grant Rogers scored Kadena's lone weight title, making quick work of Shonan's Osuka Yanai, pinning him in 44 seconds for the 108 title. ASIJ's Rin Zoot outlasted St. Mary's Jihoon Seo to win at 141 pounds, 13-3 in 2:54. And heavyweight Marshall China got Perry's lone weight title, beating Kinnick's Cameron Joley by technical fall 12-1.
Twitter: @ornauer_stripes