Kinnick gets revenge in romp over Kubasaki
by
Dave Ornauer
August 25, 2017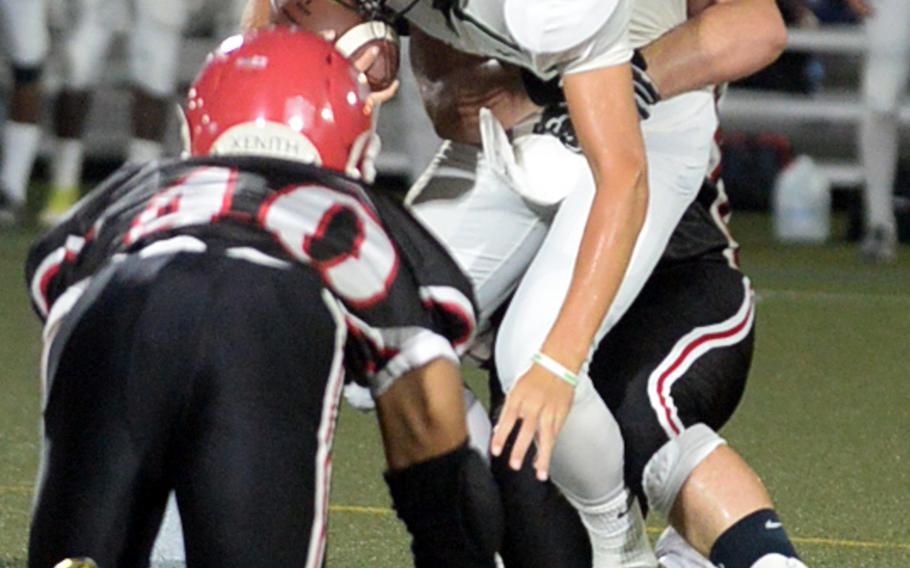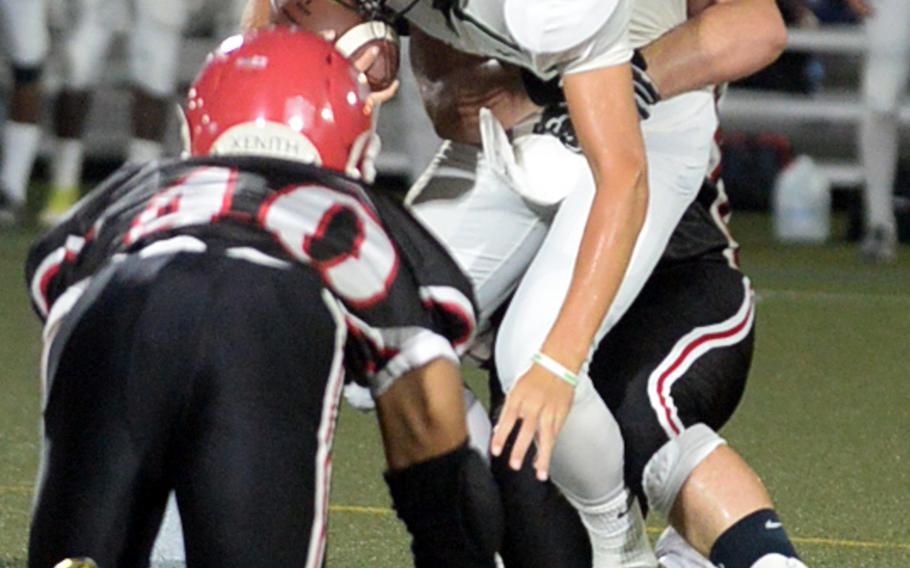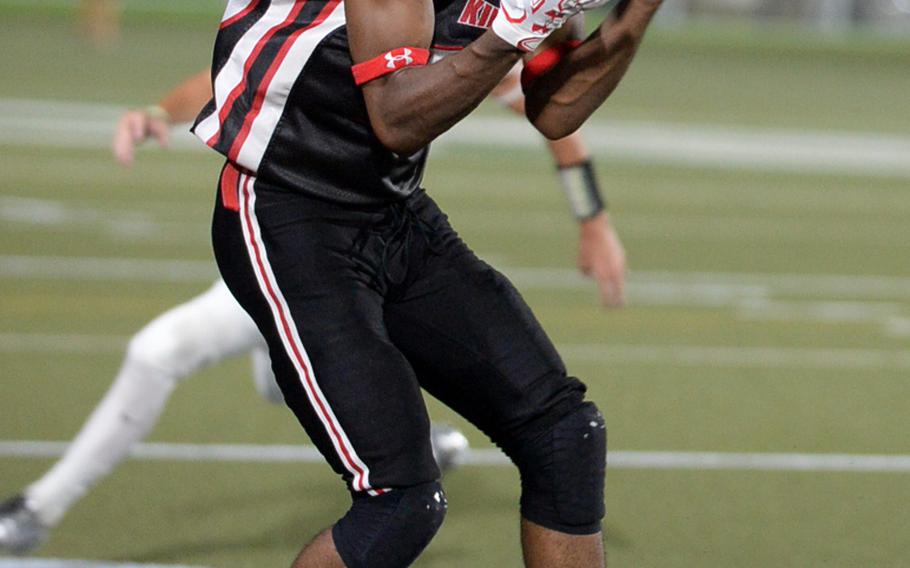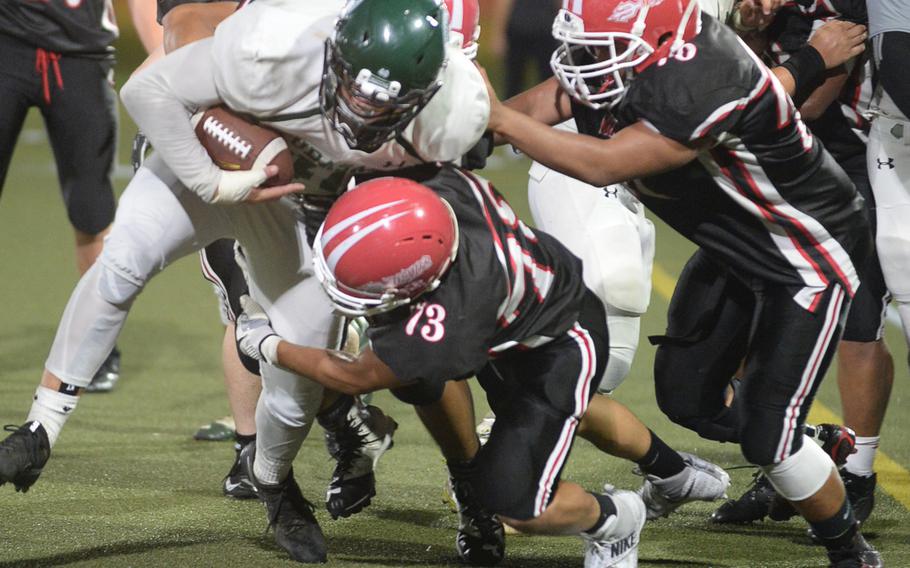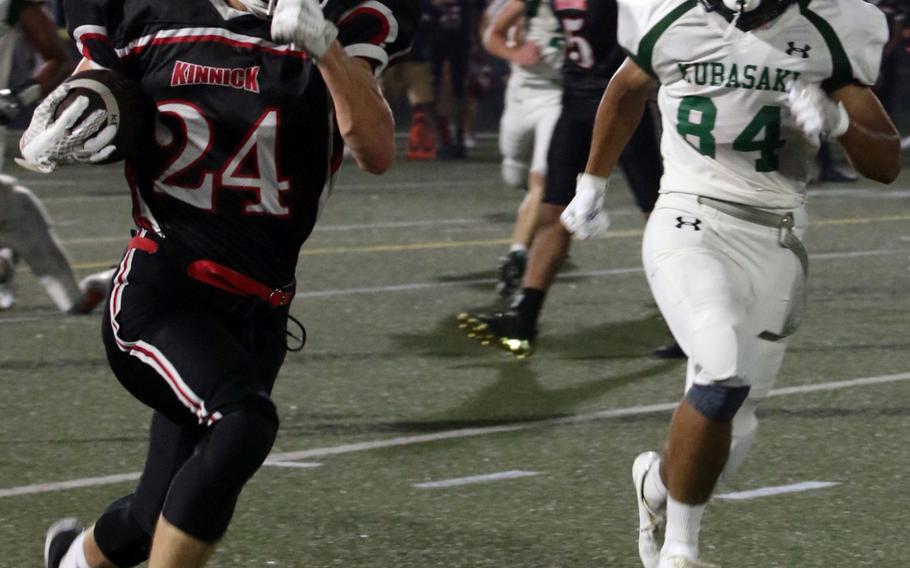 YOKOSUKA NAVAL BASE, Japan – Aaron Peterson showed quite a bit of potential on Friday for a guy who transferred from a high school in Texas that doesn't play football.
Pressed into starting duty with regular running back Andrew Urrete in the Philippines, Peterson - a senior - rushed eight times for 67 yards and a touchdown as Nile C. Kinnick opened its season with a 34-0 romp over Kubasaki on Friday at Berkey Field.
"He's a great kid, he smiles so much, he's infectious," Red Devils coach Dan Joley said. "Football is fun for him. He's absorbing everything we're doing here, he asks questions. He's excited to be a part of the team and we're excited to have him."
Friday's victory was a far cry from last year's home encounter with the Dragons, who escaped with a 13-6 win. Joley said the loss put Kinnick in a hole from which it couldn't recover last season. "It was nice for us to erase the memory of that," he said.
Kinnick wasted little time racing to a 34-0 lead with 2 minutes, 31 seconds left in the first half. The game was played with a running clock the rest of the way. Kinnick outgained Kubasaki 383-51, holding the Dragons to just three first downs and minus-42 yards on 16 rushing attempts.
"It was a comprehensive victory for the Red Devils," Kubasaki coach Fred Bales said. "They executed very well on both sides of the football. Our inexperience showed. We have to do a better job of coaching them up. They're fast, organized, hard-nosed, a good team."
Aside from Peterson's contributions, the Red Devils got what Joley called a "well-balanced" game from senior quarterback Kacey Walker and senior receiver-returner Devoney Stanley.
Walker was an economic 5-for-7 passing for 163 yards, including touchdown passes of 60 and 38 yards to Stanley. Walker also ran six times for 33 yards and a score and had 196 yards total offense.
"His maturity as a passer; he has come of age," Joley said of Walker. "He made some great decisions, he pulled the ball down (and ran), he read the defense well."
Stanley had just three catches, but for 125 yards. He added two kick returns for 46 yards, giving him 171 all-purpose yards. Senior fullback Harry Cheng bulled for 52 yards and a touchdown on 13 carries.
Skyler Klimek was 8-for-25 for 93 yards, five of the completions going to Juan Guerrero for 71 yards – the bright spots for the Dragons.
Kubasaki next visits Kadena on Friday, while the Red Devils head to Marine Corps Air Station Iwakuni next Saturday to play Matthew C. Perry in the season openers for each home team.
Twitter: @ornauer_stripes