Prep roundup
King, Yokota hand each other first losses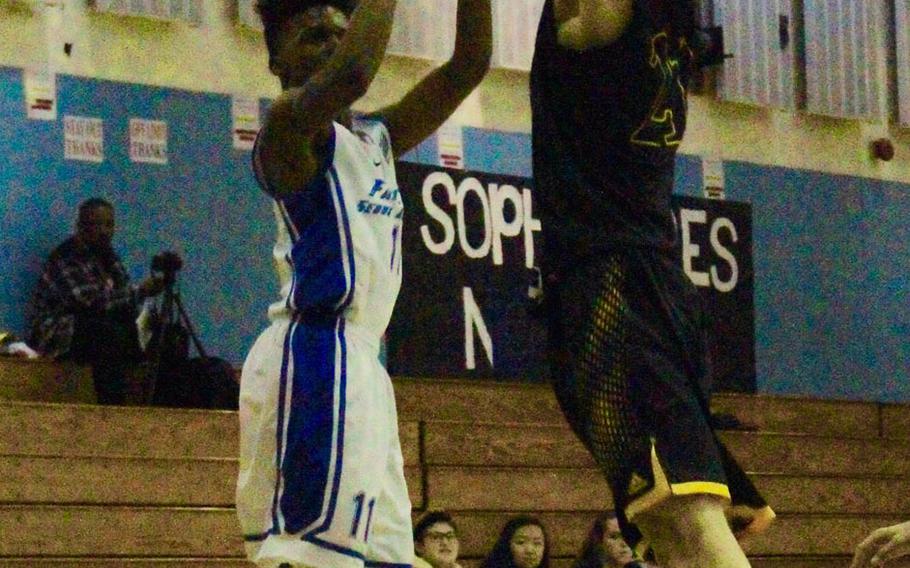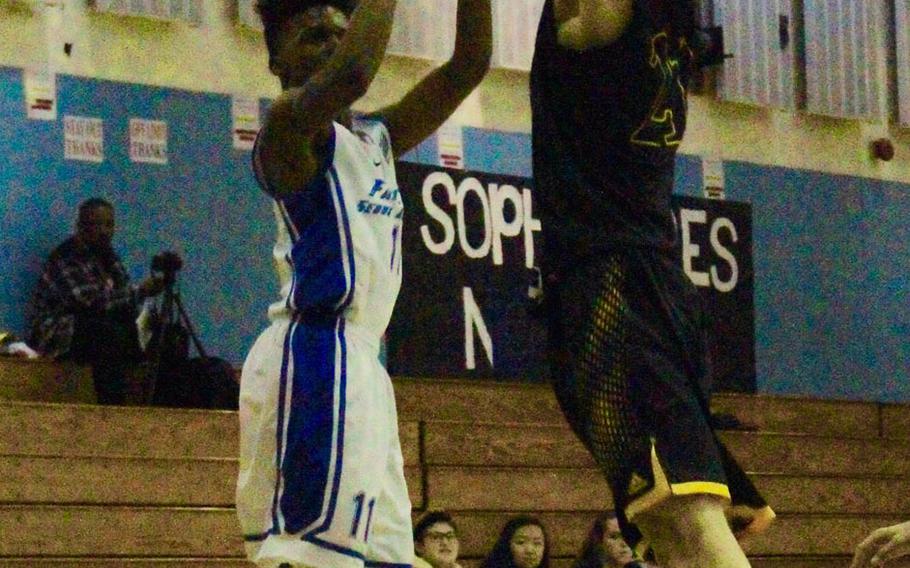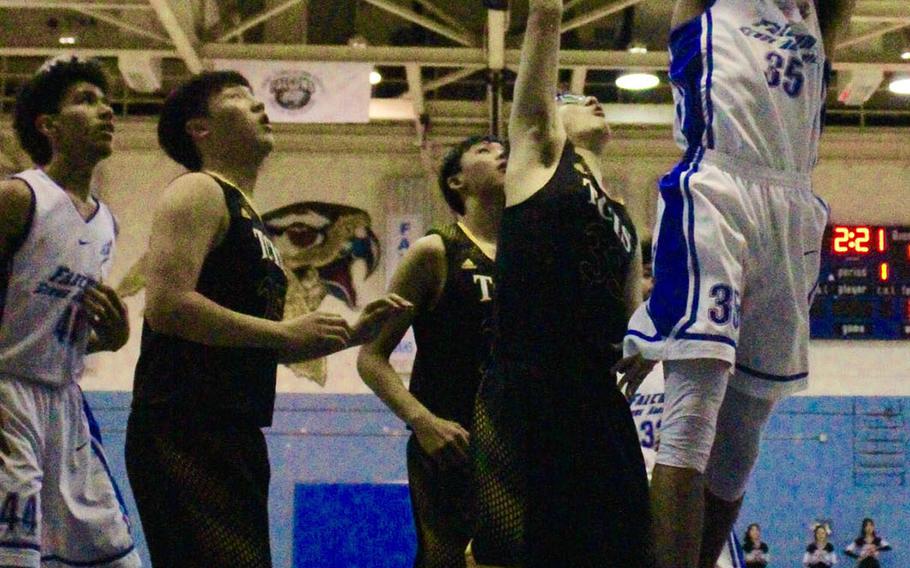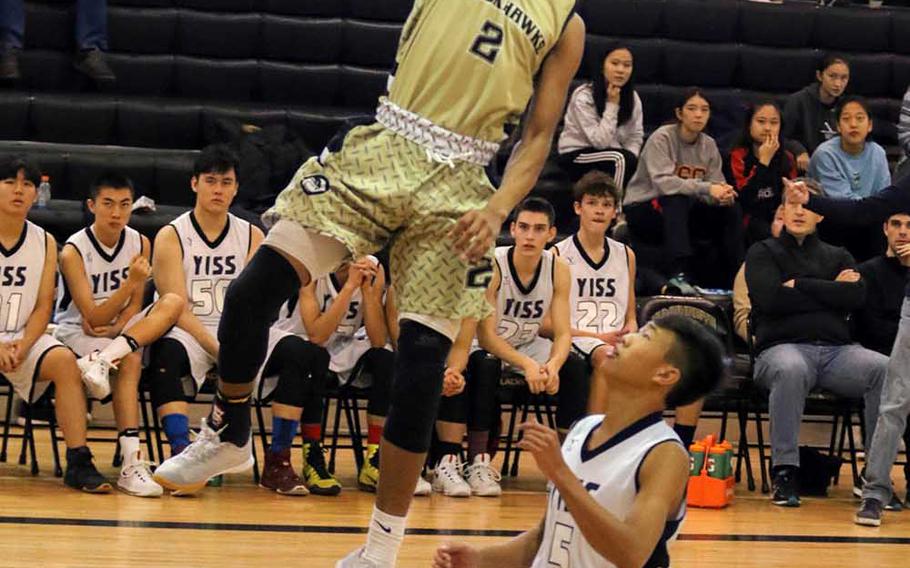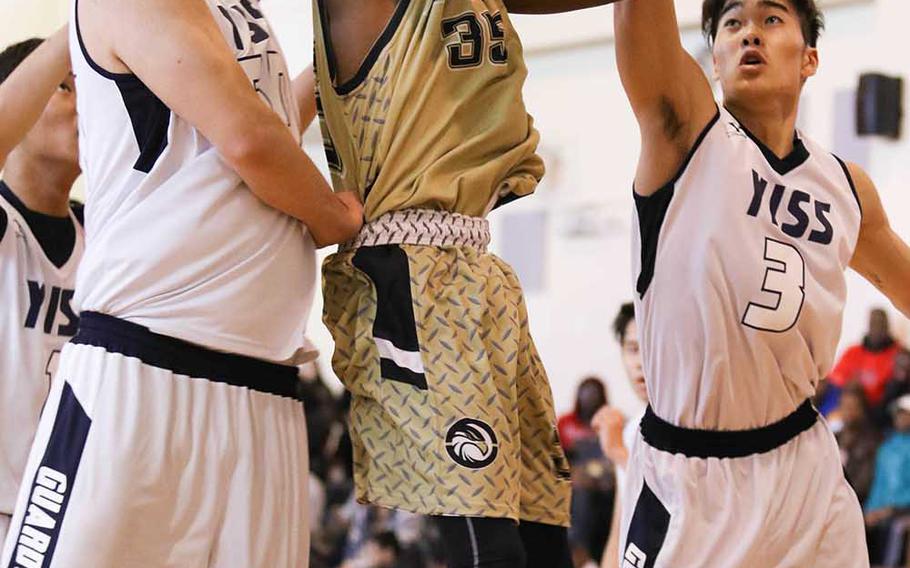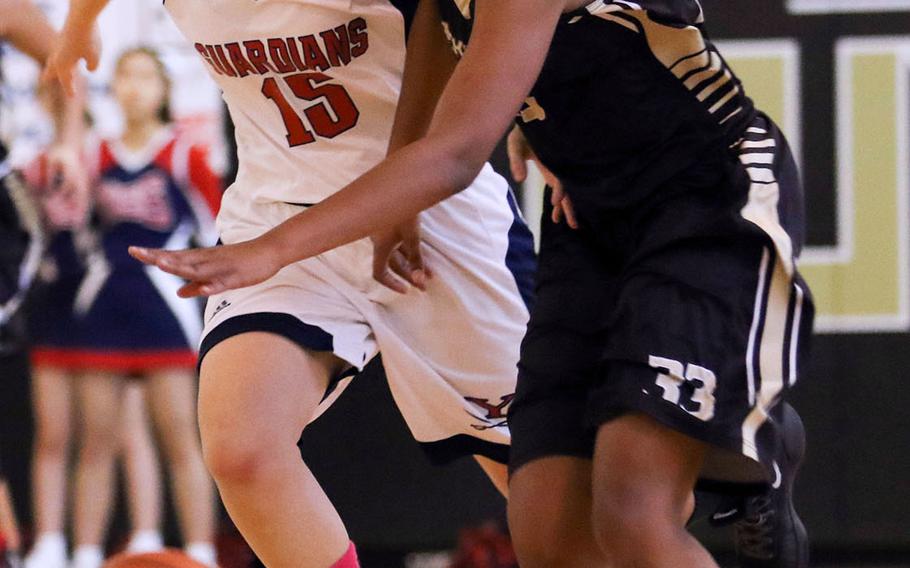 SASEBO NAVAL BASE, Japan – In the first of what could be several meetings between the current DODEA-Japan champions and the current DODEA-Japan regular-season leaders, Yokota's and E.J. King's boys each got half of what they wanted in a two-game weekend series.
They took turns handing each other their first defeats of the season. After a 10-0 start, their best since last winning the Far East Division II tournament in 2000, the host Cobras suffered their first loss of the season, 69-59 to the Panthers on Saturday. That came about 18 hours after Yokota, following a 4-0 start, lost a heartbreaker 61-60 Friday.
"Barnburner. Tough game," Panthers coach Tim Pujol remarked about Friday's loss, in which King led 61-51 with three minutes left, then Yokota staged a late rally only to come up short. "It wasn't quite enough to get the job done."
King shot 23-for-64 in the game and Yokota 25-for-63, but it was second-chance points, 19 for the Cobras to just 10 for the Panthers, that made the difference. "There's the ballgame," Pujol said. Gemmar Caasi led five Cobras in double figures with 16 points.
Hunter Cort, the Panthers' points leader all season, had 25 Friday and struck for 21 more on Saturday as the Panthers outscored the Cobras 21-11 in the final period, including eight in the final minute, to pull away from King 69-59. Dyson Robinson led the Cobras with 21.
"It kind of slipped away at the end," Cobras coach Laird Small said. "It was a tough one. But we'll see them many more times," he said of upcoming tournaments such as the DODEA-Japan Feb. 9-11 and the Far East D-II Feb. 20-23, both at Yokota.
The Panthers also downed Matthew C. Perry 71-36. Yokota's girls came out of the weekend with three victories. Led by guard-center tandem Jamia and Britney Bailey, the Panthers easily beat Perry 44-16 and King 56-22 on Saturday and 38-28 on Friday.
In another barnburner at American School In Japan, Nile C. Kinnick's boys had five players in double figures, led by Kedrick Stockman with 24, and survived the Mustangs 77-73 in overtime.
Humphreys boys remain on winning pathCAMP HUMPHREYS, South Korea – Humphreys boys basketball returned to what is becoming familiar territory for them – first place in the Korea Blue Division after a pair of weekend victories.
The key one came Friday at Seoul Foreign, where Nate Hellams had 22 points and 12 rebounds as the Blackhawks upended the host Crusaders 53-49, the second loss of the season for Seoul Foreign. Humphreys had an easier time at home Saturday with Taejon Christian 76-37.
"It was a tough one; they're always tough," Blackhawks coach Ron Merriwether said. "I can't say enough; it was a tough fight. No lead was safe."
Alluding to the upcoming Korea Blue tournament Feb. 10-11 at Yongsan, Merriwether said he expects the event to be wide open. Humphreys lost in the finals of last year's tournament to Seoul American. "It will come down to the matchups," he said.
The Falcons got a monster afternoon from sophomore Quintin Metcalf, 19 points, 15 rebounds and three blocks, and even Caleb Lee, a freshman backup point guard, got into the act, hitting a 75-foot heave for three points as the first quarter ended.
"I'm sure it was a thrill for him," coach Steve Boyd said. "That put the icing on the cake. For a freshman, he had the forethought that time was running out, realized it, shot it and lo and behold, it went in."
Also wide open may be the Korea Blue girls race, in which the Falcons, Crusaders and Guardians came out of the weekend with one loss each. The Falcons downed TCIS 44-24 on Saturday, the Crusaders topped the Blackhawks 34-24 on Friday and the Guardians won on the road 38-11 at Daegu and 33-30 at Humphreys.
Kadena, Kubasaki win and lose in TaipeiTAIPEI, Taiwan – The three Okinawa teams were not nearly as successful as a year ago, when they swept all nine games in the first Taipei American School Basketball Exchange.
Kadena's boys went 2-1. The Panthers' girls went 1-2, while Kubasaki's girls finished 0-3.
But each team got some valuable takeaways which coaches say could help their teams down the road. "It's good competition," Kadena junior guard Donte Savoy said.
His Panthers opened against host Taipei and for the second straight year, it came down to the closing seconds, as Justin Wilson's layup with 37.6 seconds left put Kadena ahead for good as they outlasted the Tigers 89-86. They beat Taipei 58-57 in last year's opener.
"It's good for them to be playing unknown opponents in a foreign country, an intense game from beginning to end and it gives us a lot of confidence, a lot of positives to take home," coach Gerald Johnson said. "They're starting to get a feel for each other."
The first loss for the Panthers in Taipei came Saturday, 80-77 to Yilan, a Chinese team. "In their basketball lives, it's a lesson: Adjust and learn to do what you have to do," Johnson said.
Kadena's girls opened with a win Friday, but fell 53-46 to the host Tigers, then 65-62 to Keelung, a Chinese team.
"We have to put it all together," coach Willie Ware said. "You can't play two good minutes here, three good minutes there. We have a lot of work to do."
Kubasaki's girls "need to get stronger in fundamentals," first-year coach Steven Casner said. "Top to bottom, go back to basics. You see other teams, you get different looks and you see weaknesses you didn't know were there."
St. Mary's prevails in first dual meet with KinnickTOKYO – St. Mary's wrestling picked up right where it left off in the first regular-season meeting with Nile C. Kinnick, the same team it defeated 32-29 last Feb. 17 in the Far East meet. Only Saturday's matchup at ASIJ was not that close.
Getting wins by Rio Lemkuil (122 pounds) and Alex Patton (180) over defending Far East champions Lucas Wirth and Dwayne Lyon, the Titans cruised to a 35-19 win over the Red Devils in Saturday's Kanto Plain dual-meet fest at Mustang Valley.
Those wins, coupled with Tatsuhito Matsumoto's decision over Chon Dareing at 115 pounds, "were huge," Titans coach Shu Yabui said. "They are their best wrestlers and being able to defeat them means we're on the right track."
But it also could light a fire under Kinnick, Yabui said, pointing to next Saturday's "Beast of the East" tournament at Yokota.
"They will wrestle harder and smarter the next time we see them," Yabui said. "We should be able to get a better overall picture next week."
"St. Mary's was the better team, hands down," Red Devils coach Gary Wilson said. "For Kinnick, the challenge will be to respond in the right way to this setback."
The Titans won their three duals. Kinnick won two of three with Charlie Labato (108) and Devoney Stanley (129) 3-0 on the day. Christian Academy Japan went 2-1, ASIJ and Yokota 1-2 and Zama 0-3.