Kadena tops ASIJ, will play Kubasaki again for title
---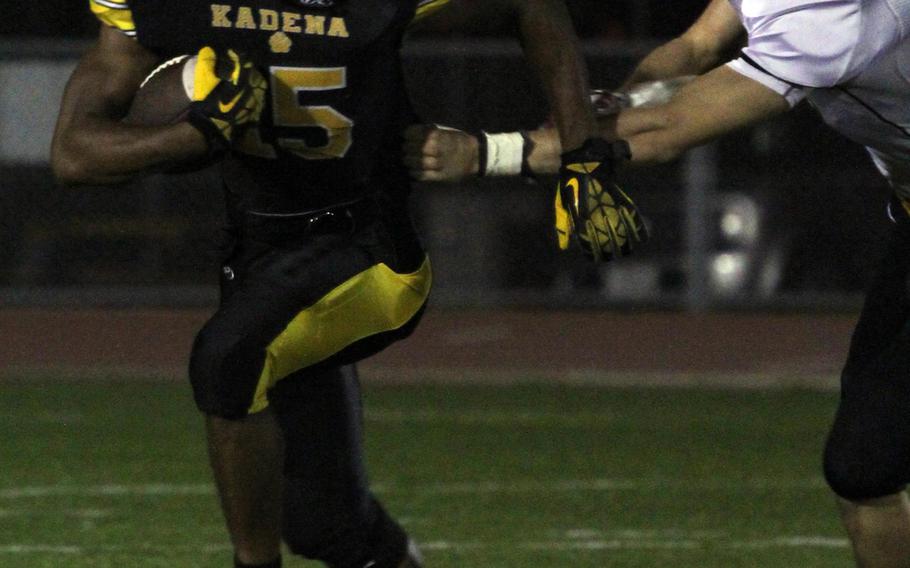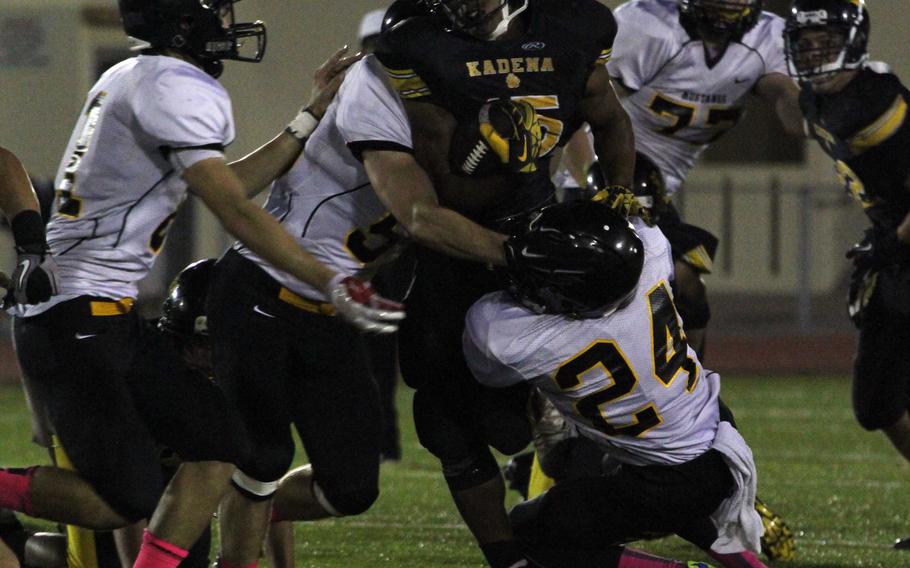 KADENA AIR BASE, Okinawa – As often as Kadena and Kubasaki have played each other for the Far East Division I championship the last few years, they could easily name the title game the Okinawa Bowl.
Jason Bland rushed for two touchdowns and Cody Sego accounted for the other two scores as the Panthers raced to a 30-7 lead and held off a late rush by American School In Japan for a 30-19 win Friday in the final regular-season game for both teams.
It was winner-take-all for each, with the Panthers now set to take on the Dragons in the D-I final next Saturday. Defending champion Kadena beat the Dragons 41-27 in the 2014 title game last Nov. 8, a year after Kubasaki edged the Panthers 34-31 in overtime.
"That's one of the things we work toward, make a commitment to do the best we can and get into position" to play for the championship, Kadena coach Sergio Mendoza said. He's now guided the Panthers to eight D-I title games, going 4-3 in the previous seven.
It served as a disappointing end for a Mustangs team (3-5) that began the season 0-4, then won three straight to propel itself back in the D-I title-game berth chase.
"Couldn't get over the top," coach John Seevers said. "Kadena is a good team. They're well coached. That No. 5 (Bland) is a stud. We had a hard time stopping him. He was impressive."
After a tight start, the Panthers pulled away to a comfortable 23-point lead, scoring three unanswered touchdowns before the Mustangs staged a rally, getting a pair of scores in the closing minutes, but it wasn't enough to catch up.
Sego tossed a 40-yard scoring pass to Dominic Santanelli and rushed 20 yards for a touchdown in one half of football; nursing a sore shoulder, he was removed at halftime as a precaution, Mendoza said. Bland added TD runs of 10 and 12 yards.
That offset the Mustangs' Jack Ambrosino throwing a touchdown pass to Sho Hatakeyama and rushing for a score. Ray Hotta also scored for the Mustangs.
Kubasaki is 2-1 this season against Kadena, which won the last of the three games 27-14 earlier this month. But that was after the season series had been won by the Dragons, who for the second straight year host the D-I championship. Kickoff is at 4 p.m. Nov. 7.
"We have to have a good week of practice," Mendoza said. "Kubasaki is a very strong team. We're not finished yet. We still have a lot of work to do."
"That will be a great game between those two," Seevers said.
---
---
---
---