Kadena to visit Kinnick to play for Far East D-I grid title
by
Dave Ornauer
October 16, 2017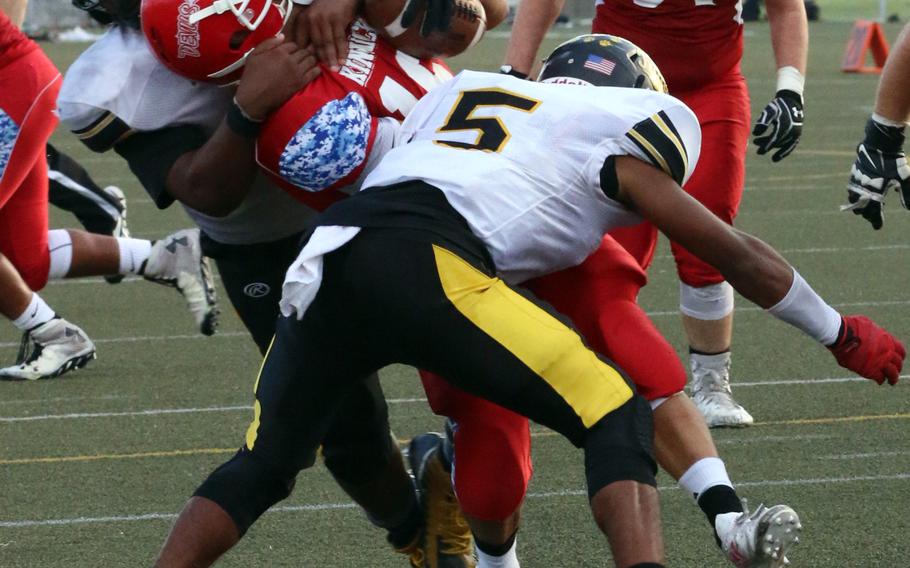 YOKOTA AIR BASE, Japan – It's official: Kadena will visit Nile C. Kinnick the weekend of Oct. 27-28 to play for the Far East Division I football title.
That decision was announced Monday in an e-mail sent by DODEA-Pacific athletics coordinator Tom McKinney following a conference call between he and the athletics directors of Kadena and defending champion American School In Japan, who were vying for the visitor's spot.
ASIJ beat Kadena 35-18 in the D-I final last Nov. 12 at Mustang Valley and had split its two games with the Panthers this season, losing 67-26 on Sept. 16 at ASIJ and winning 30-3 last Friday at Kadena.
The Pacific Area Interscholastic Athletics Program manual reads that a victory by 20 or more points by one team over another counts as 20 points for the purposes of tiebreakers and point differential.
And it came down to point differential between ASIJ and Kadena in games played against Kinnick, which holds host rights. The Red Devils beat ASIJ 32-12 on Sept. 8 and Kadena 45-40 on Sept. 30.
Kadena and ASIJ won all their other games against D-I opponents by 20 or more. So, while ASIJ may have played the better game more recently, Friday's win at Kadena, it came down to which team had the better point differential for the season, which Kadena had 55-40 over ASIJ.
Thus, "Kadena will play at Kinnick for the Far East (D-I) football championship," McKinney stated in the e-mail.
This marks Kadena's 10th appearance in the D-I final, a Pacific record. The Panthers also hold the Pacific record with five D-I titles, in 2007, 2009-10 and 2014-15.
"That speaks to how hard we've been working over the years. … In a very real sense, I'm proud of the program," Kadena coach Sergio Mendoza said. "I also have in my mind that we're playing a really good squad and we have to play our best game of the season."
Better, Mendoza said, than the loss last Friday, which came in driving rain and was delayed 45 minutes by lightning.
"That game probably was the worst game we've played in years," Mendoza said. "The rain didn't help. I hope that serves as a moment for us to grow from."
It was that victory, which ASIJ coach Roy Tomlinson said was one of his greatest as a coach, that gave the Mustangs cause to say they belonged in the title game, and in effect forced Monday's conference call.
""It's OK; it's what I expected," Tomlinson said of the decision. "I respect that they (DODEA-Pacific) followed the rules (but) I think it's a well-intended rule that didn't put the best team in the championship game" at Kinnick.
"No disrespect to Kadena; I wish that they do well," he said. "Based on what happened Friday night, we should be playing Kinnick to see how much we've improved" over the Sept. 8 game. "We've really improved. (But) it's a mystery that we'll never solve."
Thus, the championship becomes a rematch of one of the better games played this season, when Kadena and Kinnick traded the lead five times on five consecutive possessions in the second half.
A 26-yard touchdown pass on fourth-and-25 for Kinnick at Kadena's 26-yard line with 2:25 left spelled the difference for the Red Devils. Kinnick outgained Kadena 416-394 in a game in which 13 TDs were scored.
"We've been in this narrative before," Mendoza said. "We have to maximize every practice, stay focused, minimize distractions and we have to have some really disciplined time together."
As to whether the point-differential rule changes in the future, that' remains to be seen, McKinney said.
"It's going to be looked at. We do need to do some modifications. Just to review and make it clearer, make sure we all understand it," McKinney said; he did not elaborate.
ornauer.dave@stripes.com Twitter: @ornauer_stripes