Kadena runs over Seoul American to move to 2-0
---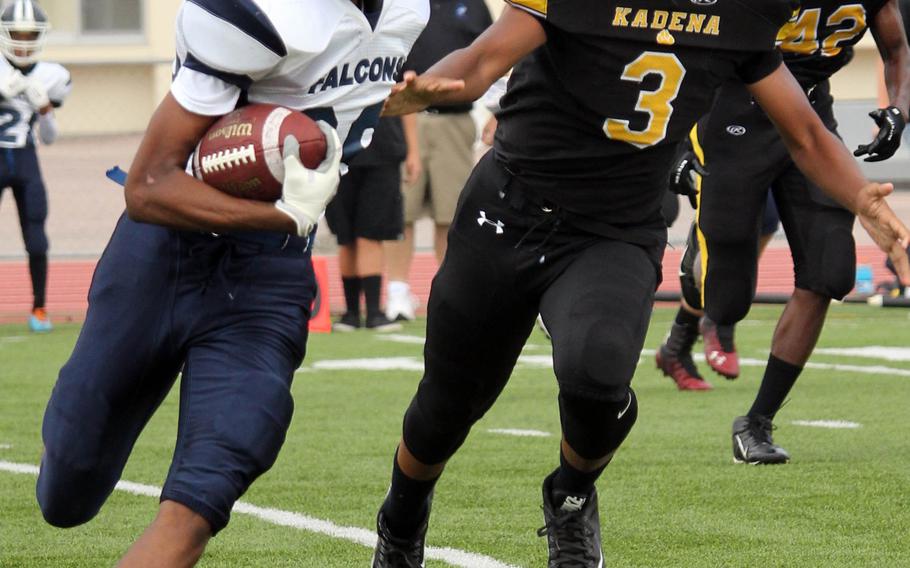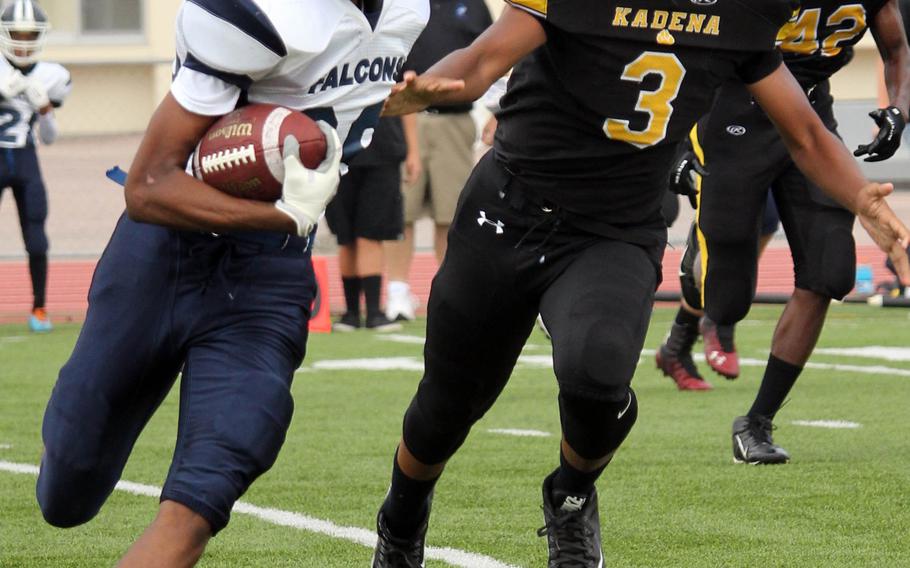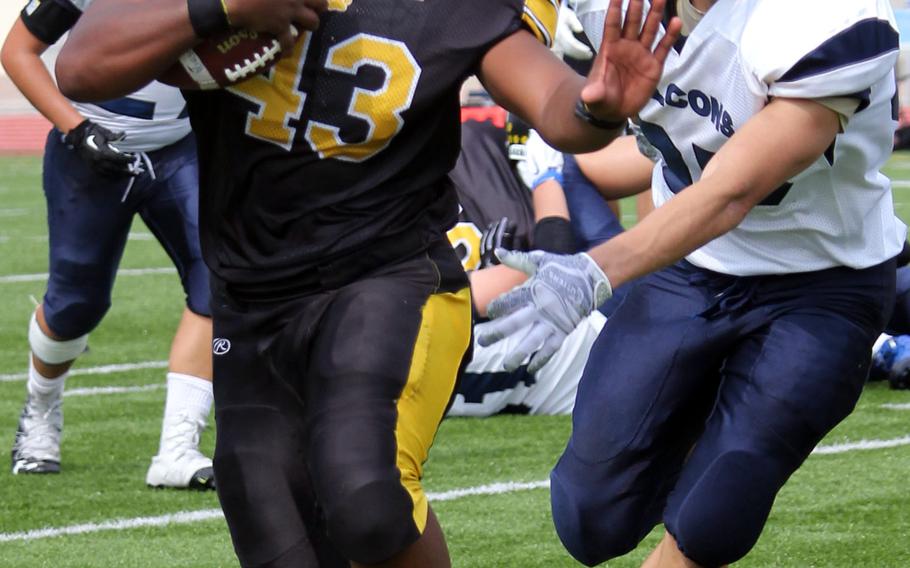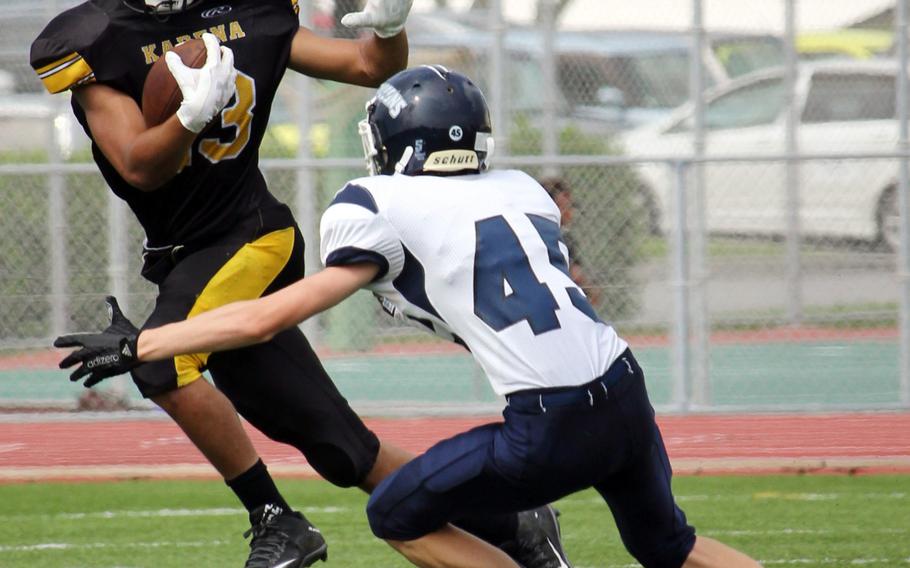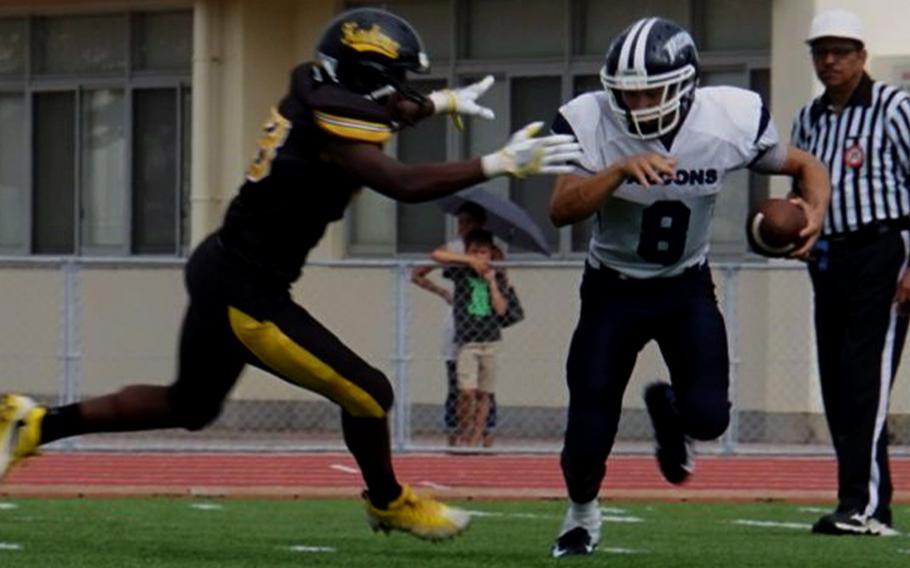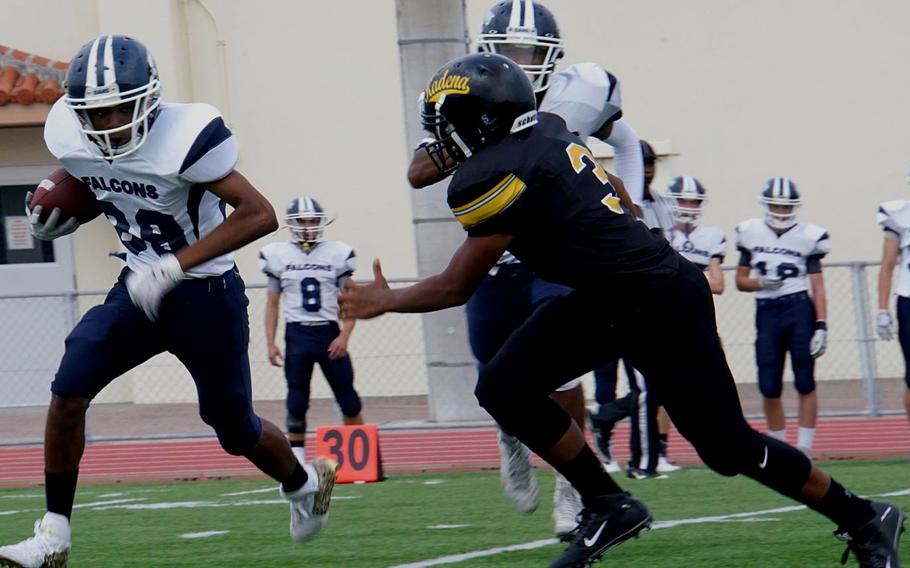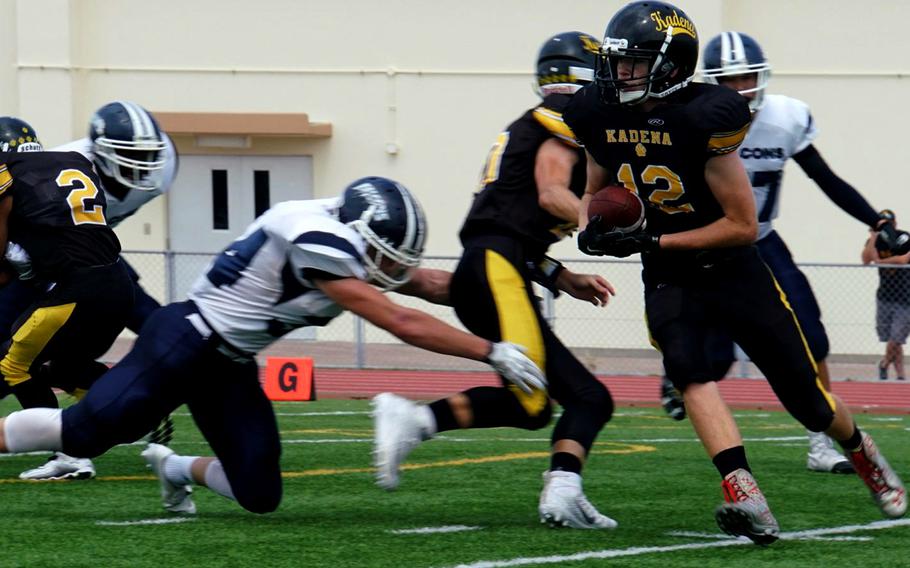 KADENA AIR BASE, Okinawa – Pressuring the opposing quarterback became a focal point of Kadena's defense's workouts during spring and summer.
It clearly bore fruit Saturday as the Panthers took charge of the race for Far East Division I title-game space.
Senior Abe Patterson led a Panthers charge on Seoul American QB David Messinger, sacking him three times, while Emery Oakley racked up 2½ sacks. Meanwhile, quarterbacks Cody Sego and Ryan Cabase accounted for two touchdowns each in Kadena's 48-6 romp.
"That's something we've wanted to do … two seconds and we want to have hands on the quarterback," said coach Sergio Mendoza, whose Panthers racked up seven sacks of Messinger.
And Mendoza feels his charges can do better. "We're still not there yet," he said. "We're still not aggressive enough into that. We need to be more aggressive and smarter once we get back there. We're going to get there."
It was the second win in two D-I games this season for the two-time defending Far East champion Panthers. The Falcons fell to 0-2 overall and 0-1 in D-I. The top two teams in the D-I regular-season standings play for the title, with the best regular-season record hosting.
The Panthers defense held Seoul American to minus-2 net yards, mainly due to 79 yards lost on sacks. Kadena also scored on special teams, getting a safety when Seoul American snapped the ball out of the end zone on a punting down.
On offense, Kadena rolled up 330 yards on 40 plays. Sego rushed four times for 64 yards, including a 20-yard touchdown on a rollout play. He also threw 39 yards for a TD to Donte Savoy late in the first half.
Jericho Williams led the Panthers with 82 yards on eight carries and scored on a 10-yard run. Wingback Owen Sinning ran two reverse plays for touchdowns of 9 and 16 yards and also had the game's only takeaway, a first-quarter interception.
With the Panthers missing two key running backs due to injury, they unveiled a couple of freshmen who did some damage in the second half.
Fullback Brayden Frederick ran for 59 yards on nine carries, helping keep alive three scoring drives, the last two of which ended on touchdown runs by backup quarterback Ryan Cabase.
"We've required them to step up because we've lost some key people," Mendoza said. "Until those guys return and then after, we need them to step up. That's part of the maturation process that our program's about."
Most of the second half was played with a running clock. The Falcons did eventually get on the scoreboard when Messinger completed two passes to Willie Grandison, including a 22-yard touchdown catch. Messinger was 5-for-17 for 71 yards.
"We need to work on consistency," Falcons coach Shawen Smith said. "Either blocking, running the correct routes, or making the right reads from the quarterback. We have over half the guys on the right page, the other guys are not. So, we have a lot of growing to do."
Kadena next hosts Kubasaki at 7 p.m. Sept. 30 in the second of three scheduled meetings between the two teams this season. Seoul American plays its next D-I game Sept. 24 at home against American School In Japan; kickoff is at 6 p.m.
Twitter: @ornauer_stripes
---
---
---
---