D-I girls softball
Kadena routs Kubasaki to defend banner
---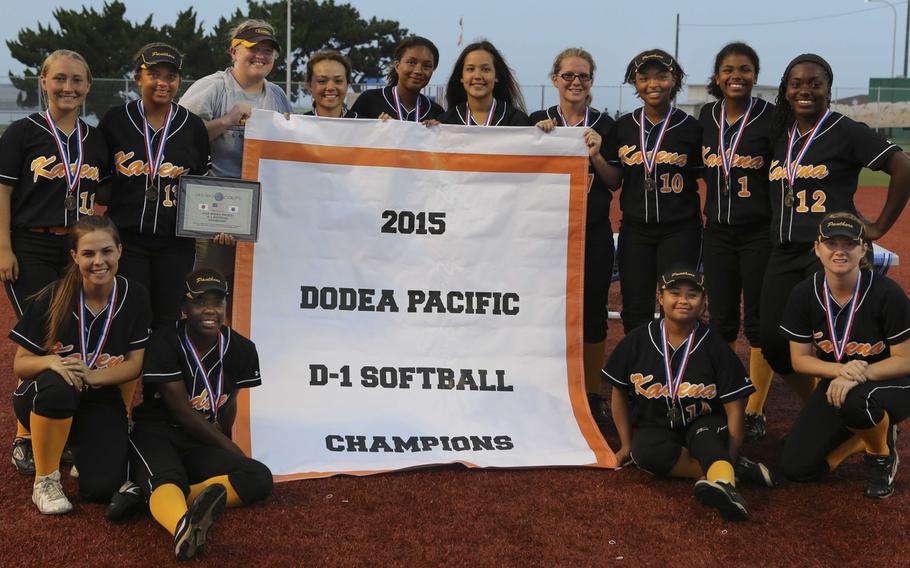 YOKOSUKA NAVAL BASE, Japan – As successful as Kadena softball has been since the advent of Far East tournaments five years ago, there was one bit of business the Panthers had not yet taken care of: Winning back-to-back Division I titles.
Mission accomplished. And most emphatically, as Kadena downed island rival Kubasaki 19-3 in Wednesday's final at Yokosuka's Berkey Field, where the Panthers had beaten Guam in the 2014 title game.
Kadena had also won Far East titles in 2010 and 2012, but until Wednesday not in an odd-numbered year.
"It feels good," said coach Kelli Wilson, who's won three Far East titles with Kadena; Jesse Costa won the first, in 2010. "The kids worked hard, they showed up at Far East and played good ball."
Leading the way for a Panthers team that lost just once to an American team this season was sophomore Macalah Danielsen. In her last game in a Panthers uniform, she went the distance and got the win and helped herself with three hits and four RBIs.
Tournament MVP Asia Abdul added a double, a triple and five RBIs; Brianna Wilson went 4-for-5 with two doubles and three RBIs, Rheagan Wyche also doubled and drove in three runs and Savannah Sparrow was 3-for-3. Danielsen scattered nine hits, walked two and struck out four.
Such effort "sums up our whole program," Wilson said. "Our offense, our defense, we worked together and Macalah set the tone for us today."
And it was "pretty consistent" throughout the tournament, not just in Wednesday's final, which the Panthers put away with a 10-run sixth inning. "We put together multiple hits, multiple runs, got comfortable, got to the plate, had fun and just hit the ball."
Wednesday's final very much resembled the dominance Kadena showed in the Okinawa best-of-three series the weekend of May 8-9, when the Panthers beat the Dragons 13-3 and 16-6 to and win their 12th island title in the 13 years softball has been a high-school sport on Okinawa.
This may have been Wilson's last game as Panthers coach; there's a chance her husband may get orders elsewhere, but she says they're trying to stay one more year.
"Either way, I'll always be a Panther," she said. "I'll definitely miss them."
---
---
---
---