Softball preview
Kadena hoping odd-year jinx evens out
by
Dave Ornauer
March 11, 2015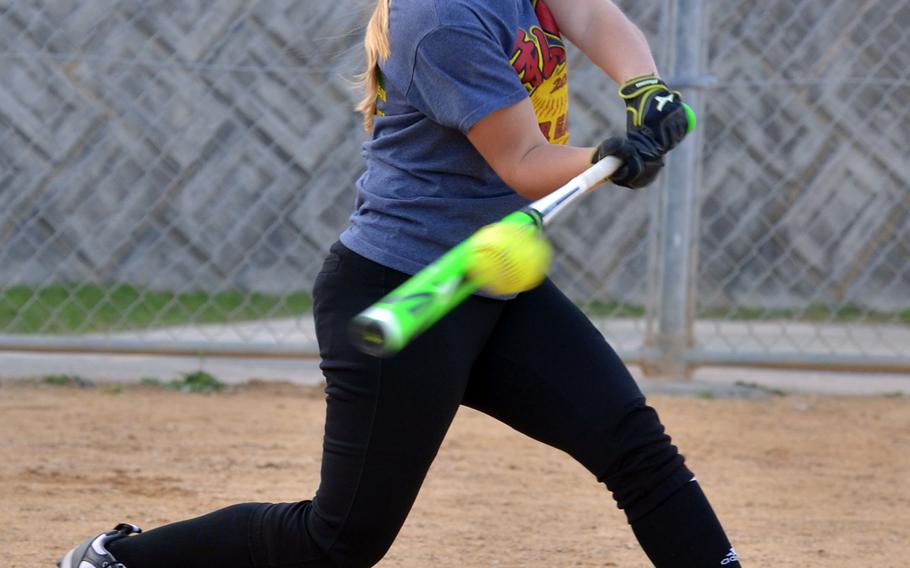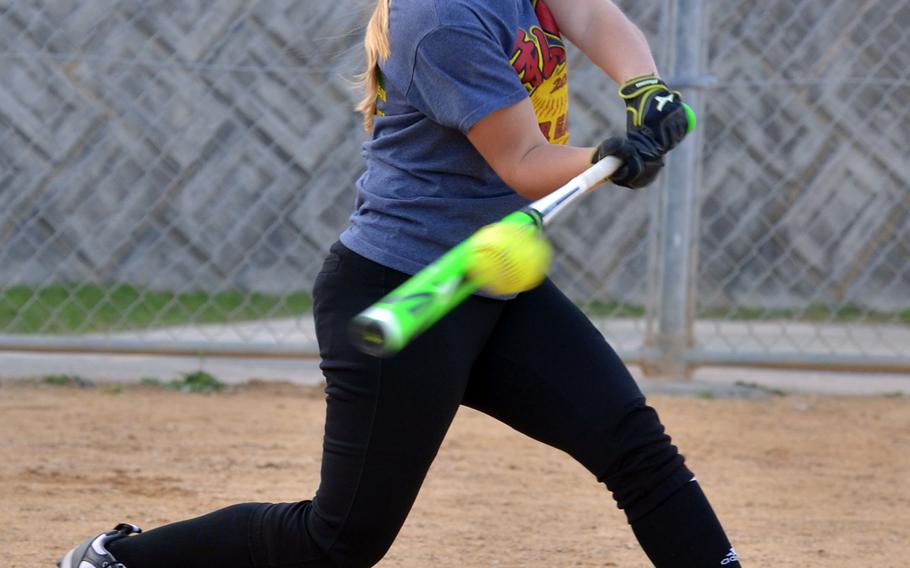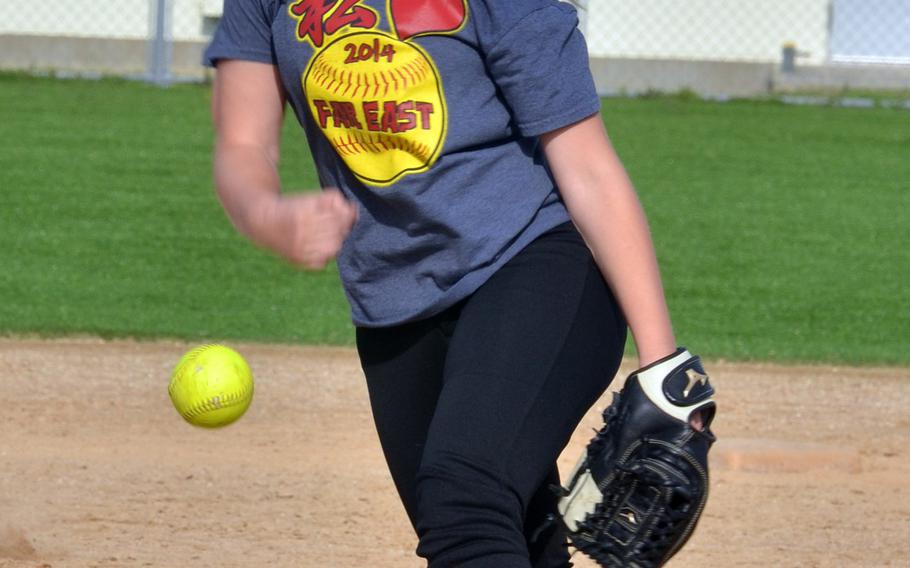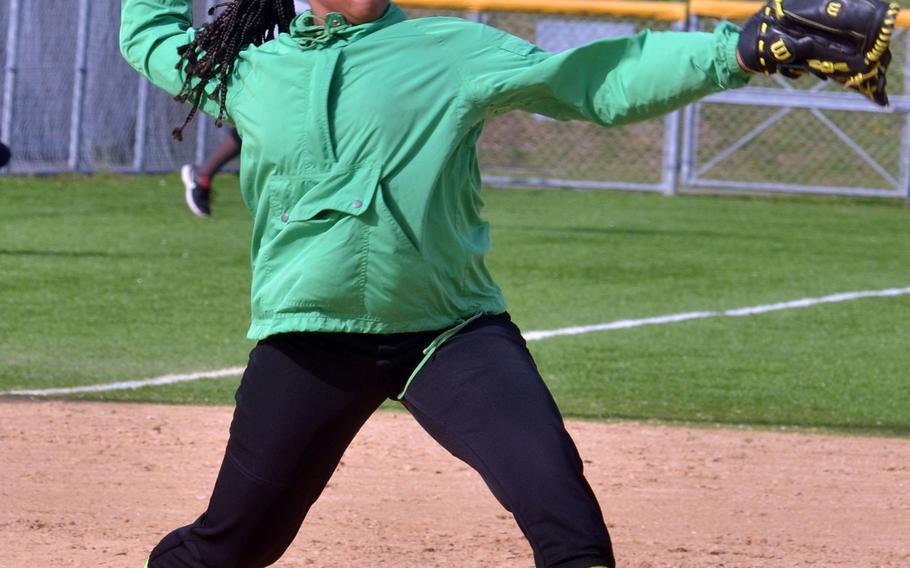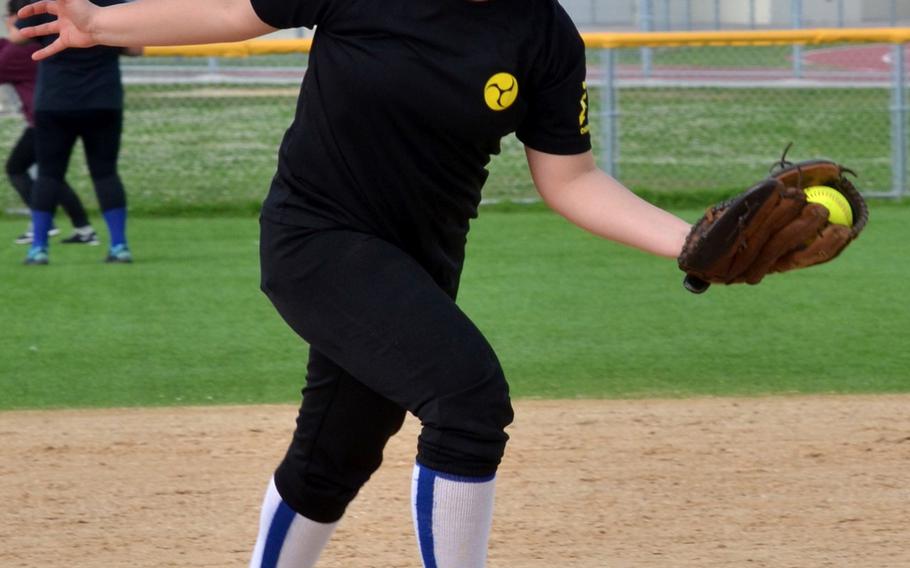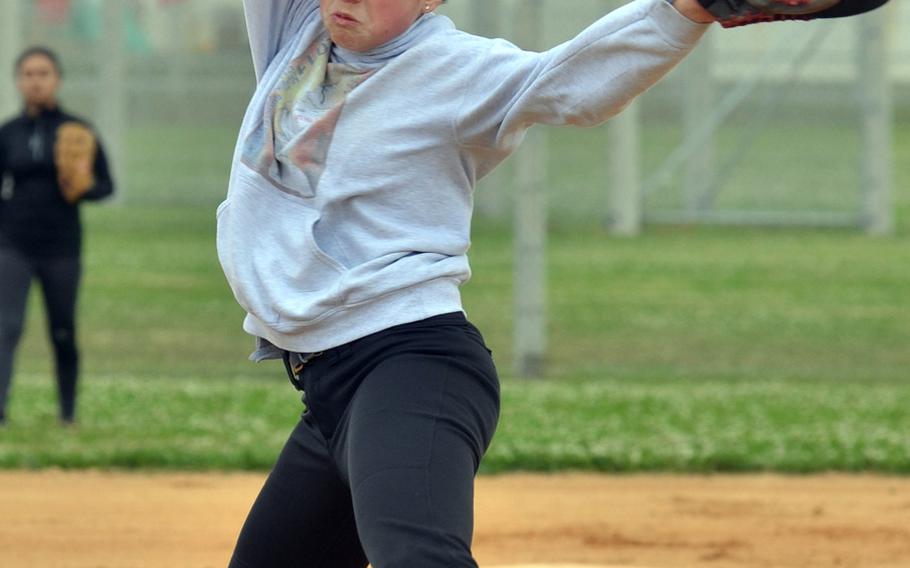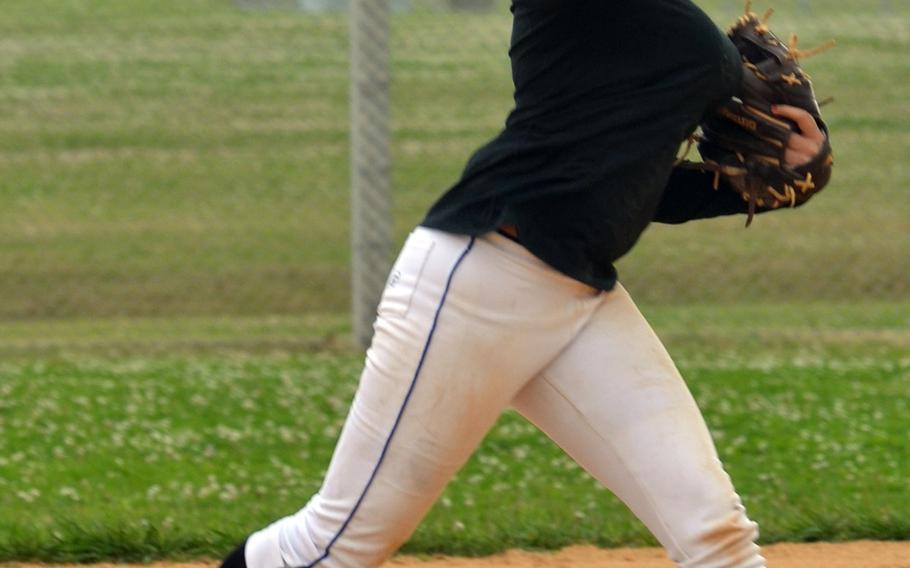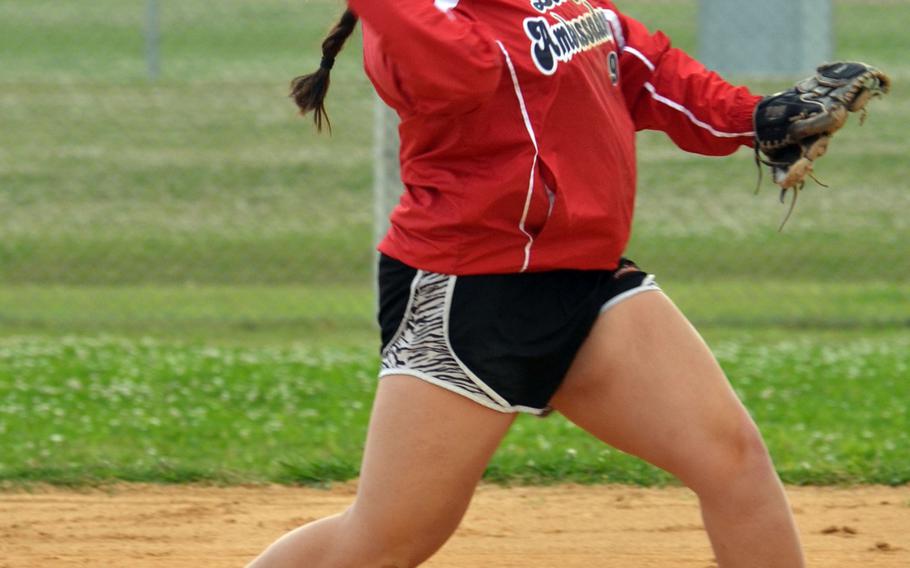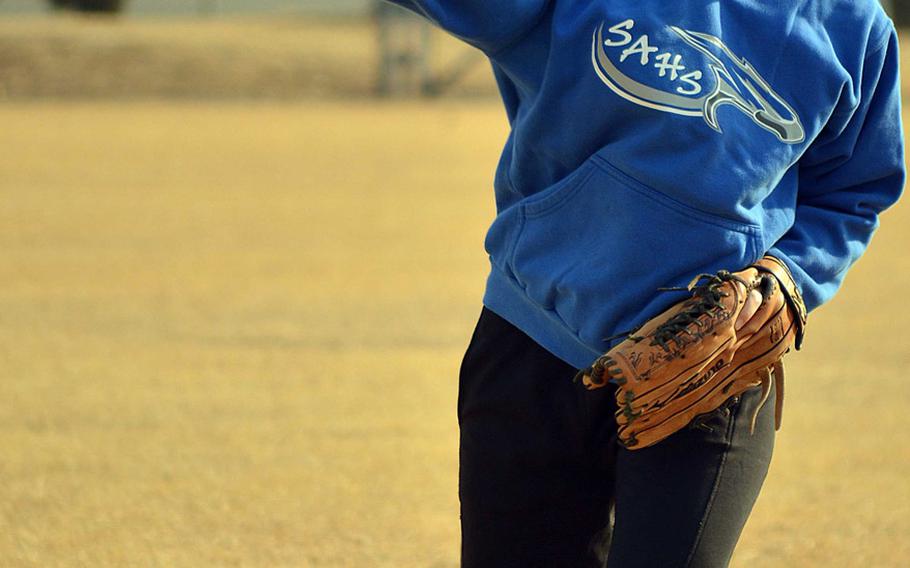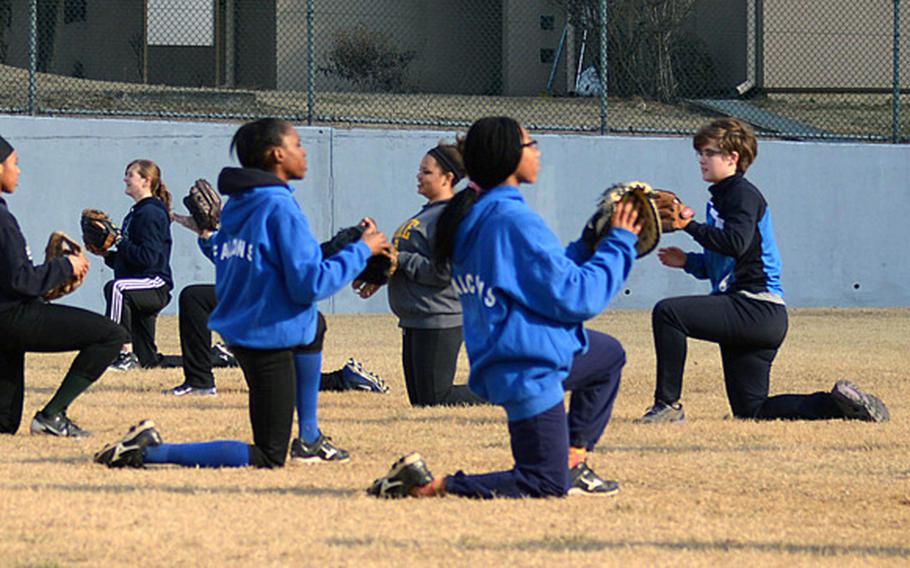 KADENA AIR BASE, Okinawa – As even-numbered years have been heaven for Kadena softball, odd-numbered years have been equally tragic, something Panthers coach Kelli Wilson is hoping will end this year where the Far East Division I Tournament is concerned.
Wilson wasn't around for Kadena's 14-10 eight-inning loss in the 2011 tournament title game to Seoul American, but she was front and center when Nile C. Kinnick rallied for two seventh-inning runs and a 2-1 walk-off 2013 final victory over the Panthers.
So, while Kadena has titles in 2010, 2012 and 2014 to its credit, Wilson hopes to make it back-to-back championships, as well as a 12th Okinawa title in the 13-year history of the league.
But she says she doesn't dwell on odd-year failures, including 2013, when Kubasaki won its lone Okinawa title.
"I don't think you can," Wilson said. "I mean, it's evident. People know. But I'm confident. I'm always confident. Of course, you have to be. If you don't believe it, the kids won't believe it."
Many of the components who helped the Panthers avenge that lone district runner-up finish and down Guam 8-1 in last year's Far East D-I final return. The big challenge will be replacing two main pitching options, Peyton Lettkeman (graduation) and Bailey Prince (transfer).
Sophomore Macalah Danielsen and senior Alicia Vaughan appear to be the first two options for this season and Wilson says she has five players she feels who have the potential to do the job.
Asia Abdul returns behind the plate, Alexis Sparrow in center field, Savannah Sparrow is being eyed out of the lead-off spot and Jazmine Braswell returns at the hot corner, where she's played three of her four years at Kadena.
Backing her is Rheagan Wyche, who transferred from Daegu, which won the 2013 Division II title and finished second a year ago to Osan.
"A lot of our kids are prepared, Rheagan … is ready for another one, the younger kids, they've been growing up watching us over the years, so they're ready to step in and play," Wilson said.
Meanwhile, Kubasaki is hopeful it can make a run at its first Far East D-I title and second district title in three years. Sophomore Reaven East heads what coach Stephanie Davis terms an improved pitching staff.
The Dragons feature one of the strongest infields in school history, including second baseman Jessica Ramirez and freshman Destiny Valverde, a shortstop who transferred from California and has played for 10 years and shows good range and a rocket arm.
"She just loves the game, that's all that matters," Dragons coach Stephanie Davis said.
Seniors Allie Powers and Julie Mathis "have taken a huge leadership role, and with the infusion of new young ladies and returners, they've all blended and know they're stronger together," Davis said. "It's been a great thing to see."
While the Panthers and Dragons appear to be flush in arms, DODDS Korea softball teams, particularly Division II schools, are in search of replacements for solid pitching elements who either graduated or transferred.
The transfer round particularly hurt reigning D-II champion Osan, which lost touted freshman Ciera Farias, the 2014 title-game winner, to Hawaii.
Humphreys lost Selene Castro, while Daegu saw Christina Henry graduate, as did Seoul American's Julia Ring.
"It was a huge boost for us last year when Osan, Humphreys and Daegu all had legitimate pitchers," Falcons coach Julian Harden said. "That meant we could focus on our hitting each week. Not having it this year leaves us all at a loss."
Last year's backup option, Andreia Ignacio, will try to replace Farias, but Cougars coach Betty Brazill says she's been emphasizing it takes a team to win, not just one arm.
"Having C.C. (Farias) move hurts us, we will miss her, but we'll bounce back. One person doesn't make a team. I think we'll be OK," Brazill said.
It could mean the D-II title could fall to one of the five Japan teams, including Yokota, new to the small-schools field and featuring three-year starting pitcher Anycia Torres.
Zama features Jane Smithers, an infielder who played for Kinnick's 2013 D-I title team, as well as a solid core of veterans and two freshmen who will be tried as pitchers.