Kadena clinches spot in finals by beating ASIJ
by
Dave Ornauer
September 28, 2019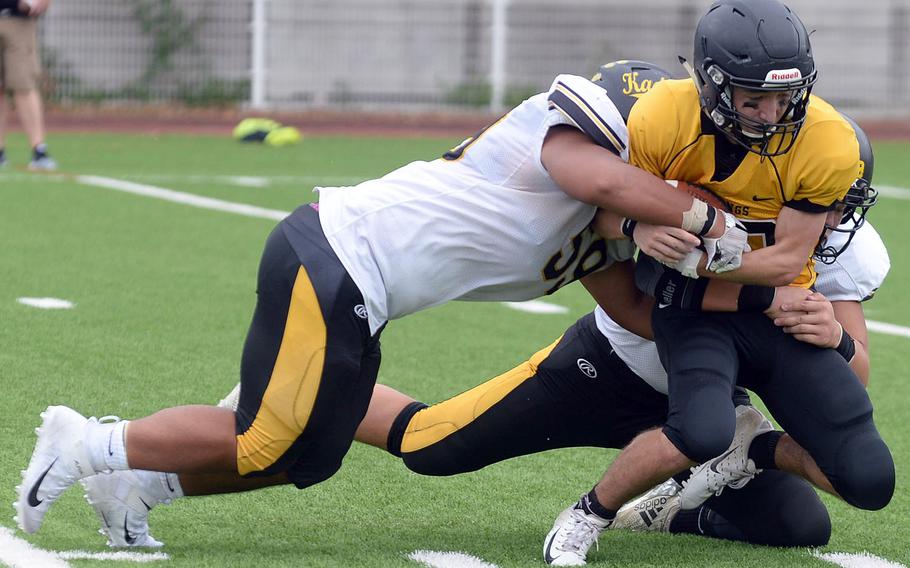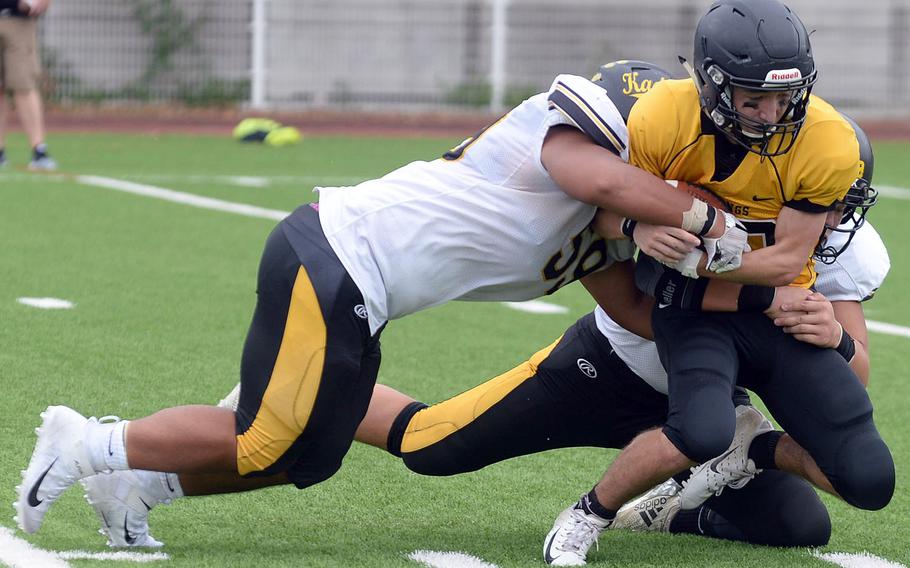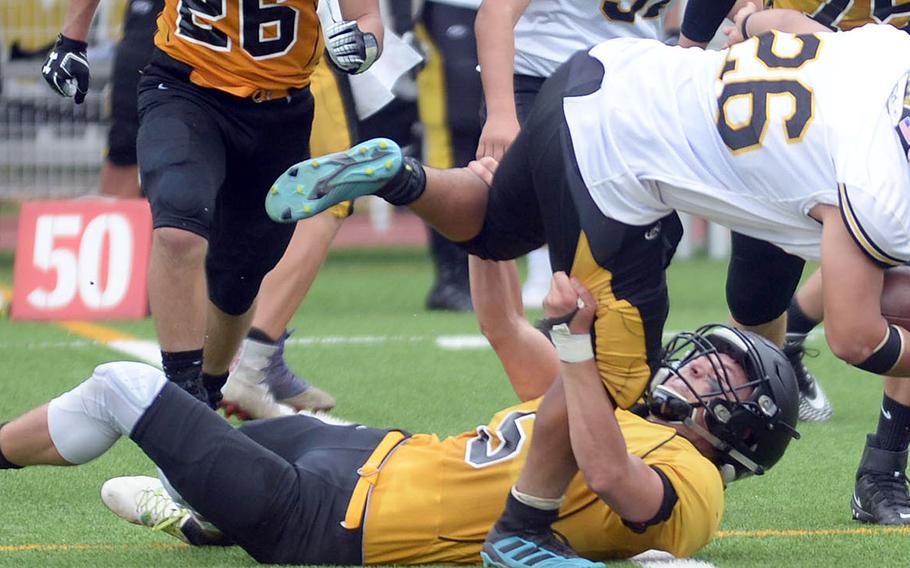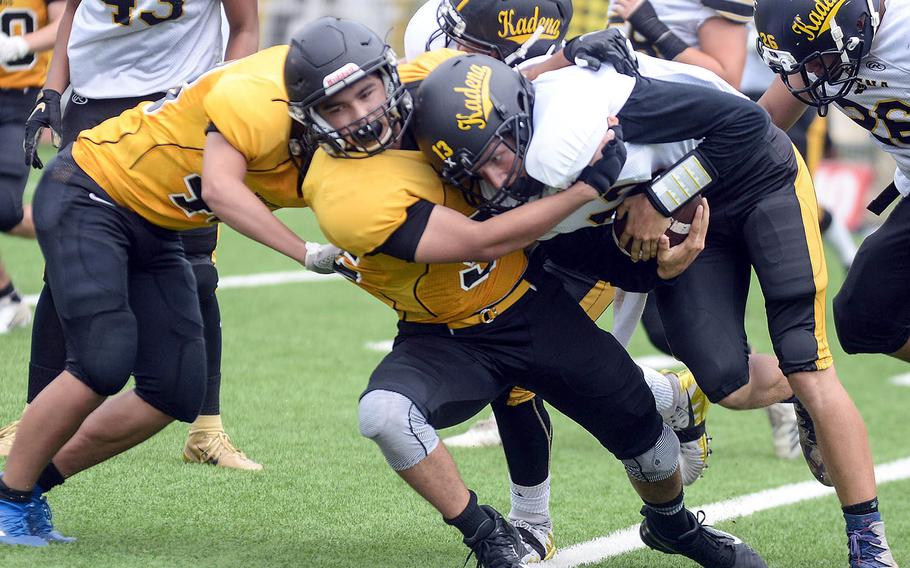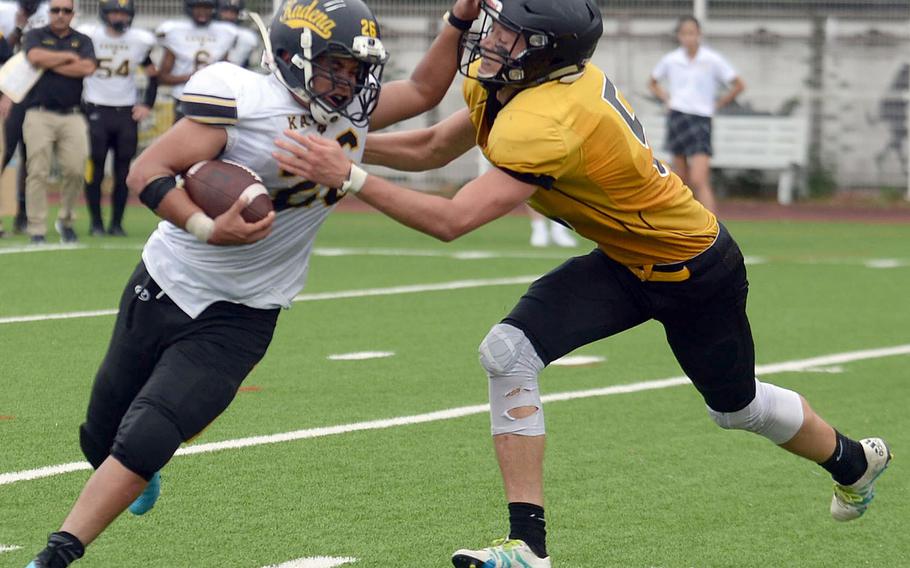 TOKYO – Alfonso Mendez continuing his red-hot rushing attack was very much expected. What probably wasn't was a relentless Kadena defense led by Jace Salas.
The junior defensive lineman recorded five tackles for losses, including a sack, while Mendez ran for 249 yards and two touchdowns as the Panthers clinched a spot in the Far East Division I football final and all but wrapped up host rights by downing American School In Japan 34-6 on Saturday.
"He's one of those upperclassmen who's stepping up, and each week he's getting better and better," coach Sergio Mendoza said of Salas. "He had some big stops today on defense. It's in his blood."
Reaching Far East finals are very much in Kadena's blood. The Panthers have now earned berths in 12 of the 15 Division I finals, including the last seven, but have not hosted the title game since 2013, when they lost to Kubasaki 34-31 in overtime.
Kadena (4-0) has two D-I games left, at home Oct. 11 against Kubasaki and Oct. 19 against defending champion Nile C. Kinnick. The Red Devils and Humphreys are each 1-1 and the Mustangs are 0-1 with four D-I games left.
Salas paced a defense that recorded three sacks and an interception and held the Mustangs to just 92 yards and six first downs on 49 plays. This, despite the Panthers being short of players on their third road trip in as many weeks.
"A lot of guys went both ways, but we knew we were tough enough to do the job that needed to be done," Mendoza said. "We came out flat. I was worried about that, being our third straight away game. But I knew … we could flip things around and we did what we had to do."
Mendez, in particular, was a workhorse on offense, carrying 34 times and scoring twice on runs of 4 yards each. Quarterback Jack Carey was an economic 3-for-4, with two of the passes going for touchdowns - 38 yards to Cyan Buck and 21 to Jaiden Quintero.
The Panthers racked up 301 yards on the ground and 393 yards of total offense with 15 first downs.
The one bright spot for the Mustangs, who were making their season debut, came in the second quarter when quarterback Salik Akhtar hit back-to-back passes of 43 and 17 yards to Nash Rasmussen, the second one a touchdown that cut Kadena's lead to 14-6 at half.
New ASIJ coach Tim Jacobsson said more games prior to Saturday "would have made a difference."
The Mustangs can gain back some ground next Friday when they host Kubasaki in a rare weekday afternoon game; no classes are scheduled for DODEA schools on Okinawa on Oct. 4. Kickoff is at 2:30 p.m.
ornauer.dave@stripes.com Twitter: @daveornauer