Kadena bounces back to blitz ASIJ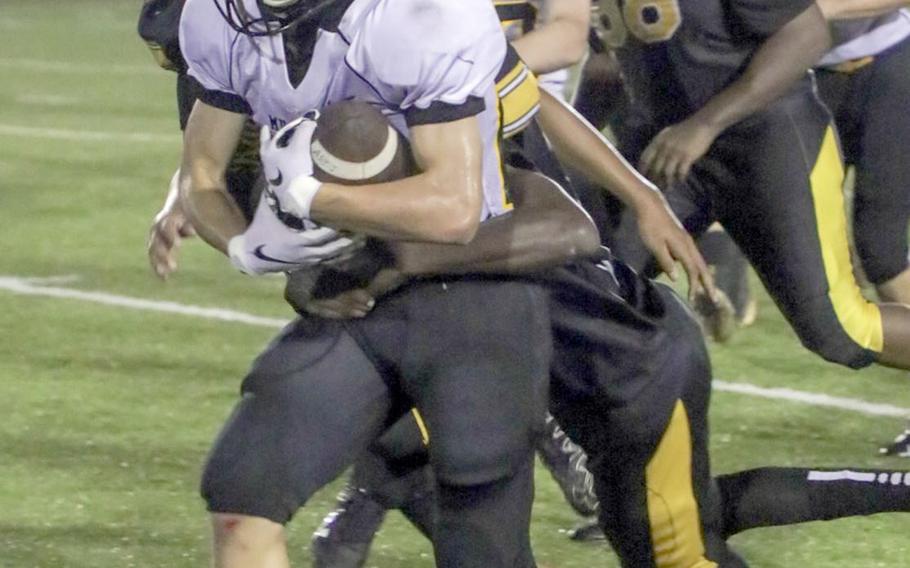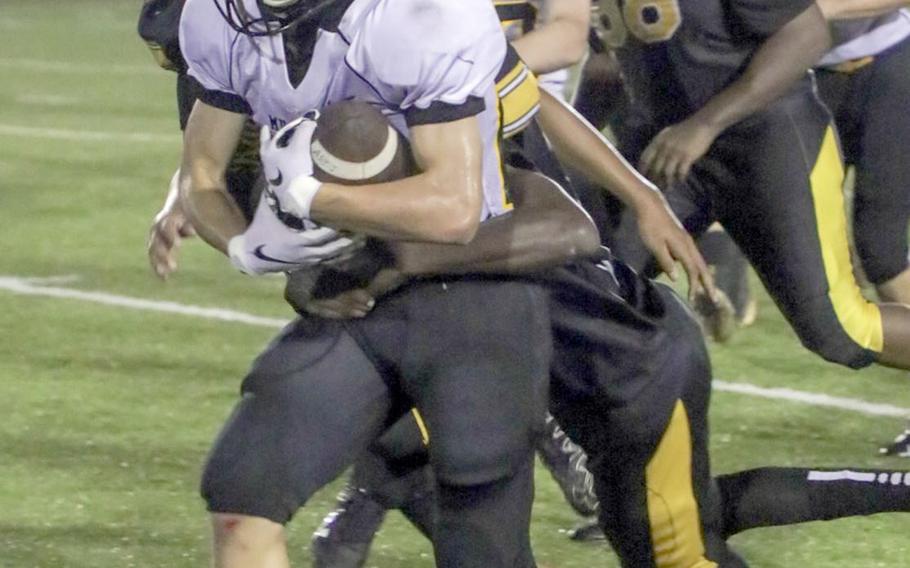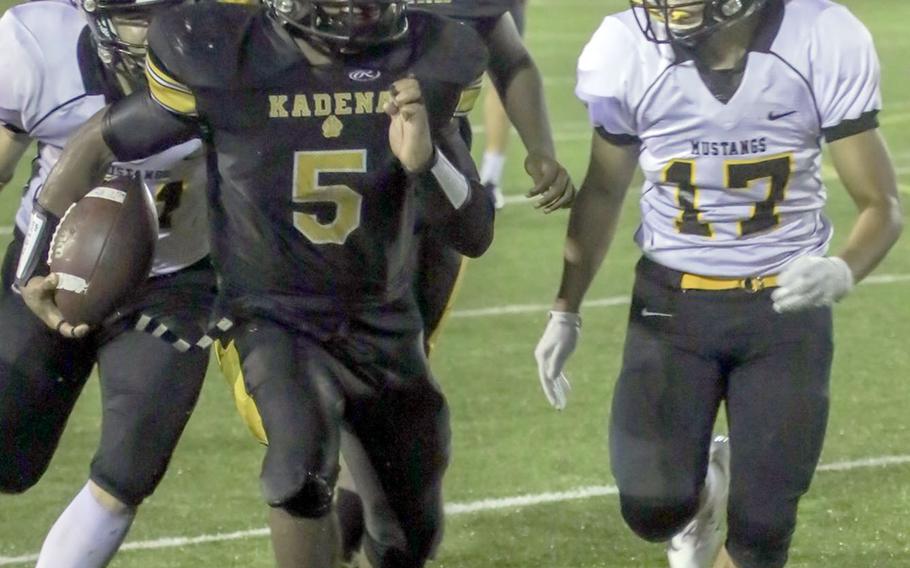 KADENA AIR BASE, Okinawa – Kadena's football players refused to let the sting of letting a 27-point lead slip away a week earlier define who they were, Panthers coach Sergio Mendoza said.
Instead, the Panthers righted the ship. Eric McCarter, Uriah Morris and Alfonso Mendez combined for 472 yards and seven touchdowns as Kadena romped 57-13 over American School In Japan on Friday at Ryukyu Middle School. Kadena improved to 2-1, while the Mustangs fell to 1-1.
"We took a good, hard look at ourselves in practice and asked if we wanted to be defined by last week, or by our own decisions, direction and passion," Mendoza said.
Kadena led 33-6 last weekend over Nile C. Kinnick with 7:34 left before the Red Devils came back to win 34-33.
"We were going to ensure that it didn't happen again. We have to go week by week, it's a long season, we have a lot to work on. But we decided we're going to define ourselves on our terms, not somebody else's."
McCarter and Morris each rushed for three touchdowns. McCarter – who started at quarterback for the injured Wyatt Knopp – gained 160 yards on 11 carries and threw a 25-yard TD pass to Malachi Johnson. McCarter also had a fumble recovery and an interception.
Morris added 177 yards on 15 carries and Mendez 135 yards on 14 attempts. William Sullins had two sacks and Jersey Watts recovered a fumble for the Panthers.
McCarter completed just the one pass to Johnson and had three others dropped. He'll be the Panthers quarterback for now, Mendoza said; Knopp will likely miss the rest of the season with a neck injury.
"He looked pretty good tonight," Mendoza said of McCarter.
Andrew Howe tied the game 7-7 in the first quarter with a 1-yard touchdown run, then the Panthers scored 28 unanswered points. Oliver Rogers cut it to 22 points with a 1-yard TD run, but that was as close as the Mustangs got.
"We got beat by a better team," Mustangs coach Roy Tomlinson said. "All those guys were horses. They got off the ball and whipped us. But I'm proud of our kids. They kept fighting until the end."
Rogers was 8-for-22 for 108 yards and ran 13 times for 64 yards. Howe finished with 43 yards on 10 carries.
Each team gets the week off before the Mustangs host Humphreys on Sept. 29 and the Panthers travel to Yokota for a Sept. 28 game.