Prep roundup
Kadena baseball finally gets a 'W' against ASIJ
by
Dave Ornauer
April 4, 2015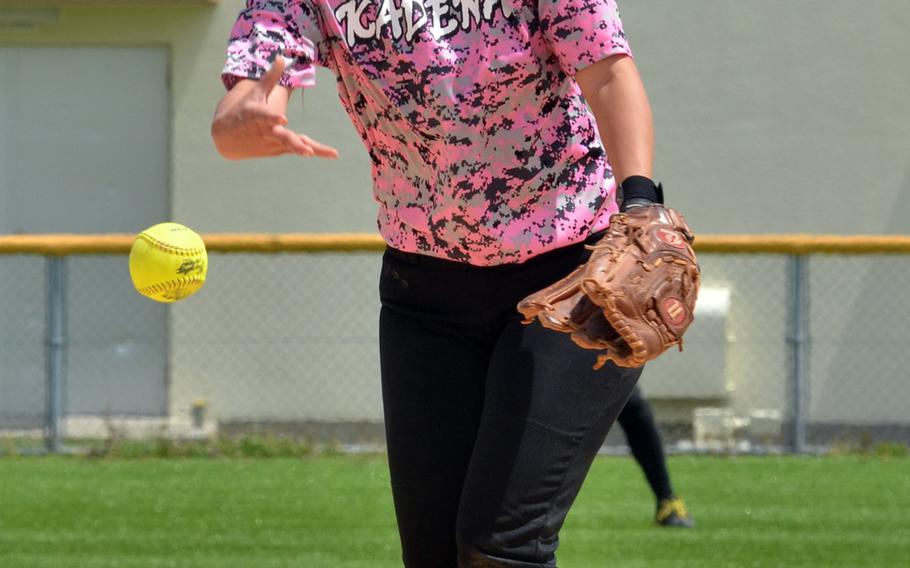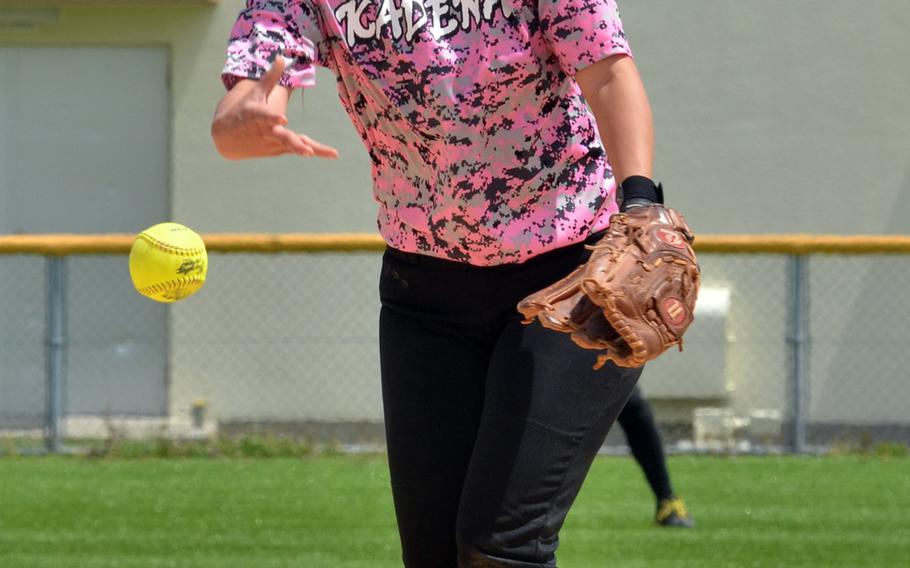 CAMP FOSTER, Okinawa – They didn't come in the Far East Division I Tournament final. But Kadena's baseball team finally got two long-awaited victories Saturday over their chief nemesis over the years, American School In Japan.
Justin Sego went the distance and helped himself with two RBIs in the Panthers' 7-6 win over the Mustangs in Saturday's opener on Camp Foster. Then Stephen Black's three-run double and Bryce Thomas' two-run homer capped a rally from a 5-0 deficit as Kadena won the nightcap 7-5.
"Any way we can get them," Kadena assistant coach Boe Roberts said of beating the defending Far East D-I champions. The Mustangs beat Kadena 11-9 in the 2011 Far East final and ASIJ blanked the Panthers 3-0 in the 2014 final last May.
"They've been a thorn in our side," Roberts said. "We simply couldn't find a way to beat them, and today, we found a way."
Roberts heaped credit on senior reliever Kota Manning. He relieved struggling starter John McBain, recorded a bases-loaded strikeout to end the second inning and allowed just one run the rest of the way. "He shut the door," Roberts said.
For the defending champions, Saturday's outcomes meant a 2-2 mark on their Okinawa road trip. They beat Kubasaki 9-2 and 10-2 on Friday.
"We're not used to losing, but I liked the effort this weekend, fighting back," coach John Seevers said after ASIJ's sixth game in four days, including a doubleheader split Wednesday at Zama.
"We have a lot of new kids this year. They gained some valuable experience that we hope will pay dividends the rest of the season."
ASIJ's softball team also traveled to Okinawa for Easter weekend but had less success, falling 10-3 and 17-12 at Kubasaki on Friday, then losing Saturday at defending Far East D-I champion 12-1 and 16-1 in games ended early due to the five- and three-inning run rules.
Still, the Mustangs felt the trip was productive for a program in its second season and which came in third in last year's Far East.
"It was a great learning experience," said coach Julie Rogers, who has just six players back from the 2014 Far East team. "Just so many details to pay attention to. The learning has helped, we were treated very well, we got the chamber of commerce weather and the social bonding off the field."
While Mustang diamond teams sunned themselves on the island, Kubasaki's boys and Kadena's girls soccer teams spent the weekend playing Kanto Plain opponents.
Kubasaki opened the weekend winning 4-1 at Yokota, then shut out Christian Academy Japan 2-0 and beat Nile C. Kinnick 3-1 at Yokosuka Naval Base.
For the Dragons, it was their second successive weekend road swing and they become the first team in the Far East tournament era to play every D-I opponent during the regular season. They traveled March 27-28 to Seoul American and played the Falcons to a 0-0 draw.
Yokota, Seoul, CAJ and Kinnick were "nice enough to host us and fit us into their schedule," Dragons coach Saleem Malik said. "The guys are enjoying the traveling and playing together."
Kadena girls stumbled in their first match, losing 4-0 at ASIJ on Friday, largely due to freshman Kat Johnson's hat trick. But the Panthers rebounded on Saturday, as Shani Summers scored her seventh and eighth goals in 3-1 and 3-0 wins over Seisen International and CAJ.
"We're having fun, but yesterday not so fun," coach Abe Summers said. "It was a learning experience and we got lots of team bonding. It will help us get ready for Far East."
Twitter @ornauer_stripes