Prep roundup
Johnson breaks own marks in 200, 400
---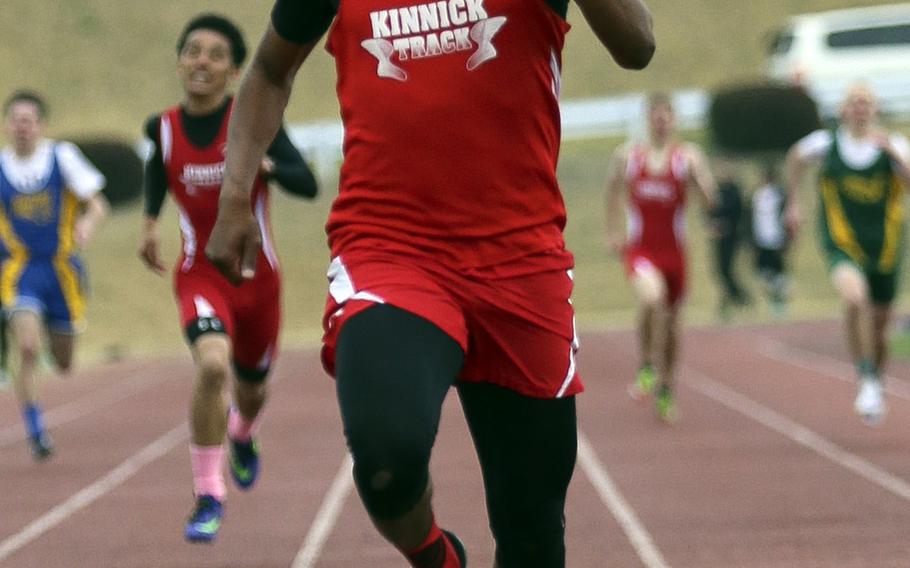 TOKYO – As Jabari Johnson's chapter in the northwest Pacific track and field record book continues to expand, his coach, Luke Voth, says he finds himself saying "wow" less and less.
The Nile C. Kinnick senior sprinter took down his own region records in the 200 and 400 on Saturday at Tokyo's Oi Pier Ground Stadium, clocking 21.74 seconds in the former and 48.66 in the latter, beating his old times of 21.87 and 48.99.
"I'm kind of used to it," Voth said. "I realize that is it a 'wow' moment, but it's what Jabari does."
Under clear skies with temperatures in the 70s – and against a moderate to strong head wind – Johnson needed to rally past American School In Japan's Britt Sease, overtaking him in the final 100 meters to win the 400. Sease was timed in 48.81.
"Both of those kids, you can tell each of them has worked hard," Voth said.
Johnson's stated goal, Voth said, is to get somewhere in the 47-second range before he graduates, and Voth believes he Johnson can, though it might take "perfect conditions" during the Far East meet May 19-20 at Yokota.
Johnson left less doubt in the 200, beating teammate Rashad Samuels, who was timed in 22.72. Johnson failed to beat his 100 record (10.78), set earlier in the season, as the head wind picked up to 4 meters per second. Still, "he was definitely having a good day," Voth said.
Johnson now not only owns an unofficial "triple crown" of northwest Pacific sprint records, he has broken his own record in each. "I'll be lucky to coach another kid like that, with that kind of talent, in my career," Voth said.
Saturday's was the last Kanto Plain meet until April 30 at Yokota. The first event following the DODEA-Pacific spring break is the DODEA-Japan finals, slated for April 23 at Edgren.
---
---
---
---