It isn't pretty, but Guam wins opener over Tiyan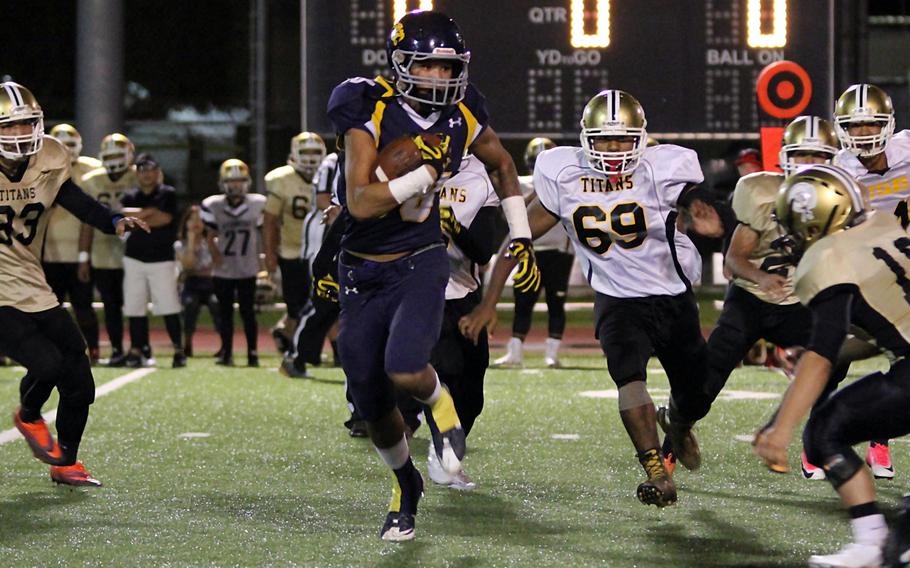 AGANA HEIGHTS, Guam – They trailed most of the way and lost their starting quarterback on their first series. Still, Guam High's rebuilding football team refused to give up in its season-opening game on Friday.
RaSean Jacobs, the team's junior backup quarterback, took over for injured freshman starter Travon Jacobs, his brother, and scored a first-quarter touchdown, then teamed with Will Sanders for a third-quarter safety as the Panthers rallied to edge Tiyan 8-7.
"We got tested in every way," coach Jacob Dowdell said. "Defense wins ugly games. We couldn't get much of anything going on offense, so the defense backed them (Titans) up and got the safety."
In Friday's other opener on Guam, Simon Sanchez blanked Southern 18-0. The victorious Sharks visit the Panthers next Friday, one of two upcoming games that Dowdell referred to as big tests.
Travon Jacobs injured his shoulder while running to the outside for 25 yards in the Panthers' opening series. He took on the Titans' safety instead of sliding safely to the turf.
Dowdell referred to RaSean Jacobs as one of the game's heroes. "He stepped up and put the team on his back," Dowdell said of Jacobs, who was 5-for-8 for 60 yards and ran 23 times for 50.
One of those completions went to Sanders, a 6-foot-1, 180-pound receiver who went up to make a clutch catch across the middle to keep a drive alive. "That was so clutch for us," Dowdell said.
Makoa Bamba, recovering from a stomach flu "was a beast" on defense, recording 11 tackles, including two sacks. Tyler Phan was a "surprise" for the Panthers on defense, also recording two sacks.
"I'm super proud of the boys who stepped up when we needed them to step up," Dowdell said.