Humphreys takes command of Korea race
---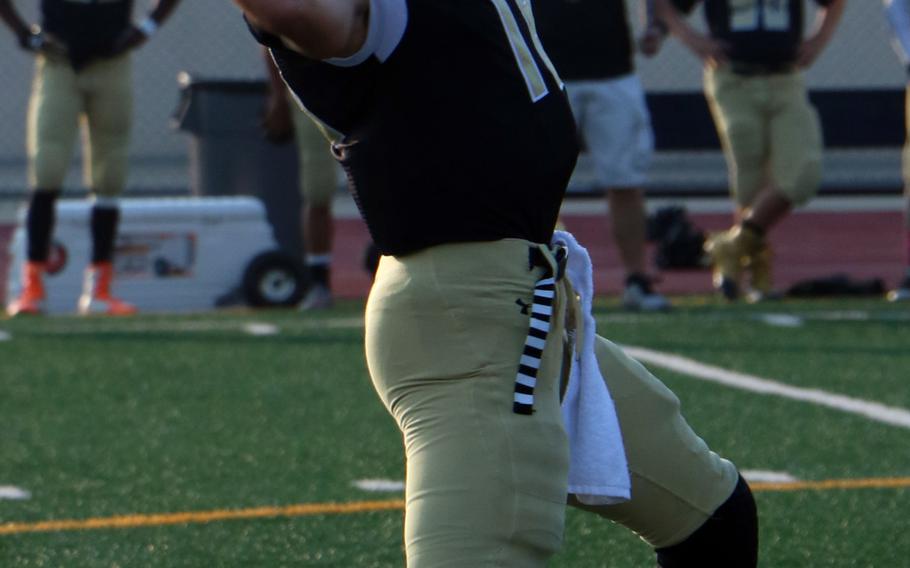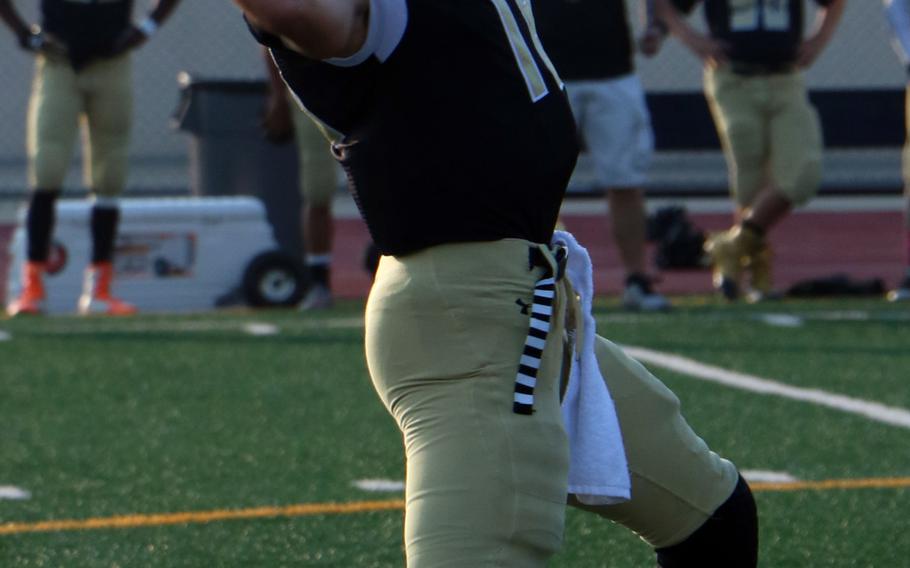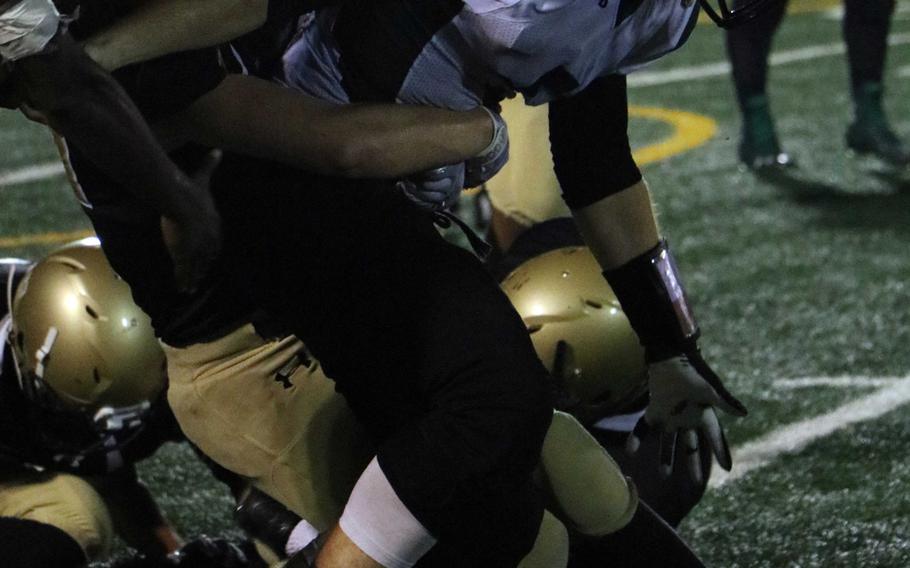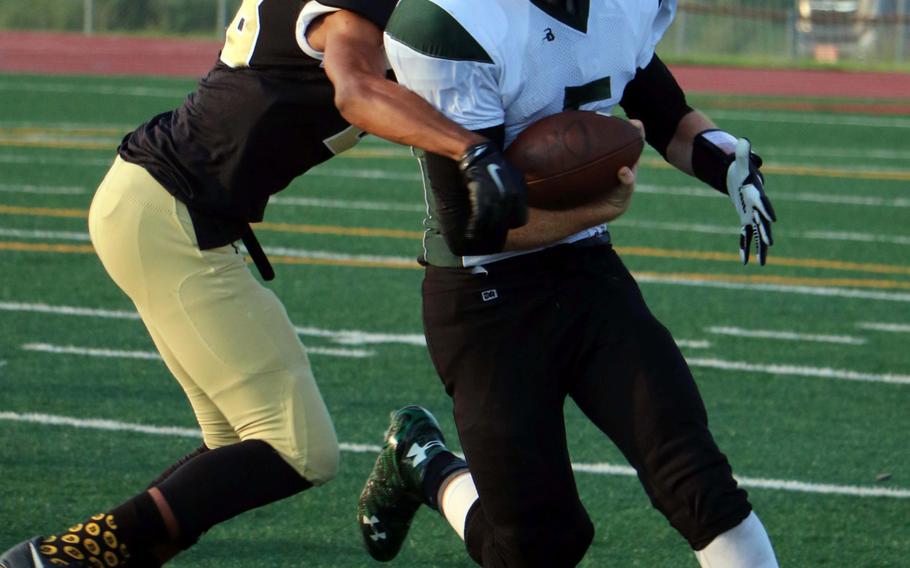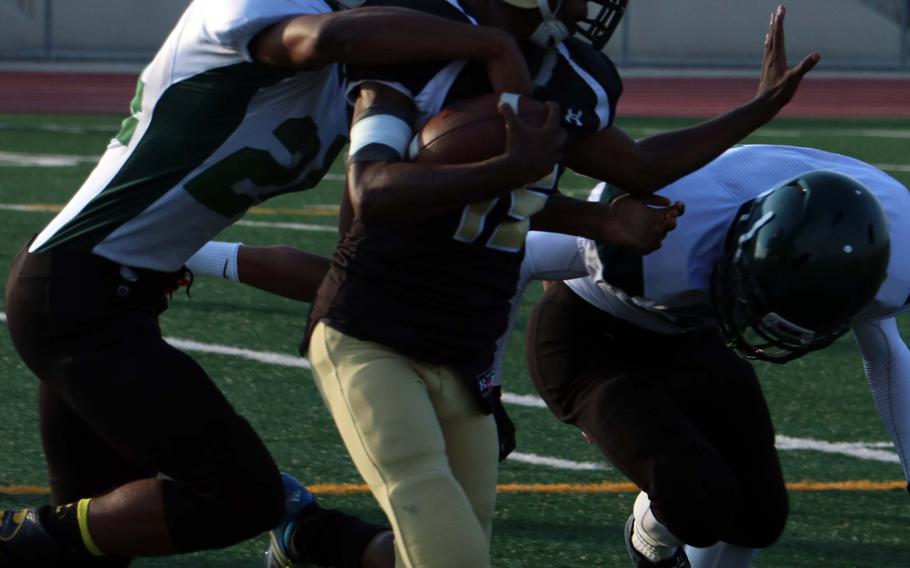 CAMP HUMPHREYS, South Korea – David Key began the season at outside linebacker, but was moved inside by Humphreys' coaching staff to provide more of a presence in the middle. The freshman has thus far rewarded their faith.
Key recorded 10 tackles, one sack and a fumble recovery, leading a stingy defense that kept its opponent's offense off the scoreboard for the second straight week as the Blackhawks downed three-time defending Far East Division II champion Daegu 27-8 on Friday.
"Not bad at all for a freshman," assistant coach Sa'Voda Gregory said of Key. "He's one to watch this season."
"We needed to clog up a hole on defense and that's what we did," Blackhawks first-year coach Steven Elliott said. "We owned the middle, and a big part of that was Mr. Key."
Joining Key in double figures in tackles were Owen "Thor" Williams with 11 tackles plus two interceptions, one which he returned for a touchdown; and Marcus Childs, who added 10 tackles. Criss Carlos added six tackles, two of them sacks.
The Blackhawks got it done on both sides of the ball. In addition to Williams' 20-yard pick-six, Miles Brice ran 22 yards for a score that put the Blackhawks ahead to stay. Nate Hellams returned a punt 30 yards for a score and Brice Bulotovich scored on a quarterback sneak.
"This was a total team effort," Elliott said.
Humphreys, which blanked Songdo, a Korean team, 32-0 in its opener last week, allowed only a 40-yard fumble-return touchdown by Daegu's Jacob Litton to open the scoring, and a safety, on which Bulotovich was gang-tackled in the end zone in the fourth quarter.
"We came out with a good game plan, four quarters, never quitting and it showed on the scoreboard," Elliott said. "We're very excited. But it's just one game."
The Warriors (1-1) beat Seoul American 8-6 six days earlier in their season opener. Coach Blake Sims said Daegu's defense was "pretty sound" but the offense still needs to work on its execution.
"We're still playing a lot of freshmen, working out the basics," Sims said, adding that Daegu would gain some yards on one play only to make a mistake on the next such as a false-start penalty. "We need to execute on all plays instead of every other play."
It was the Blackhawks' second victory in five games over Daegu in the school's four-year history. Humphreys edged the Warriors 29-26 on Oct. 24, 2014, in their second meeting.
Both teams get a bit of a break before facing Korean teams later in the month, Daegu taking on Samsung at Camp Humphreys on Sept. 24 and the Blackhawks facing the same Korean team a week later.
Daegu hosts Humphreys on Oct. 14, needing to beat the Blackhawks by 20 points or more to have a chance at making it four straight D-II titles. A Humphreys win or a loss by 18 or less would give the Blackhawks the right to travel to Japan and play for their first D-II crown.
"That's the plan, but that's a long-term goal," Elliott said. "The way to reach the long-term goal is to knock out the short-term."
---
---
---
---