Prep roundup
Humphreys sweeps Seoul American in hoops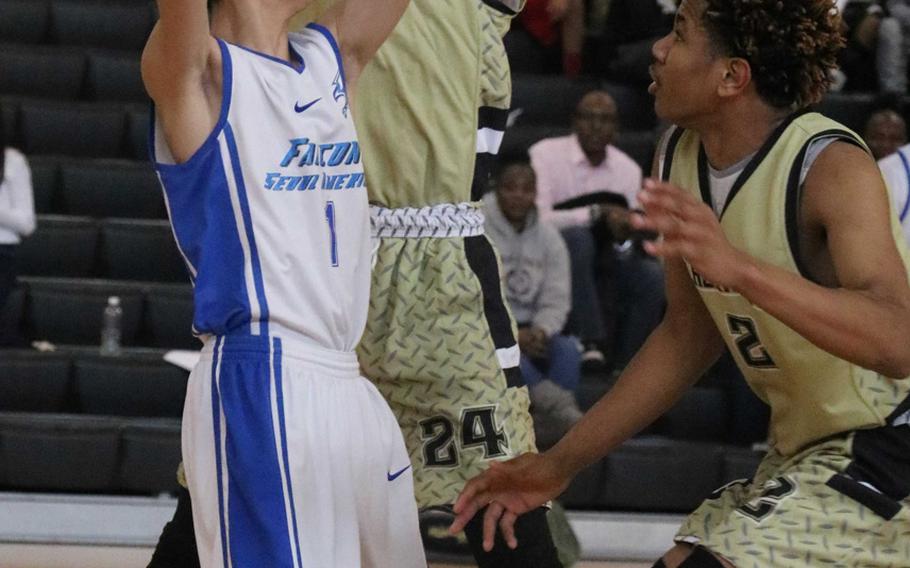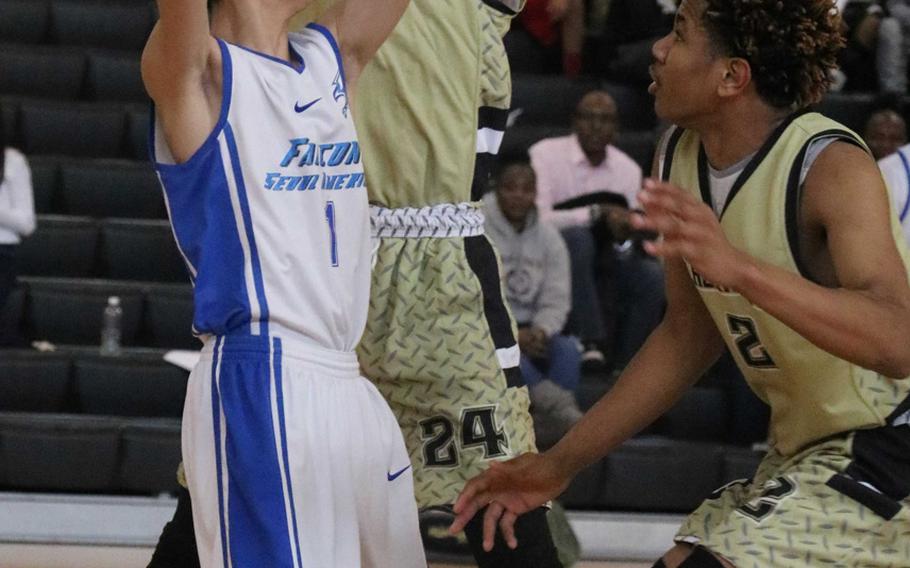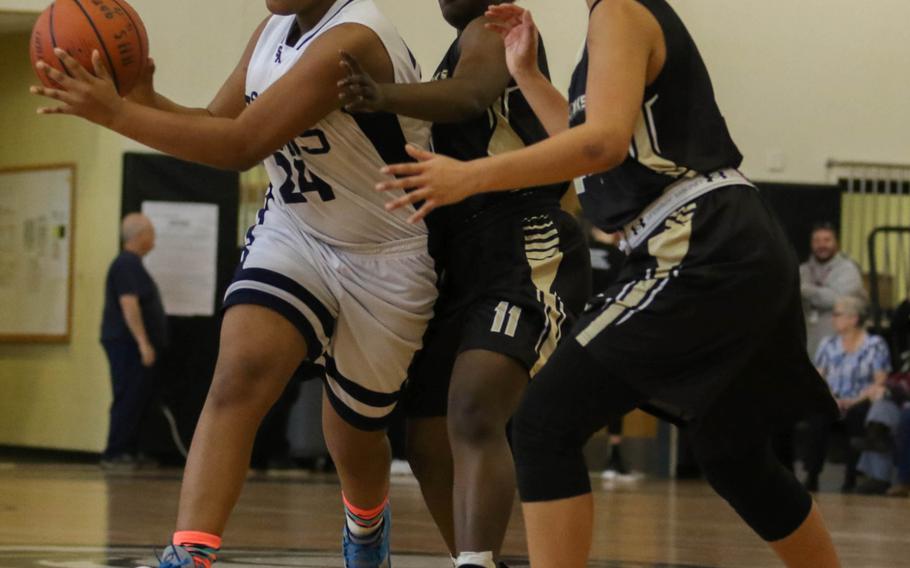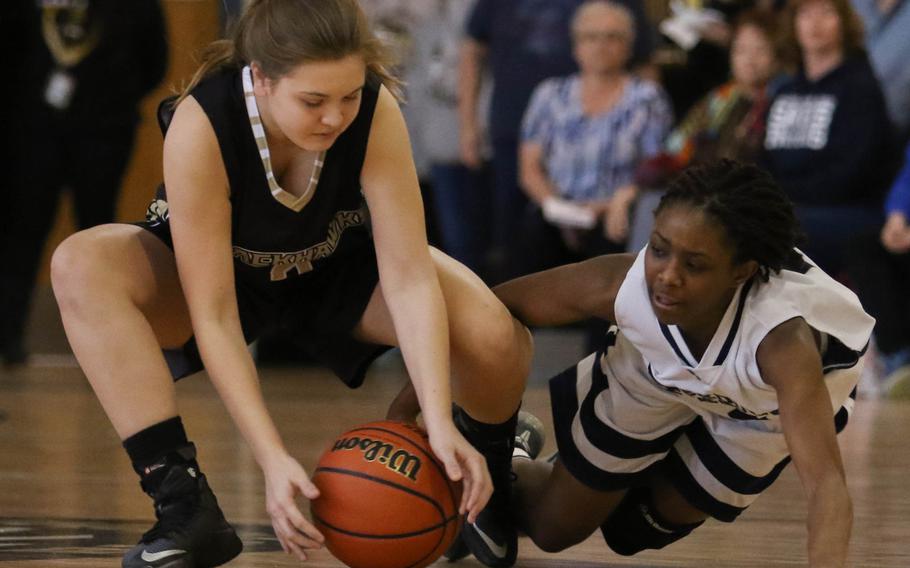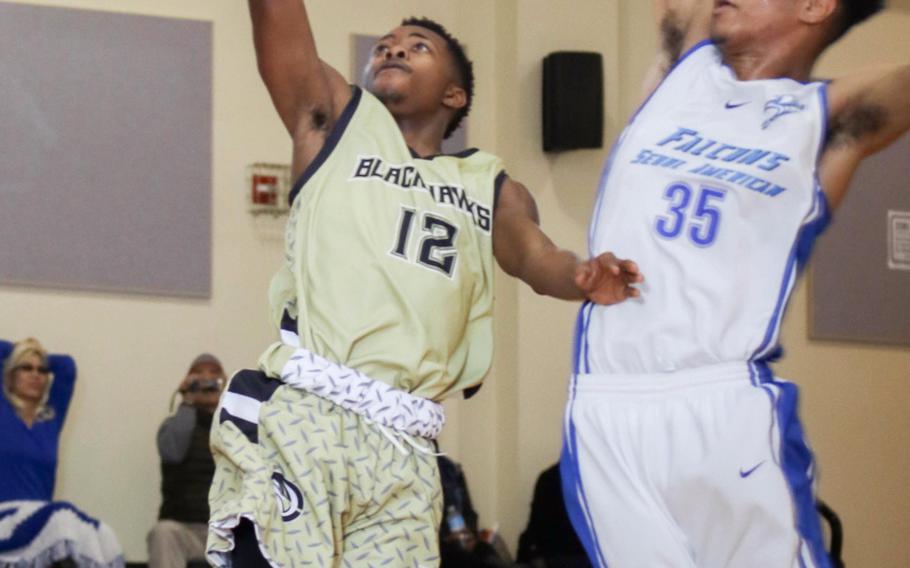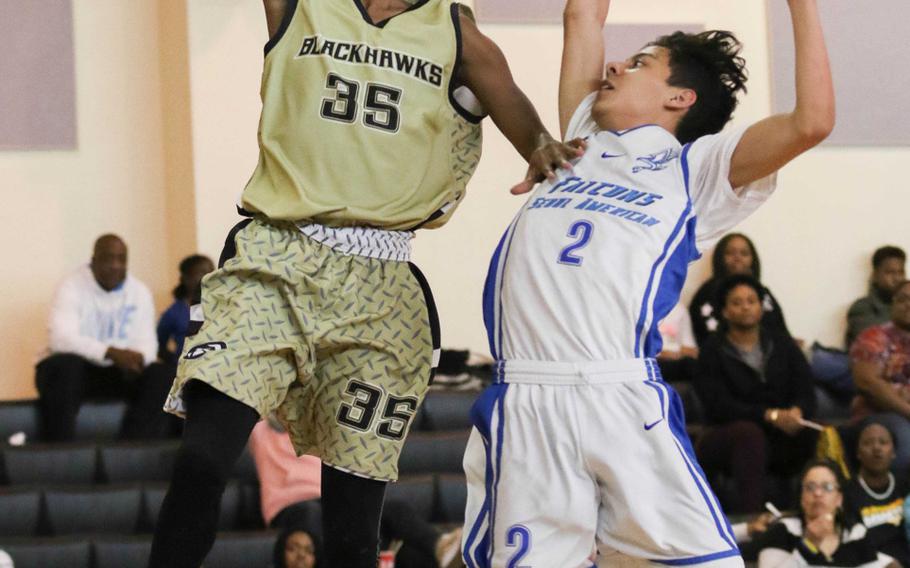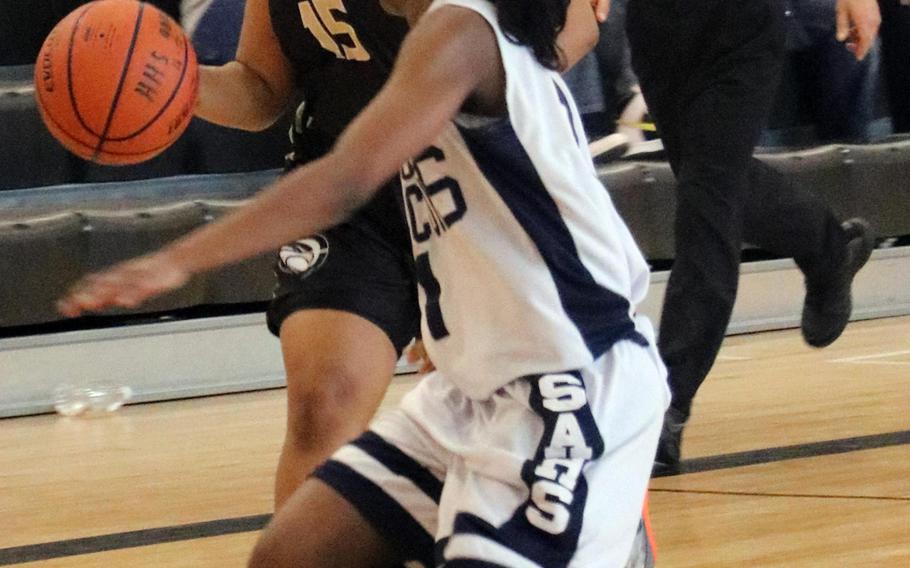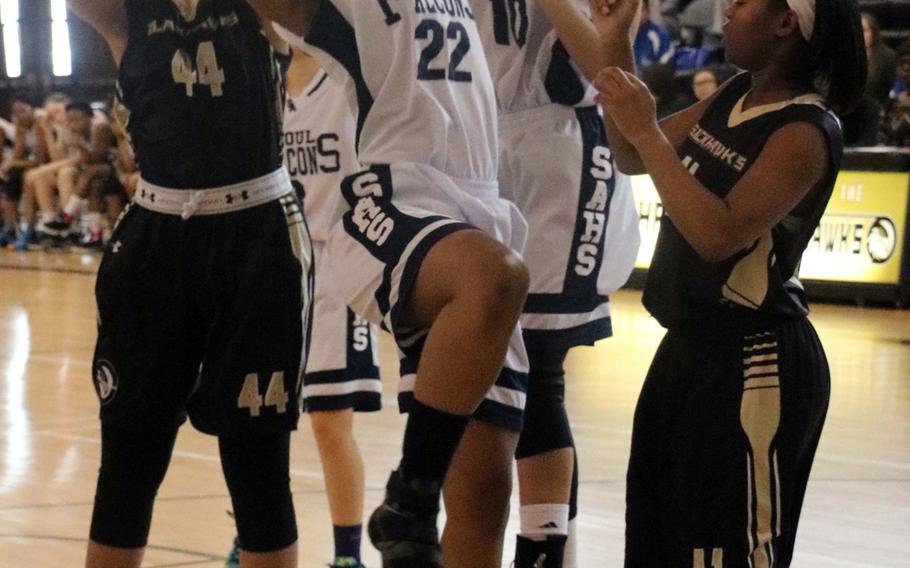 CAMP HUMPHREYS, South Korea – Perhaps not even the Blackhawks themselves saw this coming.
The start of the second half of the winter sports season saw Humphreys basketball score a pair of stunning victories over Seoul American – the boys routing the Falcons 67-41 and the girls scoring their first win in school history over their northern neighbors, 40-37 on Saturday.
"It was amazing," said first-year Blackhawks coach Laura Corder, who transferred from Aviano after 23 years in Italy.
Corder said she and the Blackhawks talked all week about the game, their goals and what it would take to get the historic victory. "The girls did what I asked and it made all the difference," Corder said.
Sydney Wilson was the difference maker on the court for the Blackhawks, who held All-Far East senior Krista Bradley to just six points. Wilson had 20 points, 12 rebounds, five steals and blocked three shots, and took over running the offense when Jaedyn Jones fouled out.
It was the first loss for the Falcons in four games, while the Blackhawks improved to 2-3.
Beating Seoul American in the regular season has become common for the Blackhawks boys, but the 26-point margin of victory was the largest in any game between the two schools in Humphreys' four years.
Coach Ron Merriwether said he saw his team winning Saturday, but "not like that." He cited Humphreys' 45-42 loss Wednesday at Osan as the "eye opener" that lit a fire under his team.
"They played with the intensity that I expected all season," Merriwether said. In their previous four games, "we were underperforming. But the eye opener and the hard work the next two days to patch things up went a long way."
Tyrell Alexander had 27 points, Jalen Hill 14 points and 11 rebounds and Nate Hellams 10 points and three blocks for the Blackhawks. Brothers Quintin and DeAndre Metcalf led the Falcons with 13 points each and combined for 17 rebounds.
"I'm very disappointed. Our team is very disappointed," Falcons coach Steve Boyd said. They had traveled to Daegu the day before, won 65-48 and traveled again Saturday morning to Humphreys, "but that's no excuse," he said.
"We got beat by a better team," Boyd said. "They outplayed us, they outhustled us, they outrebounded us; they outplayed us in every phase of the game. We just weren't ready for it."
The two teams meet again on Jan. 20 at Falcon Gym.
Cobras boys continue flying startMARINE CORPS AIR STATION IWAKUNI, Japan – For many years, coach Laird Small said, E.J. King boys basketball has been on the wrong end of scores and tournament results. So the fact that his Cobras continued their torrid start with a four-game weekend sweep has him content.
"It's a good group of kids," Small said after the Cobras won twice over the weekend, 59-32 over Matthew C. Perry and 62-47 over Nile C. Kinnick to improve to 9-0 on the season, their best start since winning their last Far East Division II tournament title in 2000.
"They do the heavy lifting, they're playing good basketball and I'm glad we're getting a few wins. It's not often we get a chance to compete against the big boys. We're a really athletic group, more than we've been in the past."
The brothers Robinson, Devin and Dyson, led the way by averaging 18.5 and 16 points per game. Four of the five Cobras starters are seniors and Dyson, a sophomore, might end up transferring at school year's end. "We may be back to ground zero next season, so we're making the most of it this year," Small said.
Panthers capture Okinawa hoops titles
CAMP FOSTER, Okinawa – Willie Ware has won seven of Kadena's girls 13 straight Okinawa titles against Kubasaki, and has only lost to the Dragons once during that span.
But when Kadena outlasted Kubasaki by just six points, 31-25 on Friday, Ware said it was no great surprise to him, even after beating the Dragons 51-25 on Dec. 9 and 53-28 on Dec. 16.
"This year, it's not like it's been," Ware said. The fact that Kubasaki made it so close Friday is a sign, he said, that the Dragons are improving.
"Each game is getting closer and closer. They are getting better," Ware said. "Defensively, they're playing aggressively. They're playing as a team. They're using their bodies. They're using their size. They're playing basketball."
Ceara King led Kubasaki with 13 points. Kadena's Saj McBurrows had eight.
Meanwhile, Kadena's boys made it two titles in three years and won by what's believed to be the biggest margin against Kubasaki since the 1995 Far East Division I Tournament final.
Nick Laney had 15 points and Jahron Mitchell 11 as the Panthers won in a rout 67-44 over a Dragons team that was missing four players, one due to injury and the others due to undisclosed reasons.
The victory was bittersweet for Panthers coach Gerald Johnson, who's said he's stepping down as Kadena coach after this season and coached his last regular-season game at the Dragons' home court. "This is where it all began for me," Johnson said.