Humphreys hopes momentum continues
by
Dave Ornauer
February 4, 2016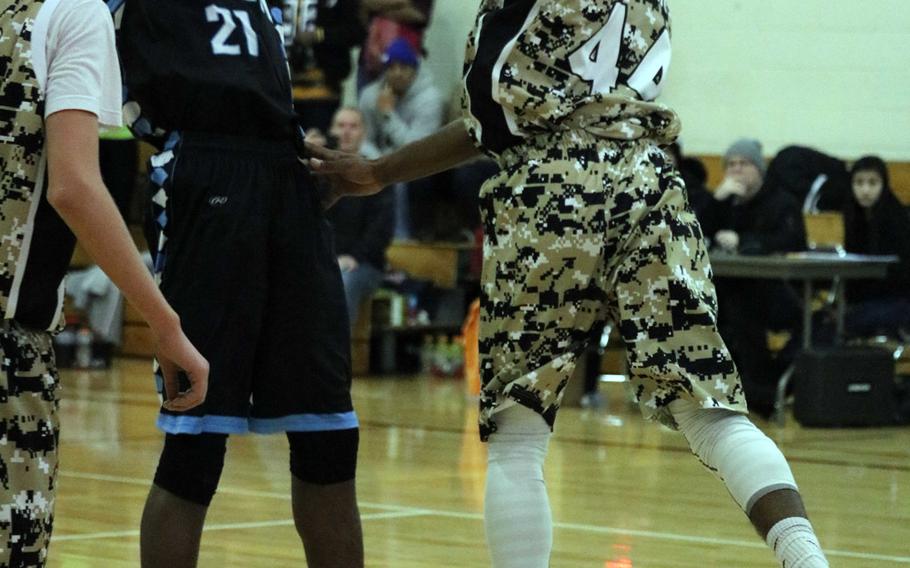 Regular season success hasn't translated into Korea Blue Division Tournament titles for the Seoul American boys basketball team.
The Falcons fell in the championship-game to Daegu in 2014 and to Osan a year ago.
Now, it's Humphreys, winners of the league's regular-season title for the first time in the school's three-year history, trying to reverse that curse. And they might have to beat Seoul American to do it.
The Blackhawks enter this weekend's tournament at Taejon Christian with an 11-1 regular-season record and the top seed.
"Hopefully, we can change history," first-year coach Ronald Merriwether said Wednesday following the Blackhawks' 58-48 season-ending victory at Seoul Foreign. The tournament tips off at 10 a.m. Friday at TCIS' main gym and activities center courts.
Though Merriwether hadn't been around to see it, he said he's aware of Daegu and Osan turning the tables on the Falcons the last two years, and the prospect of having to beat Seoul American three teams during the season looms.
"It's always hard to beat a team three times in a season," Merriwether said. "We've talked about it. We've discussed it, how to prevent that from happening, that we must not be satisfied, we can't get too comfortable."
Humphreys beat Seoul American at home 59-48 on Jan. 9, behind a double-double of 15 points and 12 rebounds by Nate Hellams, who also blocked four shots.
The Falcons led the rematch at Seoul American on Jan. 28 all the way until Jackson Taylor, a freshman forward, hit a three-pointer with six seconds left, giving the Blackhawks the lead and the game 64-63.
The boys and girls tournaments will go on simultaneously at TCIS' two courts, during what amounts to a league championship weekend in Japan and Korea and a dress rehearsal for the Far East tournaments in less than two weeks.
The DODDS Japan basketball finals began Thursday at Yokota, with the host Panthers seeking to defend their titles in both the boys and girls tournaments. They also pulled a Far East Division II Tournament sweep a year ago.
On the mats, the teams that have halved the Far East Wrestling Tournament Division I titles the last two years, St. Mary's and Kinnick, should vie for top honors in Saturday's Kanto Plain finals, to be hosted by St. Mary's, which won the regular-season title.
And Kadena's girls and Kubasaki's boys look to run the table in their respective fourth Okinawa regular-season meetings. The girls tip off at 5 p.m. Friday and the boys game follows at Kubasaki.
Twitter: @ornauer_stripes