Humphreys handles Daegu to move back to .500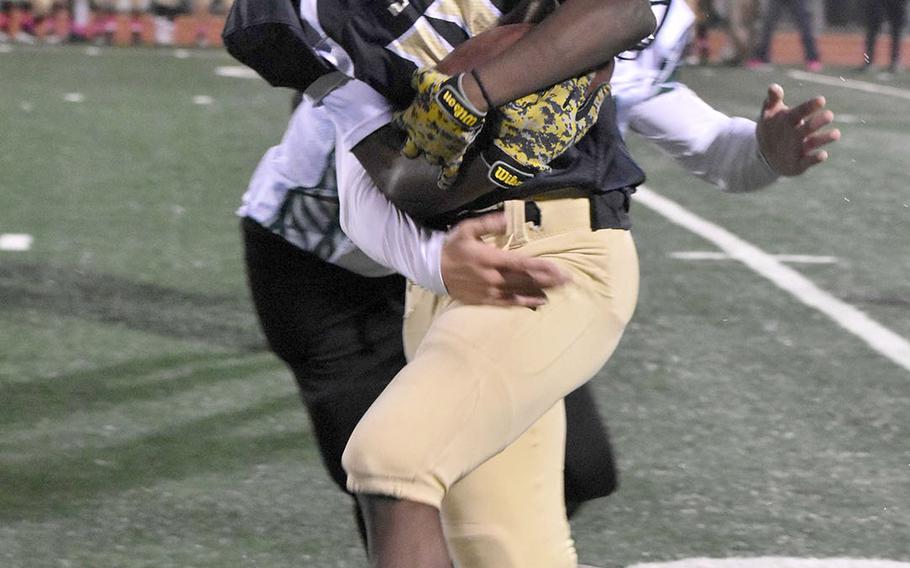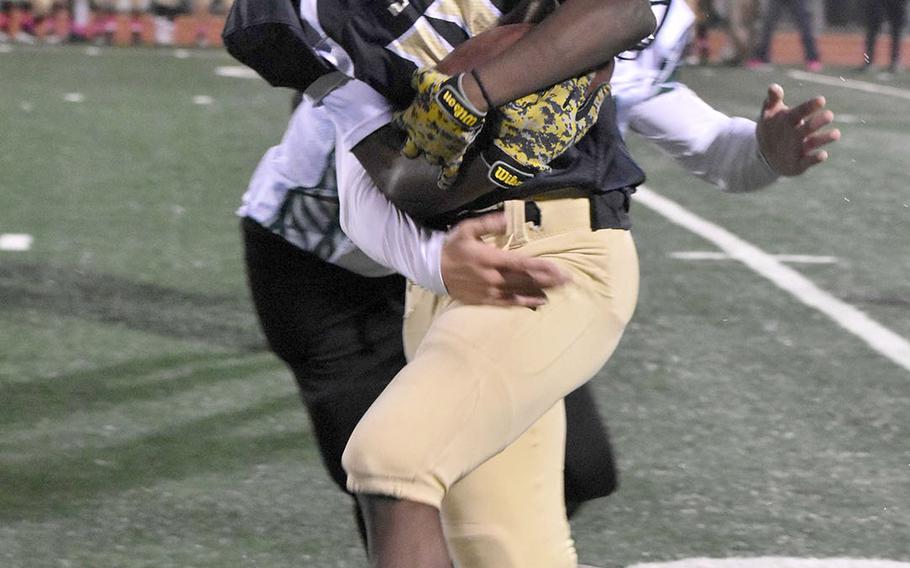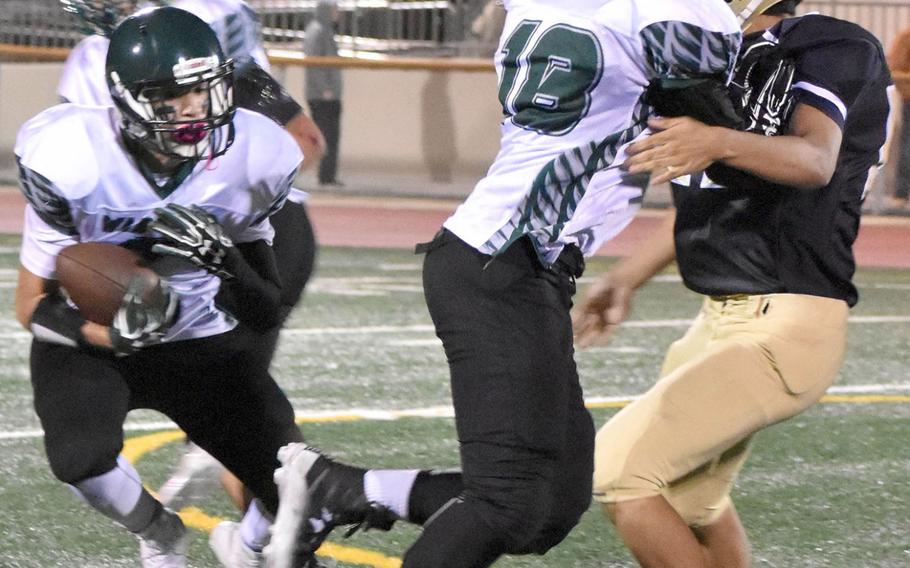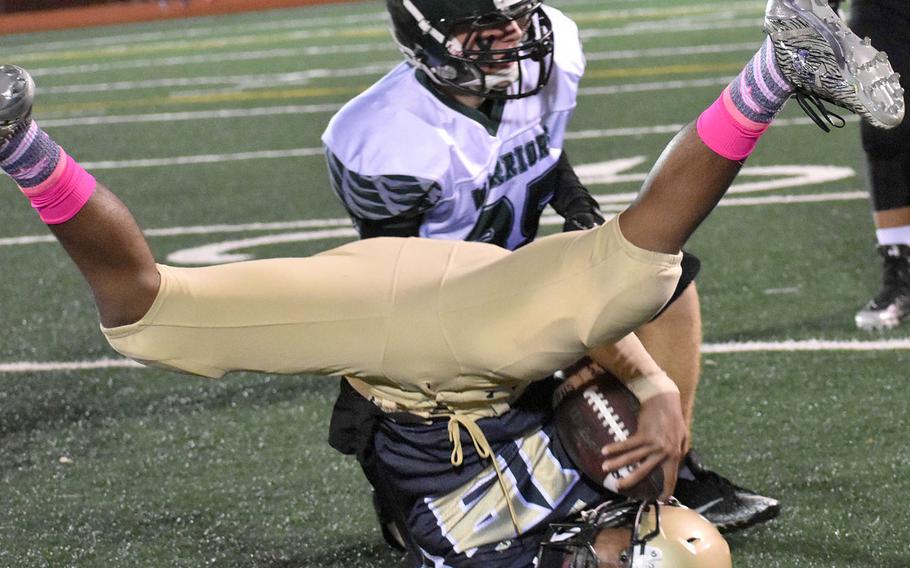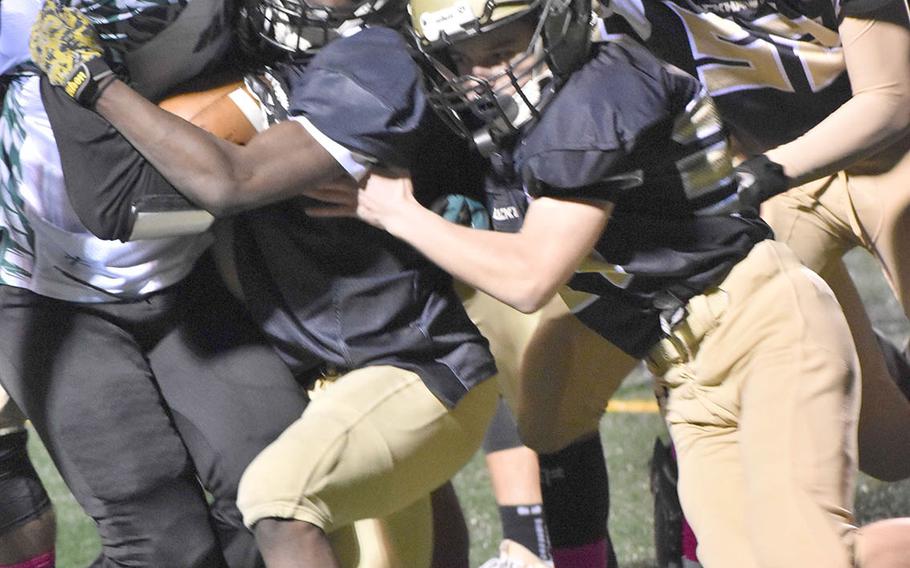 CAMP HUMPHREYS, South Korea – While Humphreys won its homecoming game big Friday, the Blackhawks also got a glance at the future.
Freshman Tevijon Williams caught two touchdown passes and sophomore backup quarterback Deontaye Gregory rushed for a touchdown and had 90 yards total offense on seven plays as the Blackhawks routed Daegu 44-14 on Friday to level their record at 3-3.
Williams, coach Steven Elliott said, is a receiver "with a bright future. We're very excited to have him. He has height, speed, agility, he's coachable and he's always got a positive attitude. He's something special. He's pretty much everything you want and he's only going to get better."
Williams had 72 yards on two catches, both touchdowns. Gregory was 4-for-5 for 56 yards and rushed twice for 24 yards and a score.
They were part of what Elliott calls the Blackhawks' "gold team," made up of youngsters who -- assuming they don't transfer -- represent the team's future, "and they hardly missed a beat," Elliott said.
Before departing the game with the Blackhawks comfortably ahead, starters Miles Brice went 5-for-5 for 132 yards and three touchdowns and David Key rushed six times for 148 yards and two TDs. Jaylan Horne also caught a 19-yard touchdown pass.
Setting the tone for the Blackhawks was Gregory's older brother Sh'voda Jr., who returned the opening kickoff 81 yards for a score.
"Our defense was doing a better job of tackling tonight," Elliott said. "Our kids had fun." The Warriors finished 1-4 on the season, but didn't finish the game empty-handed; Mikey Bobadilla tossed a 15-yard touchdown pass to Kekai Chun-Andrade and Sam Murphy ran 5 yards for a touchdown. Jack Zimmer scored a two-point conversion.
"I was pretty proud of the boys tonight," Warriors coach Blake Sims said. "I thought we ended on a positive note."
Elliott and the Blackhawks played the game somewhat with one eye toward next week, when they visit Kubasaki – which gave Division I-leading Nile C. Kinnick a run for its money tonight before the Red Devils prevailed 19-11.
"Sounds like they're (Kubasaki) trying to finish strong," Elliott said. "That's good." Kickoff is at 5 p.m. next Saturday at Mike Petty Stadium.