USFJ-AFL football
Hansen offense does enough to win; Jets ground outmanned Yokota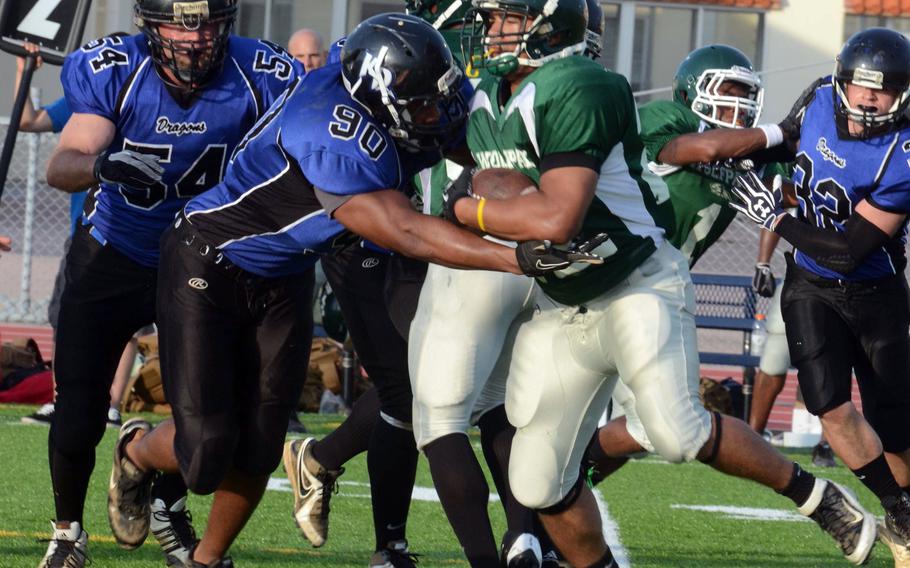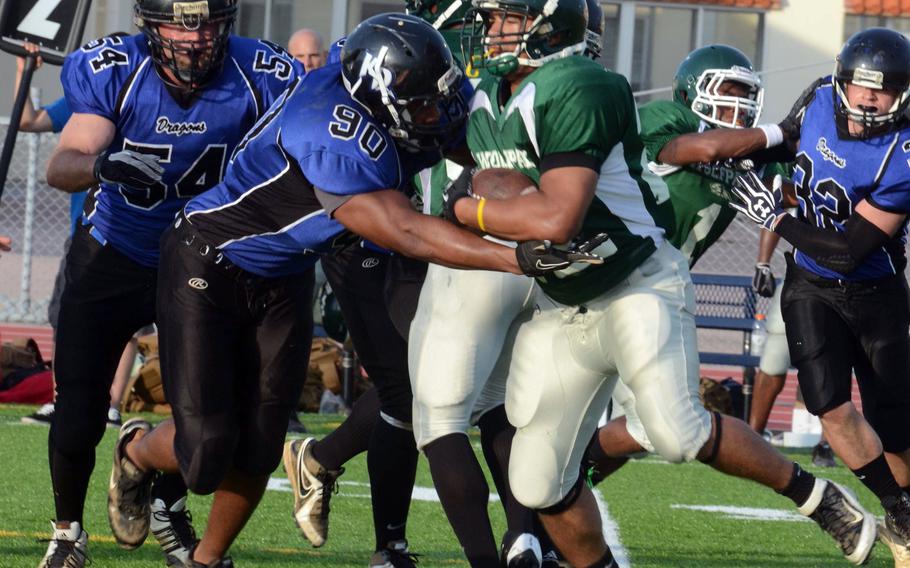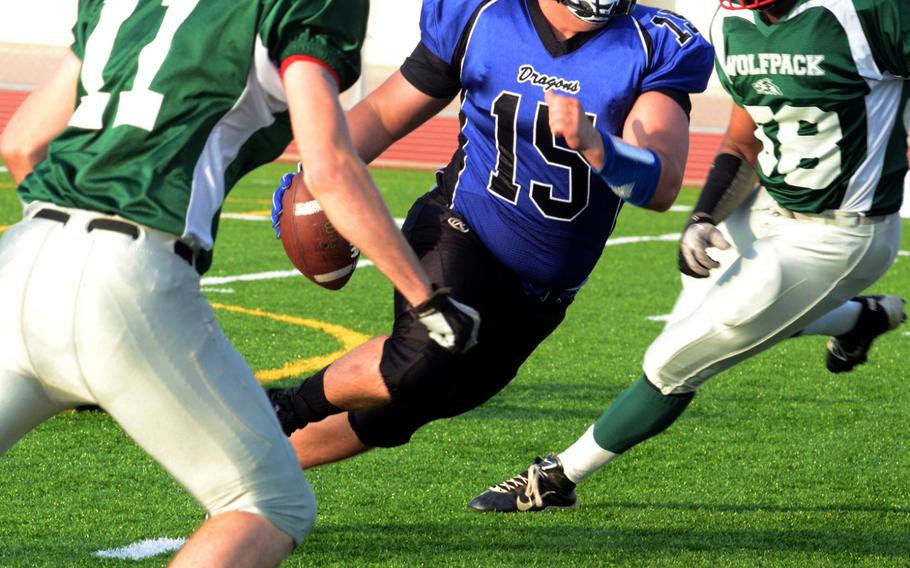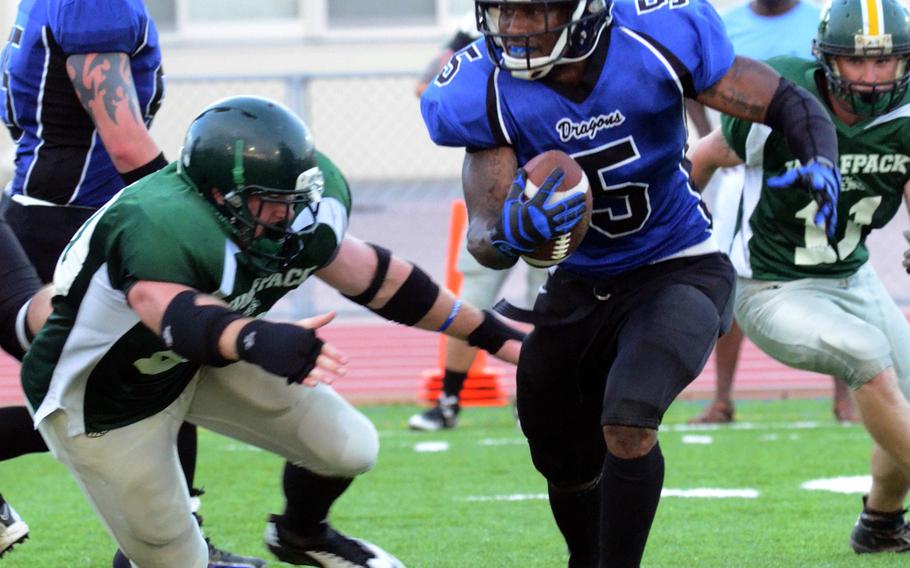 It's becoming as common as corn in Nebraska: Camp Hansen's offense does just enough to lead, then its defense beats back attempt after scoring attempt by Kadena to ensure the Wolfpack stays ahead.
That was the case Saturday, as Dustin Moore rushed 2 yards for a touchdown on Hansen's first possession, then the Wolfpack's defense halted Kadena on 10 possessions in Hansen territory, five inside the 20, in a 6-2 win over the Dragons.
Up north, Yokota took just 12 players to Misawa Air Base and fell 40-30 to the Jets in a game that was halted with six minutes left due to safety concerns.
"That's the story of our season," said coach Michael Harris, whose Wolfpack beat Kadena 8-2 in a similar game on May 5. In that game, Kadena outgained Hansen 202-82 but couldn't score on offense; on Saturday, the Dragons outgained the Wolfpack 205-113 but again failed to get into the end zone.
"Missed opportunities. Many missed opportunities," said coach Robert Friend, whose Dragons (3-2) missed a golden opportunity to seal the South Division title and earn a first-round U.S. Forces Japan-American Football League playoff bye.
Moore's touchdown capped a 99-yard, 14-play first-quarter drive and was set up by Jason Jarmond's fourth-down, 36-yard reception that put the ball on the Kadena 2.
"Our offense gets in gear for one drive, and I think we do that, and then think it's going to be easy," Harris said. "I think they expected Kadena to roll over and that's not going to happen."
With the win, the Wolfpack evened their South Division record at 2-2. Kadena has a game left, Hansen two and Foster (1-2) has three to play.
Moore racked up 130 yards total offense, while Jarmond caught five passes for 71 yards and returned twice for 39 yards. Christopher Jones had two sacks for the Wolfpack.
Using three quarterbacks who combined to go 7-for-22 for 90 yards, Kadena banged on the Hansen end-zone door repeatedly, particularly in the late going.
The Dragons missed two field goals, had a sure touchdown catch batted away, had another called back on a penalty and had still another ruled out of bounds. Emanuel Griffin led Kadena with 98 yards on 18 carries.
At Misawa, the Jets (3-2) vaulted into first place in the North Division and avenged their 33-6 loss last month at defending USFJ-AFL champion Yokota (2-3).
Douglas Brown threw for two touchdowns and ran for two more, but Misawa got all it could handle from an outmanned Warriors team that wouldn't quit, Jets coach Jeremy Sanders said.
"I give credit to Yokota. They manned up and came and played hard. A typical black-and-blue division game," Sanders said.
Brown tossed touchdowns of 4 yards to Donterrio Erby and 6 to Davonn McMillan and ran for TDs of 1 and 10 yards. Joshua Mason added a 46-yard scoring run and Erby returned an interception 52-yards for a touchdown.
Former Jet Darone Frierson also accounted for four touchdowns, running 1 yard for a score and tossing TD passes of 75 and 40 yards to Robert Harris and 53 to Lamon Irvin. Cortez Dorsey returned a fumble 35 yards for a Yokota score.
---
---
---
---