Foster rallies past Kinser to stay close to Hansen
---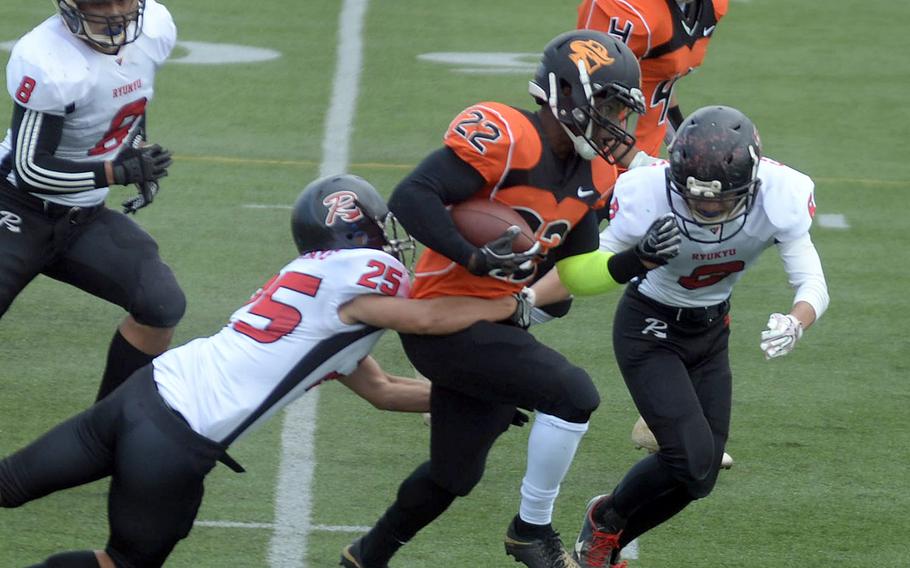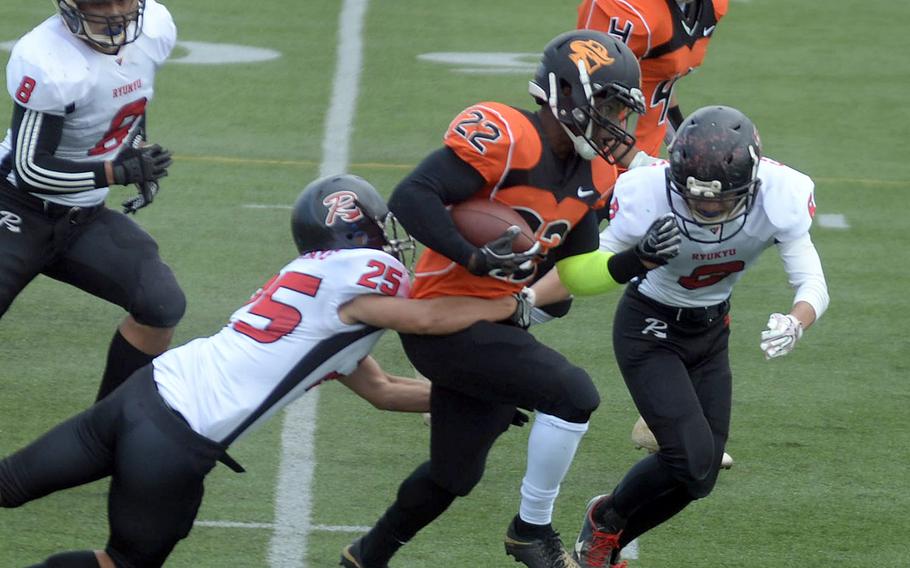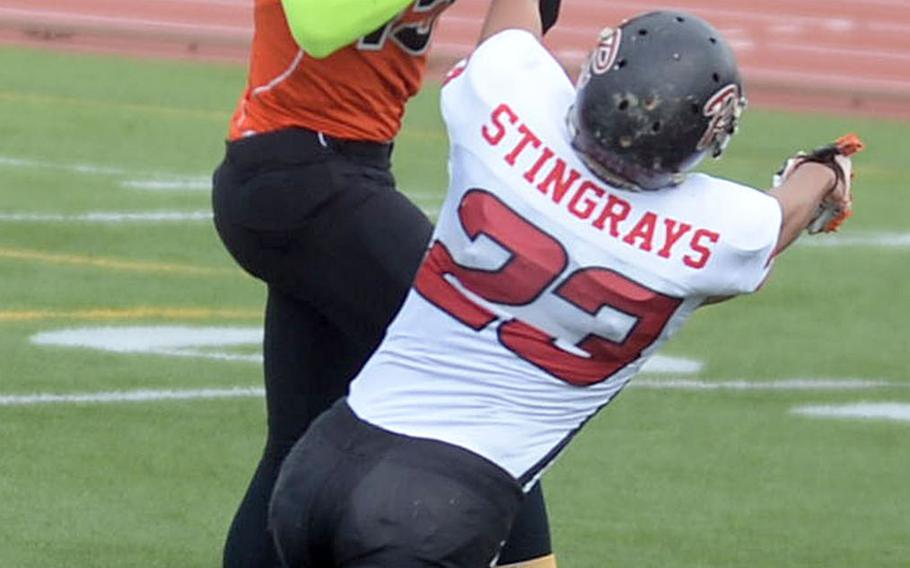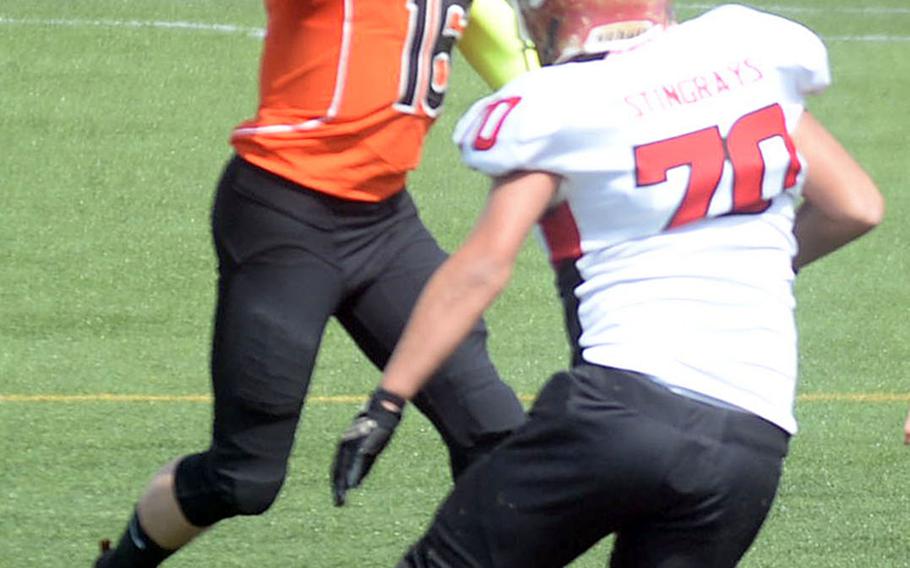 KADENA AIR BASE, Okinawa – Trailing 6-0 in the third quarter and with their offense generating nothing, Foster needed a spark to turn their game with Kinser around – and got it from Davaughn Conover.
The defensive lineman blocked a punt deep in Ronin territory. Foster's Cameron Belton took it 17 yards to the end zone for the game-tying touchdown, sparking a run of 20 unanswered points as the Dragons rallied past Kinser 20-6 Sunday at Ryukyu Middle School's Habu Field.
"I saw an opportunity and I went for it," Conover said, adding that he saw Kinser's offensive line splits were wider than usual on that punting down. "I saw the opening, took control and raised my hands."
Foster improved to 2-1 with the win, while the Ronin fell to 1-2. In Sunday's other contest, Hansen blanked winless Ryukyu University to remain atop the standings at 3-0 as the U.S. Forces Japan-American Football League regular season reached the halfway mark.
Foster 20, Kinser 6: Kyle Kabeary relieved starting quarterback Skyler Klimek and went 4-for-7 for 66 yards and two touchdowns in the second half. He called the game a "tale of two halves."
"We knew we could play better" after what he termed a dismal first half, Kabeary said. "In the second half, we played more team ball. We settled down and did our individual jobs."
After a scoreless first half, Kinser burst ahead when quarterback Alex Aguilar found Detarion Childress out of the backfield. The speedster burst past the Dragons secondary down the right sideline for a 94-yard touchdown reception.
But from there, it was all Dragons. Following Belton's scoop and score on the blocked punt, Foster scored twice more, each time set up by interceptions of Aguilar. Desondre King's interception set up a 9-yard Kabeary scoring pass to Gregory Billingham with 8:40 left.
Three plays later on Kinser's next possession, Foster's David Gibson picked off a tipped pass, setting up a 22-yard Kabeary TD pass, tipped from Foster receiver Richiiro Shinjo to teammate Jalen Richardson.
Gibson finished with two interceptions and Conover also had a sack for the Dragons, who were outgained by the Ronin 216-156 in what was a chippy, penalty-filed contest. The teams combined for 29 penalties for 240 yards and two ejections.
Foster's Caleb Mahone rushed 12 times for 67 yards. Aguilar was 11-for-30 for 222 yards with four interceptions for Kinser.
Hansen 15, Ryudai 0: Despite outgaining the Stingray 259-26 and holding Ryudai to two first downs, the two-time defending champion Outlaws hurt themselves with penalties. Four touchdowns were called back due to penalties; Hansen was flagged 21 times for 192 yards.
"We're definitely not where we should be," said receiver Daniel Lopez, one of the Outlaws' bright spots with five catches for 106 yards, two of which set up Hansen's second touchdown.
A third straight Torii Bowl title is "the goal right now, but we have a lot of work to do," Lopez said.
Hansen led 2-0 on the game's first possession when Stingray punter Naoki Yoshimoto stepped out of the back of the end zone for a safety.
Cole Horner threw a 26-yard touchdown pass to William Agnew following a James Pindell interception later in the first quarter. Nathan Bodey completed the scoring with a 35-yard TD pass to Jeromy Rodriguez on Hansen's first possession of the second half.
Horner was 8-for-16 for 115 yards and Bodey 6-for-11 for 105 yards.
Pindell had two of the Outlaws' four interceptions; Hansen also had two fumble recoveries and two sacks.
ornauer.dave@stripes.com Twitter @daveornauer
---
---
---
---