Far East basketball, cheerleading canceled due to coronavirus fears
by
Dave Ornauer
February 20, 2020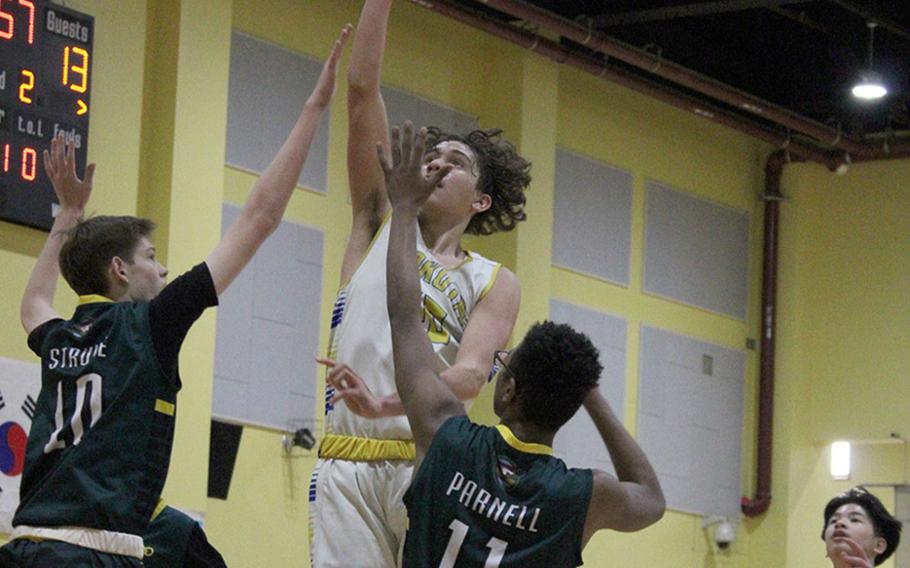 YONGSAN GARRISON, South Korea – Casey Cox said he couldn't believe it when his coach told him that the Far East boys basketball tournaments were canceled.
"I thought he was joking. I was hoping he was joking," the Kadena senior guard said Thursday, hours after DODEA-Pacific announced that the tournament was called off. "We've been working for this since my freshman year. I thought this year was our best chance."
The boys Far East tournaments at Camp Humphreys for Divisions I and II teams were canceled at 3 p.m. Thursday. That was followed five hours later by an announcement from DODEA that all Far East winter sports tournaments were being canceled.
That includes the girls D-I and D-II tournaments, being held at Kadena, and the Far East cheerleading camp and competition at Matthew C. Perry.
"This was a very difficult decision and we did not take it lightly, but this was a hard right decision based on guidance we got from U.S. Forces Korea," DODEA-Pacific region chief of staff Todd Schlitz said by phone from Okinawa.
In a statement released by Schlitz making the announcement, DODEA announced that the decision was made "based on a new U.S. Forces Korea COVID-19 (code for the coronavirus) guidance and out of an abundance of caution to ensure the safety of all students."
There are currently no reported cases of the virus among student-athletes at DODEA-Pacific schools, the statement said.
"We are currently coordinating return flights for all students," the statement said, adding that more guidance would be released by DODEA-Pacific on Friday.
As to whether spring Far East tournaments, to include baseball, softball, soccer and track and field, might also be canceled, Schlitz said: "We will continue to look at each of the events and make a determination based on how this situation evolves."
The coronavirus started in China and has spread around the world. More than 2,100 people have died after being infected with the virus, according to The Associated Press, with more than 75,000 people testing positive.
U.S. bases in Daegu on Wednesday restricted access and imposed a self-quarantine after a church was linked to novel coronavirus. South Korea reported its first death from the virus on Thursday, according to the AP.
Daegu Mayor Kwon Young-jin urged its 2.5 million people on Thursday to refrain from going outside as cases of the virus spiked and he pleaded for help from the central government, AP reported.
The Far East boys tournaments began Thursday morning at Humphreys High School, and 13 of 19 scheduled games were played before it was canceled. The entire 16-game first-day slate of girls games were completed, but the tournament was axed at 8 p.m.
It's the first time the boys tournaments, held annually since 1949, and the girls tournaments held since 1976, have been canceled since 1981, when budget cuts forced DODEA-Pacific to call off all Far East tournaments except girls volleyball for the 1980-81 school year.
It's believed to be the first time any Far East tournaments have been canceled after they had begun.
The news about the cancellations sparked universal disappointment among coaches and players.
"We knew coming in we had a good chance," Zama sophomore forward Keshawn McNeill said. "We didn't even really get a chance to start the tournament. It's a bummer. I especially feel badly for the seniors."
Coach Ron Merriwether of defending boys champion Humphreys said before Far East he hoped his Blackhawks could achieve redemption for their performance in last month's American School In Japan Kanto Classic. Winners in 2019, Humphreys took third in this year's tournament.
"They're crushed," Merriwether said of his players. "What can we do? When I told them, they thought I was joking; I do that sometimes. I feel badly for the players who won't be coming back. A lot of emotion."
Kadena's girls team, which finished second to American School Bangkok the last three years, was hoping to take the final step to a Division I title, coach Johnny Cooper said.
"This could have been the year, but what was meant to be was meant to be," Cooper said.
Among cheerleading teams, Humphreys coach Maschil Alexander said her Blackhawks had worked hard and were vying for a Far East Division II title when the news broke.
"It's devastating, horrible," Alexander said. "We're all just really sad. A bit emotional. Tears for sure. We have a very strong team and that's what makes it even harder. It's horrible."
Her team captain, senior Lily Austinson, said the loss is double following the cancelation of the Korea league cheer tournament late last month.
"Especially with me being a senior and the last time to compete and leave it all out on the floor and to have it taken away," Austinson said. "For good reasons, but it still hurts."
Along with the disappointment came understanding among the players, coaches said.
"This (coronavirus) is probably something we've never seen or heard of before," Cooper said. "We have to look out for these kids."
"We just have to deal with it. Nothing we can do," said Perry boys coach Joshua Henry, who taught at Humphreys before transferring to Japan three years ago.
Doubling the disappointment for Yokota's boys was losing their last game of the season Thursday at the last second against Robert D. Edgren.
"You go through the whole season and it ends like that," Panthers coach Dan Galvin said. "But nobody's crying. They (players) understand. They just want to get home."
"We want to be safe, get home to our families and stay safe," Alexander said. "It's sad, but we want to stay safe. And if they deem it a safety risk, it's time to go home."
ornauer.dave@stripes.comTwitter: @daveornauer