Prep roundup
Falcons stay unbeaten by edging Osan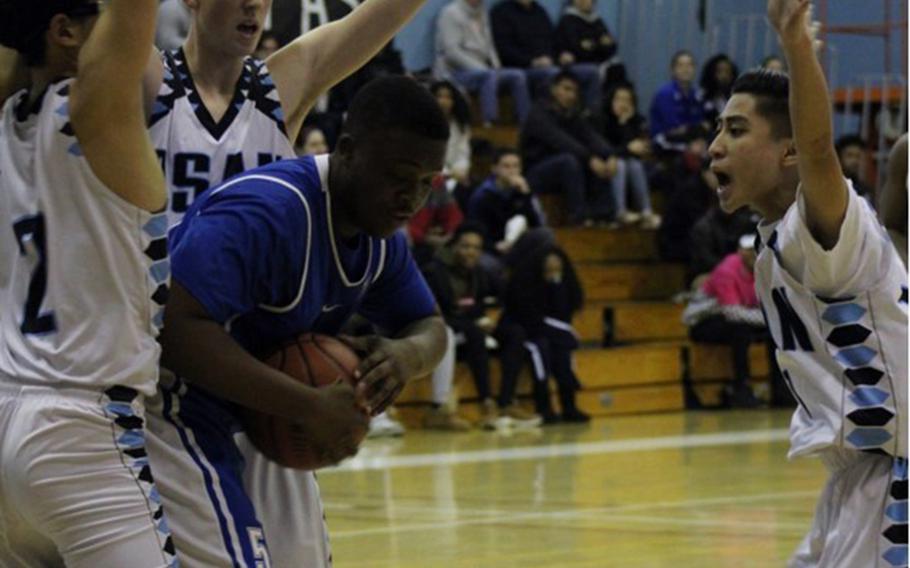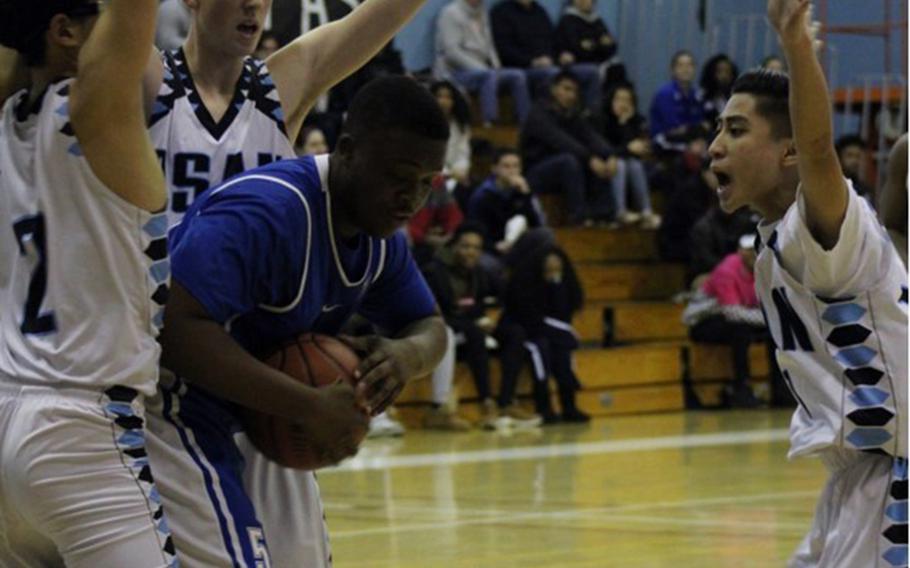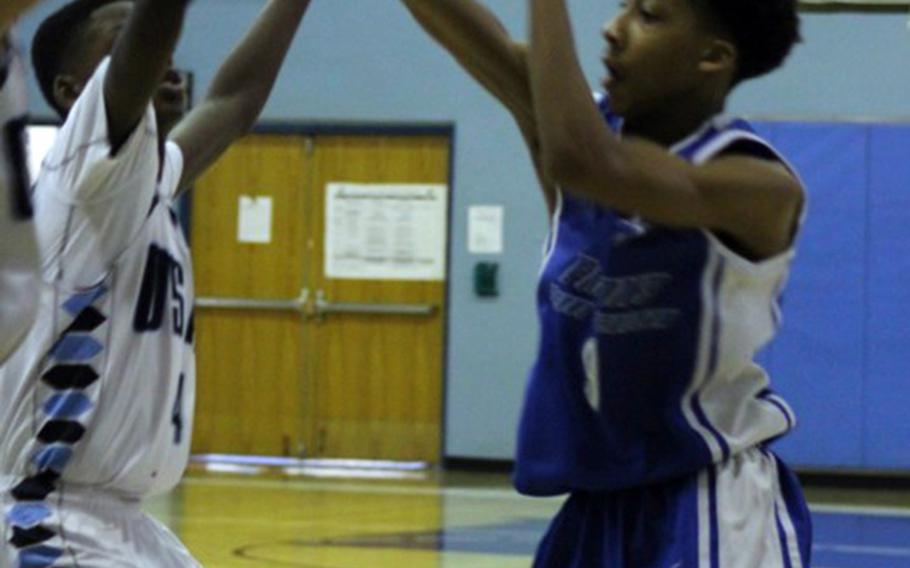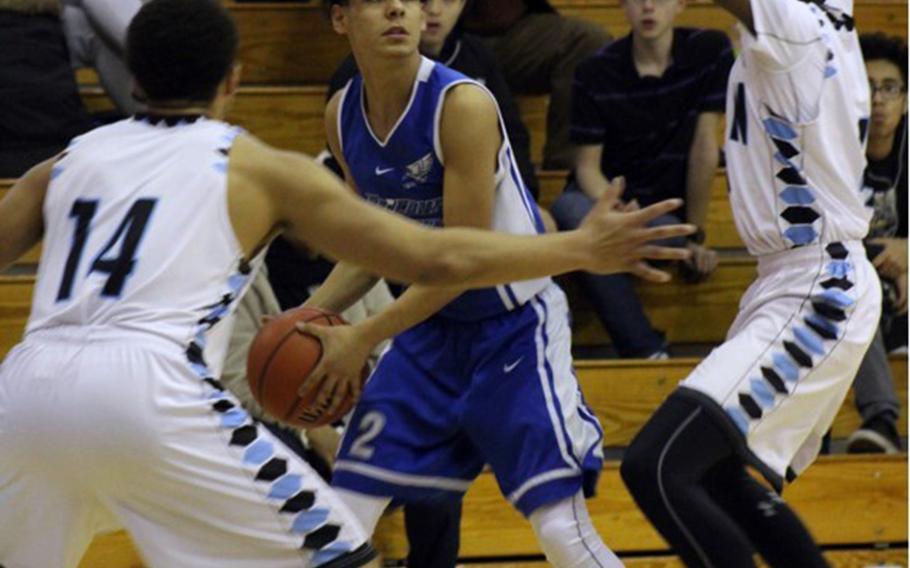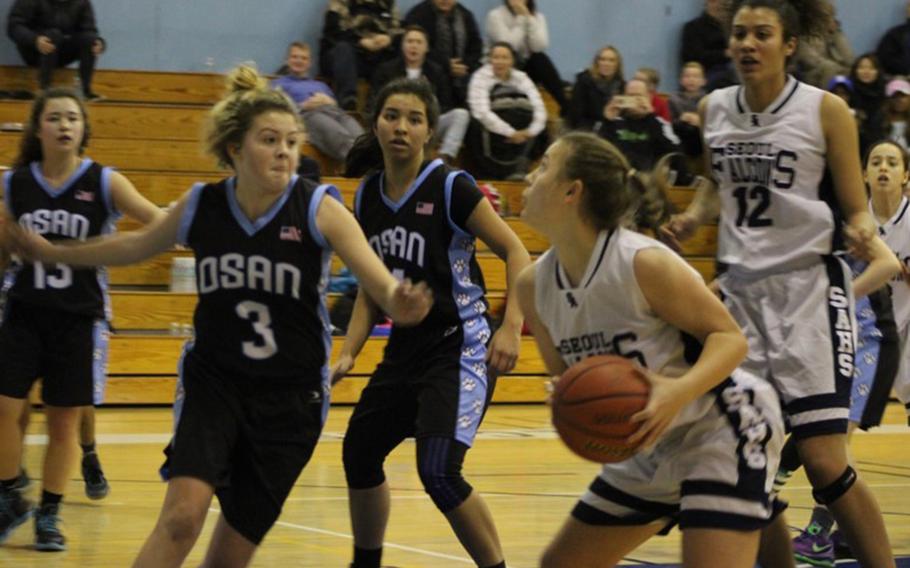 YONGSAN GARRISON, South Korea – MacKenzie Barden confessed to having a few butterflies as she stepped to the foul line with Saturday's Korea girls basketball game on the line.
The Seoul American freshman sank both free throws with just .8 seconds left, giving her Falcons a 39-38 squeaker ofwin over Osan.
The victory kept the defending league champion Falcons unbeaten at 5-0 and had both player and coach breathing sighs of relief.
"Tough one today," first-year Falcons coach Eddie Rozzi said. He had inserted Barden into the lineup to put "fresh legs" on the court for Seoul American as it pressed the Cougars to try to keep it close "and she pulled it out for us."
"I was very nervous," Barden said of shooting the game-deciding free throws. "When they went in, I was really excited because I knew we had won the game."
Maria Bruch led the Falcons with 13 points. She also had six rebounds and eight steals. Christina Hoff led the Cougars (3-4) with 13 points.
While the girls game was a nail biter, the Cougars boys had a much easier time of it, routing the Falcons 70-28 – a far cry from the teams' first encounter on Nov. 30 at Osan, where the Cougars survived 57-55 in Seoul American's season opener.
"We're trying to improve every game, every day," Cougars first-year coach Robert Penry said after his Cougars burst in front 20-4 and cruised. Joey Betts led three players in double figures with 18 points.
Osan's victory impressed Seoul American coach Steve Boyd, who said the Cougars have improved dramatically.
"I can't believe how well they played," said Boyd, coach of the defending Far East Division I Tournament champions. "They put one on us. They handed our heads to us. It was devastating."
Coupled with Osan's 74-46 win Friday at Taejon Christian, the Cougars have what it takes, Boyd said, to compete with league-leading Humphreys, which won the KAIAC Blue regular-season title the last two seasons.
"They play stifling defense, they hustle, they hit the outside shot, they have size inside," Boyd said. "If they play that stifling defense, they can play with Humphreys."
Eagles girls upend YokotaMISAWA AIR BASE, Japan – The third time was the charm for Robert D. Edgren girls basketball. The Eagles had lost their first two encounters this season with three-time defending Far East Division II champion Yokota, but got that long-sought win, 51-39, on Saturday.
Point guard Aaliyah Scott led the Eagles with 17 points while Karen Anastos and Jada Flowers each had 12. The win came despite a 26-point performance by Britney Bailey of Yokota, which was again without point guard Jamia Bailey - recovering from leg surgery over the holidays.
"We knew we could do it, but we had to go out there and try," Anastos said. The Eagles had lost 34-33 to Yokota on Friday and 31-6 on Dec. 2 to Yokota at Marine Corps Air Station Iwakuni.
"Jamia's absence is definitely a negative for us," Panthers first-year coach Byron Wrenn said. "But the other girls have an opportunity to learn and they have played well."
Edgren is now 8-2 on the season, while the Panthers fell to 12-1. The Eagles lost to Yokota in the finals of both the DODEA-Japan and Far East D-II tournaments last season.
Yokota's boys had little trouble handling their Eagles counterparts. Kishaun Kimble-Brooks averaged 28.5 points per game, scoring 36 on Friday, as the Panthers routed Edgren 84-54 and 73-42.
Kinnick cagers, grapplers enjoy weekendSASEBO NAVAL BASE, Japan – What a Red Devil of a weekend for Nile C. Kinnick boys and girls hoops and wrestlers:
-- Davion Roberts and Rashad Rapada averaged 18 and 15.5 points as Red Devils boys basketball improved to 10-0, sweeping defending Far East Division II champion E.J. King, 64-62 on Friday, then 96-63 on Saturday.
"They've picked it up a little bit," coach Robert Stovall said. "The boys have a positive attitude, they don't criticize each other and they work together, a really positive chemistry."
Kinnick's boys have never won a Far East Division I title and though Stovall thinks this "might be" the year, "all we're thinking about is beating Yokota on Tuesday. But we're looking forward to Far East."
-- Kinnick girls basketball struggled to get out of the gate at 5-4, but coach Mike Adair feels the future is bright after a lineup change helped the Red Devils sweep the Cobras 39-34 and 41-11.
Freshman Ernestina Roberts moved up from junior varsity to give Kinnick another backcourt ballhandler, and "the lineup change has helped," Adair said.
"She wasn't quite ready" at the start of the season," he said. "But she's a difference maker right now. She'll be pretty darned good."
Dallas Carter averaged 17 points and 15.5 rebounds for Kinnick.
-- And at Yokota Air Base, Red Devils wrestlers won nine of 13 weight-class titles and came away easily with the title in the Yokota Invitational, a DODEA-Japan-only event.
John Lanzilotta (108 pounds), Jordan Smith (122), Devoney Stanley (135), Mason Smith (141), Marc Morgan (148), Darius Swenson (158), Kameron Keon Guerrero (168), Tyler Ryer (180) and Chris Mason (215) won their weight groups. Kinnick scored 126 points as a team, far ahead of Matthew C. Perry (48) and host Yokota (42).