Falcons, Osan, Edgren surprise in Far East baseball, softball, track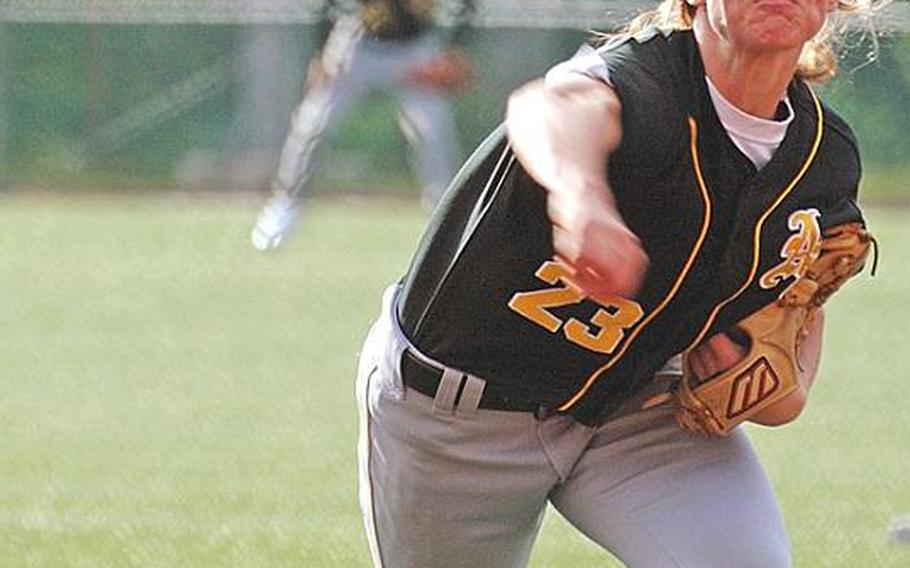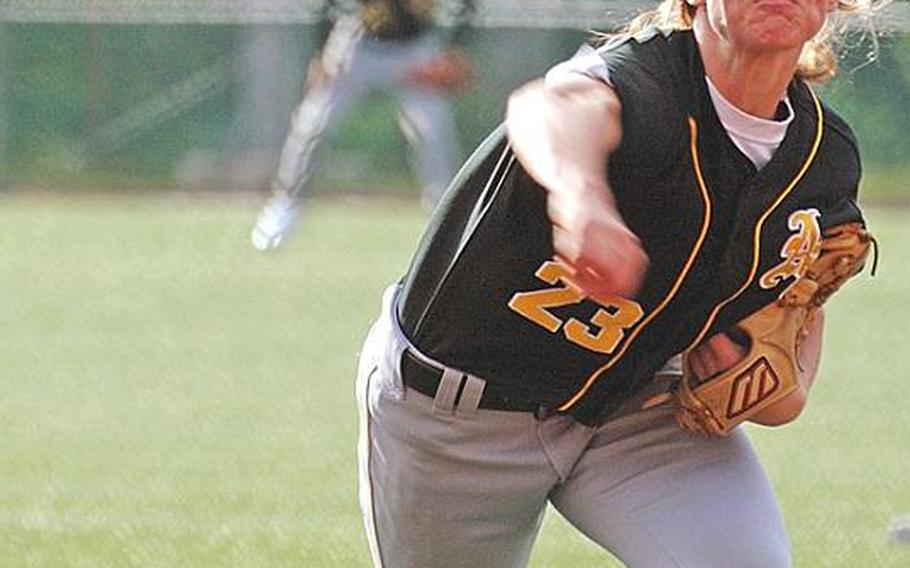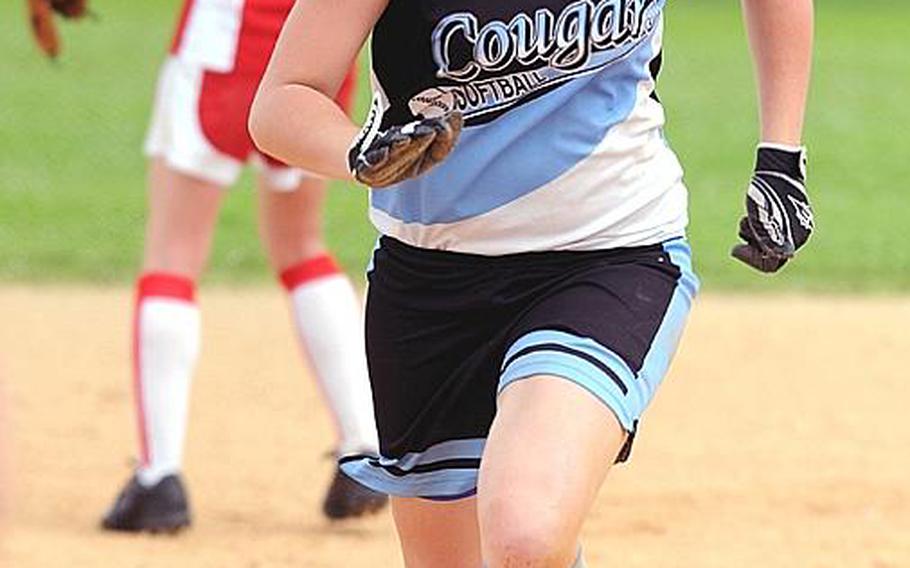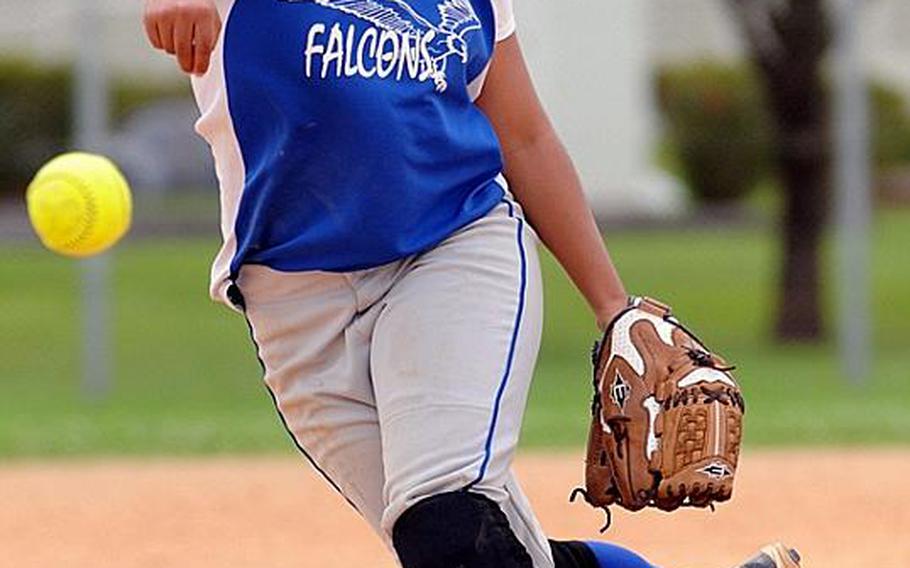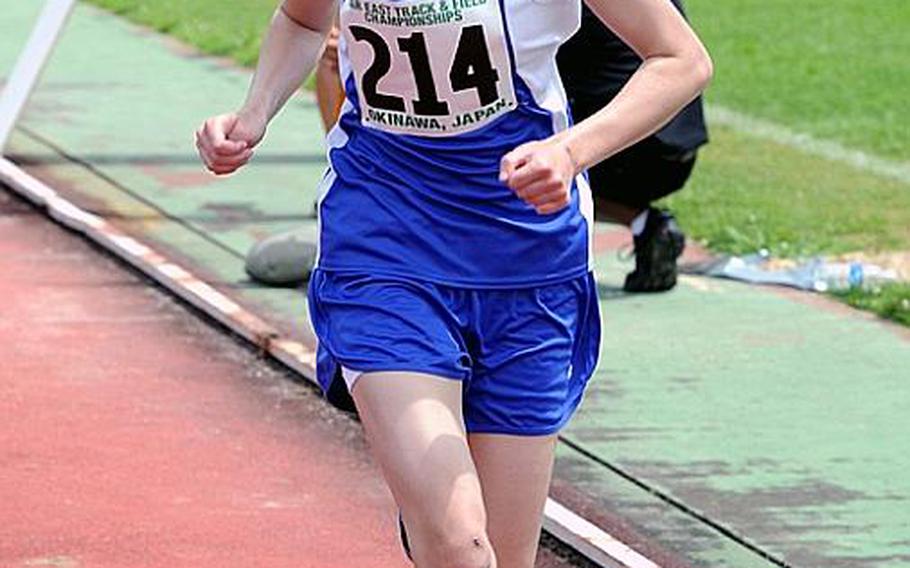 ISHIKAWA, Okinawa – Seoul American had exactly one meet to get ready for Far East High School Track and Field. The meet, held on April 23, included no field events and no hurdles. The Falcons even had their shot confiscated by Japanese customs as a "dangerous projectile" upon entering Japan on Sunday.
Thus, it came as a surprise to some to see the Falcons win the first two girls Far East final events on Monday and trailing front-running Kadena 42-28 in the combined team standings after one day.
"We do the best we can with what we've got," coach David Abbott said after his Falcons won the girls' 3,200-meter relay and reigning Far East cross-country champion Amanda Henderson won the girls' 3,000-meter run.
Henderson, a junior, crushed the field of 15, outdistancing runner-up India Adams of Kadena by more than 23 seconds, 11:38.30-12:01.67.
"She's the type of athlete I wish I had a full, complete team of," Abbott said. "She's relentless, she never gives up and never complains. She's a coach's runner. And her (freshman) sister Pam is just as courageous and somebody might even pass her."
Henderson later ran the second leg, then former Far East cross-country champion Siarria Ingram ran the anchor leg as the Falcons cruised in the 3,200 relay by six-plus seconds, 10:51.41-10:57.74 over Kubasaki.
On the boys side, David Vander Haak of Christian Academy Japan surprised the 3,000 field, outgunning pre-race favorites Jacob Bishop and Tomas Sanchez of Kadena. Vander Haak clocked a 9:27.95, ahead of Bishop's 9:33.16 and Sanchez's 10:02.44.
"He's been coming on strong. He's been getting better and better," CAJ coach Craig Eby said, adding of the humid weather with temperatures in the high 70s, "it looked like it didn't bother him at all."
The performances by northern teams, which had a combined four meets to prepare for Far East, three in Japan and one in Korea, opened the eyes of many at the meet.
"We're shocked. A completely different view," said Kubasaki coach Charles Burns, who among others felt northern teams didn't stand much of a chance against the better prepared Okinawa teams. "Some of these kids trained during the voluntary evacuation and shutdown or who only had one meet."
Kadena used a record-setting performance in the boys 3,200 relay to maintain that first-day lead. The Panthers were timed in 8:38.43, beating their own record of 8:42.20 in last year's Far East meet.
"It feels like we worked really hard all season," Kadena coach Sergio Mendoza said. "Our main competition is the tick and tock of the clock. I'm really excited, especially for our seniors Jacob and Tomas."
Surprises weren't limited to the track on Monday.
Senior Sayer Austin threw a four-inning no-hitter in a 4-0 win over defending champion Kubasaki as Robert D. Edgren, which had just two regular-season weekends of preparation, tied DODDS Korea champion Seoul American at 2-0 atop Pool B in the Far East Baseball Tournament at Daegu, South Korea.
Sophomore Bessie Noll became the first girl in Far East tournament history to pitch a victory as American School In Japan routed Zama American 11-1.
Another team thought to have been hit hard by the voluntary evacuations in the wake of the March 11 Tohoku-Kanto earthquake, Nile C. Kinnick, won twice and tied another game and moved atop Pool A with five points, one better than Zama (2-1-0) and two more than ASIJ (1-0-1).
On the softball diamonds of Kadena, Okinawa, Osan American, which has won the DODDS Korea league only once and finished well off the pace in last year's Far East, won twice by big margins and led Pool B with 18 points, five ahead of league rival Seoul American.
Defending champion Kadena also won its two games handily and led Pool A with 19 points after one day of play.