Falcons fly past Korea league tourney foes for sweep
---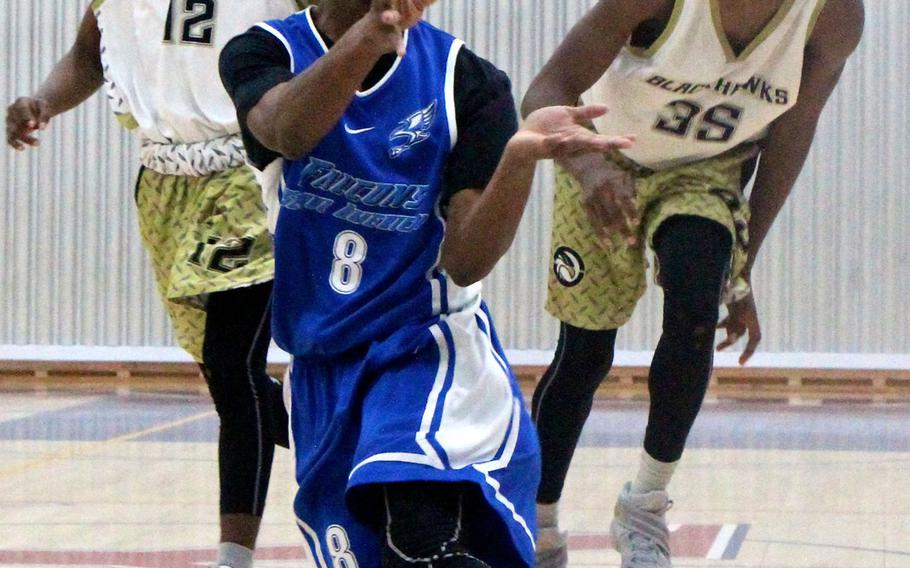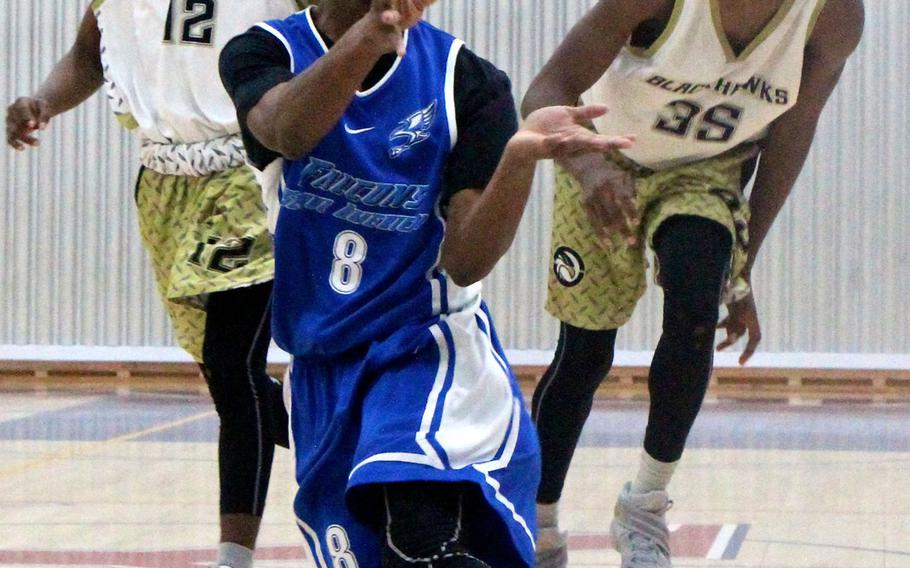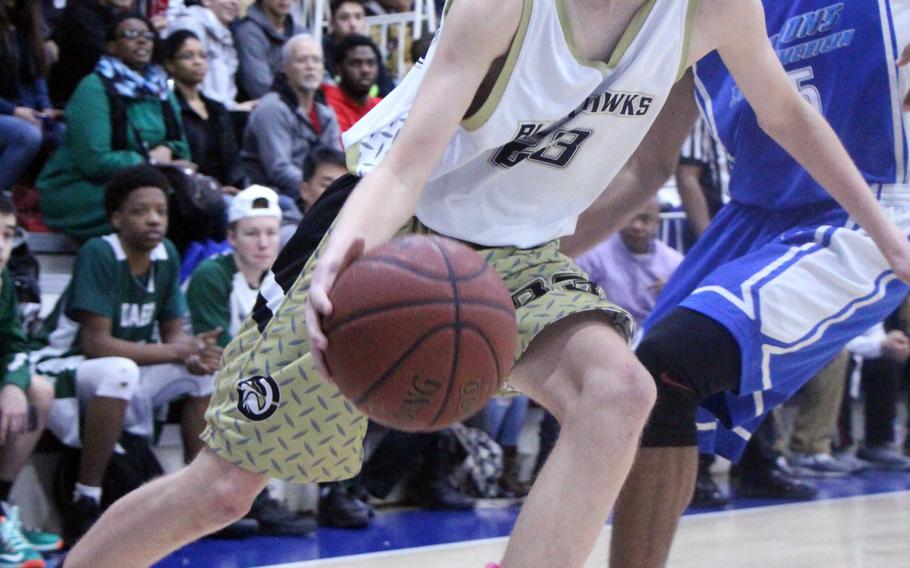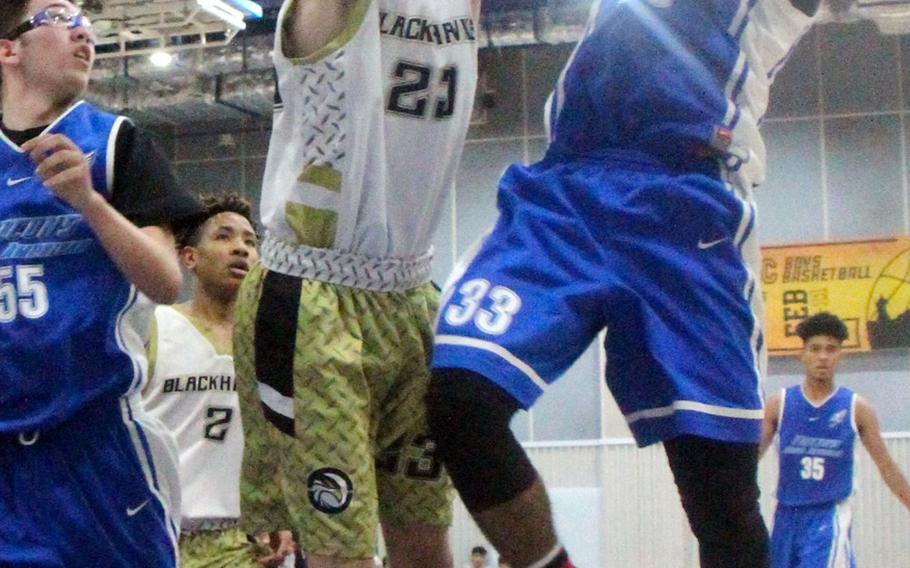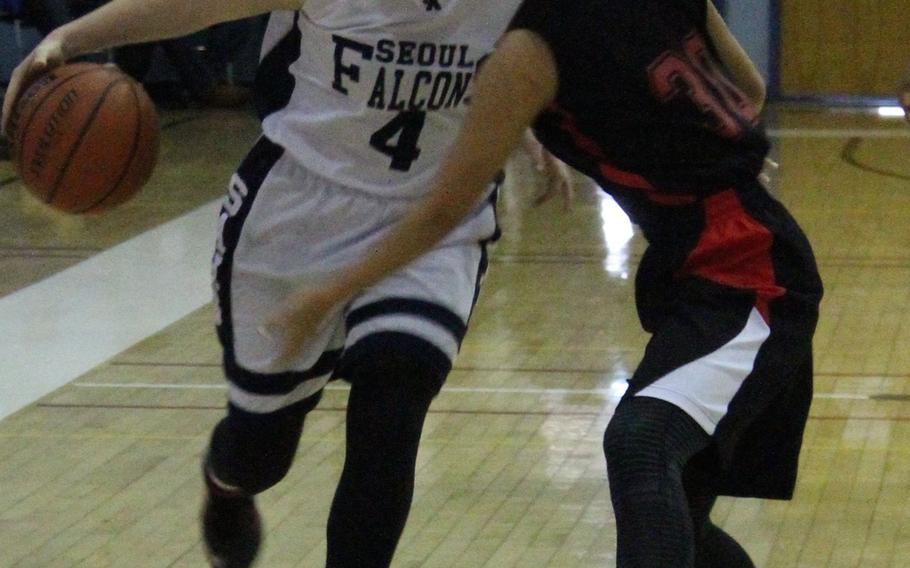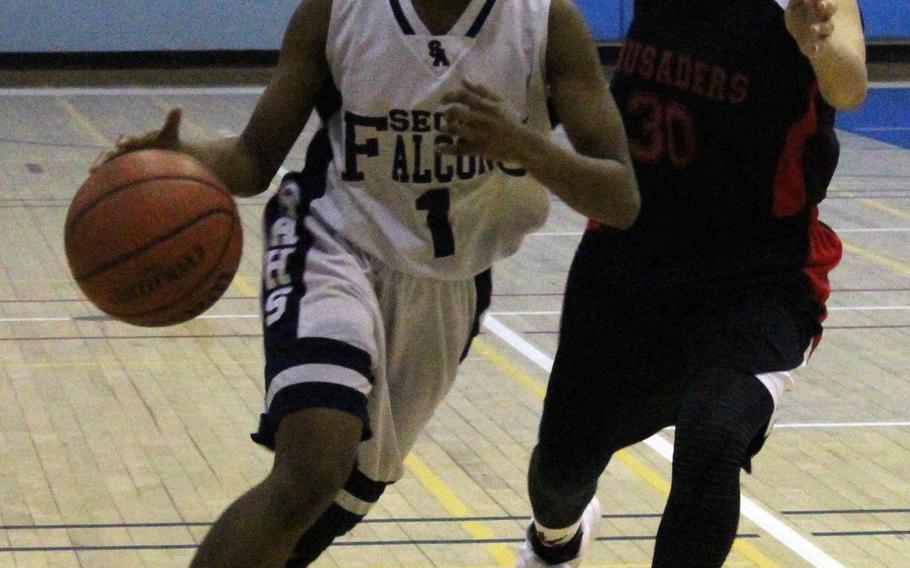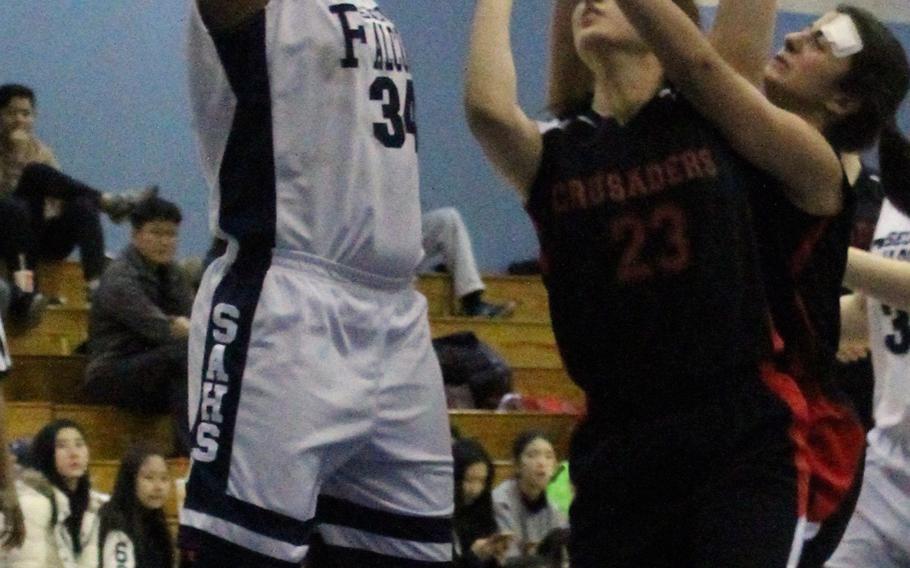 SEOUL, South Korea – Different year, same result.
Right down to the margin of victory, Seoul American's boys repeated their Korean-American Interscholastic Activities Conference Blue Division tournament title, beating the same team they beat last year, Humphreys, 42-38 on Saturday, led by tournament MVP DeAndre Metcalf.
He scored 11 points and grabbed nine rebounds as the Falcons (13-2) rallied from a nine-point third-quarter deficit against a Blackhawks team (12-2) that swept Seoul American in the regular season the last two years before falling in the tournament finals. They lost 54-50 last Feb. 6.
"It's always nice to win a championship of any kind," said Steve Boyd, who's won 13 KAIAC Blue tournament titles as Falcons coach.
A few miles up the road at Yongsan Garrison, the Falcons girls matched their boys counterparts in capturing KAIAC crown, downing Seoul Foreign 38-25. The teams entered KAIAC Blue at 10-2 and split their regular-season games.
Boyd called Saturday's final a "very tough game, plenty of good defense on both ends, it was touch and go, kind of like a championship game should be."
Well before the 3 p.m. tip time, Boyd met with his assistant coaches and said they discussed shutting down players such as Tyrell Alexander, who burned the Falcons for 27 points in a 67-41 win on Jan. 7, and Nate Hellams, who had 20 points and 12 boards in a 77-69 win Jan. 20.
They settled on a box-and-one with Willie Grandison on Alexander, trying to shut him down, and also concentrated on Hellams in the paint by having Metcalf and his brother Quintin make things tougher on the boards. Alexander was held to 10 points and Hellams just two free throws.
"We were hoping it would kind of take them out of their game," Boyd said. Grandison recorded five steals, and Boyd also credited Donnavan Scott for "coming up big," with 11 points, six rebounds and a key three-point goal with 1:36 left and a foul shot down the stretch to seal the victory.
"Willie played outstanding half-court defense; he was extremely effective, and Donnavan played tremendous defense," Boyd said.
Key was holding the Blackhawks to just two third-quarter points, after they led 26-20 at half. "We came out with fire in our eyes in the third quarter, we played great defense," Boyd said. "I'm proud of the way my kids handled the pressure and stress."
Blackhawks coach Ron Merriwether said the defeat would benefit his team down the road. "We expect to contend and be somewhere in the hunt every year," he said. "Far East is on the way, another chance at redemption."
Defense had not been a problem for the Falcons girls, coach Dean Florio said; it was finding a scoring option other than Krista Bradley, who was named KAIAC tournament MVP.
The difference between a 47-42 home defeat against the Crusaders on Jan. 18 and their last two encounters, including Saturday's and the Falcons' 39-24 road win at SFS on Feb. 3 was having more offensive weapons available, such as Alyse Neal and Jayla Crawford.
"In the beginning, only one person was scoring consistently; now, we have four who can score in double figures consistently," Florio said. "Now we have four options. That's the big difference."
Seoul American's next action is in the Far East Division I Tournaments Feb. 20-23 at Kubasaki. Humphreys heads back to Yokota for the Boys Division II Tournament on the same dates.
---
---
---
---