Edgren, St. Mary's pass early test on the mats
---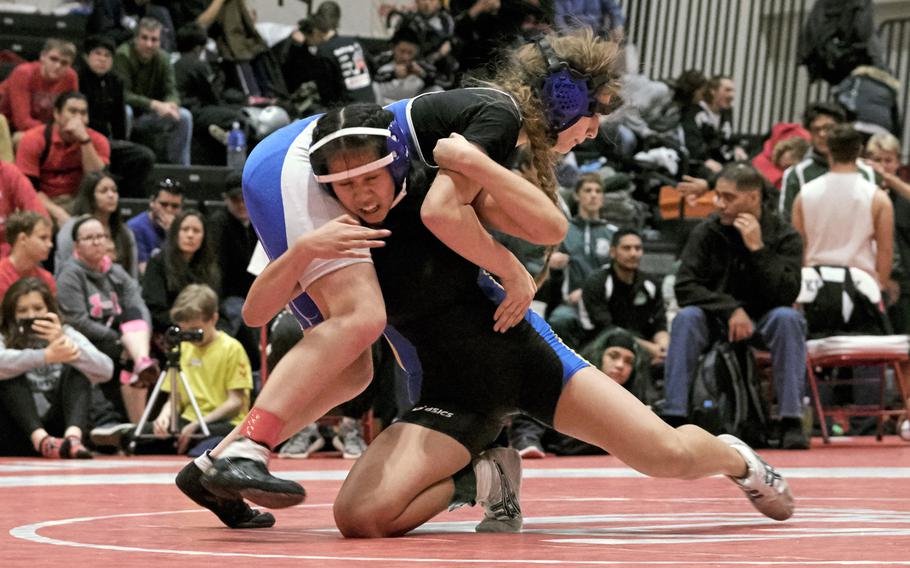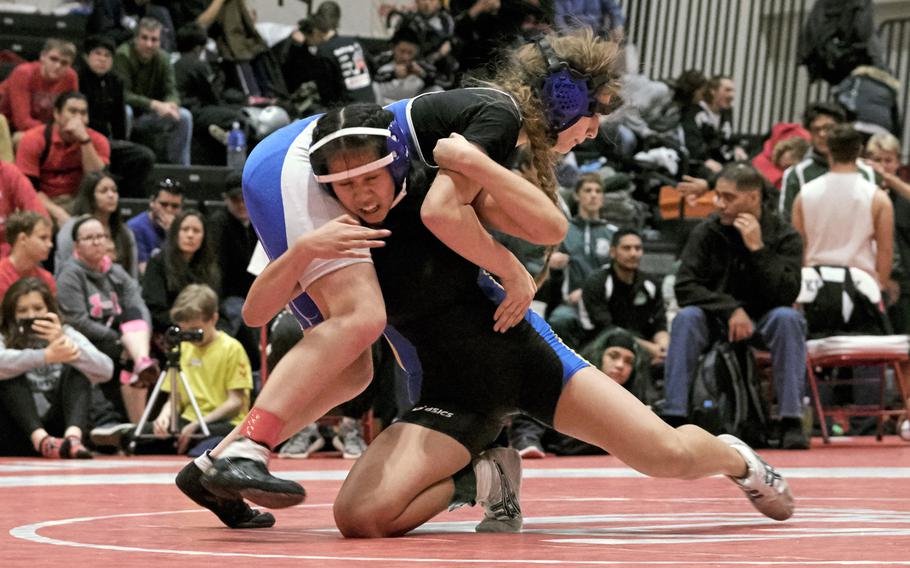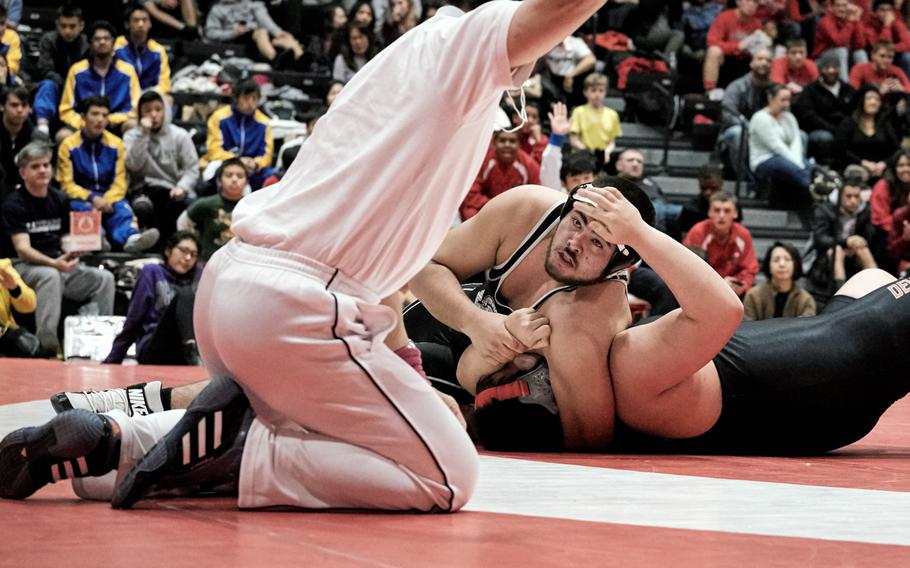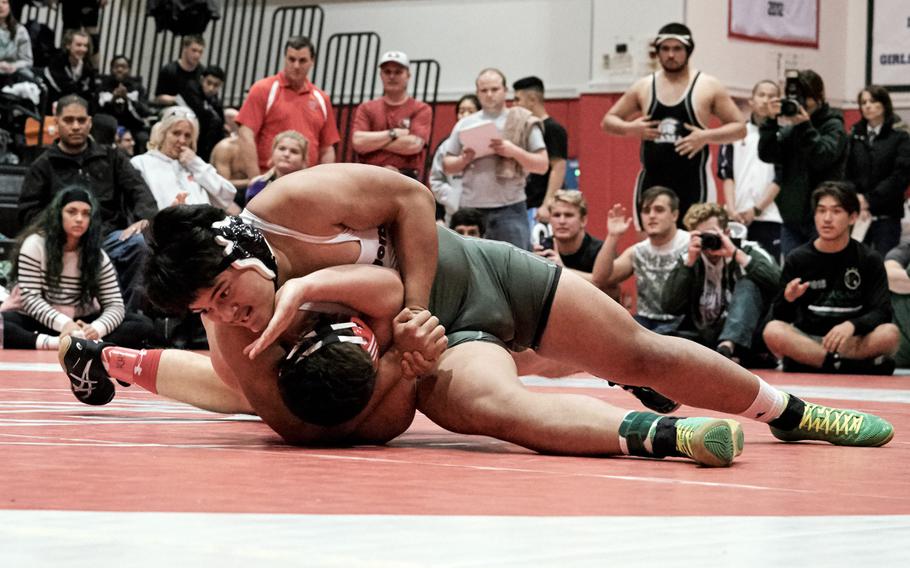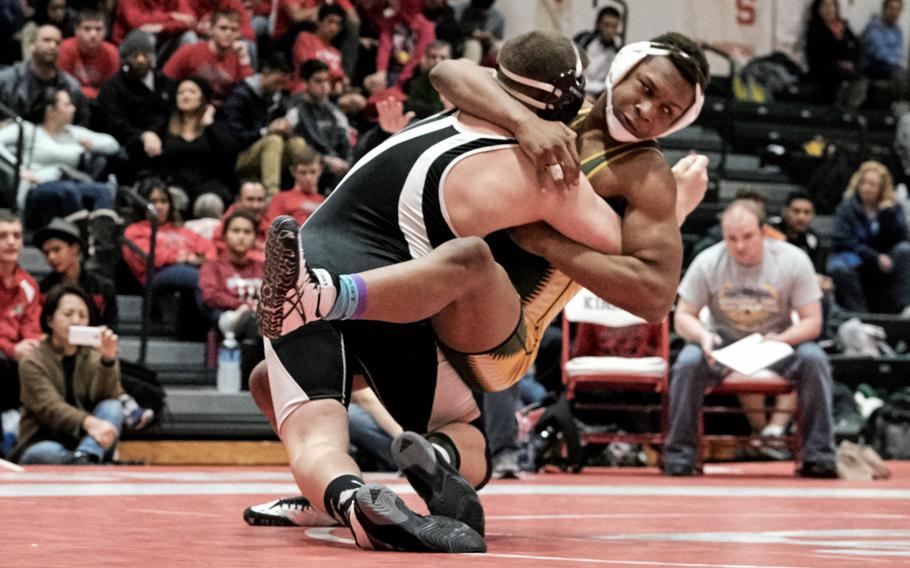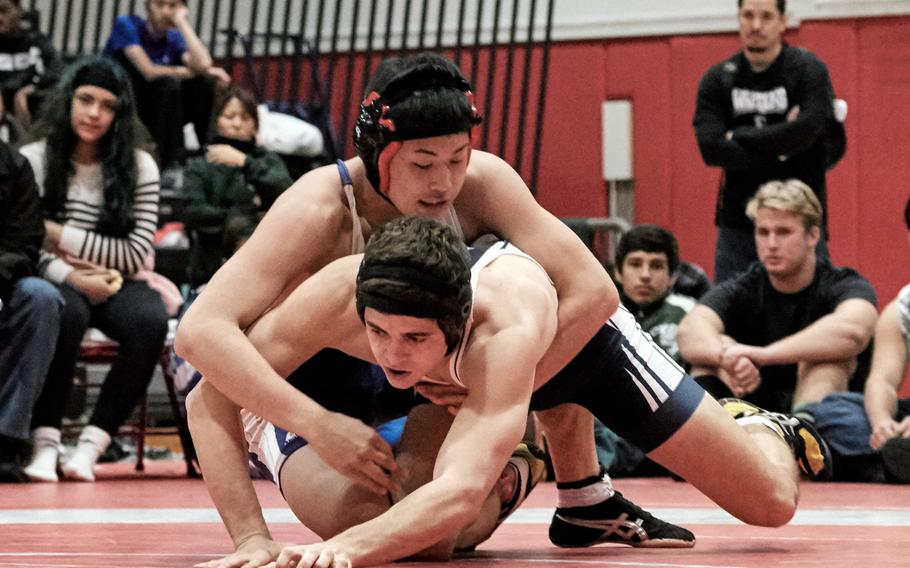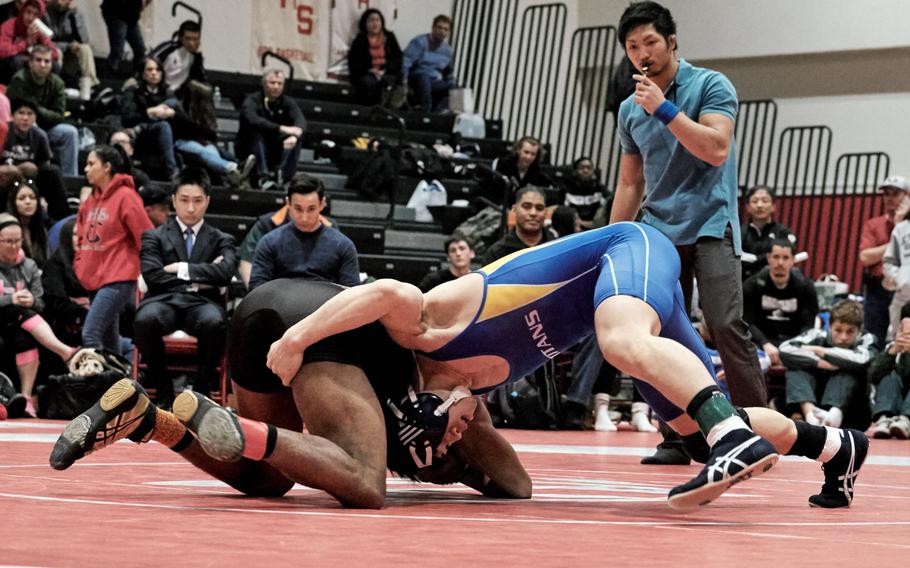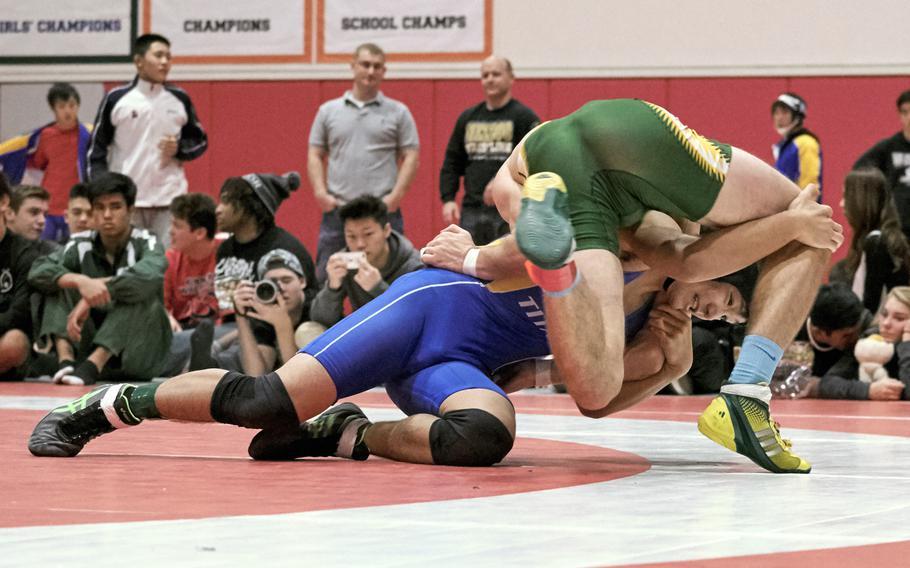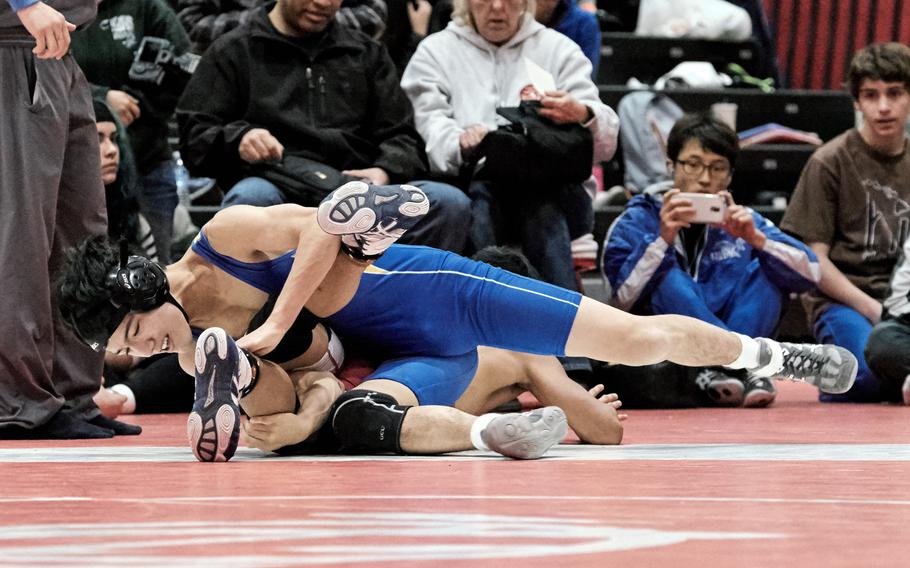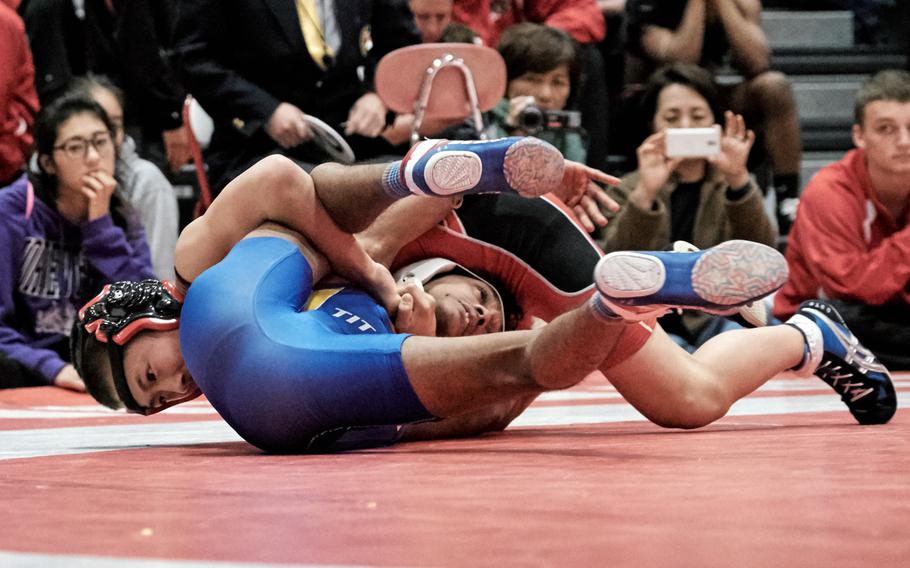 YOKOSUKA NAVAL BASE, Japan – Doing well at an invitational tournament in January doesn't guarantee similar success during the Far East tournament.
That's the narrative Robert D. Edgren's wrestling team recited after the Eagles, with Jackson Edmonds and Patrick Sledge each capturing titles, exited Saturday's Nile C. Kinnick "Beast of the Far East" tournament as the highest-finishing Division II team.
"Anything can happen," said Sledge, between now and Far East, scheduled for Feb. 15-17 at Osan Air Base in South Korea.
"One day at a time," coach Justin Edmonds added.
Sledge won a pitched battle of two-point tilts, outpointing Samuel Preston of Zama 14-4 in 2 minutes, 44 seconds, to capture 180-pound crown. Edmonds won the 135-pound class, pinning Devoney Stanley of host Kinnick in 1:47.
Edgren as a team finished with 30 points, sixth overall behind champion St. Mary's (53), Kinnick (49), Kadena (43), Shonan Military Academy (40) and Kubasaki (31).
The Eagles have won the last four Far East D-II team championships and eight overall. The elder Edmonds has coached all four of those teams and has 10 Far East titles overall, one each in soccer and cheer, second only to Kubasaki wrestling's Jeff Pellaton, with 13.
But he insists he's not taking anything for granted, as too many things – injuries, ineligibilities and other circumstances – can throw roadblocks in the team's way, he said.
"They have a chance, but we have to see how it goes," Edmonds said. "If they stay healthy, they'll be in the war."
Edmonds the younger, a senior, was happy to have a chance to win a title in his final "Beast" appearance.
"It was something more than watching everybody else wrestle" the finals, he said. "I put all my effort into it."
"He wrestled a very tough opponent," Edmonds the elder said of Stanley. Among other winners, a couple of defending Far East champions found they had tough roads to hoe en route to capturing "Beast" victories.
In an early battle of twists and turns, Kinnick's Lucas Wirth found himself in danger against Kubasaki's Kyan McCarty at 108 pounds. Wirth fought out of a near-fall situation and secured a head-and-arm on McCarty for a pin.
"I just hate the fact of being on my back," Wirth said. "I found the drive and pushed through."
St. Mary's Chang Young Lee pretty much held sway over Kubasaki's Kristian Palmer at 122 pounds, but couldn't put away his quarry until late in the second period, when he secured a takedown, a two-point leg-lace tilt and a chest press for a pin at 5:48.
The 148-pound bout featured a pair of reigning Far East champions, St. Mary's Kazuho Kawashima and Kadena's Jason Bland. Expected to be a pitched battle, it resulted in anything but, as Kawashima secured a leg lace and tilted his way to a 10-0 technical fall in 1:33.
Kawashima said he recalled how Bland had teched then-teammate Itsuki Shibahara a year ago, and realized a bout with Bland would not be easy. "Of course not," he said. "He's fast. He has a lot of talent."
In addition to leading the way in points, the Titans also had a tournament-leading four titles. Ryo Lemkuil teched E.J. King's Kaivan Taylor at 115 pounds, while Ryo Osawa scored a similar victory over Edgren's Sky Phillips.
Kadena's lone championship came via comeback, as Dominic Santanelli fell behind Jinhwi Park of Christian Academy Japan 5-0 in the 168-pound final. But Santanelli rallied, then caught Park in a reverse cradle for the pin in 5:48.
"I said in my head, don't quit," Santanelli said. "You're better than that. Go hard. Don't quit."
Caleb Sablan won the lone title for Kubasaki, pinning Kent Jenista of Kinnick at 215 pounds. Zama 275-pounder Jacob Martin pinned Kinnick's Chris Deibel to finish the wrestling.
For the first time, "Beast" featured a full-fledged eight-wrestler girls bracket. Julia Balona of CAJ won that title, blanking Yokota's Skye Williams 4-0.
---
---
---
---