Prep roundup
Edgren now has softball throne to go along with Crown
by
Dave Ornauer
April 28, 2018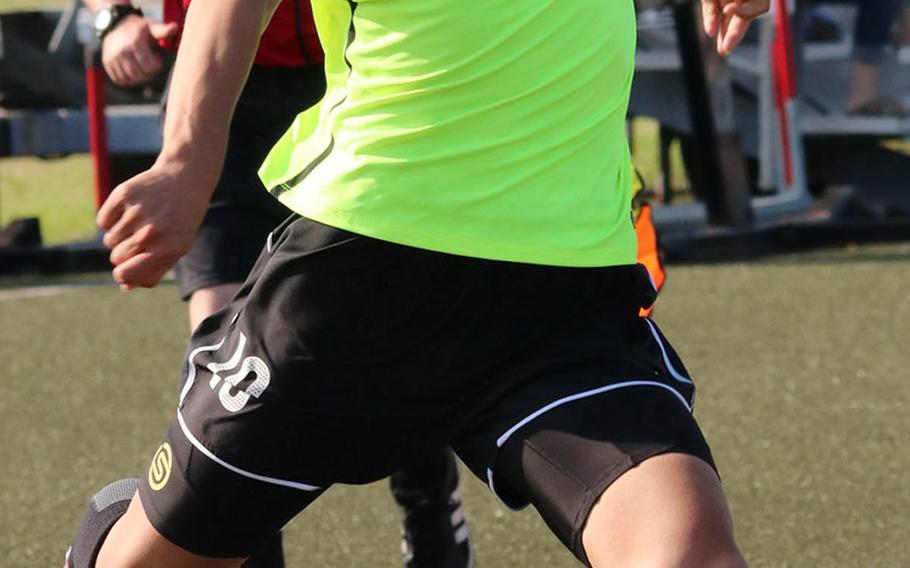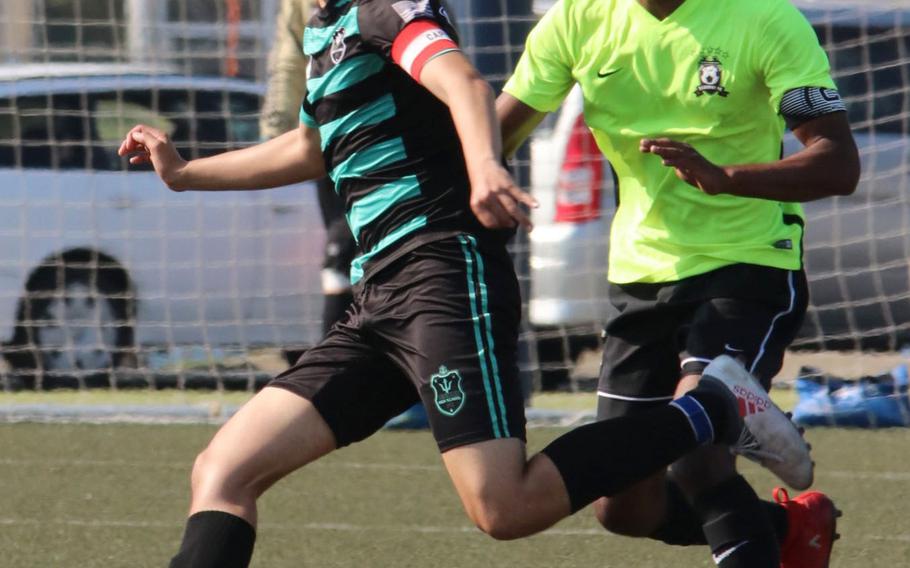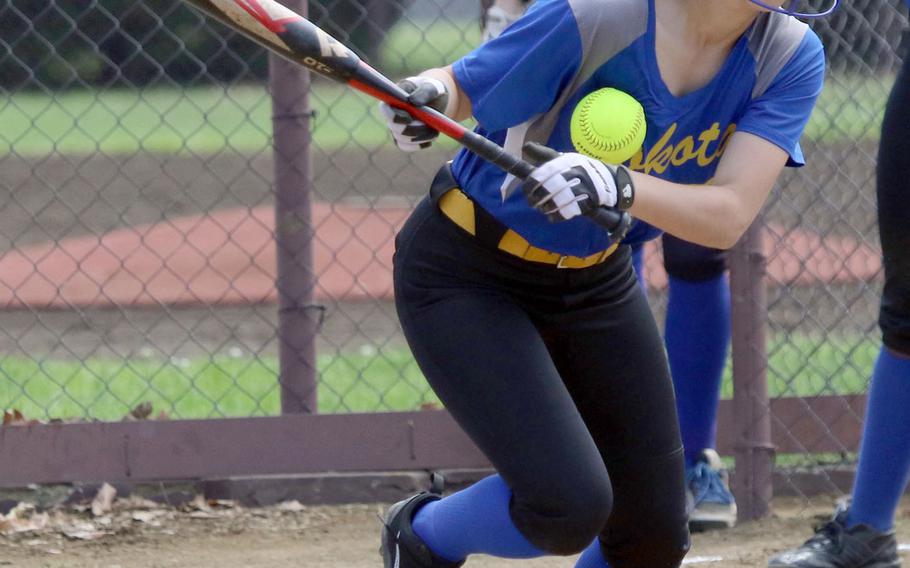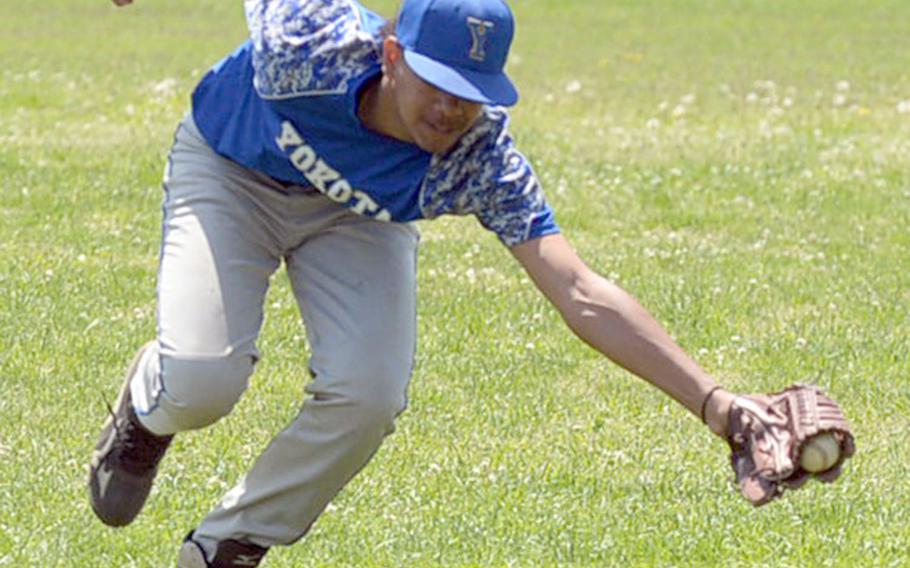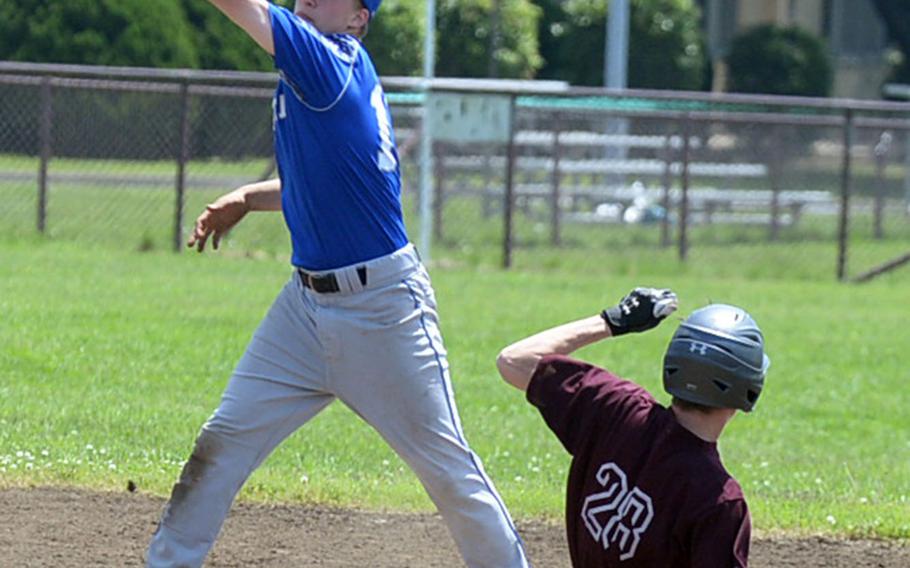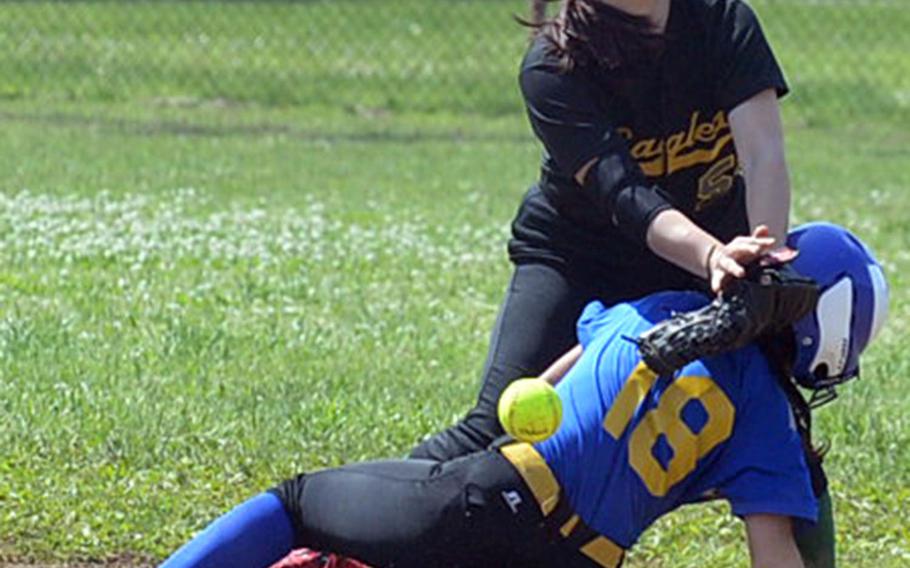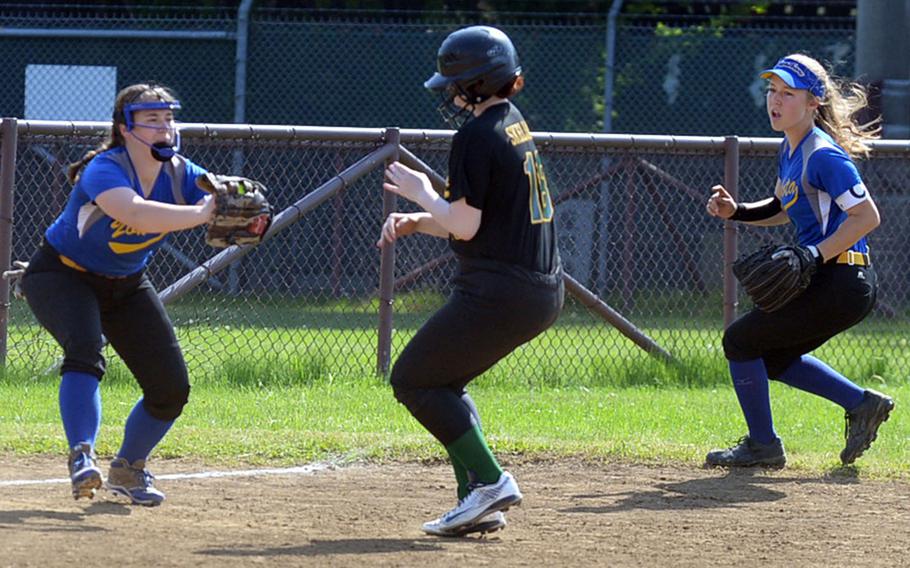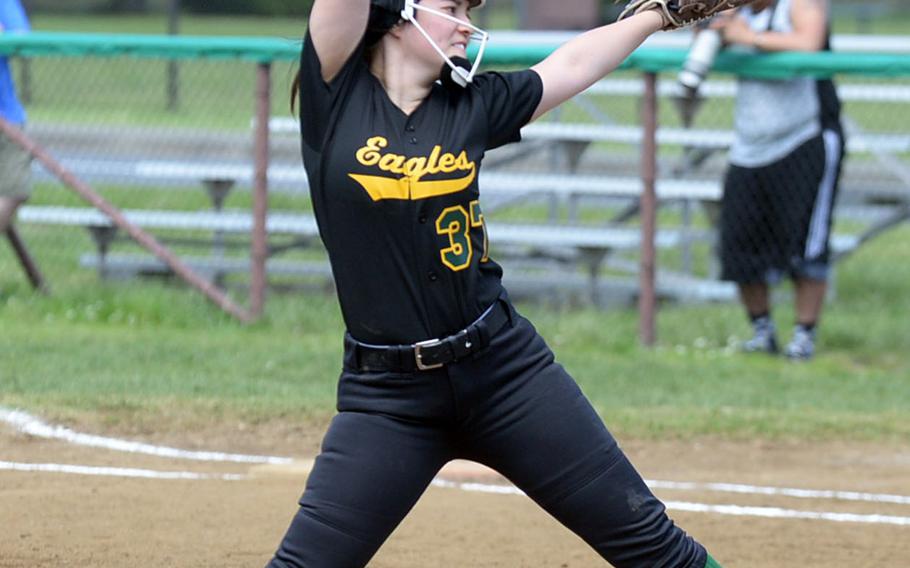 CAMP ZAMA, Japan – Brittany Crown didn't have a whole lot left in the tank, she said.
The Robert D. Edgren right-hander had already struck out 15 Yokota batters and looked to be cruising to victory in the final, but suddenly appeared out of gas in the sixth.
Still, the senior and two-time Far East Division II Most Outstanding Player knew a chance to win it when she saw one – and took it.
Crown scored the winning run with two outs in the bottom of the seventh to rally Edgren to a 13-12 win over Yokota and the DODEA-Japan softball tournament title for the first time in school history.
The winning run came on a mad scramble of a play that saw Edgren No. 5 batter Stephanie Provencio ground to shortstop for a fielder's choice that scored Veronice Crawford from third to tie it. Crown then took a chance and dashed home, triggering a wild celebration at the plate.
While her teammates celebrated, Crown gazed at her helmet. "Coach, it's broken again!" she said to longtime Eagles coach Sarah Richardson.
"Yes, but we won!" Richardson replied.
"I'm so happy," Crown said. She and the Eagles have long served as second fiddles to the Panthers, losing to Yokota two years ago in the Far East D-II final when Crown was a newly arrived sophomore. "We have several returners who have been gunning for this," Crown said. "It's also nice to beat a Yokota team in a game like this."
Crown batted 3-for-4 with a double, a triple and two RBIs and finished with 17 strikeouts. But she began leaning over, seemingly exhausted, in the sixth inning, suffering from abdominal pains and dehydration.
"I didn't eat, and it was really hot; we're not used to playing in heat like this," Crown said.
Temperatures peaked at 78 degrees with a slight breeze under almost perfectly-clear skies.
Still, Crown kept going, capping a pair of weekends in which she struck out 82 batters in six games, including four in the DODEA-Japan tournament. She fanned 31 the previous weekend against Nile C. Kinnick.
"That was something," Richardson said. "She kept going out there. You literally had to tie her down. She still went out there and the girls rallied around her. She led them to this."
"We came through as a team, knowing my team stood behind me, they fought just as hard," Crown said.
Yokota captures third straight DODEA-Japan baseball titleCAMP ZAMA, Japan – Riley DeMarco got the win and Sean Caffrey his second save of the weekend as Yokota shut down host Zama 5-2 Saturday. It capped three days in which the Panthers won four straight games and their third straight DODEA-Japan baseball title.
The crown jewel of the weekend came Friday, when Yokota beat Kinnick for the first time in three tries this season. Glen Willingham's two-run double capped a Panther rally for a 3-2 win over the Red Devils. Jack Winkler got the win and Caffrey the first of his two saves.
"They're a very strong team; it was nice to finally be able to get over that Kinnick hump," Panthers coach Steven Ferch said. "Our third straight title here. I'm really proud of our boys."
Panthers girls strikers win in soccerMARINE CORPS AIR STATION IWAKUNI, Japan – Following a 3-3 tie Thursday with Zama – the Panthers' first non-victory of the season – Yokota outscored its next three foes 10-1 and roared back to the top of the DODEA-Japan tournament heap.
The capper came Saturday, when Jamia Bailey scored twice and Caleigh Garcia netted her team-high 29th goal of the season, helping the Panthers dethrone 2017 champion Matthew C. Perry 3-0 on the Samurai's home turf.
"We knew Zama and Perry could be gunning for us," coach Matt Whipple said. "We've been playing with a lot of energy lately. We've been confident, and the girls have played through quite a schedule in April."
This was the third long-haul bus-ride weekend for the Panthers, who have also had one mid-week match to go with those road trips.
"But the girls have been phenomenal and it's been showing lately," Whipple said. "They're coming together. It's been fun to watch."
Kinnick takes boys soccer titleYOKOSUKA NAVAL BASE, Japan – Kai Sullivan and Akimanzi Siibo each struck for two goals, but it was the defense that stepped up and helped Nile C. Kinnick's strikers capture the DODEA-Japan boys soccer tournament title 6-0 over Matthew C. Perry.
It was a Samurai team featuring junior striker Kai Lange, who hours earlier broke the Pacific single-season goal-scoring mark of 64 set by Perry's Tyelor Apple in 2012. Lange has 65 through 27 matches, but nary a one against the Red Devils' defense.
Coach Travis Stevens praised the work of goalkeeper Nick Burke and defenders Kei Downs, Cael Bowen and Nathan Scheidt for shutting down Lange. "They're s good, skilled team," Stevens said of the Samurai. "Our boys played their best against the best."
For Lange's part, his father and coach, Mark Lange, said he was glad that they got the business of breaking that mark over with long before Far East, instead of in 2012, when Apple appeared to get the jitters as Far East began.
"I was telling the boys that we don't talk about those things," the elder Lange said. "He got it anyway."
Callier shatters Okinawa hurdles markJa'Tavia Callier broke the two-year-old Okinawa district record in track and field's 100-meter hurdles, clocking 15.27 seconds at Chatan's American Village Stadium during Saturday's Okinawa district finals.
She broke her own personal record of 15.39 set on March 24, and the district mark of 15.87 set two years ago by Kadena's Tiarrah Edwards. District records can only be broken in district finals by Okinawa league rules.
"I felt good," Callier said. "I stumbled out of the blocks, so I had to work harder to get back into a rhythm."
Callier also won the high jump and was part of a relay-winning foursome, and Elizabeth Joy won the 800, 1,600 and 3,200 as the Dragons captured the girls district title.
On the boys side, Eric McCarter won two sprints and a relay and distance specialist Guy Renquist won the 1,600 and 3,200 to power the Panthers to the boys title.
Meanwhile, Korea finally managed to get in a full district meet, as the air quality allowed the meet to go on as scheduled. The district finals were canceled the last two years due to poor air quality.
"The weather was perfect" this time, said Korea meet manager Laura Corder of Humphreys.
Alyse Neal won the long jump, 100, 200 and 400 and Chloe Byrd the 1,600 and 3,200, boosting Seoul American to the girls district team title. Quintin Metcalf won the high jump, 800 and the 3,200 relay to help Humphreys win the boys district title.
Blackhawks boys, Cougars girls take third in KoreaDivision II teams had their day Saturday as Humphreys boys and Osan girls took third place, the top DODEA finishing teams in the Korea Blue soccer tournaments.
James Rivet notched his 20th goal on a penalty kick, helping the Blackhawks boys beat Rivet's old team, Seoul American, 2-1 in the third-place match.
Lizzy White netted a hat trick - all three goals for the Cougars - who pulled away in the second half for a 3-1 win over Seoul American. Osan had won the tournament the last two years.
In an upset on the boys side, Yongsan got two second-half goals to rally past Seoul Foreign 2-1 in the boys final. Jisaan Chai scored twice to power the Crusaders girls past the Guardians 4-0 in the girls final.
Twitter: @ornauer_stripes