Far East wrestling
Edgren, Kinnick rally for team championships
---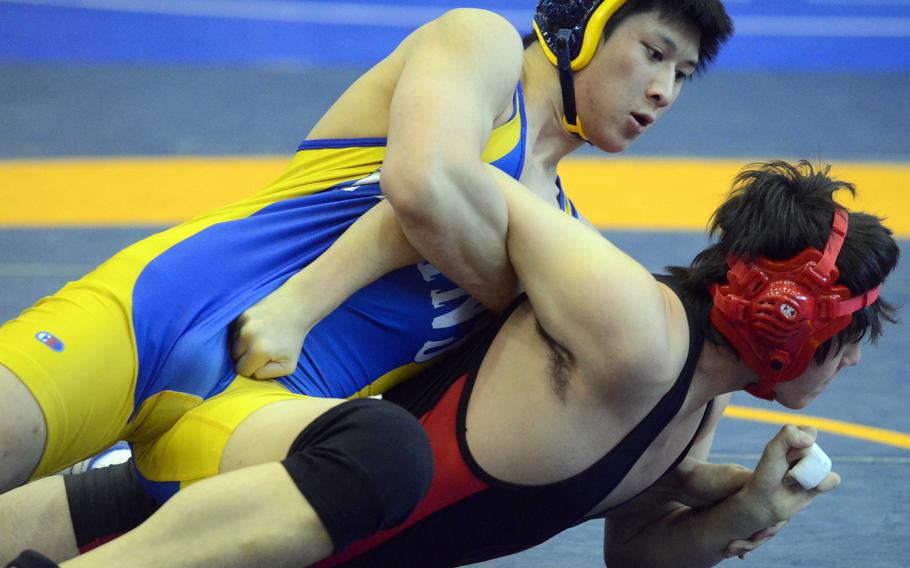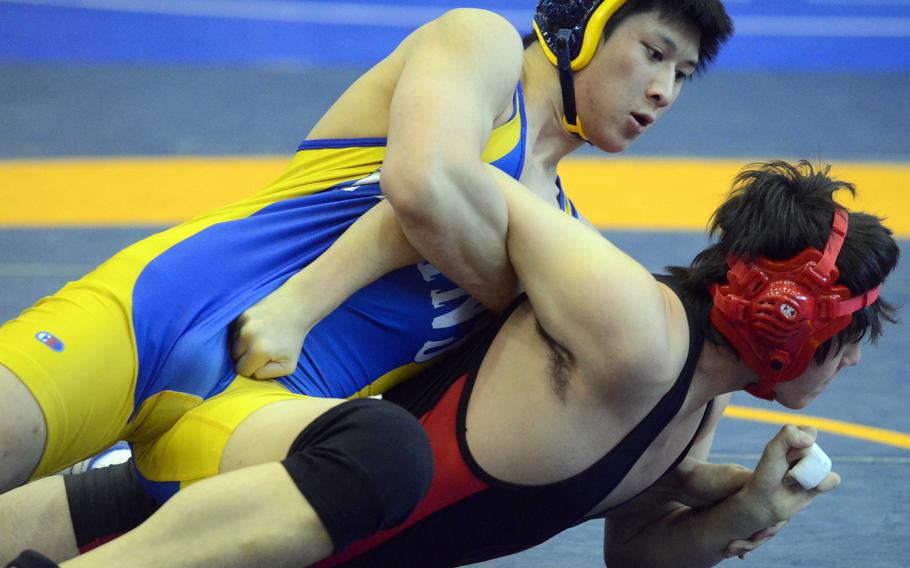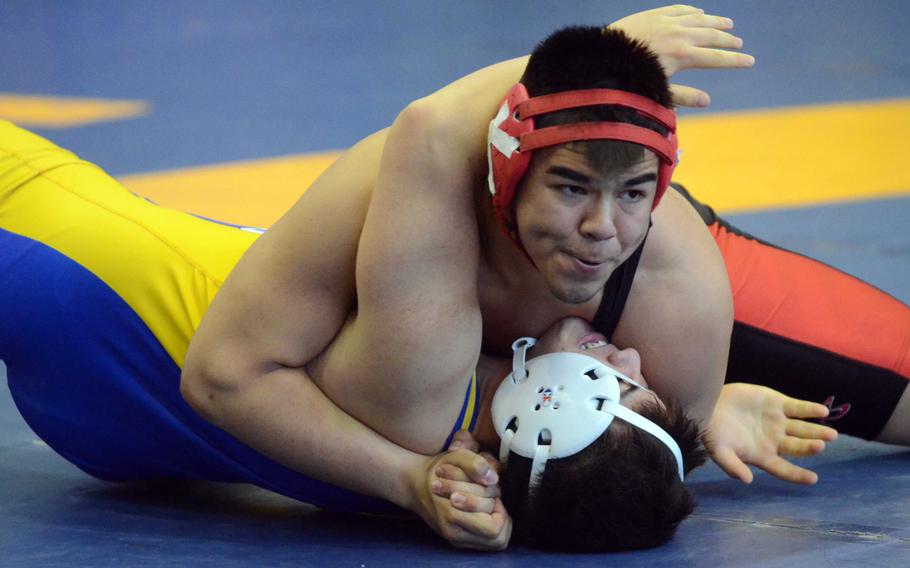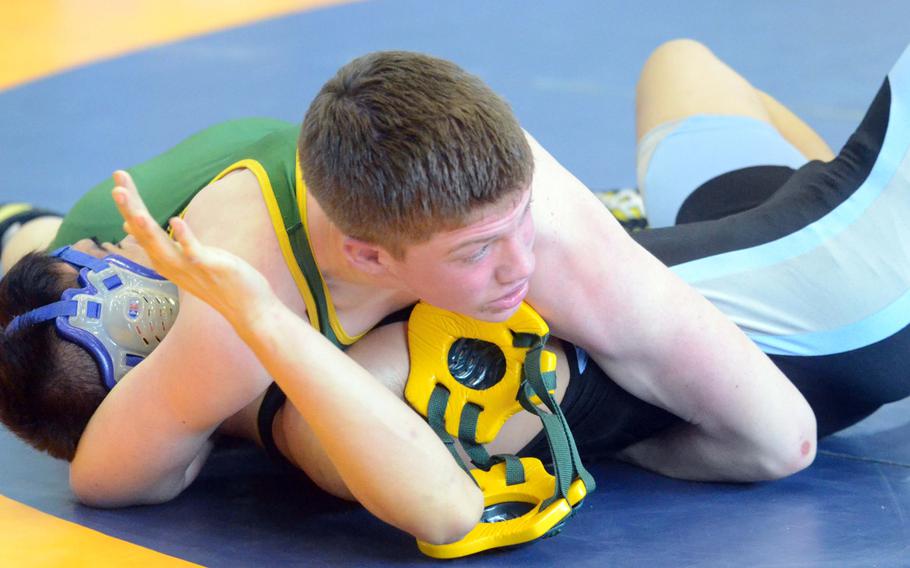 YOKOTA AIR BASE, Japan – J.P. Krussick was in peril. He trailed 6-0 against Osan's Steven Halik, who'd tilted him three times with a reverse gut wrench his teammates called Gator, and he needed one more tilt to put the Cougars in control of the dual meet.
But Halik eased up just enough that Krussick was able to power out into a pancake chest press that rallied the freshman 158-pounder to victory. It turned the tide of the Far East High School Wrestling Tournament Division II dual-meet final in Robert D. Edgren's favor.
"His grip was loose and I took advantage, turned him over and pinned him," Krussick said after he pinned Halik in 1 minute, 27 seconds, boosting the Eagles over the Cougars 34-27 and to a sweep of both Far East D-II titles. Edgren's won six such banners.
"It feels pretty good. Especially for a freshman year," Krussick said.
"He really stood up there and came out for us," coach Justin Edmonds said. "We came out hyped up, but that one match definitely did" turn around the dual meet for Edgren.
On the Division I side, Nile C. Kinnick bested St. Mary's International 34-28, clinching it on Ian O'Brien's pin of the Titans' Masaki Takeda at 215 pounds. It was a reversal of fortune; St. Mary's had beat out the Red Devils for the individual freestyle title the day before.
The Edgren-Osan contest was a dual meet of swings. The Cougars surged ahead 18-0, getting a spectacular five-point throw by Sam Kim on Tyler Carson at 122 pounds. Hunter Matthews got the Eagles with 13 with a pin at 129, but Osan's Jon LaMagna rallied to pin Edgren's Sky Phillips in a bout that "we thought we had," Edmonds said.
"The match went the other way, but J.P. coming back and doing what he did, it put it back in our favor," he said.
From LaMagna on, it was pretty much all Edgren. Tournament co-Outstanding Wrestler Kaleb Atchison (141) and Jackson Edmonds (148) each won by pin, but Krussick's pin sealed the deal. Patrick Sledge (168) and Brandon Gleason (215) each followed with technical falls.
The win came one day after Edgren captured the D-II individual freestyle team title. "It feels good to bring them home together," Edmonds said.
The D-I final also went back and forth, with St. Mary's three-bout win run from 135 to 148 the only time in the match either side won three straight.
Kaimi Miyazawa gave the Titans their biggest lead when he pinned Branden Yoder. But Kinnick already had one thing in its favor – St. Mary's heavyweight was injured and the Titans had to give up that weight and the five points with it.
Charles Gann (158) and Dustin Wilson (168) followed with a pin and a technical fall for Kinnick. Tournament co-Outstanding Wrestler Jeff Koo gave St. Mary's its last lead with a pin, but O'Brien answered and the Red Devils captured their eighth Far East banner, third-most in history.
"We weren't able to get the individual title, but to be in this position, to be the anchor of our team in the dual tournament, that's the greatest thing I could ask for," O'Brien said.
"Senior year, for me to get the W and for us to get the banner, it's such a rush. I'm so happy right now."
Saturday's action very nearly did not take place, given the second major snowstorm to hit the Tokyo area in six days. Nearly 2 feet of snow made Yokota's roads impassable and delayed the start of the finals and third-place duals by more than six hours.
By chance while trying to navigate the snow, tournament organizer Brian Kitts happened upon a bulldozer, whose driver recognized him. He offered to clear the Yokota bus barn lot and allow four buses to pick up the teams. Another plow sent from the base cleared a path into the school parking lot.
With the commissary and every eatery on base shut down, families on the base's east side came by the billeting where the teams were staying frequently with food to ensure the wrestlers were nourished.
Kitts credited the work of the community and command and that of DODDS Japan transportation officer Milt Colon for allowing the tournament to go on. "I am so humbled, honored and grateful," Kitts said.
---
---
---
---