Prep roundup
Edgren freshman wins DODEA-Japan tennis title
by
Dave Ornauer
October 20, 2018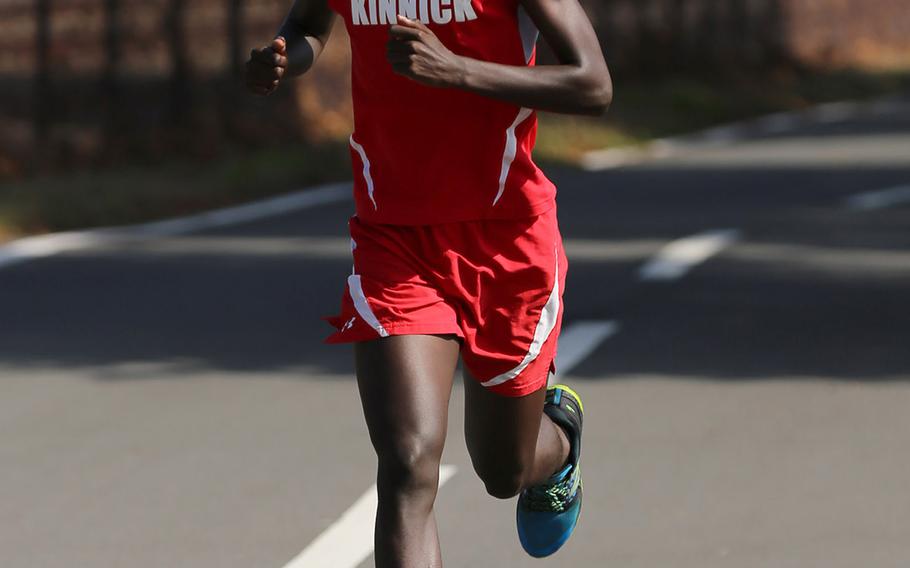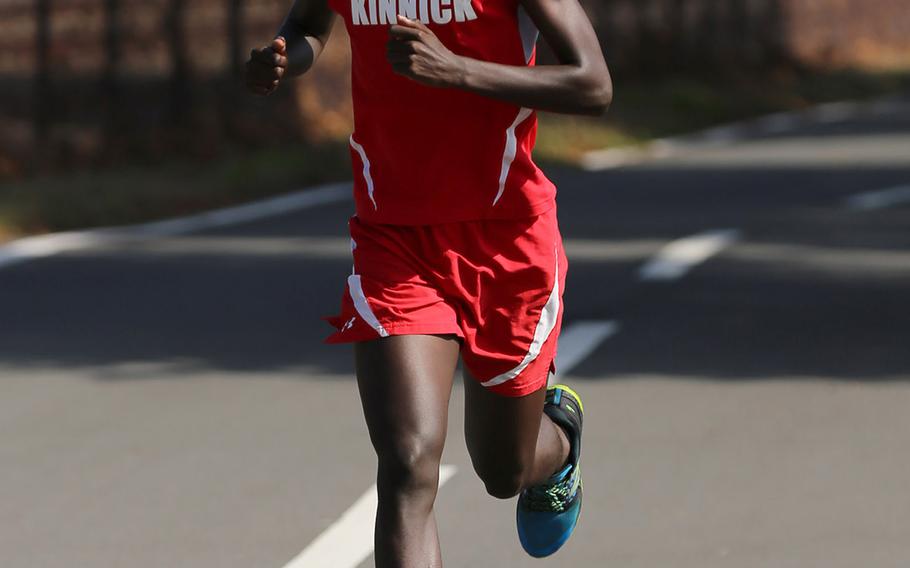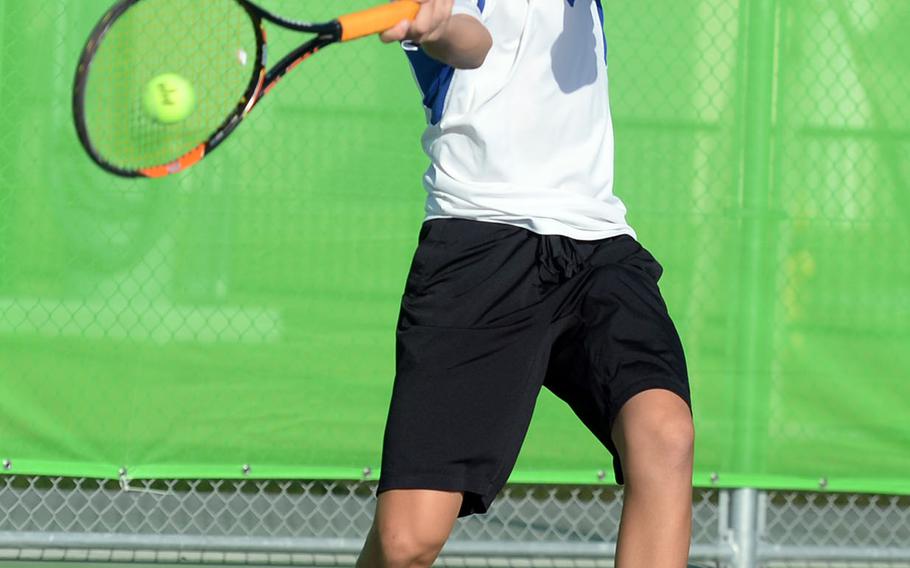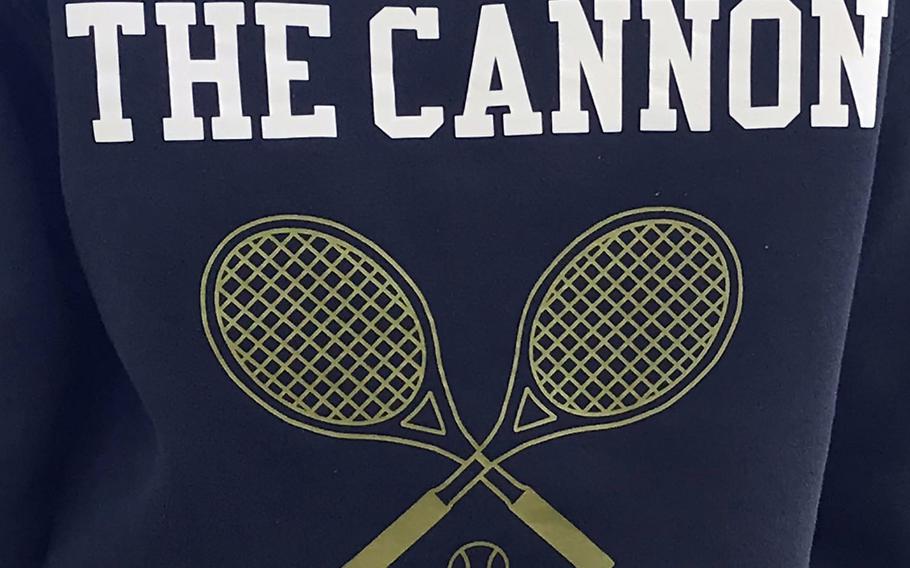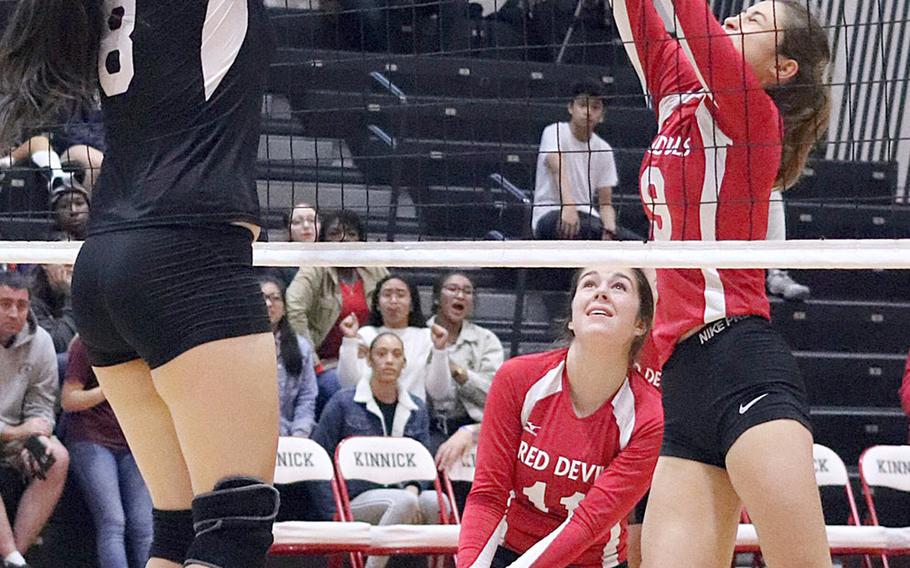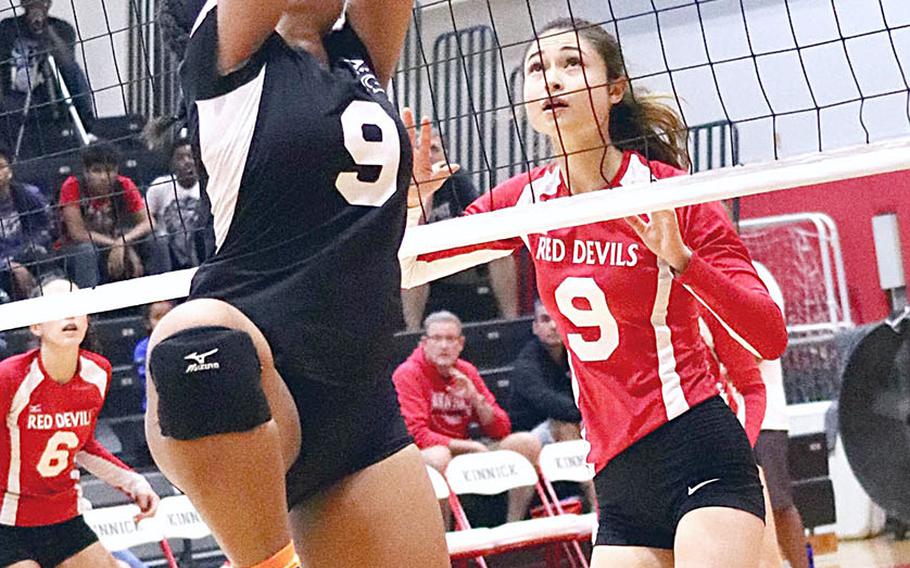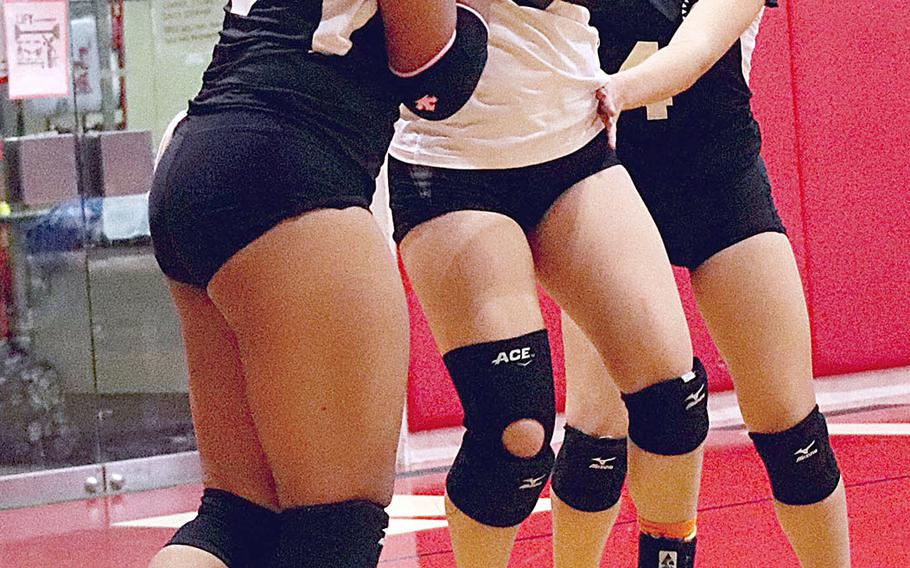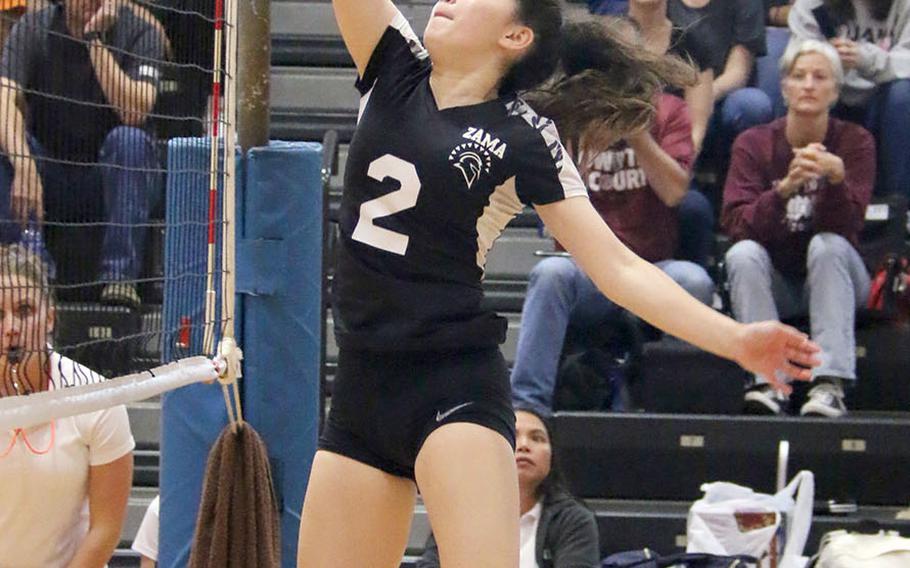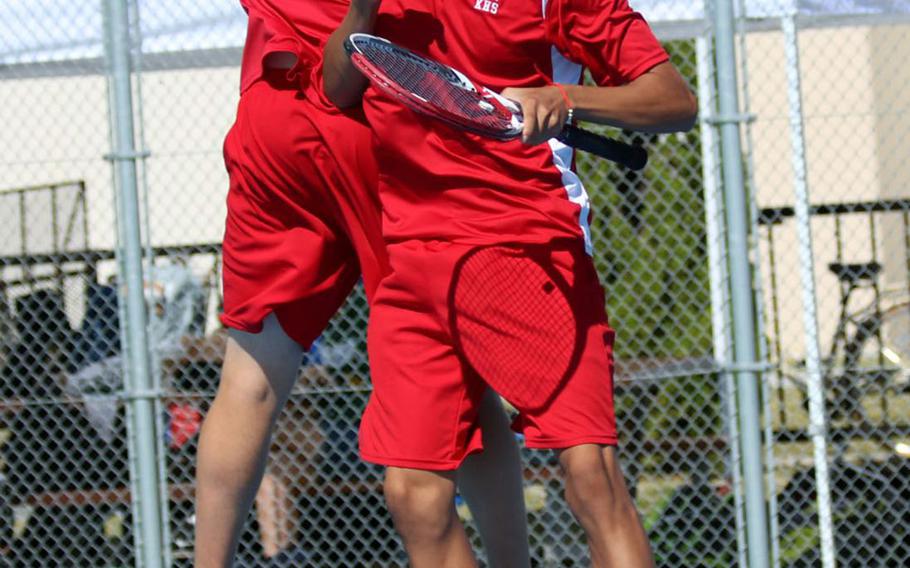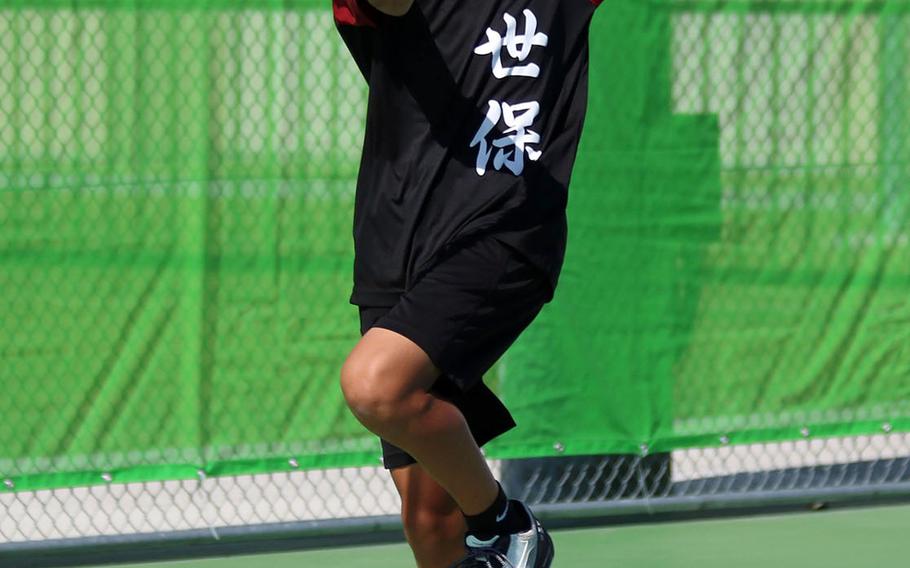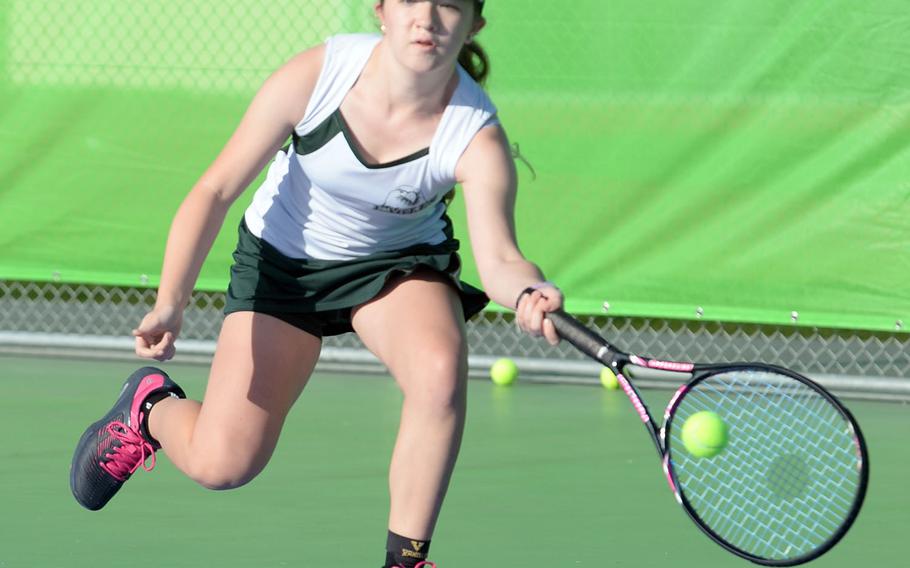 MARINE CORPS AIR STATION IWAKUNI, Japan – Jenna Mahoney still wears her older sister's warmup from five seasons ago, bearing the nickname "The Cannon."
On Saturday, she did her sister Shannon proud by capturing the DODEA-Japan girls singles A bracket title.
The freshman left-hander outdueled Nile C. Kinnick's Jillian Mock 8-2 to become the first Robert D. Edgren player to win a DODEA-Japan tournament singles title under pastel-blue skies.
Mahoney confessed to nerves prior to the match, but said, "I just kind of told myself I could do it, just keep fighting for every point. I didn't think I'd do this well."
The rare battle between two left-handed players saw Mahoney jump to an early lead and steadily pull away. It was very unlike Friday's quarterfinal in which she rallied from behind 3-5 to win the last five games and oust Mock's teammate Tamaki Farman 8-5.
Mahoney captured the title before her parents, including Eagles assistant coach Jack Mahoney, and elicited a congratulatory message from Shannon via Facetime from Hawaii, where she's going to college.
"I'm so proud of her!" Shannon Mahoney said via Facebook Messenger. "I wish I could have been there."
When it came to winning singles A bracket titles, freshmen ruled the day; Kai Deremer of Yokota captured the boys championship, outlasting pre-tournament favorite Takumi Kodama of E.J. King 9-7.
"He's a very strong player," Deremer said of Kodama, who'd gone unbeaten during the regular season. "I'm glad for the opportunity to play him. I look forward to playing him again" in next month's Far East tournament on Okinawa.
"I did my best, but he was the better player today," Kodama said of Deremer.
In the boys singles B bracket, King's Akira Goodman won the title for the second straight year. He closes his career with three DODEA-Japan singles title and one doubles crown.
Kodama didn't go home empty-handed; he and Johnathon Lee won the boys doubles crown by beating Kinnick's Daniel Posthumus and Matthew Manson 6-1.
Girls singles B and doubles bracket championship matches were all Red Devil affairs. Aleigh Lamis outdueled teammate Amary Perfecto for the B title 8-3, then Perfecto teamed with Farman to beat Mock and Lamis for the doubles crown 6-3.
Trojans spikers capture DODEA-Japan tournament crownYOKOSUKA NAVAL BASE, Japan – A week earlier at the American School In Japan YUJO Tournament, Zama's girls volleyball team failed to close couple of tight losses and vowed, coach Veronica Jones said, to do a better job of finishing in the DODEA-Japan tournament.
They removed all doubt about their ability to finish in two matches against host Kinnick, rallying from two sets down to beat the Red Devils on Friday, then coming back from one set down to top Kinnick in four sets for the first DODEA-Japan title in school history.
"Their determination, their grit, playing for each other, taking care of each other on and off the court; I don't even know if I'm that type of person, but I know they are," Jones said.
Grace Bryant led the way with 14 kills and Kate Hultquist had 19 assists for the Trojans. Jessica Atkinson added four block points, Aika Davis eight digs and Liann So five aces.
"I don't know if I've ever coached a team like this before," Jones said. "I want to be like them when I grow up. They are amazing individuals, on and off the court."
Jones said the title positions the Trojans for a deep run in the Far East Division II Tournament next month at Humphreys. Zama is tied with Daegu for the most titles by a DODEA team in Far East tournament history, but hasn't won one since taking the D-I title in 1997.
Siibo, Armijo take cross country titlesYOKOTA AIR BASE, Japan – Akimanzi Siibo repeated Saturday as DODEA-Japan cross country champion, and in so doing took over as the fastest runner in the Pacific this season.
Siibo, a senior, was timed in 16 minutes, 8.3 seconds, taking the top spot in the region. Owen Young of Perry came in second and Jun Royster of Edgren third.
"He's trained very hard for four years," Kinnick coach Luke Voth said, adding that Siibo has a good shot at capturing the Far East meet title next month at Edgren, "as do a few other kids."
Perry's Angelique Armijo was the girls winner, clocking 19:49.96, almost a full minute ahead of Zama's Aubrey Giles. Yokota won the boys team title and Kinnick retained its girls team crown.
ASIJ repeats as Asia-Pacific Invitational championUPPER TUMON, Guam – American School In Japan once again is the champion of the Asia-Pacific Invitational cross country meet on Friday and Saturday at Guam's John F. Kennedy High School.
ASIJ's Trevor McAuliffe won the boys individual 5-kilometer race at Ramsey Field, and Saga Wihman of the Mustangs was the girls winner. ASIJ won the overall school banner for the 10th time in the meet's 15-year history.