Edgren ends season on a positive note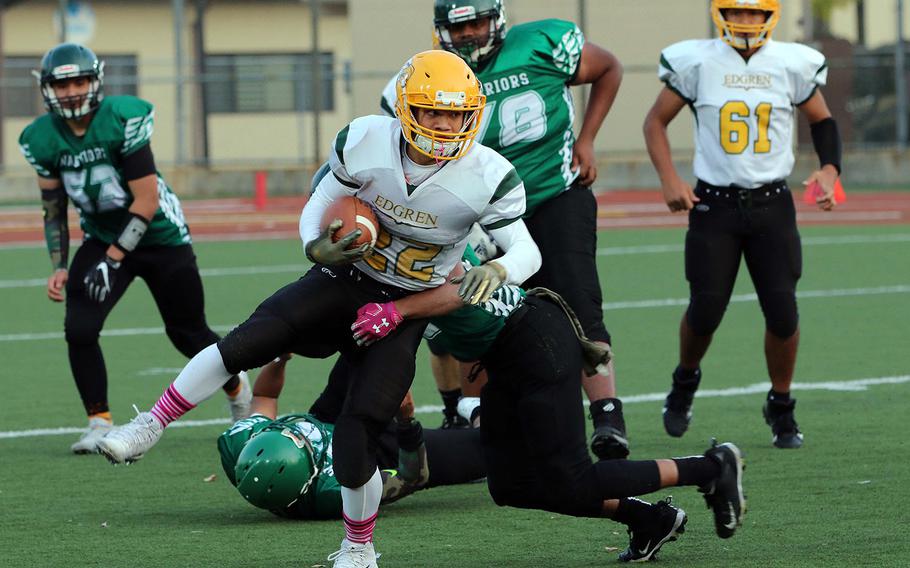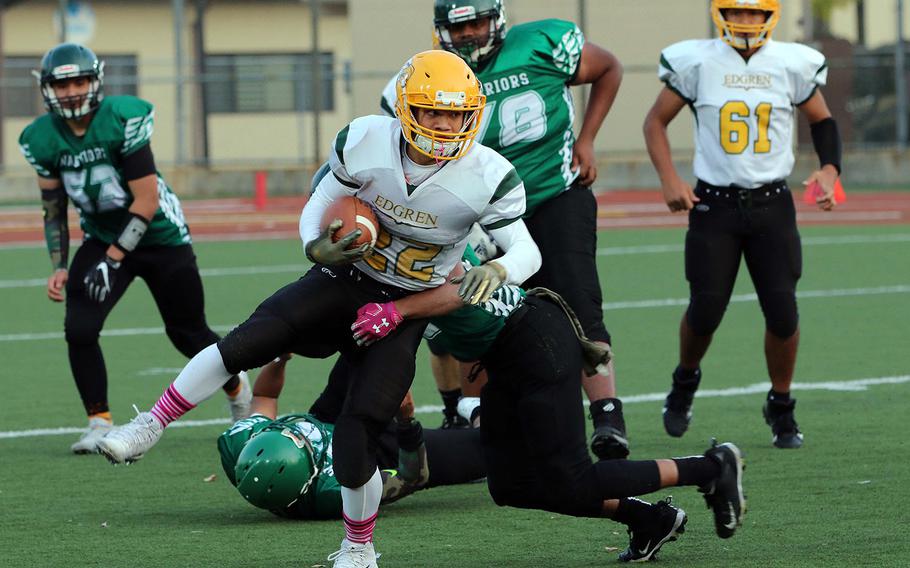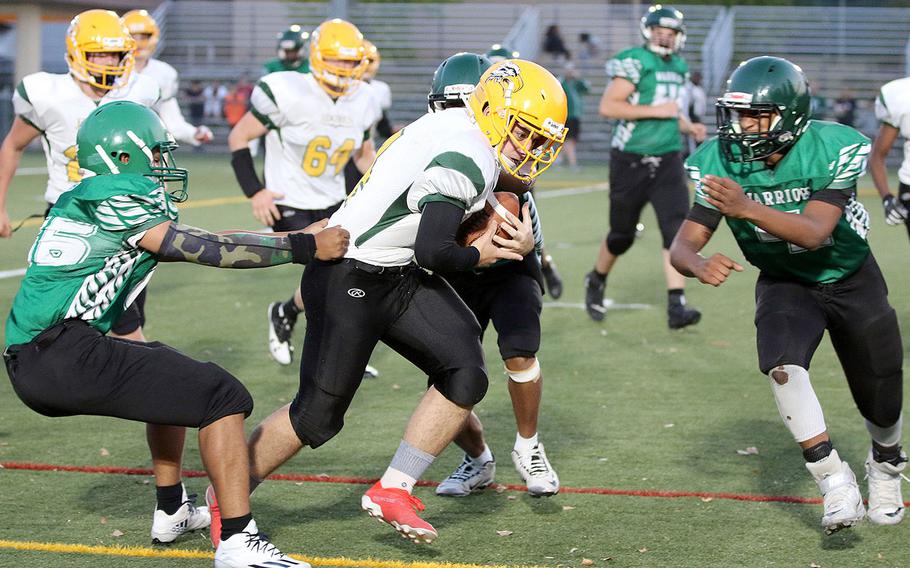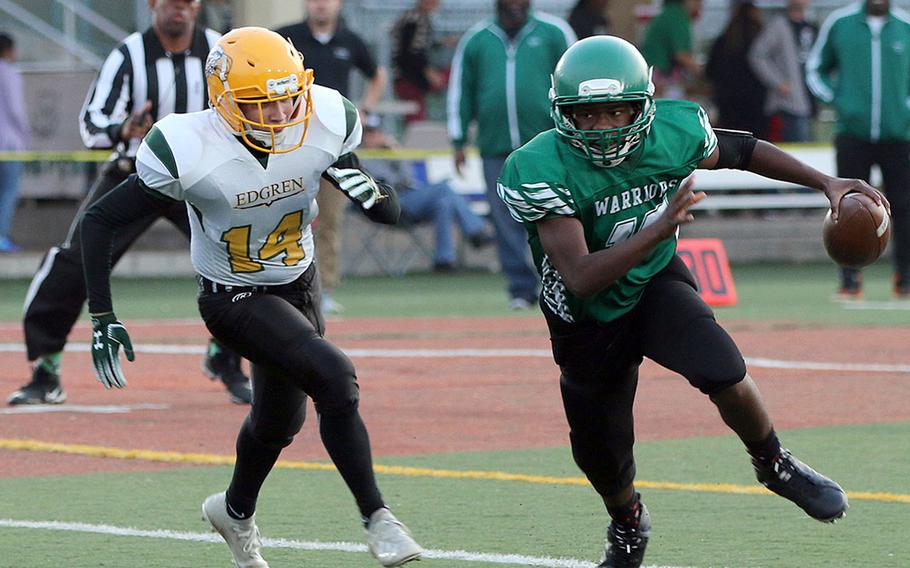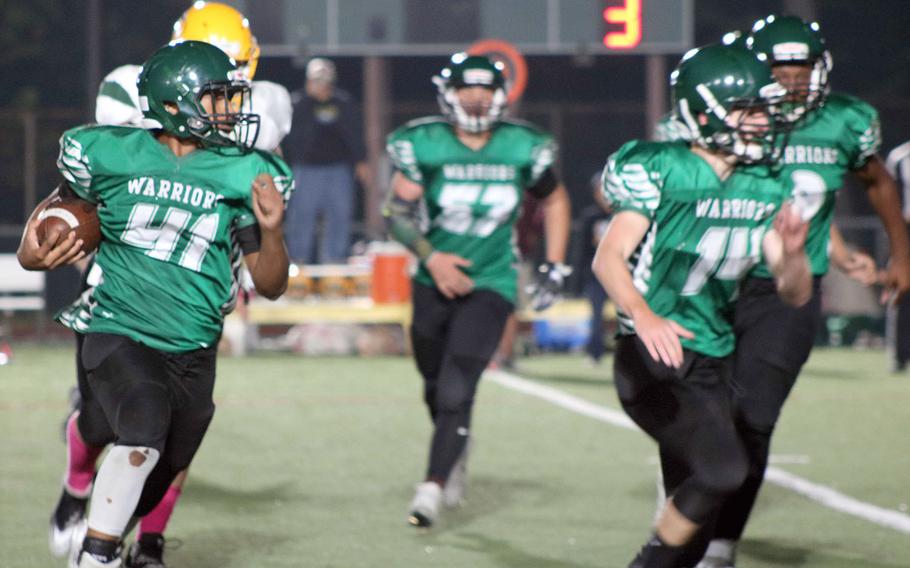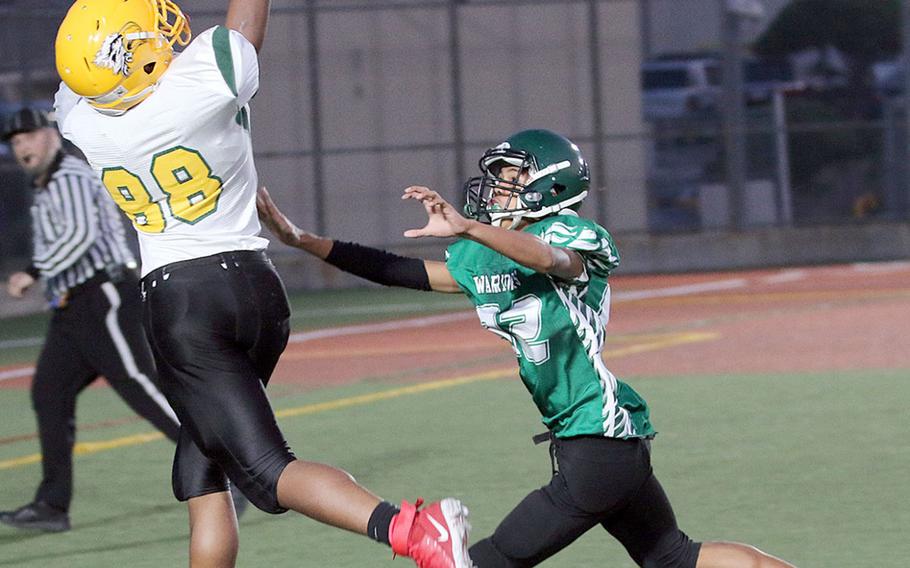 CAMP WALKER, South Korea – It wasn't that all the things that weren't working previously for Robert D. Edgren suddenly righted themselves, coach Jeremy Sanders said.
"The biggest difference was … we wanted to make this week about having fun, getting back to basics, playing football the way it was intended," Sanders said after his Eagles crushed Daegu 54-21 Saturday in the last game of the Pacific high school football regular season.
"Free and fun. Nothing special. We just drew some plays in the sand and went free with it," Sanders said.
Doug Tackney scored three times and Joshua Hartley twice as the Eagles picked up their first win of the season. The game had been originally scheduled for Oct. 12 but was postponed due to concerns about travel during Typhoon Hagibis.
Saturday's redo remained tight through the first two quarters, with Daegu leading 21-20 at halftime. But the Eagles (1-5) shut out the Warriors from there and put 34 points on the scoreboard in the last two quarters.
Tackney scored twice in the second half on two botched plays, with Tackney picking up the ball and running 30 yards for one TD and 40 yards for another. He also scored a two-point conversion.
Hartley scored in the final period, running 45 yards for one touchdown, then taking a punt return 56 yards for another. Chase Quigley began the second-half scoring offensive with a 15-yard touchdown run and two-point conversion.
For Daegu, Andrue McCall ran 65 yards for one touchdown, passed 5 yards to William Hamilton for another, and Princeton Newbold capped the scoring with a 5-yard TD run.
That offset the Eagles' three touchdowns, a 40-yard run by Tackney, a 10-yarder by Jason Dudley and Dylan Tomas' 60-yard touchdown pass to Shamar Parnell.
"Daegu played very well," Sanders said, citing McCall and the adjustments the Eagles had to make to contain him. "He gave us a lot of trouble," Sanders said.
Despite the lopsided loss and going winless against Division II foes this season, the future for Daegu football looks bright, coach Blake Sims said. Half the roster featured freshmen and sophomores; barring unexpected transfers, most of them are due to return, Sims said.
"Hopefully, we can build on what we've done this year; that's what we're looking forward to," he said.