Far East D-I dual-meet tourney
Dragons claw way to Far East wrestling sweep
by
Dave Ornauer
February 15, 2020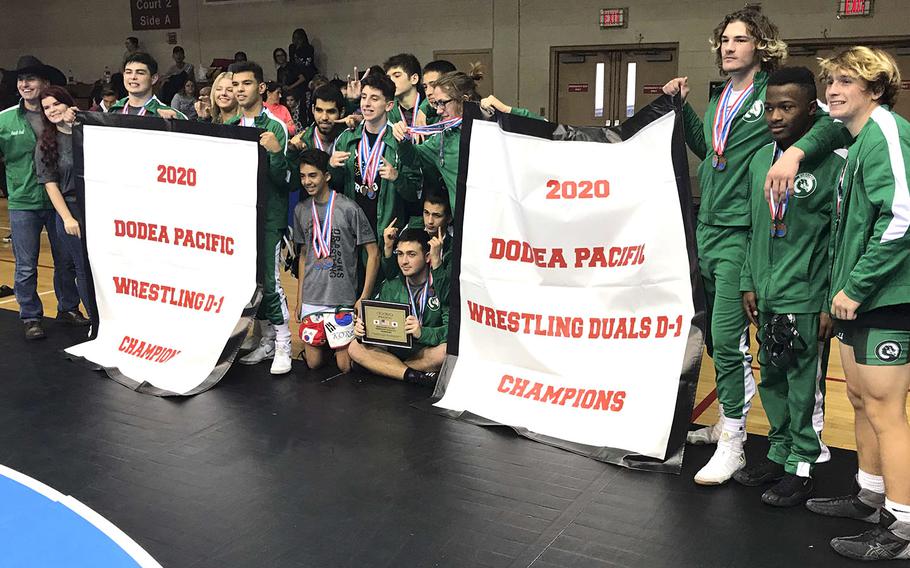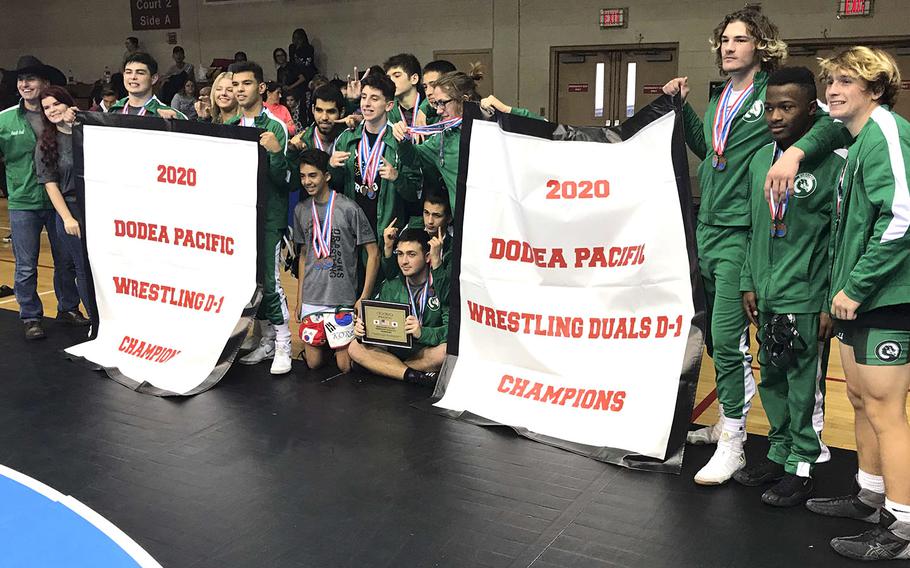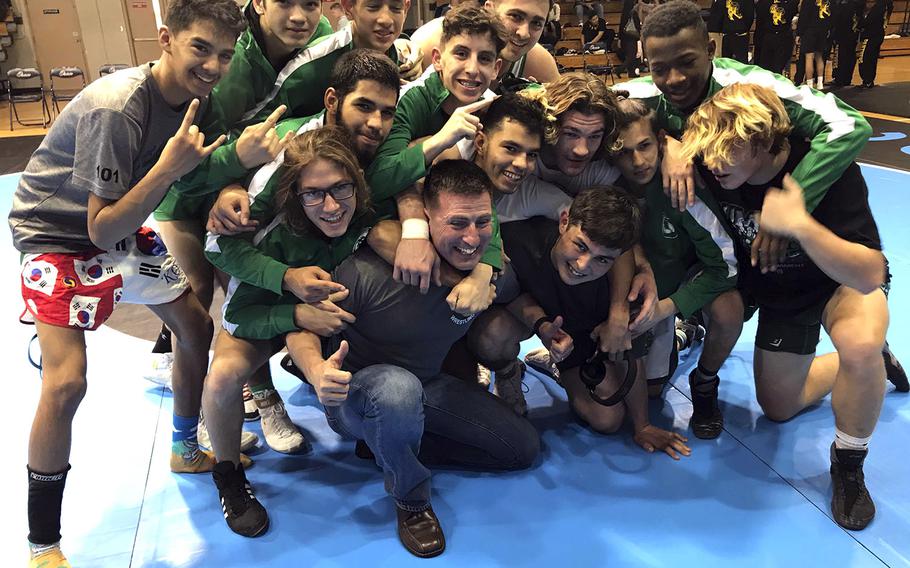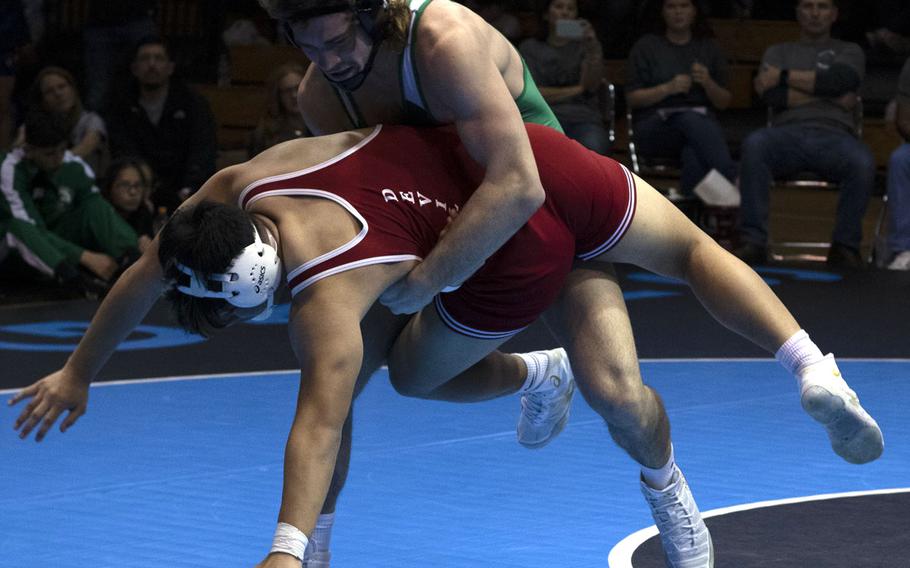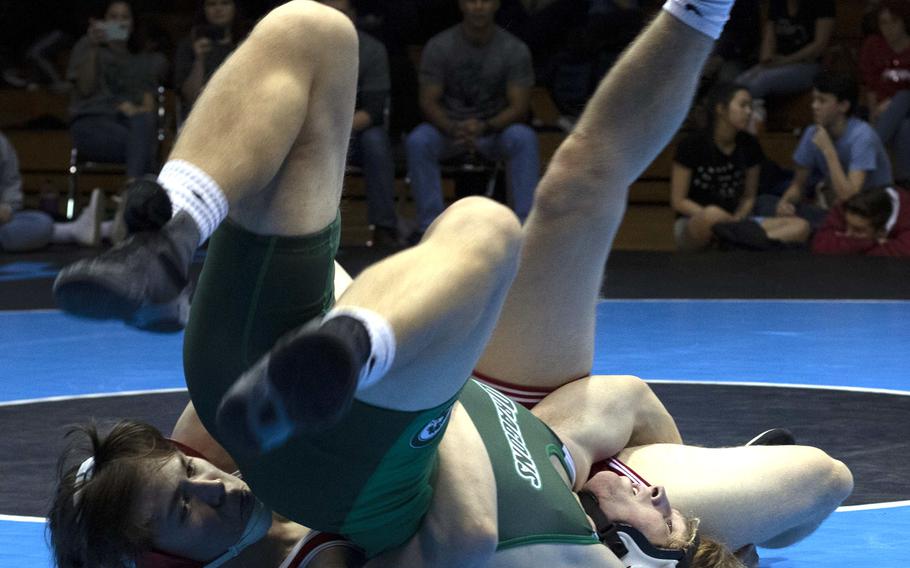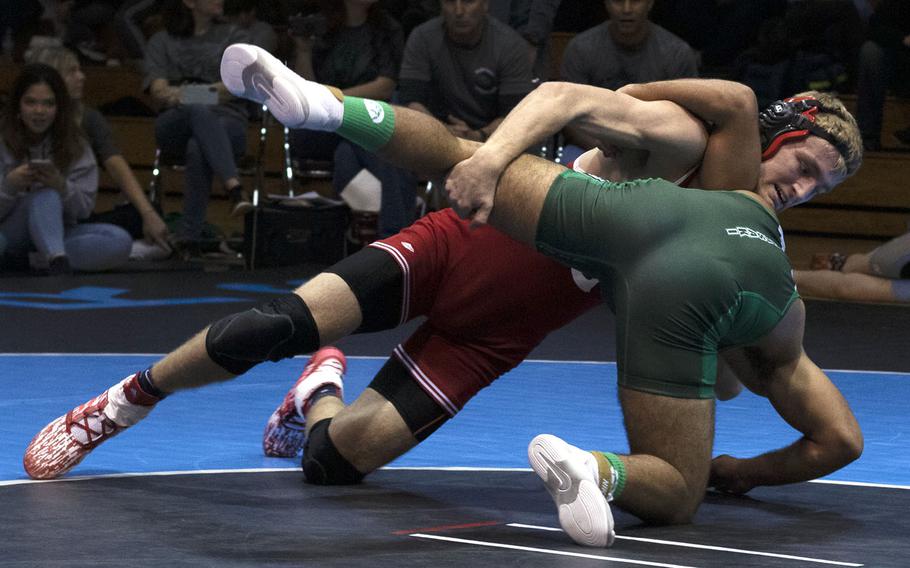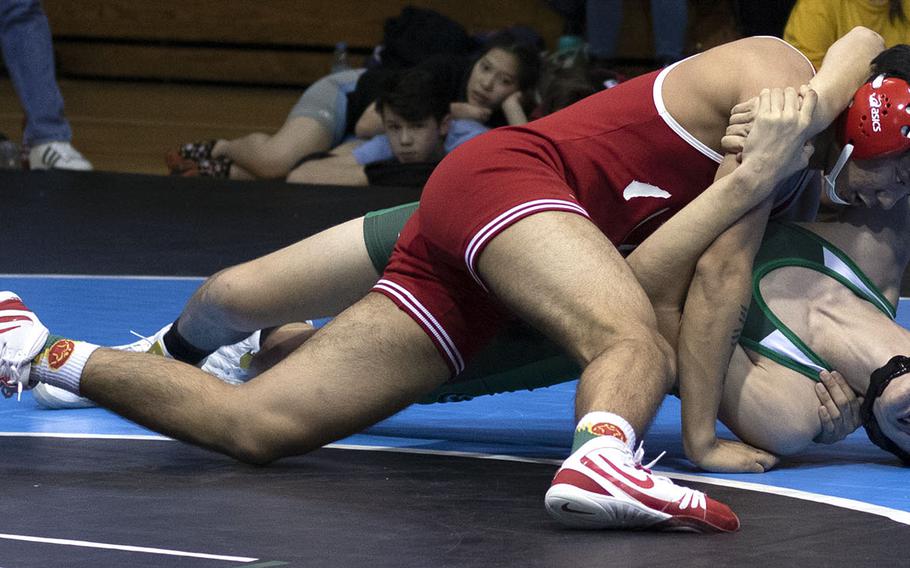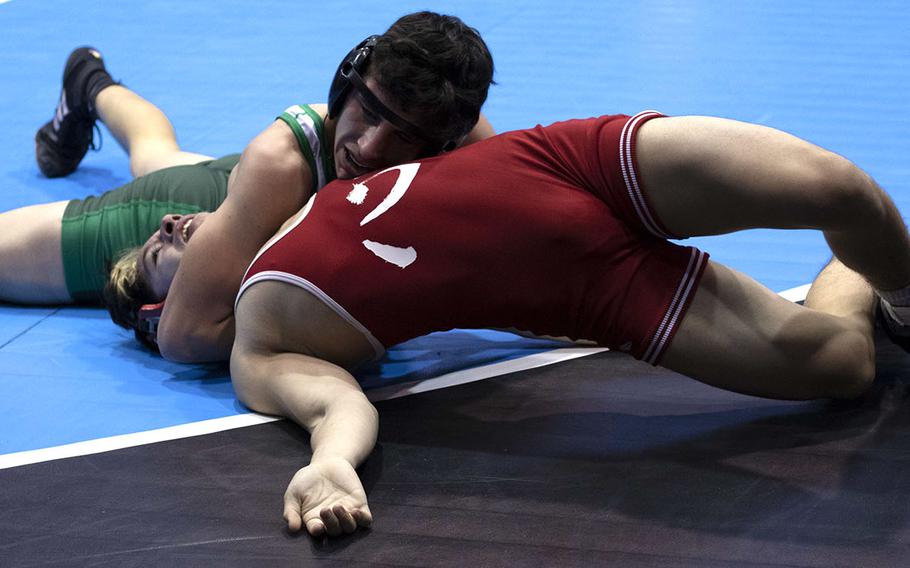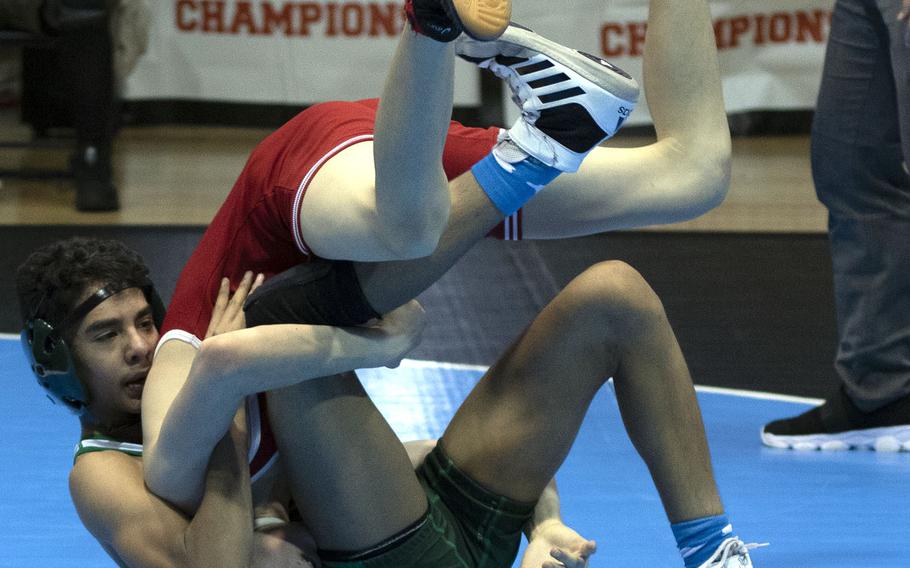 OSAN AIR BASE, South Korea – Having lost a chance at back-to-back Far East Wrestling Tournament individual weight-class titles, Haydn Peterson said he simply didn't want lose again.
And with a chance at Kubasaki's first Division I team title sweep in seven years, coach Brent Cook said he simply didn't want his Dragons to pass on the opportunity.
They both got their wish on Saturday.
Peterson scored a technical fall at 215 pounds and the Dragons won six bouts by pin en route to a 41-19 win over Nile C. Kinnick in the Far East D-I dual-meet final.
"It's been an amazing season," Cook said after Kubasaki extended its Pacific record for Far East titles in any sport to 28. "I'm extremely proud of what's been accomplished, being part of the Kubasaki legacy and tradition."
It's the third Far East D-I title for Dragon wrestling on Cook's four-season watch, but the first time Kubasaki has won both the dual-meet and individual freestyle titles in the same Far East meet since 2013.
"I'm really excited about that," Cook said. "Watching the teams in my first two years, I realized I wanted us to be like them. It took a lot of recruiting, finding the right kids to fill the weight classes."
The result of that was four weight-class title winners in the individual freestyle tournament on Friday, but Cook said that was just a part of it.
"It's the supporting cast, too," he said. "A championship is a team, and that's what makes it so special."
After the teams split the first two bouts, Vincent Rodriguez gave the Dragons the lead for good against the Red Devils, pinning Juan Smith at 4 minutes, 49 seconds at 115 pounds.
That was the first of three straight pins, including ones by Jaylan Mayers at 122 and Jeffrey Owens at 129. Victor Saavedra eked out a decision at 135 to make it 21-5 Kubasaki.
The Red Devils showed signs of life in three bouts, with Josiah Millare (141) and Far East champion Alex Lovell (168) scoring pins and Ethan Hamilton (148) a technical fall, cutting the gap to 27-19.
But it was as close as Kinnick would get. Colin Nation, the former Florida state champion and the Far East 180-pound champion, sealed the contest by pinning Kaleb Leon Guerrero in 1:03.
Nation deflected credit for the championship to the rest of the Dragons as a whole. "It wasn't me who won it; it was the team," he said. "All the hard work we put in this season."
Then came Peterson, who lost for the second time this season to Yokota's Austin Fisher on Thursday, but didn't lose again the rest of the tournament. He won by technical fall over Kinnick's Lucas Watkins at 215 pounds, followed by heavyweight Xander Munoz's pin to close it.
"I wasn't going to let it happen again," Peterson said. "It was not going to happen again."
Despite the defeat, Kinnick assistant coach Dan Joley expressed pride in his wrestlers' performance. Five of the Red Devils starters were freshmen, and another was a first-year wrestler.
They struggled early in the season, Joley said, but "something happened" after the "Beast of the Far East" tournament Jan. 25 at Kinnick and prior to the Kanto Plain finals a week later that sparked the Red Devils to some key wins prior to Far East.
"Something clicked," Joley said. "It's a fantastic accomplishment for these kids."
ornauer.dave@stripes.com Twitter: @daveornauer