Defense, Myers' walkoff HR lift Scrapalators to Pac-wide repeat
---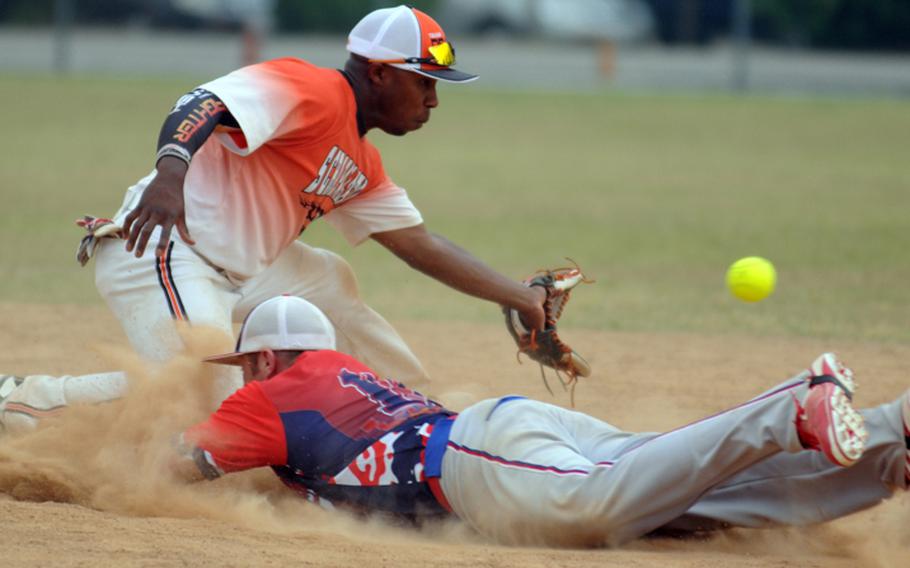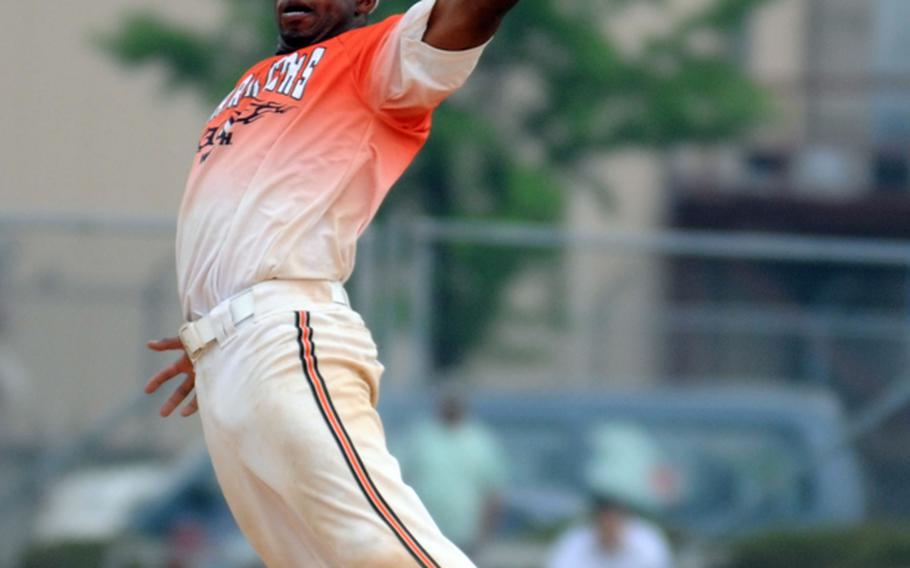 YONGSAN GARRISON, South Korea – A stellar defense and Reginald Myers walk-off hits keep coming at the right time for the Scrapalators, who on Monday repeated their Pacificwide Open Softball Tournament men's open title.
Pitcher Tommy Siter snagged a line drive to start a rally-killing double play, outfielder Leonard Myers robbed Chadd Malin of a three-run homer and Reginald Myers hit a two-run walk-off homer as Scrapalators won the second of a two-game final 38-36 over American Legion.
The first game set a record for most runs in Pacificwide open tournament final game, 50-36 in favor of Scrapalators. The previous mark was 77, set in the 1994 Yokosuka Open final in which now defunct Pacific Force beat host Yokosuka 61-16.
"Game changers, absolutely," Siter said of the two defensive gems, which robbed Legion of three runs each in the fourth and seventh innings. "They could have buried us."
The women's double-elimination playoffs also featured a repeat title for Kyungnam, Korea's national fastpitch team. It also played stellar defense to shut down 2010 champion Yard Busters of Okinawa 13-3. Abigail Annicella had two RBIs and Joyce Wells one for Yard Busters.
The company-level playoff final saw K-16 Air Base, on the south side of Seoul, rout 1st Signal of Yongsan 13-1. It's the second year the tournament has featured a bracket for intramural teams.
The men's open two-game final resembled a who's who of All-Army, All-Marine, All-Air Force and All-Armed Forces players, including Leonard Myers, whose catch of fellow All-Air Force slugger Malin's line drive proved to be the final nail in Legion's coffin.
"I figured Chadd would be going up the middle," Myers said. "He got under it, I got back there, didn't know if I was going to catch it or not. I just jumped up and got it."
The catch was reminiscent of Scrapalators' Ralph Hodgdon's last year, robbing Keahi Kapana of a three-run shot that turned around that two-game final. Reginald Myers hit a walk-off two-run single in that game.
Legion was going for its fourth title in nine years in this tournament and 15th in Pacific Grand Slam tournaments, second all-time to Pacific Force's 39. "We just came up short," coach John O'Brien said. "they were the better team again. That was heartbreak."
The game featured seven lead changes. Legion lost despite scoring 15 unanswered runs to rally from 27-17 down to lead 32-27.
In the two games, Hodgdon had seven homers and 14 RBIs, Leonard Myers five homers and 10 RBIs and Lynell McLeod drove in 10 Scrapalators runs. Malin had five homers, three sacrifice flies and 15 RBIs, Brian Wegman five homers and seven RBIs, Kapana three homers and 11 RBIs and Josh Wiggs seven homers and 10 RBIs for Legion.
In the opener, Leonard Myers' grand slam put Scrapalators ahead to stay 22-19; they increased the gap to 50-27, scoring 20 runs in the sixth.
Yard Busters had been hitting the ball well all tournament, except for the two games they played against Kyungnam. The Koreans' 13-0 win earlier Monday relegated Yard Busters to the knockout bracket, and they needed to beat Kyungnam twice for the title.
"The bats went cold and the girls got down on themselves," coach Guillermo Herrera said. "I expect them to come back next year and kick some butt."
if(typeof(dstb)!= "undefined"){ dstb();}
if(typeof(dstb)!= "undefined"){ dstb();}
---
---
---
---