Daegu, Seoul American to battle for Korea titles
---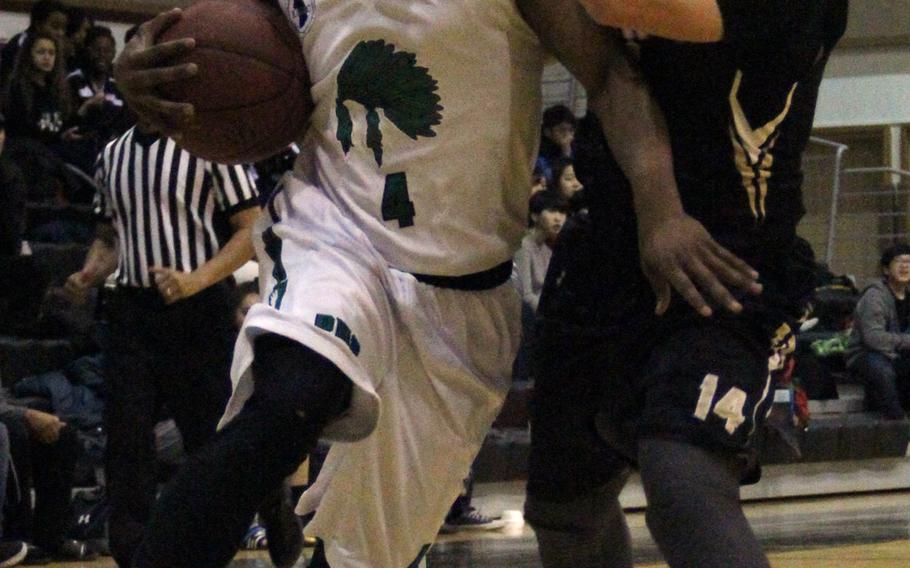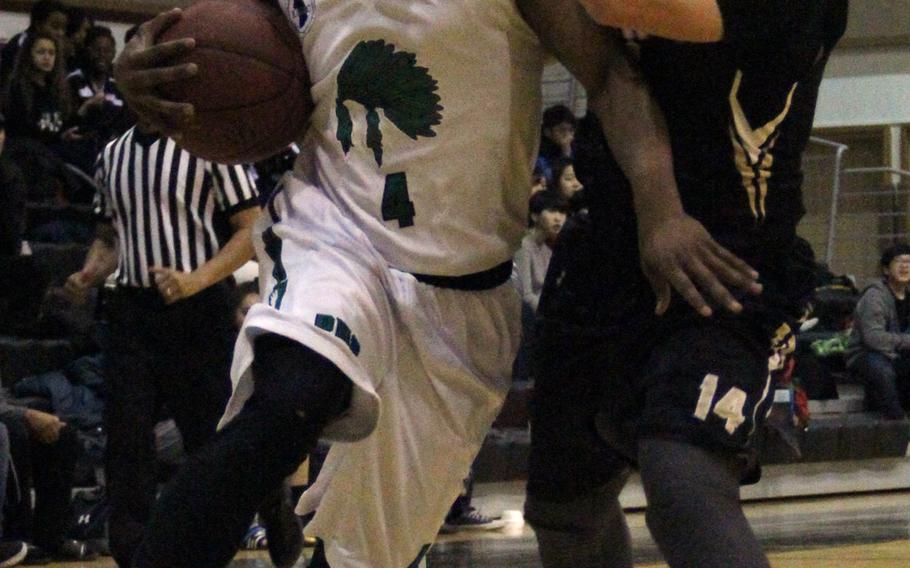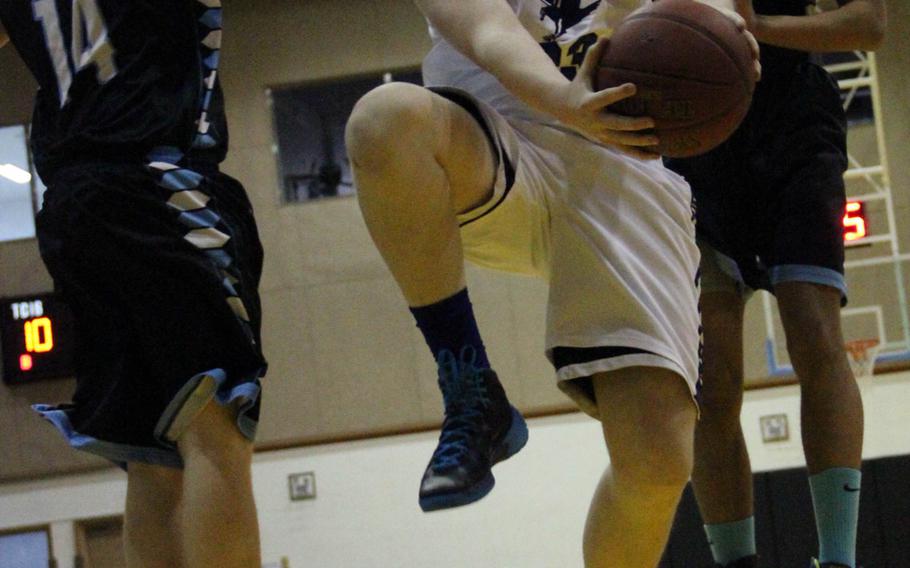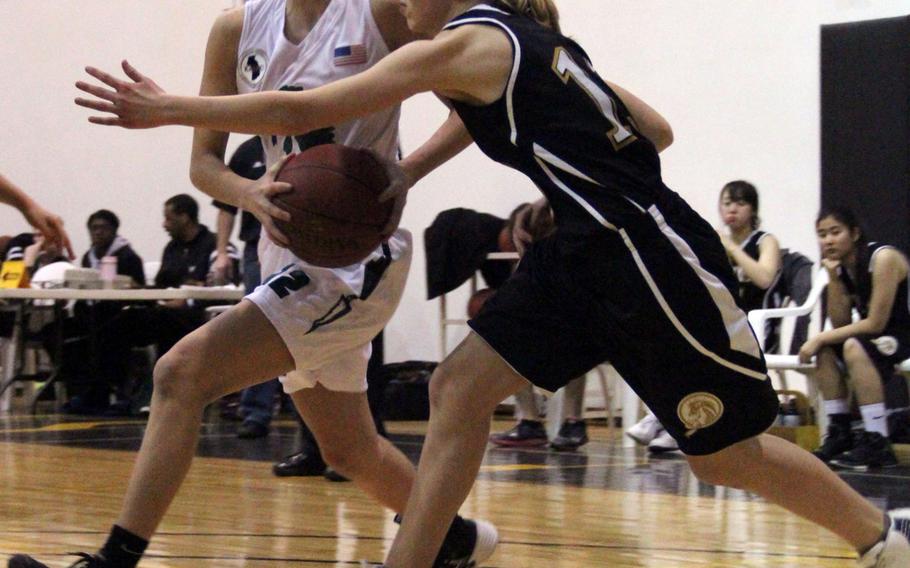 Friday was finally Devin Green's time in the spotlight.
The Daegu sophomore guard lives much of his basketball life in the shadows of his more noteworthy Warriors teammates Anfernee Dent, Torian James, Dawud Abdul-Azeez and Will Steele.
But Green's driving layup with two seconds left in Friday's 68-67 semifinal win over Yongsan International-Seoul propelled Daegu into Saturday's championship game against Seoul American in the Korean-American Interscholastic Activities Conference Blue Division tournament.
"Devin's a young player (who is) going to be great," Daegu coach Phillip Loyd said. "He's always around the rim."
The layup capped a see-saw tug-of-war between the Warriors and Guardians, neither of whom led by more than six points and swapped the lead 13 times. Dent paced three players in double figures with 19 points. Yongsan's Xavier Sawyer topped all scorers with 28.
"Tiring right now," Loyd said. "It feels great." Daegu faces the reigning tournament and KAIAC regular-season champion Falcons, who had a far easier time in its semifinal. Henry Arnold V – great-great-great grandson of Gen. Hap Arnold – scored 12 of his 17 points in the first quarter of a 78-33 romp over Osan. Coach Steve Boyd's experienced, veteran ballclub has been getting solid play from its bigs the past few games after what he called a "lull" that the team suffered last month.
"The last couple of games, we've been getting that passion to put us over the top," he said. "We've been getting a lot of contributions. We're solid. And there's competition between the players for playing time. There's depth, and that's been one of the big things."
Seoul American beat Yongsan in last year's title game, also held at Taejon Christian International School.
Daegu's girls also cruised in the semifinals to their second straight finals appearance against the Falcons. Aaliyah Scott led four players in double figures with 14 points and the Warriors bested Taejon 57-28.
That was not the case for the Falcons, who engaged in yet another close contest with Seoul Foreign; the teams split their two regular-season meetings, with the total victory margin three points. Janade Amos' 13 points helped Seoul American edge the Crusaders 45-41.
Coach Jim Milliken and Seoul Foreign are "always a challenge" for the Falcons, Seoul American coach Jesse J. Smith said. "I have a lot of respect for that team."
The Falcons got off to a slow start this season, but they've made big strides in the past few weeks, Smith said. "I tell the girls to be patient with your learning, work hard and the rewards will come."
Elsewhere, for the third time this season, Kadena's girls had to rally to beat their Okinawa rival Kubasaki, 57-55, capturing the season series 3-1. Alicia Vaughan paced the Panthers with 16 points.
Kubasaki's boys also claimed their season series against Kadena, getting 19 points from Nick Ashley and 17 from Kareem Key in a 74-60 triumph over the Panthers.
At Matthew C. Perry in Japan, the host Samurai played bonus basketball for the second straight week, outlasting Nile C. Kinnick 77-71 behind Vincent Ermitano's 27 points. P.J. Gomes scored eight off the bench.
And the Samurai girls got their first win in 14 tries this season, edging E.J. King 26-21 behind Ani Erhart's 17 points and 15 rebounds. The win came two days after Perry announced the Samurai would not play in the Far East Division II tournament due to a lack of players available to travel to Daegu, the tournament's host site.
On the mats, two tournaments faced a backdrop of foul weather forecasts affecting the DODDS Korea's final regular-season wrestling four-way dual tournament and the Kanto Plain Association of Secondary Schools finals, each scheduled for Saturday.
Meet organizers called off the Kanto finals and rescheduled them for Monday, host coach Shu Yabui of St. Mary's International. The event would begin at 9:30 a.m. Monday pending availability of officials. Up to 6 inches of snow and 58-mph gusts are forecast for the Tokyo area on Saturday.
A similar call on the DODDS Korea meet will be made Saturday morning when road conditions are evaluated, assistant coach Julian Harden of host school Seoul American said by phone on Friday. The Falcons are to host Osan, Daegu and Humphreys in the final meet of the regular season.
It's the two leagues' last preparation for the Far East meet scheduled for next week at Yokota.
---
---
---
---