Prep roundup
Beast results indicate Far East will be tough to call
by
Dave Ornauer
January 21, 2017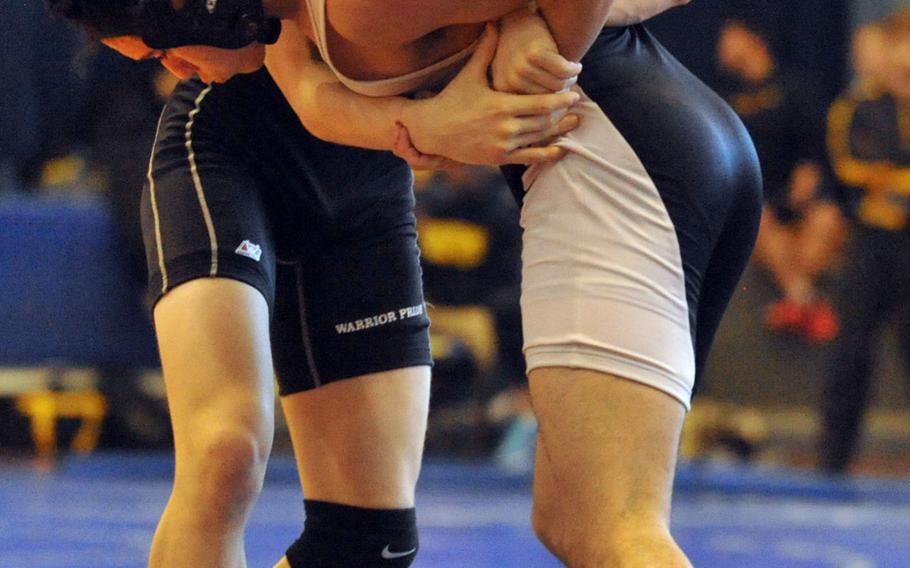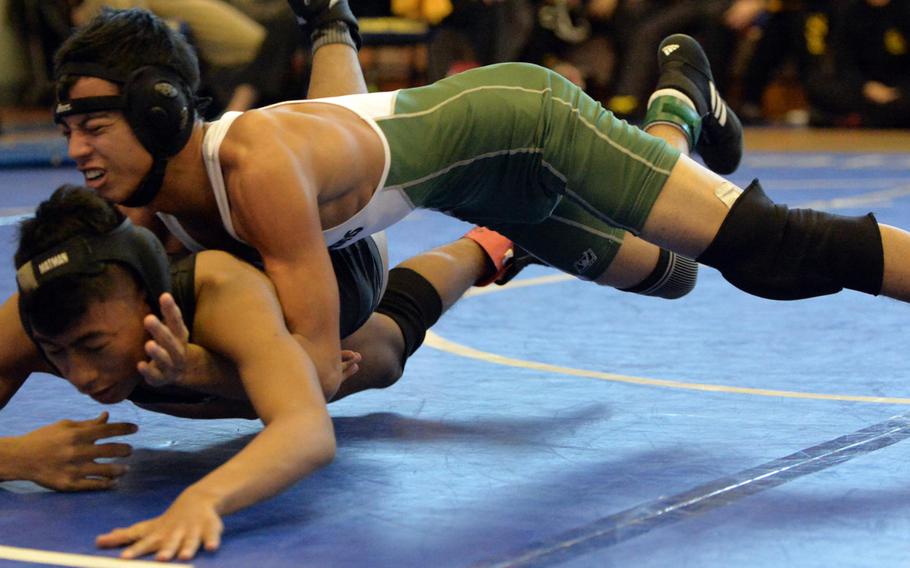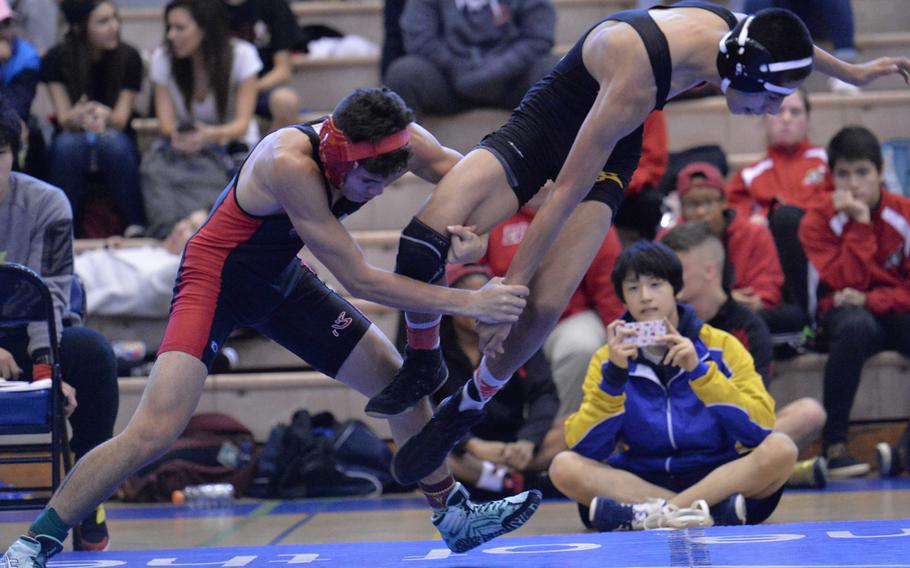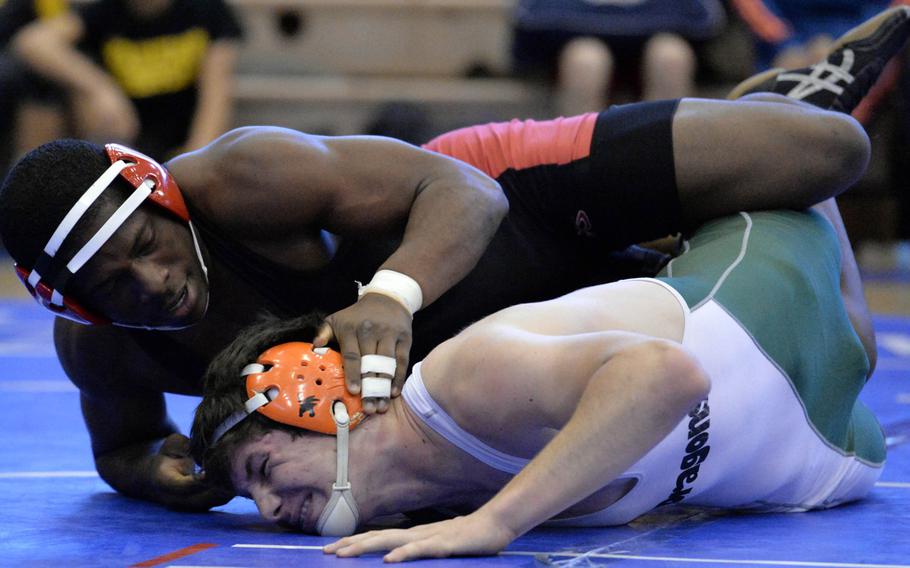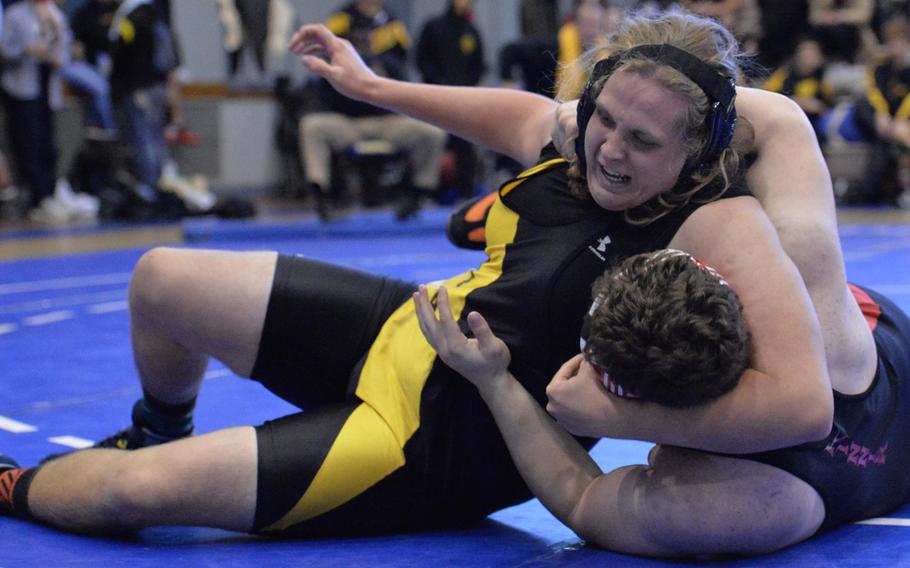 YOKOTA AIR BASE, Japan – It was Redemption Day for several wrestlers during Saturday's "Beast of the Far East" Invitational, which saw the tightest finish in terms of team standings in the event's 23-year history.
St. Mary's and Nile C. Kinnick, who've traded the "Beast" team title and have monopolized Far East Division I tournament titles the last three years, each finished with 106 points, with the Titans earning top honors by winning five titles to the Red Devils' four.
It was a far cry from the previous Saturday's tournament, a dual-meet affair at American School In Japan in which the Titans dominated the Red Devils, winning their dual 35-19.
"Everything I was frustrated about last week, I was happy about this week," Red Devils coach Gary Wilson said. "Having those guys who lost last week come back and make a statement, I think they responded great."
Conversely, Titans coach and former three-time Far East champion Shu Yabui said he was far from satisfied.
"We were far too passive and not attacking enough," Yabui said, adding that he likes to come to "Beast" to view what other teams are doing and build strategies to counter them. "This was about what we were not doing," Yabui said.
"It was a good learning experience for me, and hopefully, for the boys."
Among those earning redemption was Chon Dareing, Kinnick's 115-pounder who lost to the Titans' Tatsuhito Matsumoto in last week's dual, but rallied to decision him and go on to win the title.
"Coming back off a first loss of the season, it feels really good to have a turnaround like this," Dareing said.
Kinnick 180-pounder Dwayne Lyon, a reigning Far East champion, similarly lost to Alex Patton of St. Mary's in the dual, and turned around to decision him 4-2 Saturday.
"I wasn't as tired" as last Saturday. "I have more energy to do what I normally do," Lyon said. "It felt great to come back and do something I should have done last week."
Same held true for Lucas Wirth, who stumbled against St. Mary's Rio Lemkuil last week in a battle of reigning Far East champions. Wirth rebounded to pin Lemkuil in 57 seconds Saturday and stormed to the 122-pound title.
"It lit a fire under me," Wirth said of the previous loss to Lemkuil.
Devoney Stanley was Kinnick's other winner at 129.
Five Titans mounted podium: 101-pounder Eshan Singhi, three-time Far East champion Chang Young Lee at 135, defending Far East champion Ryo Osawa at 141, Mitchell Krcelic at 168 and 215-pounder Shane Koslow.
Of the remaining winners, Hunter Lane, a Daegu senior, was the face of a two-man contingent. Lane, a Far East runner-up last year, beat Zama's Curtis Blunt by technical fall.
"I think we did good today," said Lane, whose teammate, Jake Dexter, placed third at 158. "We have some little things to tweak, some things to work on, but this gives us an assessment of what we have to work on for Far East," scheduled for Feb. 16-18 at Osan.
Kyan McCarty (108) of Kubasaki was one of two Okinawa-based winners, the other being James White, a Kadena heavyweight.
After finishing second in 2016, "I wanted redemption," McCarty said, adding that he had resolved to "work hard in practice, be serious wrestle smart and come away with the gold."
White won a round-robin with just two other wrestlers, Kinnick's Marc Domery and Kubasaki's Jeremy Liu. "It would have been better to have a bigger weight class," White said. "But it was good competition, good experience to come here and wrestle new people."
Callum Marshall of Christian Academy Japan captured the 158-pound title and was voted the tournament's Outstanding Wrestler by coaches.
Humphreys takes command of Korea boys hoops chaseYONGSAN GARRISON, South Korea – Ron Merriwether has been in this very spot before, on the back side of a regular-season sweep of Seoul American. The second-year Humphreys boys basketball coach says he's hoping the rest of last season won't repeat itself.
"That was our No. 1 priority before the season even started to be more focused and be more prepared for that," Merriwether said after his -Blackhawks completed the regular-season sweep with a 77-69 win Friday at Seoul American.
Humphreys went on to lose both the Korea Blue tournament final to the Falcons, then later in February the Far East Division II title game at Yokota. "I have to do a better job of preparing the team" for tournament play, Merriwether said.
But with the win, the Blackhawks took control of the Korea Blue regular season at 7-1, 1½ games ahead of the Falcons (5-2). "Let's hope the same scenario (as last year) plays out," Falcons coach Steve Boyd said. "They've got a good team."
Friday was a night for basketball rivalry games, and teams nicknamed Panthers almost ran the table, as Yokota's boys routed Zama 84-49 and the girls won 37-24. Guam High's boys beat Notre Dame 66-35 to improve to 2-0 before falling Saturday at home in overtime 68-63 to St. Paul Christian.
Kadena's girls completed a four-game season sweep of Kubasaki, 52-26 on their home court. Kadena's boys just missed making a four-game sweep of their own, fading in the stretch 68-62 to Kubasaki.
Twitter: @ornauer_stripes