Bad weather is good news for Perry again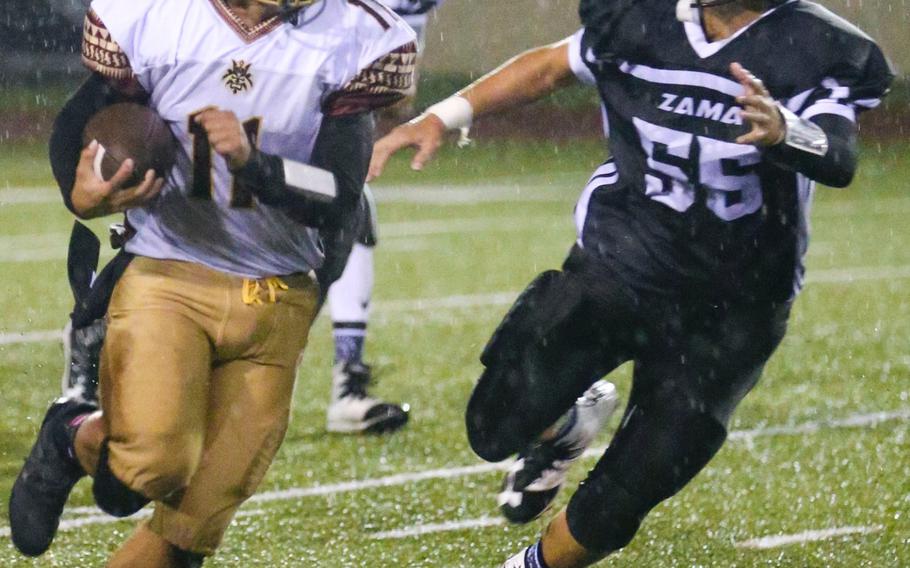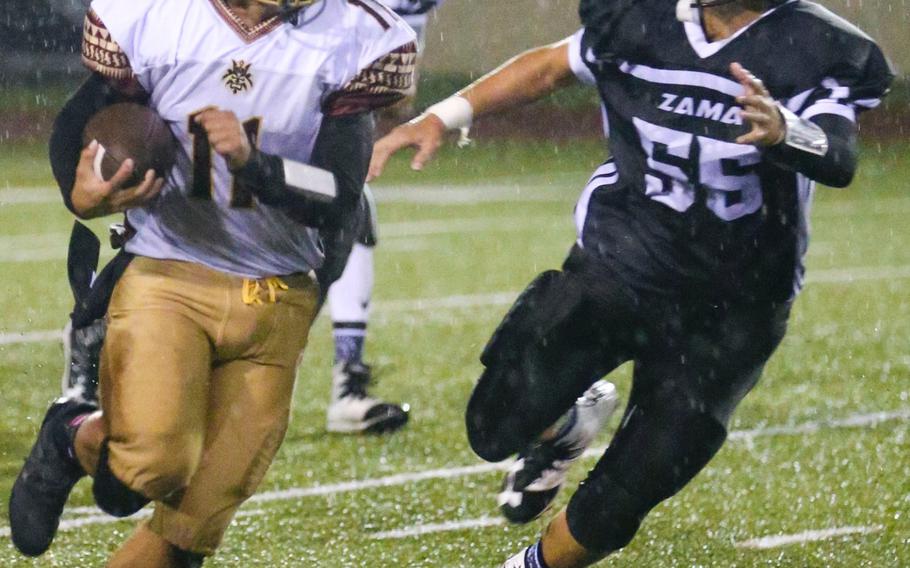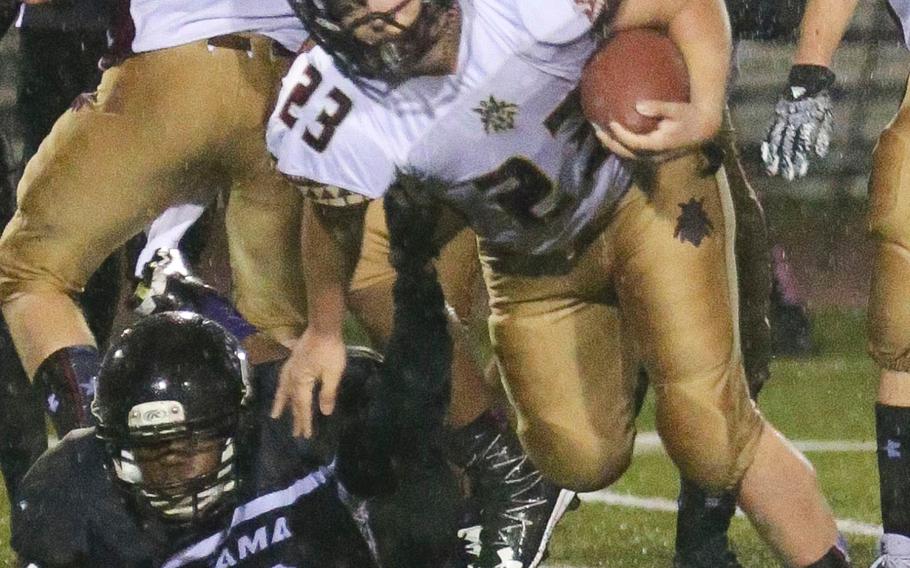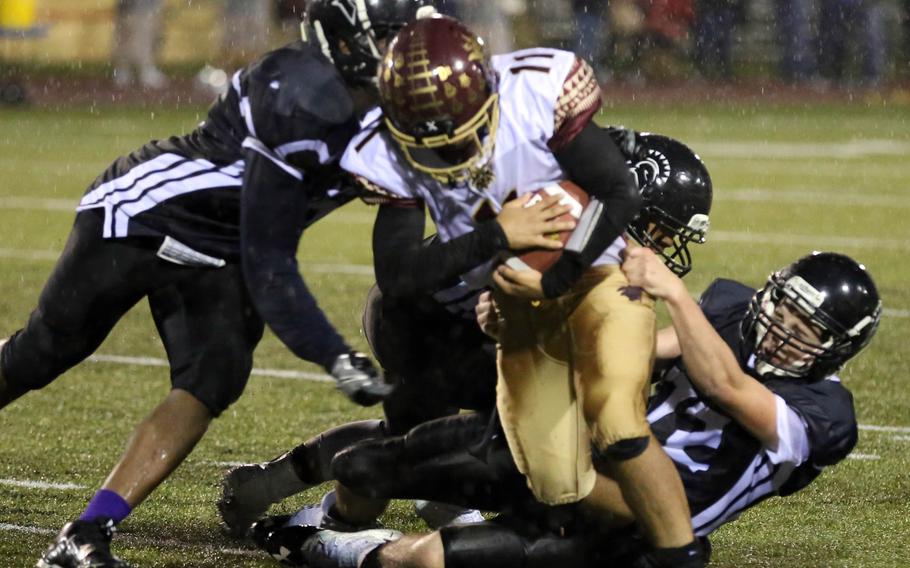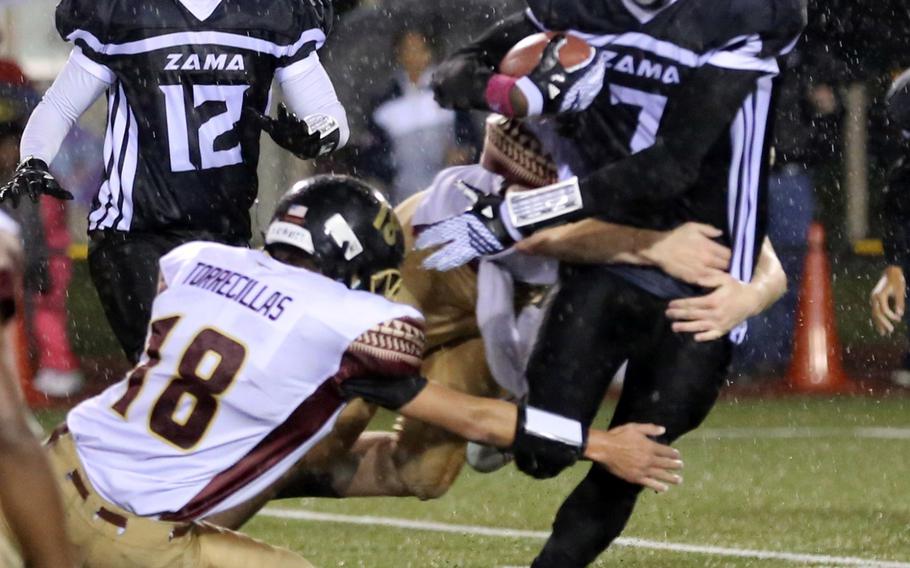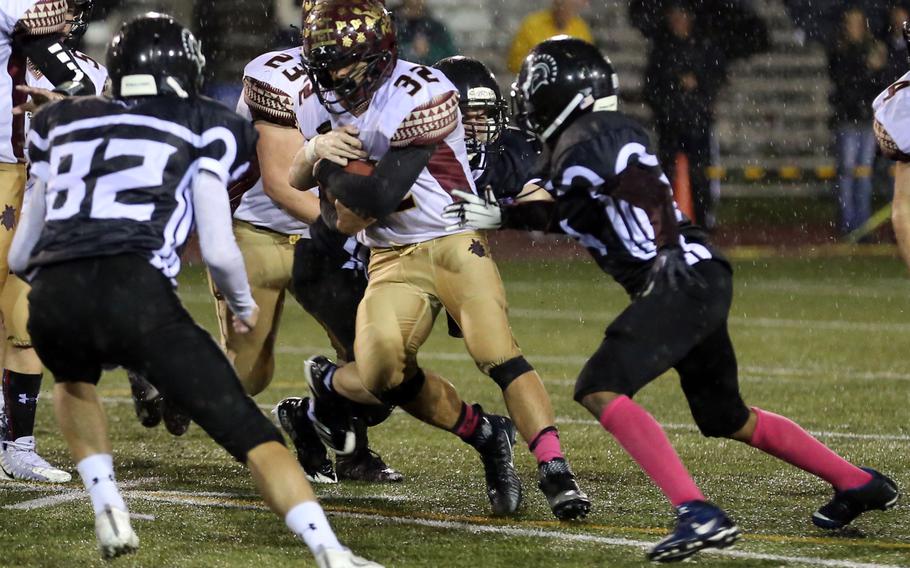 CAMP ZAMA, Japan – When Frank Macias checked the weather forecast for Friday at Zama – rainy and chilly – he said he couldn't help but suppress a smile. For that's the sort of weather he and his Matthew C. Perry players say they prefer.
It showed on a Friday better fit for water fowl than football. The Samurai got three rushing touchdowns from Ethan Peterson while the defense forced six turnovers in a 43-0 romp over Zama. Perry won the two-game season series from the Trojans by a 97-0 margin.
"We were borderline hypothermic" after the game, Macias said. "I could barely feel my hands. (But) when we saw the forecast, we knew that would play right into our hands. We play well in bad weather."
Perry improved to 4-1 overall and 3-0 in DODEA-Japan Division II, all but clinching its third berth in the Far East D-II title game in four years. A win Oct. 20 at home against Robert D. Edgren would seal the Samurai's trip to visit the DODEA-Korea D-II champion on Oct. 27 or 28.
"If they keep playing like that, they should be on their way to making another appearance" in the D-II final, Trojans coach Scott Bolin said. Zama fell to 1-4 overall and in DODEA-Japan.
Despite the rain, heavy at times, and chilling northerly winds, the Samurai used their standard power running game to burrow through the Trojans, not putting the ball in the air during a game at Zama for the second straight season.
Ethan Peterson had 88 yards and three touchdowns on 11 carries, Andrew Borrero 73 yards and a TD on 13 carries and Marshall China got the Samurai on the board with a touchdown and finished with 34 yards on five attempts.
Elijah Lebron, kind of an afterthought following names like Peterson and Borrero, took his turn in the spotlight on both sides of the ball. He had 69 yards on nine carries plus six tackles and a fumble recovery. "We got him into the action; he was running well," Macias said.
Borrero added 11 tackles and two fumble recoveries. Mason Graydon had five tackles, three of them sacks, Garrett Macias had an interception to set up a touchdown. Freshman Zach Greulich, replacing starting cornerback Dylan Ernst who stayed home to take the SAT, had a 43-yard interception-return touchdown.
"I'm proud of the guys," the elder Macias said. "It will be a nice trip home."
In a rematch of last year's D-II final and what could be a preview of this year's, the Samurai visit DODEA-Korea D-II-leading Humphreys on Friday; kickoff is at 7 p.m. Zama hosts D-I-leading Nile C. Kinnick in their annual game played at Naval Air Facility Atsugi; kickoff is at 7 p.m. Friday.