ASIJ stifles Kadena for first Far East football title
---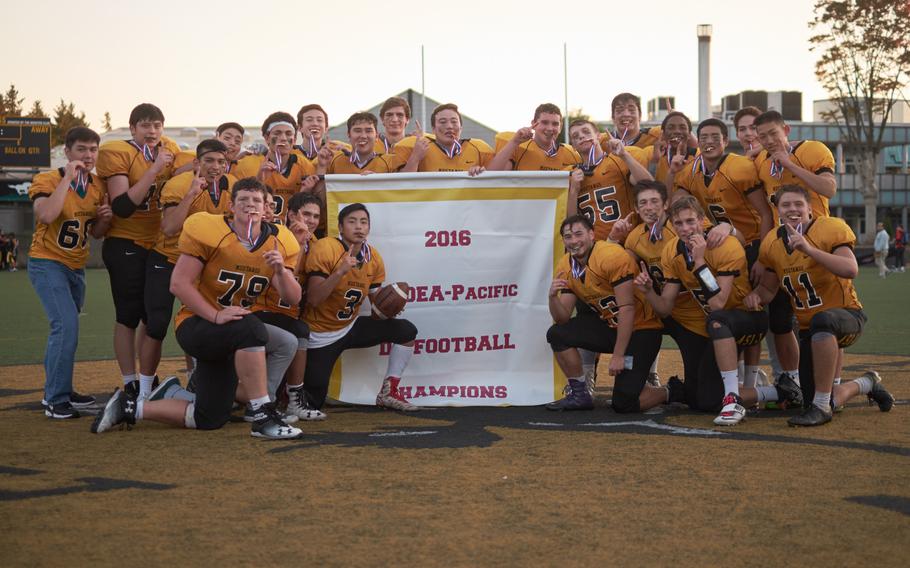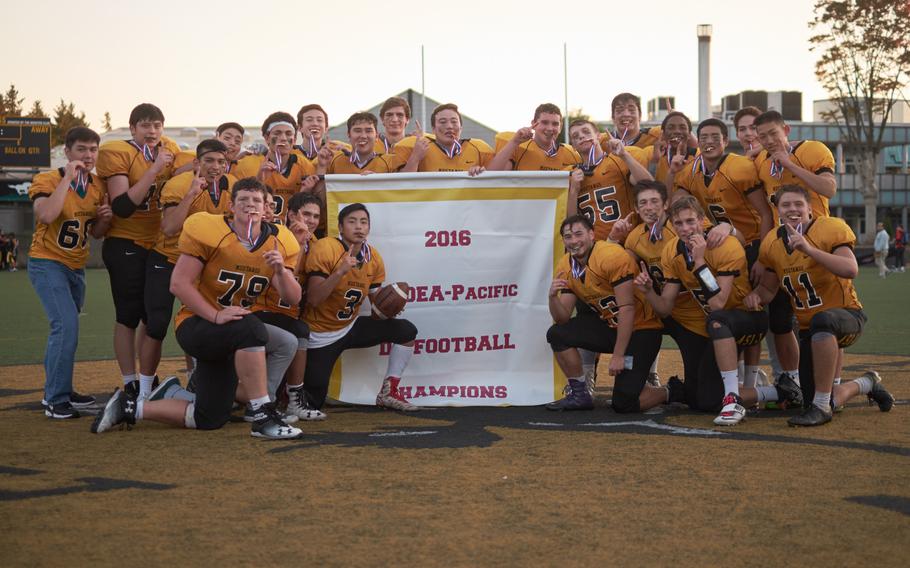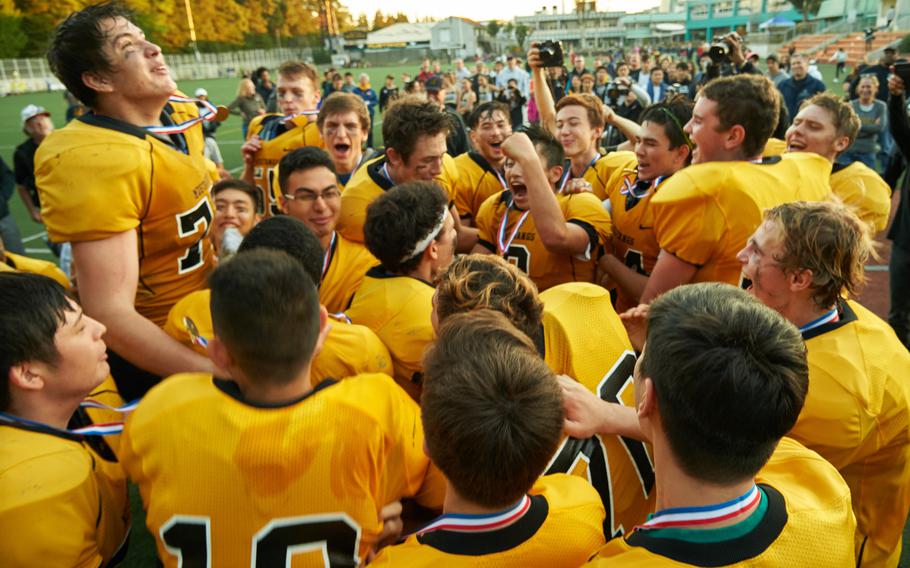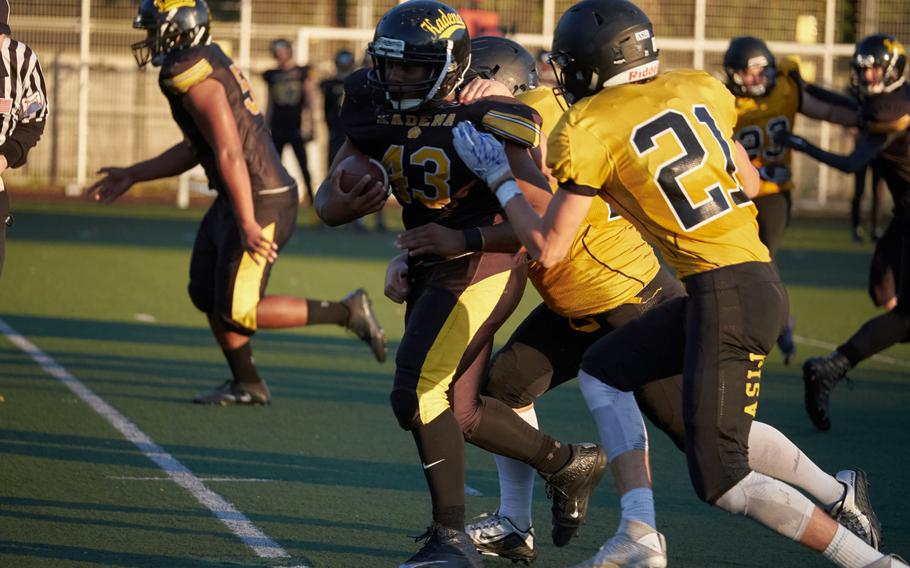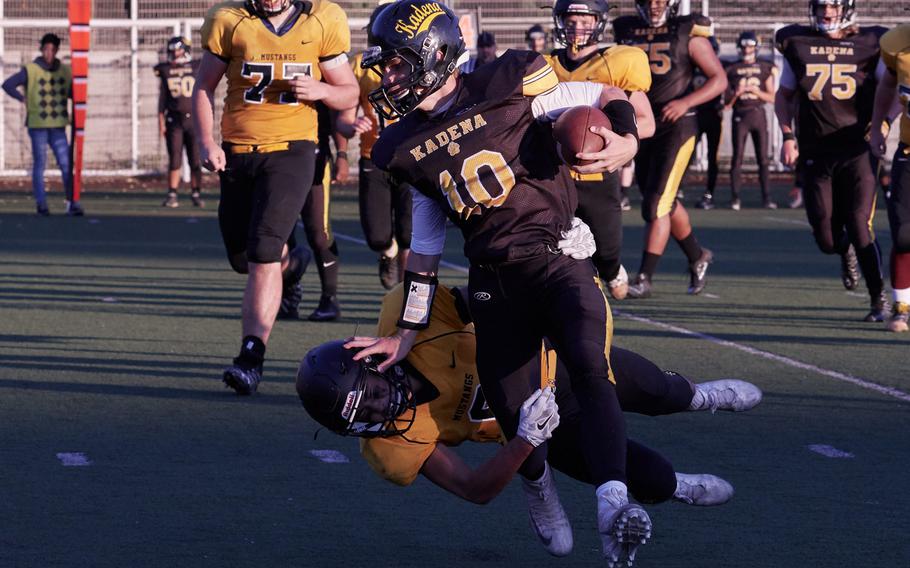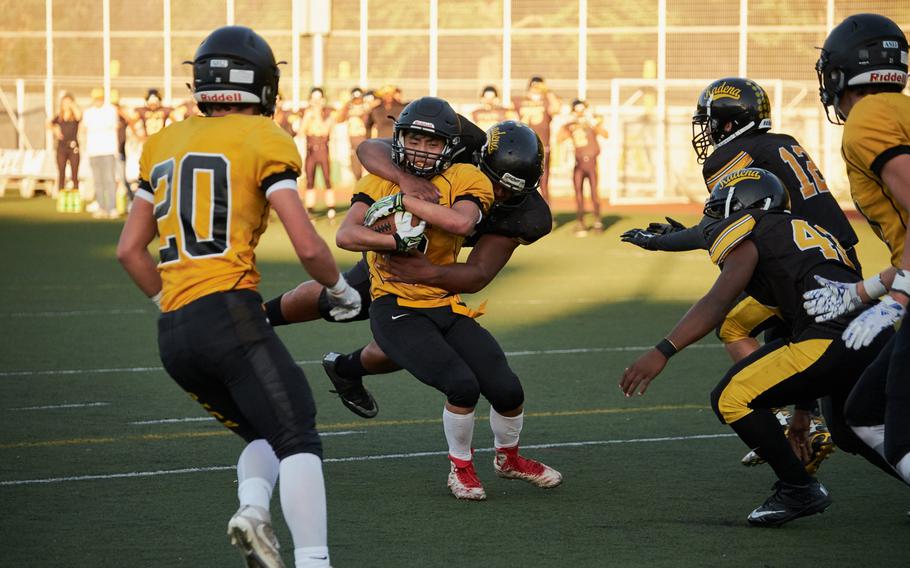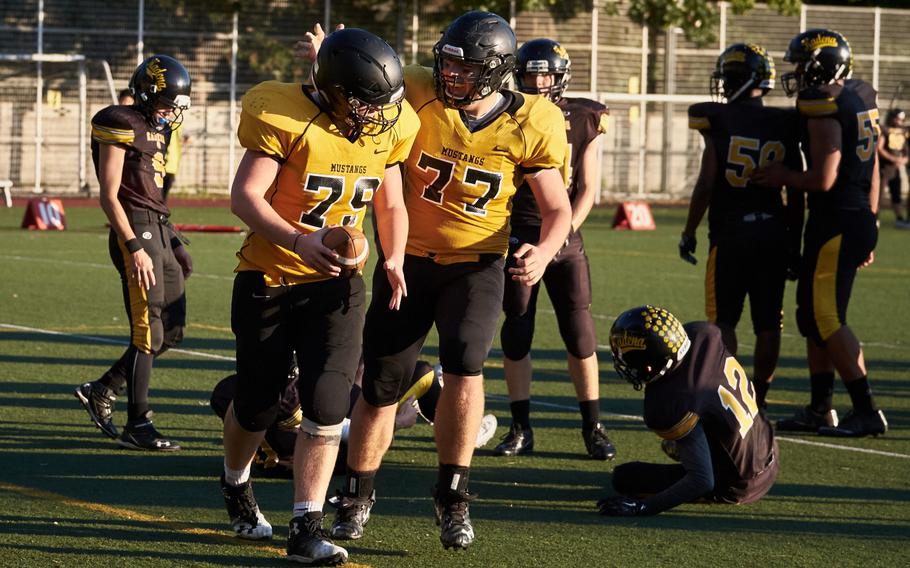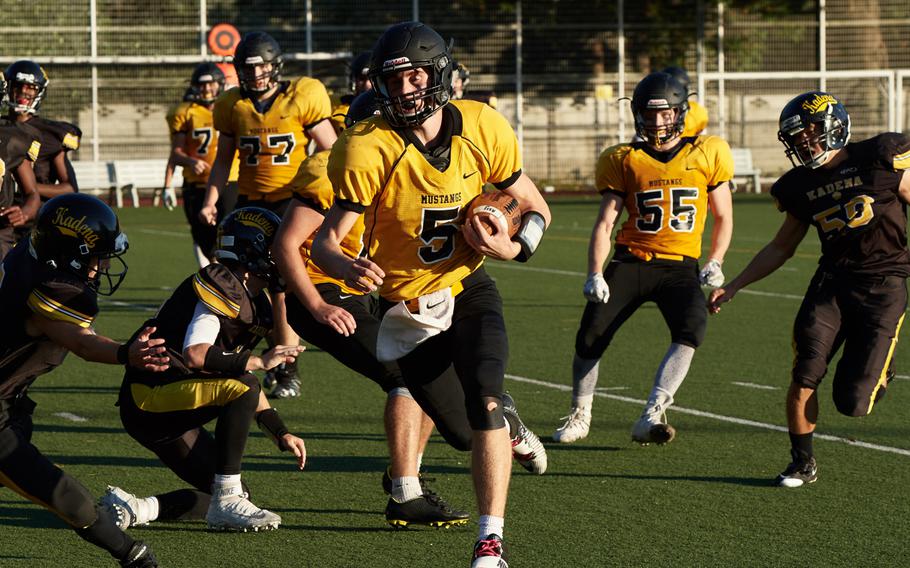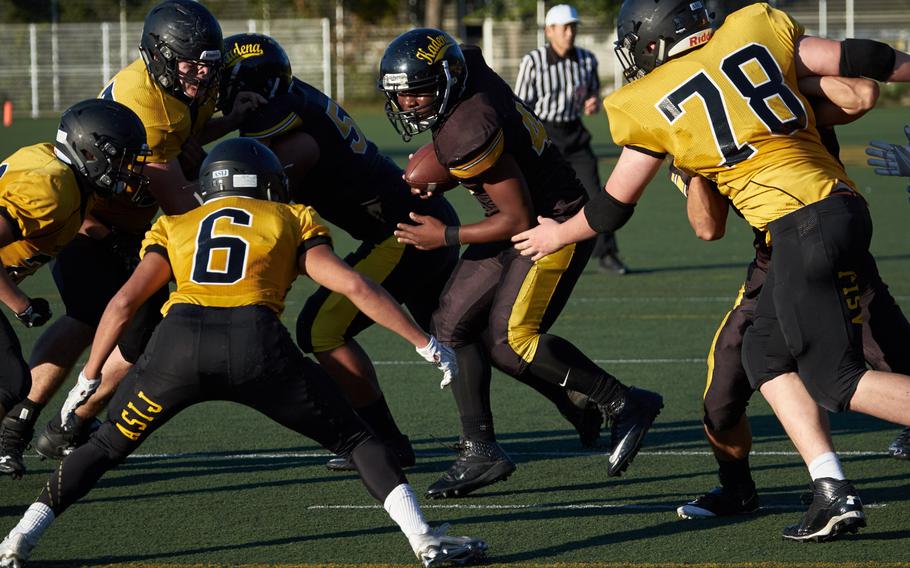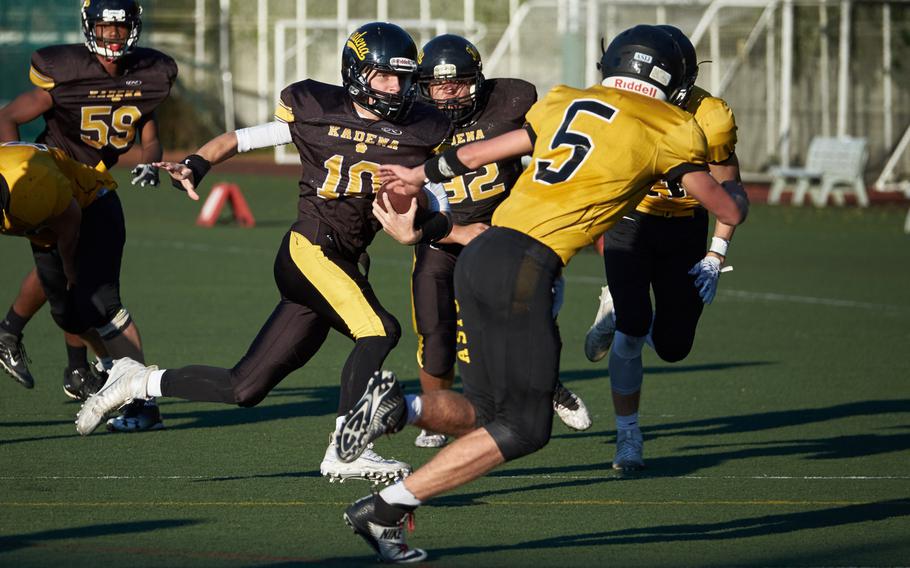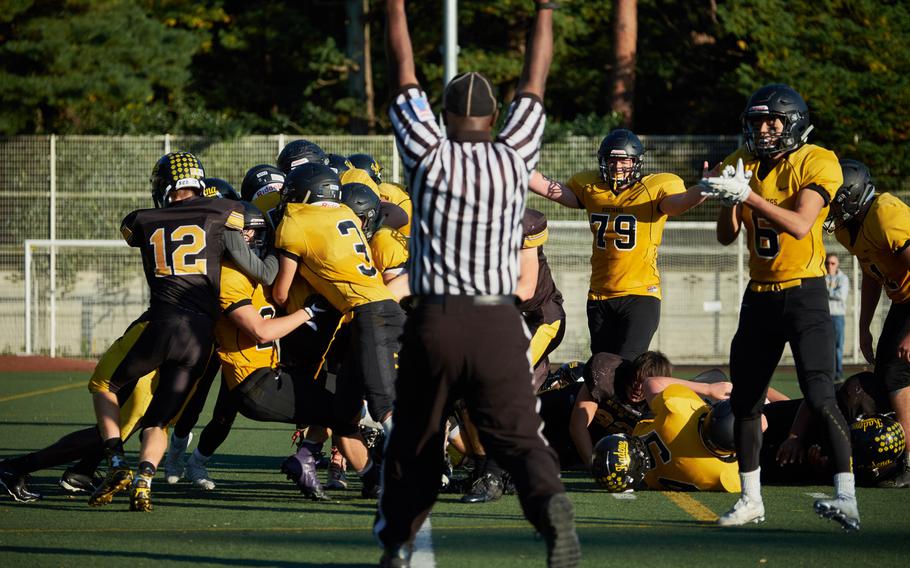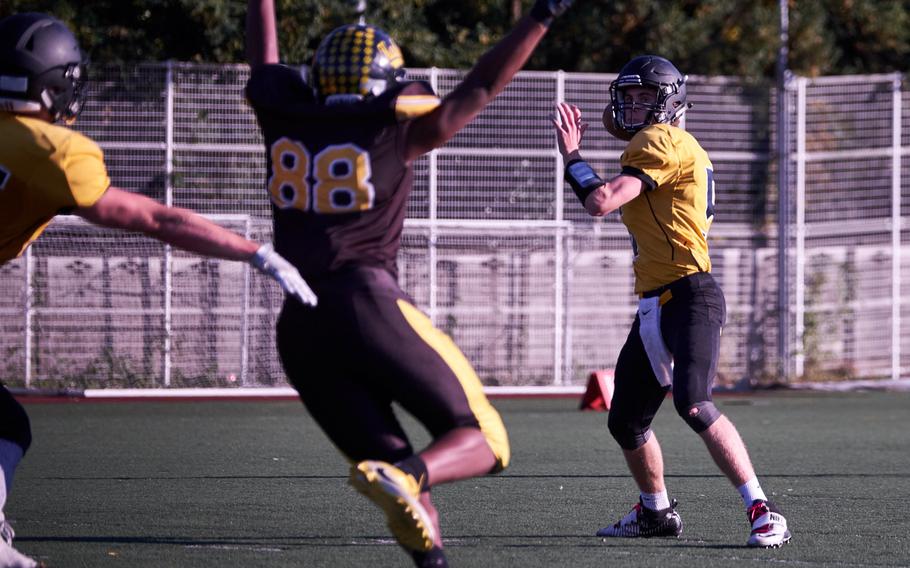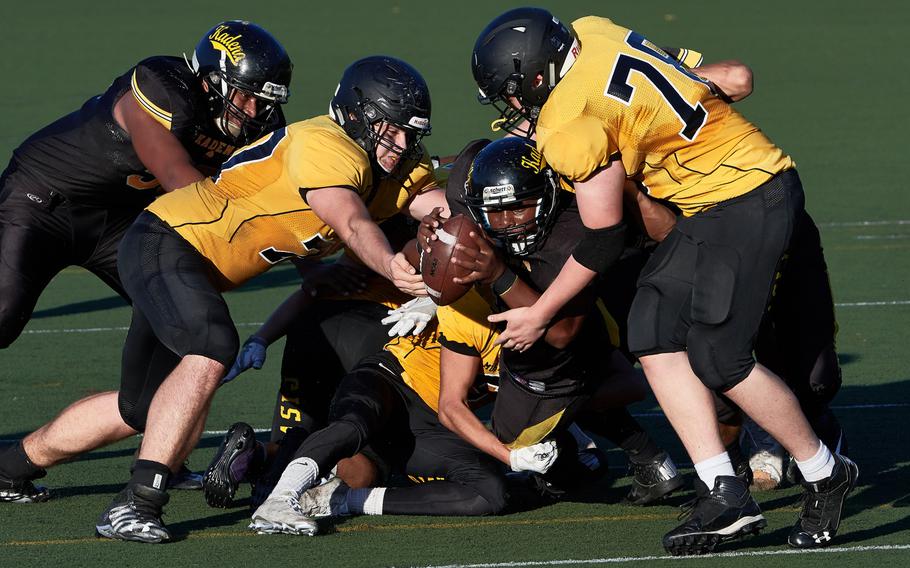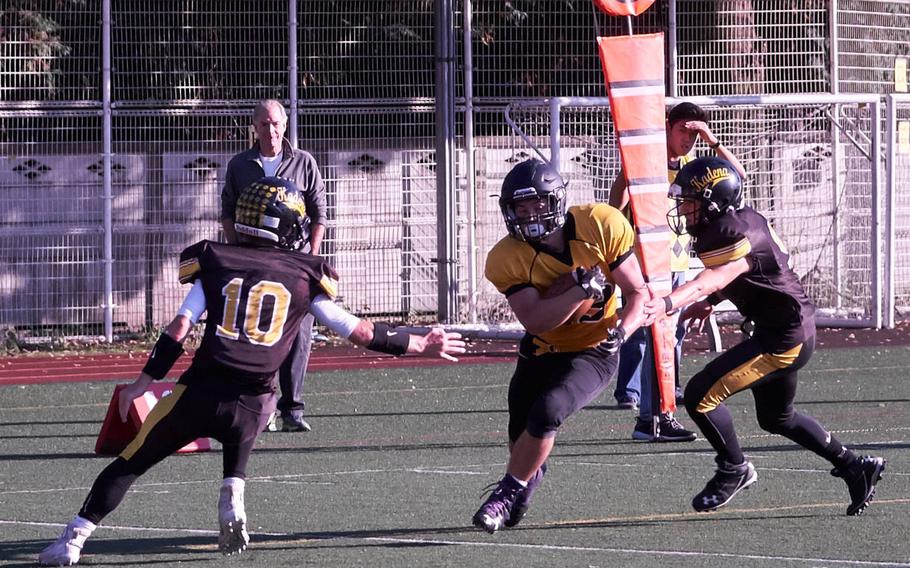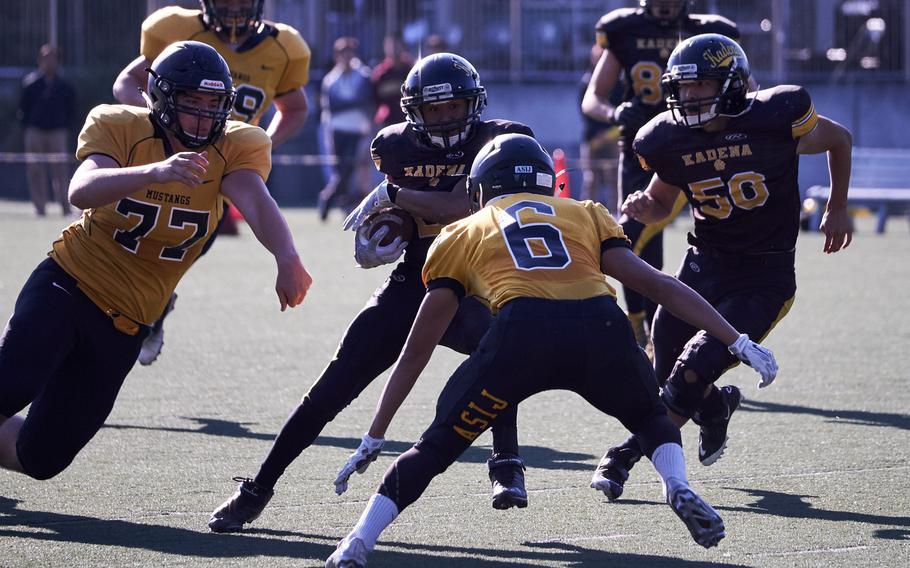 TOKYO – The defense continually came up with big plays to keep Kadena's vaunted ground game hemmed in. And Jack Ambrosino took care of the offensive end Saturday for American School In Japan.
The junior quarterback passed for two first-half touchdowns and ran for two second-half scores, leading the Mustangs to a 35-18 dethroning of the two-time defending champion.
It was the Mustangs' first D-I football title in just their second year of eligibility and playing a full D-I schedule. ASIJ (7-1), an independent international school in Tokyo's western suburbs, has now won DODEA-Pacific Far East titles in every sport except softball.
"It feels great. We're excited about it," said John Seevers, in his 40th season coaching the ASIJ football program, 33 as head coach.
Until this season, the Mustangs had won five outright Kanto Plain titles and shared two others since 1973. Much of the same players on an ASIJ team that opted in to a full D-I schedule but went just 3-4 last season now has the Pacific's biggest prize of all.
"This has been an absolutely fantastic group," Seevers said. "They had an unbelievable work ethic. The character has been unprecedented."
Kadena (6-2) fell short of winning its third straight title. The Panthers have been to a record nine D-I title games and have a Pacific-best five titles, but lost for the second time in four years.
"These guys are my heroes," coach Sergio Mendoza said. "They got to where they needed to be. We just got beat by a better team. They out-tackled us, they out-performed us, they out-disciplined us. We made too many mistakes and against a team like that, you can't make that many mistakes."
It was an ASIJ team featuring a defense that held the Panthers to 216 yards. While Kadena only turned over the ball once, the Mustangs kept short-circuiting Panthers drives with clutch open-field tackles.
Seniors Dalan Gerber and Stone Damon and sophomore Oliver Rogers each recorded three tackles for losses and senior Coe Laughlin one.
"This is something we've been working on all season," Laughlin said. "Every practice, we worked on open-field tackling. At first we weren't very good at it, but we worked on it and I think we finally got the hang of it."
"We just went after it, worked our butts off this whole season, this whole two weeks leading up to this game to prepare," Damon said. "We knew if we could keep them off the scoreboard, our offense was going to put up some points."
That job fell largely to Ambrosino, now 10-2 as a starter since being installed midway through last season.
He accounted for just 94 yards, but threw touchdown strikes of 53 yards to Jo Tsusaka and 23 to Coe Laughlin out of the backfield in the first half. In the third quarter, Ambrosino added short touchdown runs, of 1 and 2 yards, to help keep the Panthers at arm's length.
"Those were very short passes and the great plays were made by my receivers," Ambrosino said.
On third-and-12 from the ASIJ 47, Tsusaka took the short pass from Ambrosino and followed a convoy of Mustang blockers to the end zone.
Kadena had gone up 6-0 on Uriah Morris' 3-yard TD run, capping an 11-play, 66-yard opening drive by Kadena. That drive featured a Morris 22-yard run on a fourth-down fake punt to keep the drive alive.
A key moment came just four minutes before halftime when ASIJ punted. But Kadena's Owen Sinning couldn't find the handle on the ball and ASIJ's Michael Taylor fell on it, setting up Laughlin's TD catch 3:19 before half.
"Had to get it. We needed the ball, get a turnover," said Taylor, who had two pickoffs, a sack, a fumble recovery and a touchdown pass in ASIJ's win last month. "We had to get our team in position to score."
Ambrosino's 1-yard TD run 2:46 into the third quarter increased ASIJ's lead to 21-6.
Morris replied on the next possession with a 4-yard scoring run, slicing the margin to nine points.
A screen pass to Rogers on ASIJ's next drive set up Ambrosino's 2-yard keeper. On a tackle-eligible play, Ambrosino hit Damon for a two-point pass.
Tsusaka capped ASIJ's scoring with a 4-yard run with 7:45 left.
Kadena scored the last points on a 64-yard, 13-play drive in 6:36, featuring a Cody Sego 29-yard pass on another fake punt to Abe Patterson. Sego capped the drive with a 7-yard keeper following a fumble with 1:01 left, then ASIJ ran out the clock.
"Words cannot express how happy I am," Laughlin said after the banner presentation. Asked if this was his last game with the Mustangs, Seevers, who has been rumored to be retiring, was noncommittal. "I don't know," he said, adding that he has until Dec. 1 to decide. But he did add about ASIJ as a team: "We'll be back next year and we'll be chasing the grail."
Twitter: @ornauer_stripesAmerican School In Japan 35, Kadena 18 Saturday at TokyoKadena 6 0 6 6—18ASIJ 7 7 14 7—35First quarter Kadena — Uriah Morris 3 run (run failed), 6-0, 5:33ASIJ — Jo Tsusaka 53 pass from Jack Ambrosino (Yuta Kato kick), 7-6, 8:23Second quarter ASIJ — Coe Laughlin 21 pass from Ambrosino (Kato kick), 14-6, 8:41Third quarter ASIJ — Ambrosino 1 run (Kato kick), 21-6, 2:46Kadena — Morris 4 run (run failed), 21-12, 5:40ASIJ — Ambrosino 2 run (Stone Damon pass from Ambrosino), 29-12, 11:06Fourth quarter ASIJ — Tsusaka 4 run (kick failed), 35-12, 4:15Kadena — Cody Sego 7 run (run failed), 35-18, 10:59Kadena ASIJ First downs 10 12 Rushes-yards 48-178 33-185 Comp.-att.-int. 2-3-0 3-9-1 Passing yards 38 88 Total offense 216 273 Returns-yards 5-80 4-42 Total yards 296 315 Sacks-yards lost 1-22 1-12 Penalties-yards lost 6-49 4-43INDIVIDUAL LEADERSRushing — Kadena: Morris 13-105, Jericho Williams 18-62, Sego 14-14, Abe Patterson 1-(-1), Braylen Frederick 2-(-2); ASIJ: Laughlin 6-80, Tsusaka 12-80, Andrew Howe 4-12, Ambrosino 6-6, Yoshiki Takahashi 1-5, Jake Noddin 3-3.Passing — Kadena: Sego 2-3-0-38; ASIJ: Ambrosino 3-9-0-88.Receiving — Kadena: Patterson 1-29, Owen Sinning 1-9; ASIJ: Tsusaka 1-53, Laughlin 1-23, Oliver Rogers 1-12, Stone Damon 1-2.
---
---
---
---