ASIJ stays in hunt by downing Humphreys
by
Dave Ornauer
September 29, 2018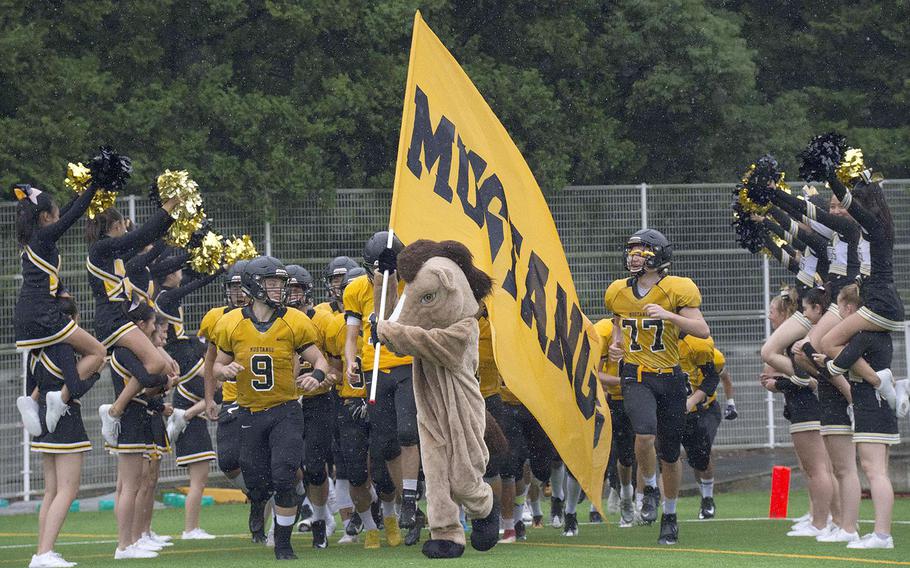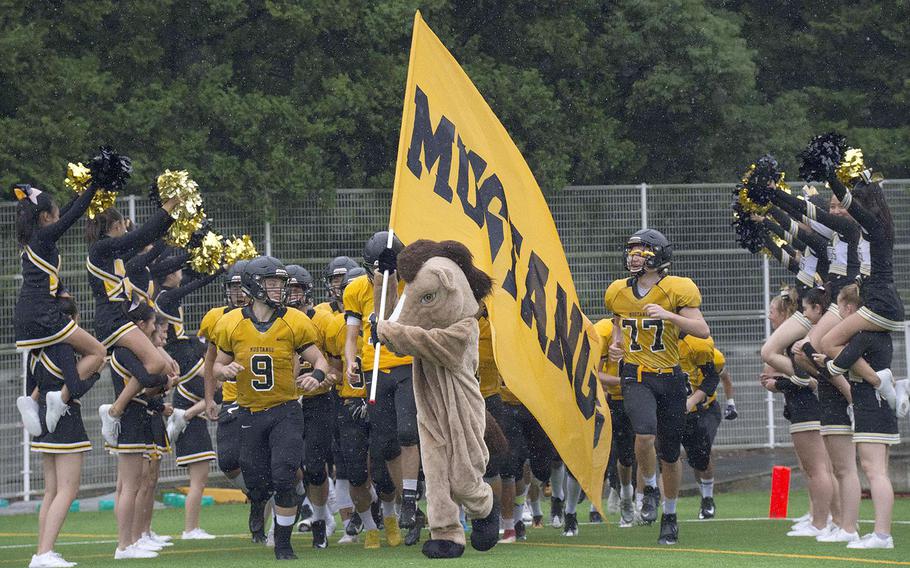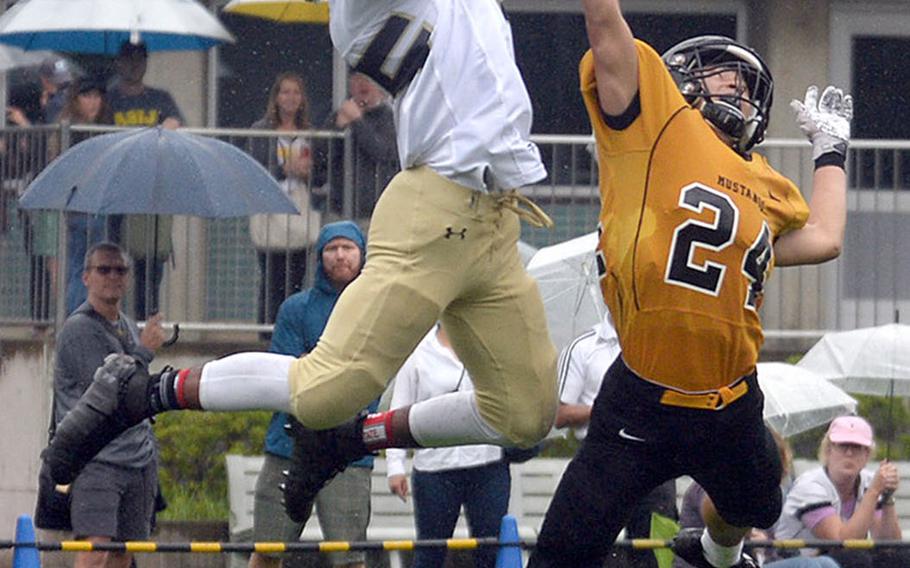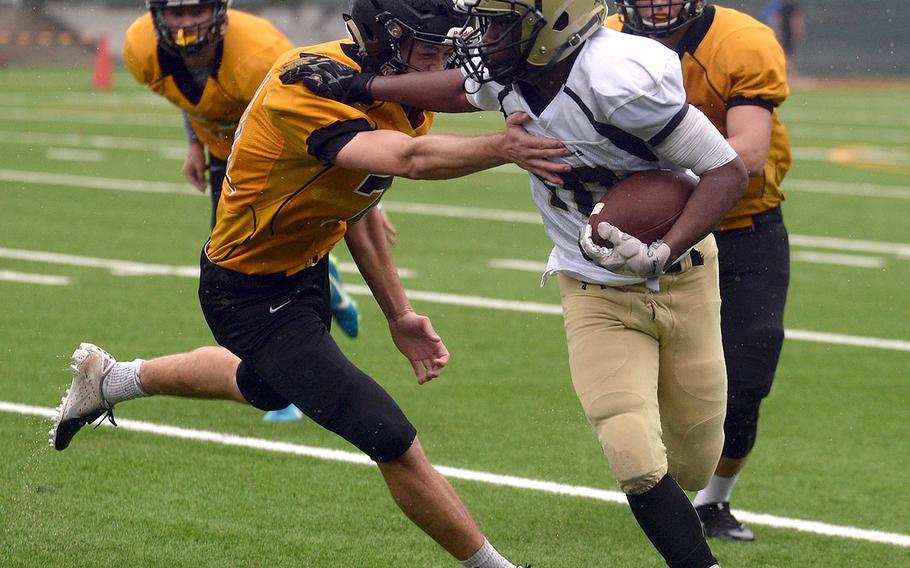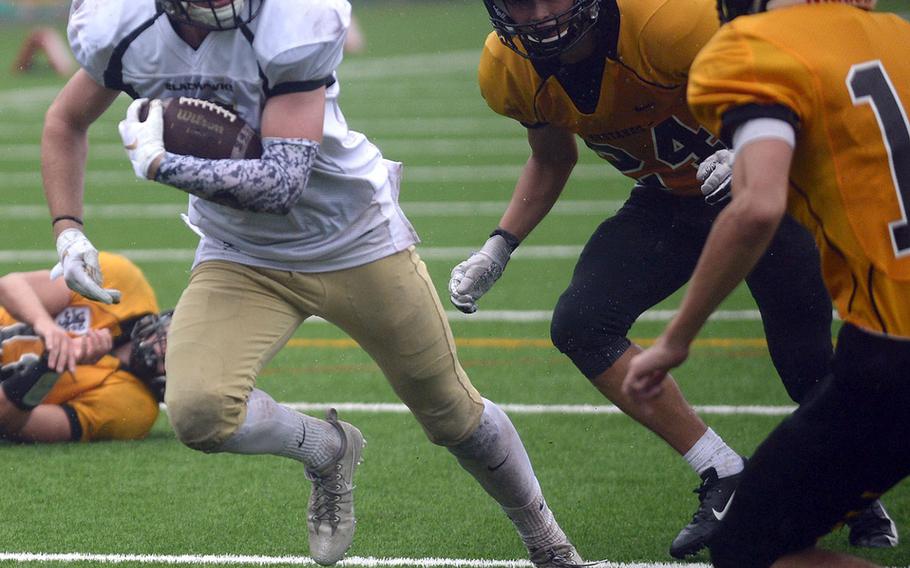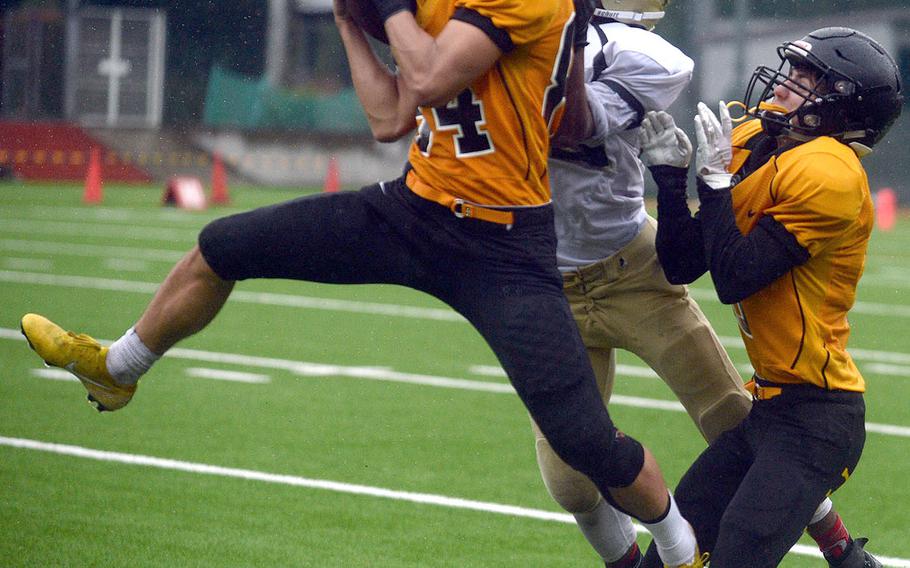 TOKYO – Tyler Cross dropped the first pass thrown his way Saturday - a sure touchdown that slipped through his fingers at the 5-yard line with nothing between he and the goal line but turf made slick by day-long rain.
The American School In Japan senior wideout-defensive back made sure he didn't drop anything else the rest of the game.
Cross caught a touchdown pass on the very next play and the very same pattern on the game's first drive, then sealed the contest with two fourth-quarter interceptions, leading the Mustangs past Humphreys 28-12 on ASIJ's Spirit Day.
Coach Roy Tomlinson "running the same play to me, I saw that as him giving me a second chance and I made sure not to drop it," Cross said, adding that it "set the tone" for him Saturday. "I let that one go, let all my nerves out, dialed in my focus and made other plays."
With the win, the Mustangs improved to 2-1 on the season and kept their hopes alive for a shot at the Far East Division I title they last won in 2016. The Blackhawks, winners of the Division II title last year, fell to 0-2, all but eliminating them from the D-I title chase.
The game was much closer than the score indicated; Humphreys led 12-7 early in the second quarter before the Mustangs closed with 21 unanswered points.
Cross capped ASIJ's first drive, nine plays for 84 yards in 3 minutes, 56 seconds, with his second-chance 31-yard TD catch from Oliver Rogers.
But Humphreys senior Miles Brice answered with scoring passes of 25 yards to Junior Gregory and 13 to Brent Carver, putting the Blackhawks ahead 12-7 11:43 before halftime.
From there, it was all Mustangs. Andrew Howe ran 26 yards out of the wildcat for a 26-yard touchdown 2:57 before halftime to make it 14-12. Humphreys fumbled into its own end zone, giving ASIJ a safety for a 16-12 cushion late in the third period.
Rogers' 1-yard sneak increased the gap to 22-12 with 7:57 left. Brice was then picked off by Mo West and Cross on successive plays, the first one setting up Rhys Gallagher's 23-yard scoring grab from Rogers with 5:27 remaining. Cross' second interception sealed it with 1:18 left.
"Again, fundamentals," Blackhawks coach Steven Elliott said. "Bad tackling, misreading blocks, just ended up biting us toward the end, forced us to push it and it didn't work out. At the end of the day, ASIJ was the better team."
Howe led all rushers with 84 yards on 16 carries. Rogers had 187 yards' total offense and three touchdowns, going 12-for-22 for 141 yards passing, and had one sack out of the linebacker's spot. Gallagher added 116 yards of offense for ASIJ.
For Humphreys, Brice was 7-for-17 for 79 yards and David Key ran 13 times for 61 yards. Gregory was the man of the game for the Blackhawks with an interception, a touchdown catch and 77 all-purpose yards.
Gregory "is a beast," Tomlinson said. "He made some amazing plays. They're (Humphreys) a good team, a quality opponent and they play the game the right way."
Elliott proclaimed the Blackhawks' season "far from over. They have to keep fighting, keep grinding and keep learning."
ASIJ next hosts Nile C. Kinnick at 5:30 p.m. Oct. 12 in a game that could help determine host rights to the D-I title game. Humphreys hosts Zama at 6 p.m. Saturday.