Red Devils are scorching on hills near Tokyo
Stars and Stripes
October 16, 2021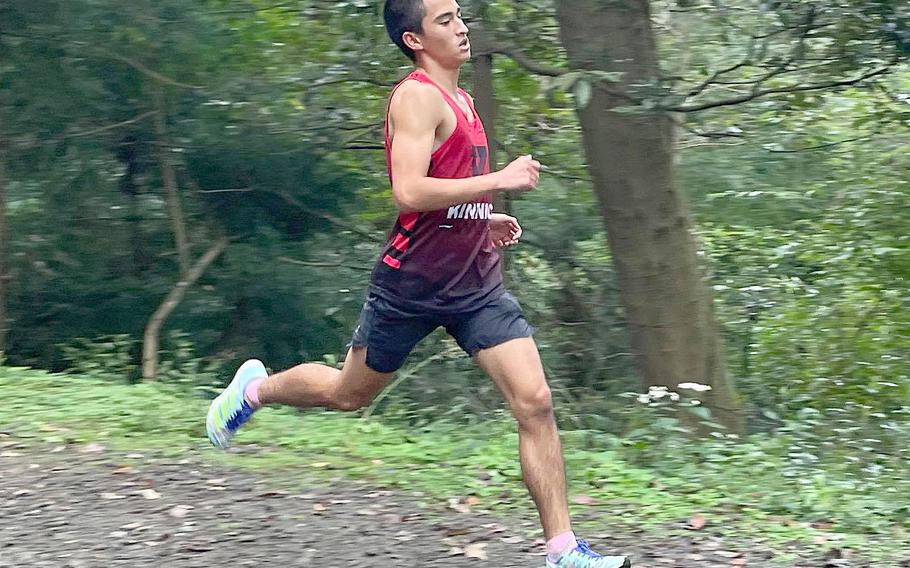 TOKYO – It was all about the Red Devils, individuals and team, during Saturday's DODEA-Japan cross country finals held in the rain in Tokyo's western suburbs.
Nile C. Kinnick senior Austin Shinzato captured the boys title in 15 minutes, 30.13 seconds, while freshman Clare Herring took the girls crown in 18:29.70 on the 4.417-kilometer course. They helped lead the Red Devils to both team championships by comfortable margins.
"Both times are very good," coach Luke Voth said. "I'm happy."
Shinzato cruised to his victory, nearly a minute and 15 seconds faster than runner-up William "Tate" Rannow of Yokota, who clocked 16:44.77. Six of the 10 top runners in the boys final standings were Red Devils.
Kinnick won the last in-person Far East boys and school team banners in 2019, with Shinzato finishing sixth in the Division I standings and eighth overall. Shinzato placed second in the 2020 virtual Far East meet, in which Kinnick finished second as a team.
"He came in as a freshman and learned the ropes, found a way to make an impact and help win a Far East as a sophomore, led his team as a junior through COVID and is finishing his career as a senior with an exclamation point," Voth said. "Can't ask him to do a better job than he is now."
Voth said he had seen Herring run as a middle-schooler and "knew she was talented."
"As an athlete and runner, she's mature beyond her years," Voth said. "Her work ethic is beyond question, she's coachable and she's a very smart and gutsy racer."
Kinnick's next challenge takes place the last weekend of October with the 2021 virtual Far East meet.
---
---
---