Pacific wrestlers focused on Far East after sizing up foes in Kinnick tourney
---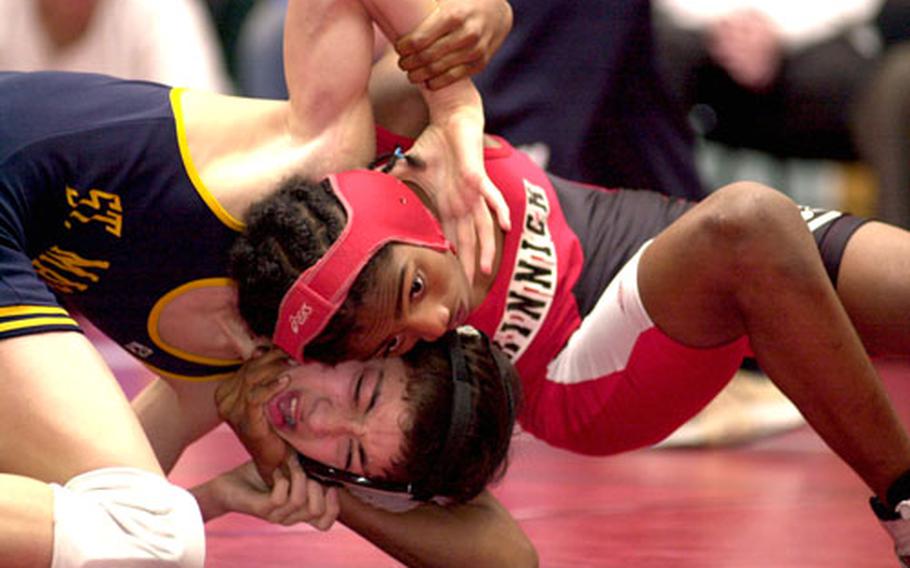 YOKOSUKA NAVAL BASE, Japan — With the "Beast of the Far East" done, DODDS-Pacific coaches now turn their attention to the 2005 Far East High School Wrestling Tournament later this month at Yokota Air Base, Japan.
While piling up medals and team points during Saturday's Kinnick Invitational Tournament, DODDS coaches and wrestlers spent much of the day scouting their potential opponents at Far East.
"This was most definitely good preparation for Far East," said coach Terry Chumley of Okinawa's Kubasaki Dragons.
Of the 13 DODDS schools from Japan, Korea, Okinawa and Guam expected to be at Yokota, eight wrestled in the "Beast" tournament, including five previous Far East Tournament individual champions.
"It's really easy to see who most of them (contenders) are," said coach Ian Harlow of Zama American.
Coach Robby Rhinehart of Kinnick thinks individual and team honors again will be up for grabs at Yokota, as it was last year, when Seoul American surprised the field by capturing the Far East dual-meet team crown — its first Far East title title ever.
"I think it's going to be wide-open again," he said.
Kinnick, which finished second to Seoul American last year and has six Far East titles to its credit, will be in the hunt, as will Seoul American and Kadena of Okinawa, Rhinehart said.
Two of the weight classes, 168 and 215, likely will contain a pair of 2004 Far East champions.
Last year's 180-pound champion Scott Tunis of Seoul defeated David Burnett of Zama, the 2004 heavyweight champion, at Saturday's "Beast." At 168, Joey Wood of Kinnick, last year's 158-pound titlist, and defending champion Devon Copeland of Kadena, could end up butting heads.
Rhinehart calls 215 "a tossup." In addition to Tunis and Burnett, 215 will also include Yokota's Jim Scott, Egan Dales of Robert D. Edgren and possibly Kubasaki's Paul Haecherl, if he moves down from heavyweight.
Far East's Outstanding Wrestler award "has got to come out of 215," Yokota coach Brian Kitts predicted, adding that heavyweight could be interesting depending on what Haecherl does. "If he stays, it's [heavyweight] his. If he doesn't, [215 and heavyweight] are wide open."
Other weights shaping up to be battles are 135, where 2002 101-pound champion Brenden Stanford of Kadena could collide with Kinnick's Mervin Ibanez, as might Kubasaki's Steve Courtney and Seoul's Josh Dowers at 148.
"There will be some moving around [for teams] to get their best possible lineups," Kitts said.
While some obvious favorites stand out, "that sets you up for matches where people come out of nowhere and pull an upset," Harlow said. "Anything can happen in high school wrestling."
---
---
---
---