Pacific sports roundup: Youngblood gives Taegu boost with 6 goals in weekend games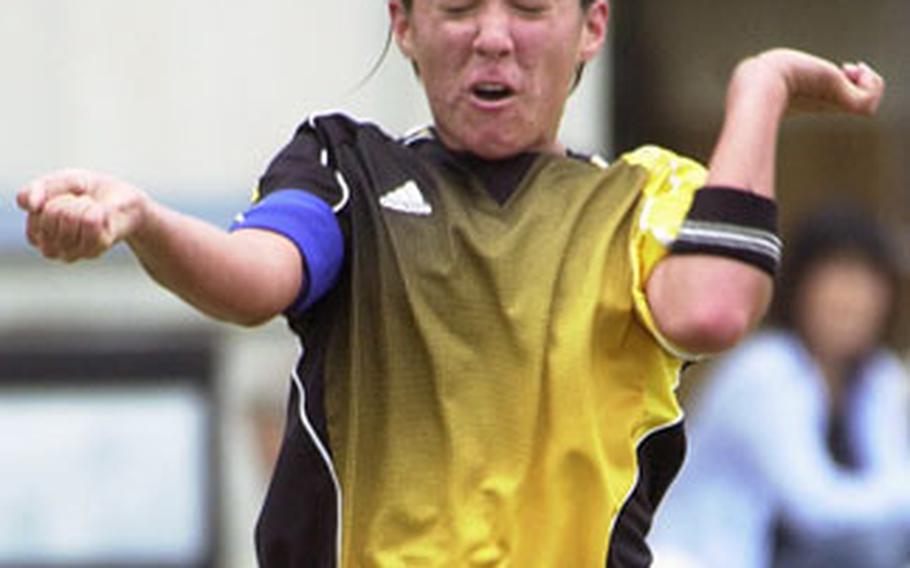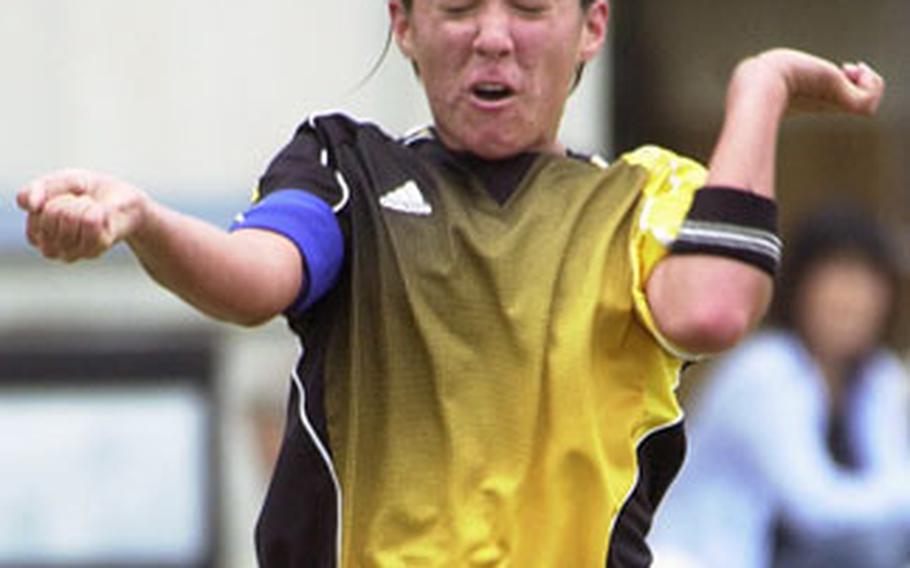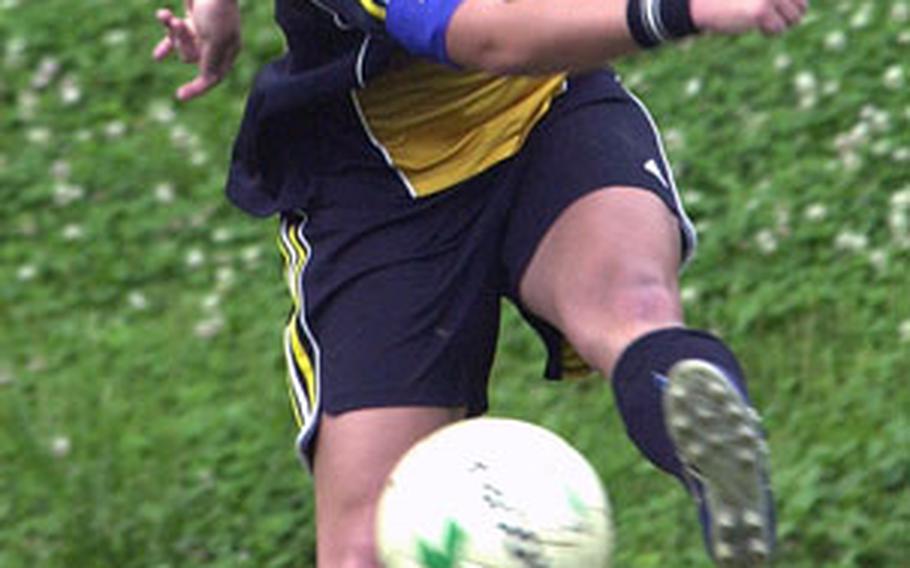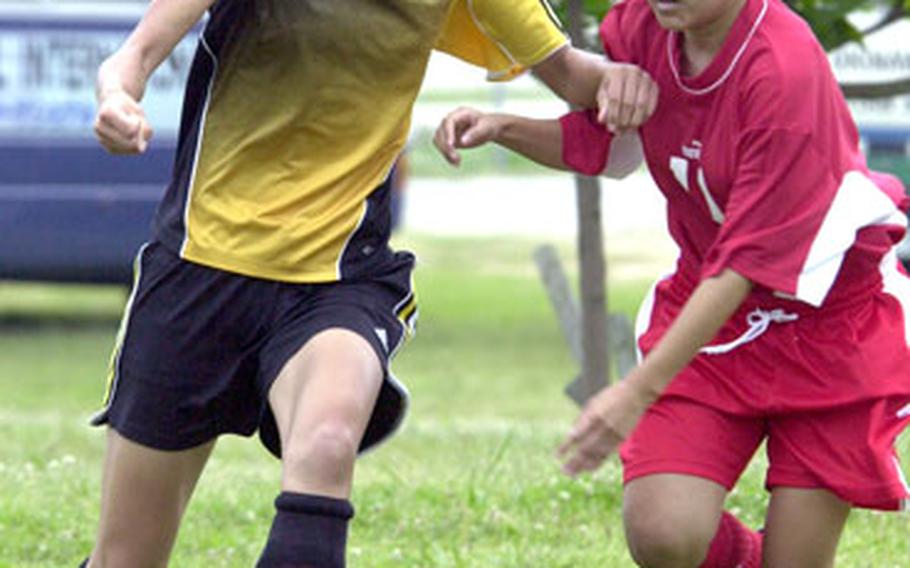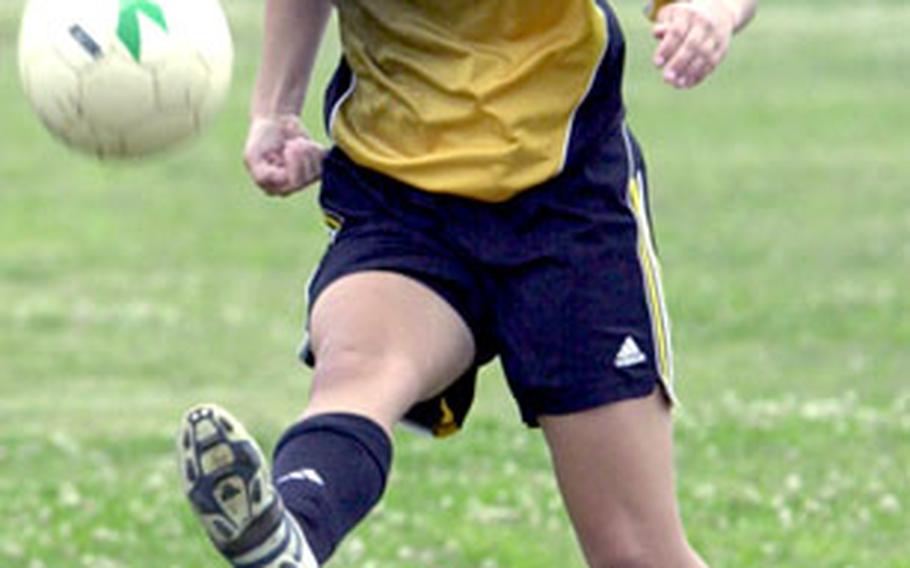 Taegu American senior Joanne Youngblood, who hadn't scored a goal this season and had been relegated to playing defense because of injuries to other players, made the most of her chance when moved to forward this weekend.
Youngblood, who led Taegu American's girls soccer team with 12 goals last season, scored six in two weekend matches, leading the Warriors past International Christian-Seoul 7-0 on Saturday and to a 3-3 tie with Seoul International on Friday.
"She's always been our No. 1 player," coach Ed Thompson said of Youngblood, who moved back to the front line from defensive midfield when injured starter Nina Forrest returned to the lineup on Friday. "That made a big difference."
The Warriors (4-5-2) fell behind Seoul International 1-0 at halftime before Youngblood led a scoring assault that rallied Taegu to the tie. Then Youngblood capitalized against the inexperienced International Christian-Seoul defense, scoring four times on repeated chances from 18 yards or closer.
"She certainly had a day," Thompson said. "We're losing a little at midfield, but we're trying to put pressure on the goal, to shake things up a bit and see how it goes."
Thompson said he's hoping the Warriors can carry the momentum into next weekend's Korean-American Interscholastic Activities Conference tournament at International Christian-Pyongtaek, then into the Far East Class A tournament at Iwakuni Marine Corps Air Station, Japan.
"That's what we're hoping, trying to peak there and see how it goes," he said.
Freshman Ravelo helps Trojans girls end funkThe Zama American girls soccer team hadn't won a match since March 10, when they beat Matthew C. Perry 8-1 in their Japan Soccer League season opener. They'd dropped four matches and tied three others. Then Rachel Ravelo helped the Trojans break that month-long tailspin.
The freshman scored three times in two matches — twice on penalty kicks — to help boost the Trojans to a 2-1 victory over Robert D. Edgren on Friday and a 1-1 tie with the Eagles on Saturday on the road at Misawa Air Base.
"It seems like we finally got over the hump," coach Victor Rivera said, calling the verdicts "very important" in the Trojans' quest to be competitive in May's Far East Class AA tournament on Okinawa.
Rivera made personnel changes, employing freshman Maya Miller in a new umbrella-shaped defense, while moving freshman Holly Benton to forward and putting freshman Megan Godfrey in at goalkeeper.
Benton helped "change the entire complexion of play and sparked the offense," Rivera said, while the defensive moves helped the Trojans do a better job of "clearing and playing the middle. Those three really made a big difference."
'No letup' for Kinnick girlsJust because Nile C. Kinnick already had clinched the Japan Soccer League girls title before the spring break began didn't mean the Red Devils would take things easy in the runup to the Class AA girls tournament.
"No letup," coach Nico Hindie said after Kinnick routed Matthew C. Perry 10-0 on Saturday.
There's another fish to fry: winning the Kanto Plain Association of Secondary Schools title, which can happen if Kinnick defeats American School In Japan on Tuesday on the road. Kinnick is 11-0 overall, 10-0 in the JSL and 5-0 in Kanto.
Should Kinnick secure the Kanto title, Hindie said, he feels his team might have its best chance at a school-first Class AA crown, and that his team compares very favorably to the ones that reached the Class AA title match in 2000 and earned Final Four finishes in 2003 and '04.
The difference: "Those teams had two or three really nice players," Hindie said. "This team doesn't depend on one person. We have more positions covered than we have in the past. We have no weak spots."
Kadena boys run shutout streak to 240 minutesThe Kadena boys reshuffled their defense, and they have a 240-minute shutout streak as their reward.
Kadena, which was the runner-up in last year's Class AA boys soccer tournament, changed from a diamond defensive formation to three fullbacks and added an extra midfielder.
The move paid off in spades over the weekend as Kadena shut out Okinawa Christian International 6-0 on Saturday, a day after defeating arch-rival Kubasaki 2-0. Kadena beat Kyuyo, a Japanese team, 5-0 on April 7, just before the spring break.
"So far, it seems to be working," Panthers coach Mike Callahan said, adding that junior sweeper Alex Mierzejewski "has really anchored everything" in the back, while senior goalkeeper Ted Awana has shaken off leg injuries and returned to his form of past years.
"Anything that gets through, he (Mierzejewski) is on it," Callahan said. "Plus, you have Ted back there, too."