Pacific sports: Photo finish sets up track duel at Petty Memorial Meet
---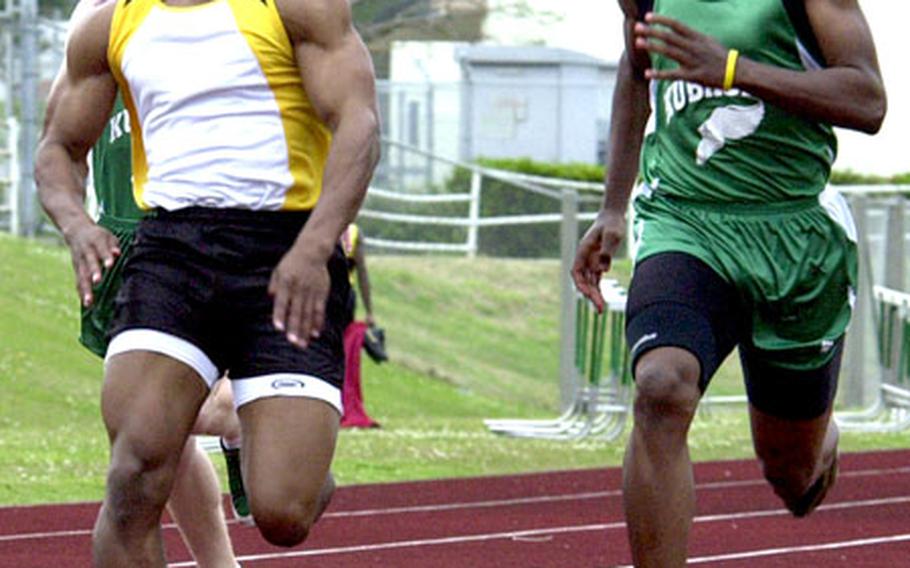 CAMP FOSTER, Okinawa — It was a 100-meter race that literally needed a photo finish.
David McCowan of Kadena and Tony Price of Kubasaki crossed the finish line simultaneously on Friday, perhaps creating a rivalry on Okinawa just in time for next weekend's Mike Petty Memorial Meet.
"It's just healthy competition," said McCowan, a senior, after nipping Price by seven-hundredths of a second (11.75 vs. 11.82).
"We're good friends," added Price, a sophomore. "We just get out here and do what we do for the team."
The Petty meet will bring together 11 high school programs from Japan, Taiwan, the Philippines and Guam, including Kadena and Kubasaki and Nile C. Kinnick of Japan.
From the starting blocks, McCowan and Price matched each other stride for stride, leaving the rest of the field well behind.
"At the end, when I looked up, I thought I had won," McCowan said.
"When we crossed the line, it was neck and neck, but I thought I had it," Price said.
Three meet officials asserted that McCowan's torso crossed the line before Price's, while two others felt it was a dead heat.
"A photo-finish camera is the next thing on our wish list," meet official Paul Campbell said half-jokingly.
Asked if he wanted a match race against McCowan, Price said, "We'll save that for the Petty meet."
Pusan girls' streak ends; Yokota boys topple M.C. Perry
Two 2-1 results on Friday ended one winning streak and started another.
Amy Bakameyer converted a penalty kick and Margaret Nurse scored late in the second half to rally Seoul American past Pusan American 2-1. Pusan, which got its lone goal from Cassie Carroll in the first half, had won its past eight matches in the Korean-American Interscholastic Activities Conference.
Yokota's boys, who were 6-0 before losing 4-1 to Nile C. Kinnick, rallied to beat Matthew C. Perry 2-1 in a Japan League contest at Misawa Air Base. The Panthers, who also won at Robert D. Edgren 4-0, improved to 8-1.
---
---
---
---